Nokia absolutely dominates Windows Phone 8 usage in new ad report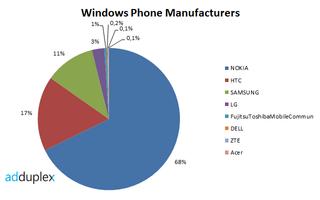 AdDuplex, a cross-platform advertisement network for Windows Phone and Windows 8 developers, has released data in the form of charts that reveal OEM, platform version and even view mode trends. Sporting data for both Windows Phone 8 and Windows 8, the published article hits two birds with one stone. So, what's interesting about the numbers?
Version 2 of the AdDuplex SDK is reported to be propagating through advertisements and enables the company to collect more detailed data for statistic presentations. As one can see with the above chart, the most prominent player in the Windows Phone ecosystem is clearly Nokia, by an absolutely mile (68%).
HTC and Samsung have little in between both OEM partners, with the former holding 17% and Samsung coming in third with 11%. It's what we'd expect from sales figures when comparing between Windows Phone manufacturers. Dell, ZTE, Acer, Fujitsu / Toshiba and LG make up the remaining 6%.
Let's take a look at a breakdown of hardware:
It's interesting to see the Nokia Lumia 710 as the most popular device with 22% of the pie, closely followed by the Lumia 800 (18%) with the Lumia 610 in third (14%). AdDuplex notes that the "Nokia RM-820_nam_att_100" is in fact a Lumia 920. It'll be interesting to see how this chart will change with the launch of HTC (8S) and Samsung hardware.
A final chart on Windows Phone shows version usage, with 7.10 (WP 7.5) taking 96% and Windows Phone 8 on 4% already - it's quite an advancement. We should note that the statistics excludes hardware running Windows Phone 7.0.
Windows 8 / RT
Microsoft has launched its desktop and tablet operating system as well as the Surface RT tablet, but how do partners fare against one another and which tablet is the most popular? Well, see for yourself.
As one can see, the Microsoft Surface RT tablet is the most popular single device, taking 11% of the Windows 8 / RT pie. The HP Pavilion G6 notebook is in second with the HP Pavilion DV6 in third. Microsoft's Surface tablet has received much attention from press and has been pushed by Microsoft strongly in not only the US but also across Europe with promotion campaigns kicking off.
While Microsoft is topping the chart with its Surface tablet, the company doesn't find itself in first position when it comes to comparing manufacturers.
Hewlett-Packard (HP) is first with 17%, while Microsoft comes in second (11%) and Dell's sitting in third with 10%. This is Microsoft's first real attempt in getting into the hardware side of the Windows business, and we'd say they've comfortably made a strong entrance with the Surface tablet. We've previously looked at the Surface Phone, so a Surface PC is a concept worth considering should everything remain rosy.
It's interesting to see how Microsoft is developing its hardware portfolio and we're excited to see how the Surface running Windows 8 Pro will change things up (if at all) with both an RT and full Windows 8 experience on offer.
Be sure to check out the article for more readouts, including view orientations (portrait vs landscape, etc.) and more on AdDuplex's blog.
Source: AdDuplex
Windows Central Newsletter
Get the best of Windows Central in in your inbox, every day!
Rich Edmonds was formerly a Senior Editor of PC hardware at Windows Central, covering everything related to PC components and NAS. He's been involved in technology for more than a decade and knows a thing or two about the magic inside a PC chassis. You can follow him on Twitter at @RichEdmonds.
Acer is number 1 for windows 8/rt manufacturers. HP is 2. -_-

Acer's fourth. HP is the first manufacturer.

Oops. The others color looked a lot like the Acer color.

Yeah, would have used yellow before a shade of a similar color...

Yay, now you Nokia fanbois can rejoice once again because it says on paper that you are in the "IN" crowd. Yaaaaaaaay! Pop some champagne.
On a similar note, I have a 920...Nokia forced my hand with the pricing. lol.

Wow those are some HUGE numbers for Surface! I really hope these are measured in unique impressions.

Where do you get the 21% for the Samsung Focus? That looks like "Other" to me. Am I missing something?

Right. Focus has 4%. Lumia 800 is second. Legend items are listed in descending order.

I'd like to know when the statistics were taken from and too?
As clearly now with the release of WP8, most people who were on 1st Gen legacy devices would be around their "upgrade" bracket now so the increase for the 1st Gen WP8 should/would be higher....

this is an intersting piece of info..

My DVP is proudly known as "other". It's a great day.

I'm one of the "81% Others" in Windows 8 / RT chart. No-name PC still dominate all :D But seriously, that 11% Microsoft tablet is impressive.

I'm interested to see the Lumia 910, because there are none in Hawaii as of this moment. Sold like super hotcakes, with gold syrup, and truffle diamond butter.

So the nokia lumia 920 already has 2% ? If these numbers are representative in any way, that would mean huge sales for only around 2 weeks (less than a week for the US). Even if we take some extremely modest numbers for the total wp handsets, say 15 milion - 2% is still makes 300 000 920s. I'm curious as to how much this kind of arithmetics is plausible really :)

Pie charts are good for smaller amounts of data. like 6-7. maybe you could have used a histogram because it's really difficult to know which is which.

Color coding doesn't help, but I believe you got it wrong on the Hardware breakdown: The first four places are Nokia (710, 800, 610, 900), then the Samsung...
Windows Central Newsletter
Thank you for signing up to Windows Central. You will receive a verification email shortly.
There was a problem. Please refresh the page and try again.