Adobe Photoshop Express now available on Windows Phone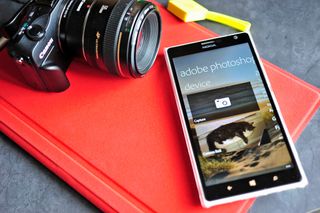 Are we having another influx of major apps? It sure feels like it. Yesterday Roku officially came to Windows Phone and Windows 8. Skype just gained Cortana support on Windows Phone. Zappos finally came a few days ago. It was also just yesterday that A&E, History and Lifetime dropped official apps for their channels into the Windows Phone Store.
You know where this is going. It's time to finally welcome Adobe Photoshop Express into the Windows Phone family.
It was over a year ago that Adobe Photoshop Express came to the Windows Store. It allowed folks on their Surface tablets to make basic photo edits while on the run. That same functionality is now available on Windows Phone for free.
Here's what you can do with Adobe Photoshop Express for Windows Phone:
Basics: Crop, Straighten, Rotate, and Flip your photos. Remove red eye.
Auto-Fix: One-touch adjustment for Brightness, Exposure and Shadows.
Color: Slider controls for Exposure, Contrast, Clarity, Vibrance and more.
One-touch filters "Looks": Choose from over 20 eye-catching effects!
Get creative by adding the Looks Pack* and Noise Reduction Pack*
Share easily to social sites like Instagram and Facebook, and via SMS text.
You'll want to set aside a few bucks if you want to buy the Look Pack and Noise Reduction Pack. These are in-app purchases to unlock more filters and the ability to make noise adjustments to your photos.
Take Adobe Photoshop Express for spin and let us know what you think! We'll have a hands-on shortly.
Thanks for the tip Tech King and Devin M.!
Windows Central Newsletter
Get the best of Windows Central in your inbox, every day!
App is very popular on other platforms

Why you need a camera when you have a Lumia!!!!!

Well, I've to agree. I can't find these much photo lens and photo editing apps in Android.

Just used the app. It is awesome!!! Nokia's creative studio did the job... but this just one-upped it. Super stoked at what I can do with this app.

36megs app. I dunno, I'm trying it out...

We need Google to join the party.

No dude don't want their crappy hangout, G +, even crappy u tube . For u tube get metrotube or my tube or toib. Deleted my gmail accounts as it was hacked twice and my account used to get filled with lot of spam.

Good for you, but there is still people who use Gmail, GDrive or G+
and if they ever come to WP you can simply not download them, just like me

So they switch. Gmail to Outlook.com. Gdrive to Onedrive. And nobody cares about G+. Problem solved. See how easy that was :)

Not that simple, but ok :)
and by the way there is still people who use G+

I actually use Outlook.com and GMail. So, yes, Google bringing GMail to Windows Phone would be welcome addition for me. I don't really care for Plus or Drive, though.

So, are you saying that using the built in email client doesn't work for you?

It does, but it doesn't push email as it comes in. The stock email app is clunky. I haven't tried any third-party alternatives (i.e. MetroMail) yet, though. But, even if MetroMail were to work great, I'd still prefer a proper GMail app.

Do you mean, it won't inform you that you just received an email ? if so it does that for me, go in email+accounts > gmail > as items arrive.
1st party apps are always my favourite

i use gmail and emails are received instantly. Gmail works perfecrly on windows phone.

Yeah, sorry. Not calling you a liar or anything but that's just not the case. At least it never has been for me. Now when things changed on google's end and MS was forced to switch to that carDAV (or whatever) crap it wasn't as fast as before, but it's still fast.
I would really like to see WP users get away from stuff like this. There's no need for "official apps" when the OS handles things perfectly fine.
Just my opinion.

Chillax, we are soon gonna get maestro.

Yeah that's what I did. :)

Well, we can't help that there are so many foolish people using Google garbage.

Foolish people ? i get it, that we are hating on Google but why are they foolish people if they use Google's services ?

Don't waste your time. Some people are beyond reason. It's hilarious that people can get so bent outta shape over a damn email account. Absolutely. HILARIOUS.

Wow you're ignorant as fuck. This is just pure hating.

He's "hating"??? Then what the fuck has google been doing up to this point??

You do realize that you JUST DON'T HAVE to USE it right? I get that you don't like it and all but YOU DON'T HAVE TO USE IT.

Problem is that Google can't join the party. Google ruin parties!

Google is the guy that comes in the front door spilling all the beer and breaking all your expensive shit. Go home Google, you're drunk.

agreed...they pollute the market with their half-baked software products and most of them are abandoned after few years anyway. and then they use sneaky outdated tactics to force people to sign up for all their networks.

Citation please. I am a major WP fan and I despise the Android eco -system. However, many of Google's core services are quite good, remain supported, and are better than Microsoft's options. This is why I want and need support for these services on my WP.

Interesting. Where do you think Google surpasses Microsoft in terms of core services? The only think that Google has, IMO, that is unique are the hangouts in G+.

First, I must say I am a Google Apps for Business customer, so my experience is primarily with their commercial products not their consumer products. That said, Gmail is far better than Outlook/Exchange or OWA in terms of features and performance. Calendar is also more robust. Google Maps versus Bing is subjective, but I do find Google Maps to work the way I prefer. Hangouts is starting to become a problem, but before that I thought the Google chat and VoIP options were better than Messenger/Skype. Google products just seem to be lighter weight and therefore respond better. I could go on, but that is just off the top of my head.

? I evaluated G Apps for biz. We got a freebie for the Non-profit I ran. We all found it s-l-o-o-o-w and terribly inefficient vs word and, then SkyDrive. Vs exchange/sharepoint, it was no contest. Google does have more robust to-do/task management functions, though. Microsoft definitely needs something between Outlook and Project - kind of at the Toodledo level. Sounds to me like you haven't used the MS Office suite much. People are loath to really trial new things.

Note, I did not mention Google Docs or Google Drive. I dislike both products, especially Google Drive. I prefer Dropbox although I am now getting famiiar with OneDrive and hope to switch over to it for regular use. Google Docs is a joke. The only redeeming value, IMO, is the colaborative feature. Our company has remote employees so it is nice to create a doc and have everyone contribute in real-time. I am a long time Office user (and major fan). I couldn't operate without Office. What gives you the impression I am loath to try new things?

Gmail better than Outlook. I Lololed

...and what caused you to Lololed?

'cause basically I do not share with you the same thoughts and I don't want to sound like a fan boy or even close but Outlook is known world wide for the big amount of features and security it brings to the table. Lets repeat that again, security and privacy. Yeah.

Honestly, security and privacy are great reasons. Simply saying "lololed" without an explanation seemed dismissive and made you sound more like a fanboy. Don't get me wrong, I actually love Outlook. It is my favorite email client (for the desktop). But combined with local PST files or Exchange, no contest (IMO). Not sure what your requirements are, but our company requires constant access to years of corporate emails. My account alone is 17GB in size. PST/Exchange could never hold that much content without getting really slow or having to split up the files into annual archives. Searching for an email 5 years ago for a specific client on a specific project...dead easy with Gmail.

Sometimes we use 'Internet-words'. So nothing to add there. I can search for even older files on my account pretty easy as well. I have tried gmail several time before but.. I don't like it at all. It is not bad at all as well. And the end of the day, neither is 'better' than the other, its about what are you looking for and what's your preferences based in your own experiences a long the Google/Microsoft/Apple products and services. Btw its a pleasure to discuss this kind of topics

Nah mate. google apps for biz are awful! Try office 365: much better! I've not used gmail since 2006 so I really can't compare but back then it was terrible and my account was hacked twice so I moved to hotmail and never looked back. Calendar never existed back then but outlook.com calendar works just fine for me. I stopped using google maps as I prefer bing maps especially with the nokia integration; much better. google chat is terrible no way was that better than messenger but skype I'm not too fond of, personally. google products have always, felt incomplete and more like betas.

I am guessing you haven't read all of my comments. I am not a fan of EVERYTHING in Google Apps and I explained which products I like and why. I also explained that this often comes down to personal preference and requirements.

No, Google won't join WP ever. Their only idea is that Android is a Universal Mobile Platform and rest all software firms adopt android as only mobile platform and develop only services (apps) and Hardware firms build phones/tablelets/watches even cars in future (under their new "androidone" scheme) to sell them all in one place i.e. Google Play store and share the profit with Google. So Waiting for Google to develop WP apps or services is stupid idea as we have done very deep study into this for years. Either MS has to provide everything (hardware/software/services on super fast lane) speed what Google gives its consumers or what I said above. Apple/iPhone/iOS is totally different world as of now. Am I crying too much ? ;)

Forget it! Let google better focus now on the Android L the Alias of windows, and we will show them our power of one Microsoft within the year end!
I don't like android, and their services at all.

With the ability to choose where photos are synced to on this platform I'm surprised Google don't at least make a Google Drive app to support that feature (not that I'd use it... Lol)

Dude... bring this kind of debate into forums. Seriously. It's hard to read comments when there's too much noise.

I love how we switched from struggling with unofficial client to swimming in official apps.

Its not entirely the case that we struggled..take all the 6 apps the youtube apps some more are there..but nothing beats the boasting about of official apps..:)

There aren't any "unofficial" Photoshop apps, so I'm not sure why this is being counted as one. This is a MAJOR title for sure, but wor(d)ship over "official" doesn't really apply.

Looks like it adds nothing compared to Nokia creative studio though

Did you consider non Nokia users ?

Very true, only just thought of that :-)

It adds nothing to Fhotoroom. :p

The premium features are worth it in my opinion. Noise reduction and better filters. At the price they are asking, only worth it if you get alot of use out of it.

not trying to start a war but i wouldnt have bought a windows phone 8 device if not for the hardware performance of nokia lumia 920.

& at what? 36MB takes up a considerable slice of my available device size...

That's something I'm wondering about. I've used it on the PC and it's great, but I think WPCentral should do a comparison to help see where they differ

Except that Nokia's filter are quite shitty, I like the filters of PicsArt tho...

Agree. Filters of PicsArt and Fantasia too...

I was skeptic at first, but decided to give it a try. I immediately noticed it supports PNG, while Creative Studio doesn't —this is huge for me, as it lets me play around with Theme+ backgrounds. And to my surprise, the "looks" work amazingly with them! Check out this example, which I think is brilliant: http://i.imgur.com/OOspbCW.png.

Ty for the idea! Hope to see it integrated in your app.

That'd be awesome, but I really doubt it. Image processing isn't as simple as it looks, and I guess to achieve that kind of quality requires a lot of knowledge.

Awesome ! The app gap is getting lesser day by day. Good to see so many official apps come to WP. :)

Yup its true :D
Can't wait for more surprises before 8.1 also comes :P

Patience.
BBM will be also available soon :)

What's the point of having BBM now when other platforms users don't really use it???

Yeah, I think WhatsApp is ruling this market.

To switch last users of BB to WP.

There is a lot of people who use BBM, maybe not your friends or family there is even people who still use BB so yeah

A lot is relative. I have a large contact base and some people used BBM when it first came out, but they've abandoned it. I also rarely read any tech articles about it or here it mentioned that much in any online forums. It seems second tier in terms of popularity. BBM had about 85 million users in March. WhatsApp had 400 million active in December. Skype in early 2013 had 663 million registered with 280 million considered "active". Sometimes the friends/family perspective is correct. I could do more looking up, but the picture is pretty clear

It's like you said but, there is some people depend on it, one of my friends didn't switch because the lack of it, he and his whole family
and friends are using it
Anyway we won't lose anything if there is an app, and we didn't use it

Xmas 6months early it seems for WP and I for one am liking it. Keep it coming :-)

Nice. Now where is that damn Flipboard? Almost a year since announcement!

Ikr.?
When the Windows app came out, I thought the Windows Phone would be out soon. But this is just unbearable. I just wish it comes out soon as a universal app.

The interesting thing is that, if I remember correctly, this was announced at the same time as Flipboard!!!

Magnify is a great alternative. Basically the same thing, and you know it'll get better support. Flipboard will eventually launch in beta (excuse for a shoddy app) and stay like that for ages, devoid of any updates that other platforms get

its already more than 1 year....they are doing some intense testing to protect app against extreme weather, super natural power, mutants and alien invasion...chances are they will release app in 2135 A.D.

Thanks, I have Fantasia Painter Pro. ;)

The last udpate was a year ago...
y u no update !!

Which update ur talkin about

Fantasia Painter Pro.... the last update was "1/18/2013"

+928
And this one is just copy of Camera360. Nothing new. Uninstall!

This is SO not a copy of Camera360, which I can't stand using. If anything, you should install this app as a show of "demand" from Windows Phone users. When i write developers about Windows Phone, they don't even say "market share", they always say that there doesn't seem to be much "demand" from the platform.

It Works nicely ... Anyway it is Limited how mich editing you can do on a phone.

I just did my first photo on this app

Not a good thing as for a new app to introduce in app purchase. But i will give it a try

The same in app purchaes are there on Android too. So I guess its fair enough.

That's why we can't get nice things, when someone gives us well-built quality app we complain about price, and when someone gives us free but shitty app then we complain about the app's quality.
I personally think it's fair to charge for a quality app, good apps don't grow on trees you know?

So you would have preferred to pay up front? I mean, I would, but it seems like people that complain about any pricing, just want everything free.

Wow!! Great app...finally arrived in windows....

You forgot it to say that is a Universal App.

Does that mean in app purchases transfer too?

Might be yes, see Devmer11's comment below.

Yes, I purchased Noise Removal (the best feature of this app imo) on the RT app last year and I have it on WP now

No mention of saving to adobes cloud

really Happy that it is a Universal App it carried over my in app addons from the windows version got all the features now :D

:D:D:D really? Made my day.

Ok cool but where's the Magnetic Lasso Tool?? : P

Over there on your desktop version...

Oooo BBM where are you???

Its time traveling in july

After official 8.1 update.

Well then I am waiting...

I miss Fotor. The app is pretty solid but needs an update. I think now is time to test other apps. :)

Finally been waiting for this...
Thanks Adobe

Same thought id perfer it on the phone but my guess is it would mean no support for 512mb devices because of how extensive it would be to process those photos

I really want DNG editing on my Lumia 1020. The yellowish indoor flash photos are easily fixed in desktop photoshop. If I get DNG editing on my phone, I wont have to plug in my phone to my PC just to fix those photos...

God, I wish some App could edit DNG on the device. I'd guess Nokia Creative Studio, if any, but ill keep wishing! I would probably pay if Adobe added that as an IAP!

The yellowish indoor flash photos are easily fixed by adjusting your white balance in Nokia Camera's manual mode. Works for me and my 1020 anyway...

Doesn't fix that completely... Some areas are rather too warm and to fix that, the other areas end up being too cool... Like, people's faces are a lot yellow, and to fix their faces I make the white balance cooler; this makes the white walls behind them look blue. :( DNG photos in photoshop give me the perfect white balance. :)

THe yellow tint pisses me off so much. Its an easy software correction to adjust the white balance especially when its consistantly off, can't believe it hasn't been fixed yet.

I wish you could sign in with a MS account in this app. Only google/facebook/adobe account. :(

It's an universal app... But are the iap also universal?

Yes, Devmer11 posted that above.

YES! That's the first thing I checked.

Too little too late. There are already much better alternatives IMO, but I certainly can't complain about Adobe joining the party, I suppose.

Which alternative is the best in your opinion?

Nokia Creative Studio & PicsArt :]

The quality of Creative Studio is discussible.

Are you saying it lowers image quality when editing/applying filters?

Yeah. It mat look good on the phone but egen you look at the PC the pictures seems to get a bit blurry / fuzzy. The quality seems to go down a bit.

I've always thought Fhotoroom has the most quality and quantity for editing. So many options and so much control.

Maybe will have to give Fhotoroom a serious look. When I look at the pictures at my PC I still want the pics to look good.

I mostly use Fhotoroom and Fantasia

I'll probably have access to the full version. Working at Adobe should have some perks at least! :D

Reduce noise pack so expensive!

Not better than PicsArt (I use PicsArt+Nokia Creative Studio), not worth my time. Meh
But still good to see official apps coming. Now update Adobe Reader -_-

Still waiting for a decent Skype experience. Lame.

TM...i just want a new midlevel/high end WP 8.1... Come on down:D

We need ADOBE flash player

No, go and buy an old Android device.

Ehhh unfortunately it will never happen, because Adobe discontinued it's Adobe Flash Player support from all the mobile platforms (yes even iOS & Android). Sorry to dash your hopes.

No, because Flash is full of security flaws, is horrendously slow and has been discontinued on ALL mobile platforms!!!

I remember when HTML5 starting making waves, there was a performance test on mobile devices (Android phones). The actual performance was similar, but Flash was actually easier on the battery. So many people paid no attention... Streaming is just not efficient.

We do not need Adobe Flash player. Whatever gave you that idea? Flash has been dead for years now for mobile platforms.

What happened to Flipboard?

Flipboard is going strong for Android devices. That being said it's not too good as a news reader and definitely overrated.

It looks like the program wants to save your photos to some cloud ie google etc. Will it let you save to OneDrive?

It's nice of Adobe to give us their breadcrumbs.

Sweet! It looks like the features I bought carried over to my phone. I ❤ universal apps.

Wonder if it supports dng

My phone update is popup :0 should i download the new update for windows 8.1 ?

Of course not. Why would anyone want to update their software? ;)

Can you guys make a comparison between this and Fhotoroom?

Can you? You have access to both so try them out for yourself.

Downloading this right now!

Wow i just love this app...

Plz WPCentral, isnt it time for a photo editor app battle? "Who does the jobb best", you know the deal? Quality

George did one a few months ago, I think.

Is that Canon SLR analog?

Adobe should also update their pdf app

Well, after five minutes, I think I might have a replacement for the - until now - unbeaten Thumba Pro.

looking at the feature list it is just another photo app with a bunch of filters

What took you so long PS?
Yet, glad it finally made its way to WP!!! :)
EDIT: Just tried it out, Fantasia is still the hero, the most complete photo editing app.

Omg.. Nice to here this app...

My problem/concern is not the major adopts, it's the little ones.... Like for my own lifestyle. Apps like kattack, sailflow, uniden, etc. I've emailed each, and they'd all like to make one they claim, just don't want to hire a new coder or learn more to themselves! That's the next obstacle to tackle!

Finally! Now hopefully Adobe will bless the platform with more popular apps.

now windows is on the way to get popular!!!aweseome ove man

Yeah... Basically I prefer fantasia but as long as it's official app and contracts the app gap, its good for the ecosystem!

Nokia Creative Studio can do the same things. No point installing this app.

They're not identical though - why not try it out? I really like creative studio, but I'm trying this because Adobe are kind of known for image manipulation!

I wish they had the payoff option too cause I love freemium apps

Here comes another major app.. That's cool... :)

Sweet! With every official app release we can say with greater confidence to the naysayers that WP is here to stay :D.

Long waited app and its nice also i m happy for the wait!

It's nice to see more official apps hitting the platform! I wonder what sparked the sudden rush of apps? In any case, no complaints here!!!

I will try it out but it looks like Fantasia Painter does a lot more then this and better without having to purchase anything (unless you want to get rid of ads). Add in masks and layers then I might start being more impressed.

I honestly think this is a big one for the platform. As niche as it is, it lends huge credibility to WP as a viable OS. It also helps that it seems to be high quality too. This is what we need, not effing web wrappers.

Finally... I like it overall though still doesn't beat my fave photo editing apps. Regards.

Oh Universal Apps, how I love thee...

This app has surpassed Thumba Pro as the best photo editor. Wow. Fantastic.

Wait, says who? Thumba is pretty potent.

Can anybody honestly tell me if this is worth having? Meaning is it better than Creative Studio, Thumba, or Picture Lab? I hate redundancy in apps... and as it is I already have way too many "photo editors". Looking to get rid of some stuff if this is better than anything else.

They should have been first out of the gate. To little to late and that's the way the song goes for photo apps and the like. I have a lot of goods ones and don't need another on my phone. First time WP users...well...that's a different story.

Expensive and not as good as Thumba Photo Editor....

I want a photo editing app on my phone that actually lets me edit photos ffs. I would have thought that adobe would be the ones to provide that, but apparently not.
It doesn't need to be as full featured s the desktop version but let me use layers, adjust colours, cut sections, paste other things, let me edit.

I think some people fall in love with a brand therefore not subjective in a discussion...each to there own no imposition required

Is this photo shop worth buying the add one for? I have the 1520 so the Nokia editing is great for me and i have just downloaded fotor for a spin as well. If adobe improves over the Nokia editing ill buy it. Anyone bought the in apps yet?

Is this just a cheap cash in in the brand name?

Love ❤ the simple manual or auto adjustment that you'll find in lightroom

The only photo editor app (as of I know) which allow me to edit and save the full resolution photos. I used tumba, fotoroom as my main photo editor. But this one, hell yeah, gonna be the main editor from now on. The only things I wish to have is watermarks. If so, it will be 100% perfect. But still, now already 99% perfect. Check out my full resolution photo taken with beloved Nokia Lumia 1020 (macro lens) and solely edited with this app. https://www.flickr.com/photos/yemyo/14536584833/

Deleted This Crap from my 1520. It's a simple app with some basic filters. Moreover they want to pay for some additional crapy filters. We have much better and highly advanced features are available in Fantesia painter....n guess what?? This amazing app is free.