Roku officially comes to Windows 8.1 and Windows Phone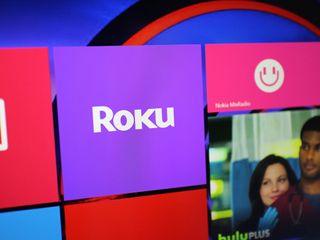 We love checking out new apps for Windows Phone and Windows 8.1. Especially when those apps are official and have long been requested by the community. Today Windows 8.1 is getting a highly sought after app. It's time to welcome Roku to the Windows family.
Head to the Windows Store and you'll find Roku http://(roku.com (opens in new tab)for your tablet or touch-screen machine. We say that because mouse and keyboard input is not supported, you'll need touch to get the job done.
Roku? It's a company that makes popular set-top boxes that offer streaming content from channels like Netflix, Hulu Plus, Amazon Instant Video, HBO Go and others. This Windows 8.1 app will allow you to control the Roku device in your household.
Here are the features of Roku for Windows 8.1: - Automatically detect all Roku players on the local network - View installed Roku channels and launch the channel with a tap - Control your Roku player with an on-screen remote control
We don't have a Roku device to test this out just yet, but we just ordered the Streaming Stick from Roku for $49.99 (Amazon (opens in new tab) to play around with the app later.
Have a Roku? Sound off below with your impressions of their product and this new app. We should note that this is listed as Universal Windows app, which means we should hopefully see an official Windows Phone version shortly.
Update: Turns out we've got the Windows Phone version available too!
Via: WinBeta
Thanks for the tip diegolara and mtg1974
No mouse/keyboard support? I didn't know that was possible for a Windows Store app.

Neither did I, figured it'd be required to support mouse+keyboard.

This is new in Windows 8.1. A Windows 8.1 app (NOT a Windows 8 app running on Windows 8.1, but an app that will only run on 8.1 or higher) can be published with a requirement for a touchscreen without keyboard/mouse support. It's odd for an app like this to not support keyboard and mouse though...in Windows apps touch and mouse can be used interchangeably with no effort required (e.g. a touch and a mouse click are treated as the same thing). I can understand a touch-based game not supporting a mouse, but a media remote?

even worse a game can get "Xbox" Live on Win 8.1 and not support a "Xbox" controller... or keyboard support for that matter... Yeah Im looking at you FIFA 2014.....

It does work fully with W8.1 with mouse and keyboard


There is an app called Remote For Roku with keyboard support. I have the streaming stick, I'll try it tonight and update the crew. UPDATE: CONFIRMED to work with the Roku "Streaming Stick".

Typos in that first paragraph man.... But yay Roku!

He might be talking about the old rule that places a hyphen between 'sought-after'.

Hey Sam I don't see it mentioned in the article. You can get roku app for WP 8 not just 8.1 just DL it on my 1520.

dont have a roku but is the new modern windows catching on? It appears there's a ground swell of apps coming

I'm wondering this myself! Microsoft clearly is a sleeping beast...and hey, it's a good thing! People are noticing it from things like Universal apps, Xbox One, and Surface Pro 3. I do truly believe 2014 is the year Microsoft can shine ;)

Too bad 204 is almost over.

Official apps out the waaaazooo today

I know! Everytime I come to check my phone, I see "Official (app) now in windows/WP store. It's great!

Feels great doesn't it? Posted via Windows Phone Central App

Logically a phone app first would make more sense, but WIndows has more market share I guess. But then a universal app would make more sense!

PHONE APP IS OUT TOO.. I just downloaded it on my Lumia 521. Roku is the best straming box in the market by the way. It has the most channels both free and paid. Any channel that the other devices have the Roku box has but there is channels that the Roku has that other devices dont have. They keep adding more and more channels every week. Its an amazing device for such a low price.

Are you sure it's the offical app?

Yup its the official app. It looks clean too. It actually looks better then the android version.

Have a link to share? Couldn't find it earlier.

http://www.windowsphone.com/s?appid=9fdb2473-403d-434e-93ca-6c8c7225ef73

Thanks! That definitely looks like an official WP app

I want to watch ROKU on my phone too.

Netflix app for WP doesn't have profiles either sadly

Ive been using the trail WPREMOTE for ROKU but only problem i had with it was i couldn't use YouTube search it i guess wasnt made available to non us users. Im using the hdmi streaming stick way better Netflix experience then the lg tv upgrader

Man, official apps are pouring! Something's deffinitely going on.

Just timing/coincidence I'd say. The store has matured a lot and reached a few milestones (Windows 8.1, universal apps, for example). It takes time to create apps, and these companies probably waited a while and all decided to build their apps at roughly the same time, then maybe held them back for universal app capability and/or Windows 8.1.

perhaps realted to the June 20 release of Surface Pro 3?

Looks great on my ThinkPad 8! Thanks Roku.

Have been waiting for Windows Phone support for awhile, and it sounds like the wait is almost over. We have four in our house and love them all. Two sticks and two Roku 3 devices.

WP app is out, link is in comments above (sorry on mobile)

I also have been waiting. For 3 years, I have been hoping for an official app. It works great! Very responsive. Glad to see we are finally getting a little attention by companies.

And another One..... Good news for the W8 community keeps sliding in faster and faster day by day... Keep them coming I would say and lets be honest the big boys cannot deny the w8 platform. I think we all made a wise decision to go the wp8 and the w8 way. Microsoft has all big boys by the balls :-o

I've been using rokumotu and its worked great so far

Its also available for windows phone as a universal app. Works great on the Lumia 810

I have a Roku stick and it is pretty good BUT please note that it doesn't have a browser built into it.

Great news indeed! Posted via Windows Phone Central App

Sweet, one of my most wanted. I have 3 boxes and getting a stick soon.

I said the same thing on another site: Microsoft really should release something like this for the Media Center. They're sitting on entertainment gold and letting it rot! With everyone else now branching into TV, MS is bound to let thier already great solution flounder until they're behind in the market and playing second fiddle to Apple and Google again.

I think that bridge was crossed long ago.

Problem is aside from hdhomerun(which only works with atsc) or Hauppauge's premium desktop software theres no real way wmc can work with full potential on a tablet

Microsoft really should do something with Media Center. Really fantastic and core feature if you have a TV antenna.

Weird. I just downloaded a third party app today. Nice!

Awesome! Just looked at it. Guess it does what it's supposed to do, but I actually like Remote For Roku better cause the interface looks like a Roku remote.

This is awesome! I might get a roku now because of this! Assuming they'll keep supporting it.

Wow, I just got my Roku Stick on Monday, this is an awesome surprise!!

I recently got a Roku 2. I found a remote app at Windows Store called "remote 4 roku." Works great, much better than the remote which came with the device. I want to try the Roku app when it comes to wiindows phone.

Netflix has been completely busted on my Roku 3 for over a month. Company isn't worth my time any longer. I moved on. No fix in sight, no response other than blame shifting.

Have you tried to factory reset your roku box? They have some new netflix update for your box that just came out yesterday.

Awesome! More official apps. Love my Roku. I'll check this out.

I need Aang. Not Roku. Or... Katara?

Been waiting to this app. I will five it a shot.

Sadly I use wired connection when I'm streaming from Plex to my TV and other Roku apps. It would be great if wired and Wi-Fi were available at the same time. Since iI got my Roku 3 this past January I haven't look back. It's solid.

This does not use the Wi-Fi on your Roku. It uses the Wi-Fi on your phone works over your network.

I know but you would have to switch your Roku device to Wi-Fi as well. It takes way too long to stream movies over Wi-Fi from my PC. that's why I use wired. Almost instant streaming a 1080p movie. You have to choose either Wi-Fi or wired when using Roku. In my case this app is useless. :(

Perhaps. My Rogers router is a few years old but I do prefer wired connection.

Hopefully they'll update it to be have the option to be a transparent tile >.>

Alright, let's get PlayOn now and with BBM on the way I am almost ready to move over.

What the heck is roku? LOL

I don't even have a Roku but I'm downloading this because each app that officially comes that WP/WP8 as opposed to adv indy dev picking up the main companies slack deserves at least a download. If not only to send a message that there is an audience.

Cool so how many apps are we at now?

Does the Roku allow you to stream media from your local PC or NAS? eg. Mp4's, mkv's etc., Or should I just stick with my ever faithful WDTV?

There is a fantastic Plex app for Roku, and an enhanced country maintained version.... I run a Plex media server, and stream to several Rokus around the house.

Roku media player channel works pretty well for me. only thing is most of my files contain dts audio which isnt supported so i'm doing some converting to aac audio.

Finally! Hopefully they will update it to match the Android and iOS version. Really want to be able to beem photos with the app to my tv.

Nice! Love my Roku(s).... Will give this a try later on my 1520

Only for United States? "This app is not available in your region or is not compatible with your phone" <-Translated from Norwegian. Lumia 920 WP8.1

Another app that exists in Windows Store and only as the stickers for Google play and Apple Store :( Many persons I know don't buy Windows phone because of this, they say the apps don't exist in Windows! Is it possible for Microsoft to advertize the sticker thru the emails of these developers???????????

Nice, detected my Sky NowTV box no issue. Don't have time this morning to look into why by it doesn't show the NoWTV channel though in my channels. Could be a change I can may on the (Sky) Roku. Use the box to give any of the currently missing apps on XboxOne such as NoWTV or BBC iPlayer, neat solution through the HDMI in.

Nice to see another official app coming to Windows especially for a mainstream product....

The Roku boxes are awesome. I now have 3 in my flat to run from my plex server. In the UK you can get the NOW TV box from sky for £9.99 which is a cut down Roku LT. You can side load plex on it but it comes with BBC iPlayer, itv player, 4OD and demand 5. The Sky now app is alright but I didn't stay with it. Its a good cheap way of adding on demand to a TV.

I love hoe the marketplace is growing

awesome! Now if only my roku was working.... I've had to switch to using my star wars Xbox since the WiFi hasn't been working with our already weak signaled WiFi.

I currently have a WDTV Live streamer as a gift, it works fine but in terms of apps seems a bit outdated, that said it does have netflix and iplayer which is 90% of my use. I'd jump to Roku in a heartbeat if they had an Amazon Instant app (I'm UK based) but unfortunately for some reason none of these streaming devices seem to have the app even though the US versions do. Xbox 360 is slow as molasses these days so a pain to use for Amazon.

Great app It rocks on my 822 Lumia

Good stuff! Keep 'em coming

Great app-much better than third party workarounds. Thanks ROKU!

Yes. Great to see them supporting Windows now

Fantastic app for my Lumia 620. This works really well and actually declutters my life of yet one more remote. Thanks Roku.

Wooo!!! Better late than never. Glad I emailed them asking for support last year

Nice. I need to check out Roku. I had marked them off due to lack of support.

Give us chromecast support!

All of Roku's apps are very difficult to search for in the app and wp stores.

Seems to work well on WP 8.1! (:

It's only available for Windows Phone 8.1 and above? Well, being a Verizon customer that's as good as saying, "Forget you!" Disappointing.

No, it is for 8 as well, I've installed it and it works.

Really? OK, I'll give it a try... ... it works on WP8!! SWEET!!!!
Windows Central Newsletter
Get the best of Windows Central in in your inbox, every day!
Thank you for signing up to Windows Central. You will receive a verification email shortly.
There was a problem. Please refresh the page and try again.