Adobe Reader for Windows Phone scores new interface and more in latest update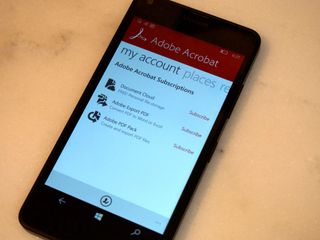 The official Adobe Reader app for Windows Phone has scored a fresh update, bringing along a brand new UI and more. The update makes the interface a bit brighter, with white featuring prominently with a splash of red across the top. Another welcome feature users can look forward to in the update include a "Save As" option for PDFs. Here's the full breakdown:
Sign in to adobe document cloud with support for Enterprise IDs
Save As functionality for PDF files
Updated user interface
The update moves Adobe Reader up to version 16.0.137027, if you're concerned with version numbers. If you're interested in checking out the app's first update in a while, be sure to hit up the Windows Store link below.
Thanks for the tips, everyone!
Download Adobe Reader from the Windows Store (opens in new tab)
Dan Thorp-Lancaster is the former Editor-in-Chief of Windows Central. He began working with Windows Central, Android Central, and iMore as a news writer in 2014 and is obsessed with tech of all sorts. You can follow Dan on Twitter @DthorpL and Instagram @heyitsdtl.
They should have something Ike reading mode in edge. And black theme. Haven't tried this update but last I checked it wasn't there.

Junk. You still can't share a pdf without signing in. Xodo seems like the best.

Second that... No sharing via Bluetooth as well.. Junkyard

It isn't showing files stored on SD card. Earlier it's.

No printing in mw10 either

Why u don't know what a file manager is for?

That's a lot more unnecessary steps. Why don't you know that?

I'm pretty fond of the old Reader app from Microsoft. It doesn't do much except the basic stuff, but I like the fact that it's pretty light.

''Windows Phone is dead''. How many updates, in the last few days since all of that fiasco?

Windows phone died for the 5th time last week.. Guess what.. It didn't die this time.. Tom Warren just killed it.. Murderer ;)

Let's celebrate the 5th Anniversary of The Weekly Resurrection Of W10M !!

I have no idea, people who see my Lumia with 10 are all like "that's so cool"then they hate it because it's so different. It's only once in a while I'll see someone with Windows Phone, and we both geek out about it. I've only seen 9 people in two years with a windows phone. I'm pretty sure there's more in my area, I don't know what to say...

Wow..! It took the dark background away... UI is little bit changed but black background..?

Was thinking the same... Adobe can definitely do better than this.. Sigh

I think it is the same for iOS and android, no dark ui

Anyone know how to see which apps got updated recently....

Use storage sense, sort by latest updated

Yeah I miss easy access to that. Now I disabled automatic updates just so I can know what is being updated and what isn't

Turn-off Auto Updates and Daily Check for Updates Manually..

Go to Downloads in the store app and swype right.

In win 8.1m,
-Go to settings, swipe right/left.
-tap on ' store '
--under store, tap ' check on updates'.

Yeh yeh, bro! FoxIt did deliver the speed that was advertised in the article from Windows Central, so I haven't looked back since then. Yet, someone else mentioned that Adobe's update is blazing fast, so I'll do a comparison.

It would be great if they will implement Print function too!

That's what I'm waiting for. I'll download it again once this feature is added.

I was looking for a way to print PDF from Windows 10 Mobile and you can do it if you have compatible HP printer and by installing their latest app HP AiO remote. Beta app didn't work for me but after manually uninstalled the beta and reinstalled the last version it works perfect

The Recent list isn't working for me. Use it all the time.. Will try a reinstall.

This version is blazing fast! (using 950XL)

I'll give it a whirl, then, thanks! I went to FoxIt when it was reported to be fast, and it didn't fail, so I'll compare it to Adobe.

Comically this looks Microsoft these days are glaring at those company developers for not supporting us elite enthusiasts. Hey, guess what? this works!

Shoot! It deleted all my recent files that were (saved) only there

Open Adobe Reader, under places tab...
Tap phone and you'll getting most of your recent files...

Where is the dark theme?!

Search a word and see the magic...u can't find the word which is there...good going Adobe

Same here.
I searched a word that was in front of me but it showed as it doesn't exist.

I need it to work in continuum mode. I wonder if it does.

You might know it but still... just helping. You can share PDFs from the file explorer... ;)
Make sure you turn on Bluetooth before hitting share button else it won't show Bluetooth option

Thank you for your useful info. Will help a lot.
Now the real thing is that PDFs received via Bluetooth are not accessible from File explorer. They can only be read through a PDF reader and there's no option to share them.

When you receive, use the "Save as" option. But yeah, that's a problem in WP/WM with Bluetooth files...

Well don't know about you but my Bluetooth received PDF file are accessible, readable and shareable from file explorer downloads folder...
L1520 update .71

I always think that some dev. waiting windows 10 to be release on all device before they go and make windows 10.

Thanks to adobe for supporting windows 10 mobile.

Quick question, does win 10 mobile allow you to print? Posted via the Windows Central App for Android

W10M does, this app does not.

In short yes you can print anything word, excel, PDF, jpg...). For PDF I only manage to do it with HP app called HP AiO remote and one of the 1900 compatible printers. I have an HP envy 5640 and everything works as expected

Ability to share pdf directly. Come on adobe your not a child.

Try that from file explorer... ;)

Hey it took them ages to come up with a "save as" functionality to save documents on your phone instead of their cloud solution nobody wants... Only reason why I removed this app, so they'll get a second change now.

Can you share? Can you print?

* Great UI * It also picks up were you left off

* no dark theme
* after closing file, show files from start

I recommend trying Foxit PDF Reader. It also has UWP and Continuum Support for Windows 10 Mobile. It's great. Foxit MobilePDF Download from Microsoft Store: https://www.windowscentral.com/e?link=https2F%2Fclick.linksynergy.co...

Sounds better, I much prefer to open .PDF in Reader than the suggested browser option, why would I choose a browser !!

Better We call Window phone aka window mobile is dead... Maybe window mobile app growing up >_<

Does anybody know if there's an pdf app in the store that has text wrap built in? Or fit width of page to screen,it's the same thing. Foxit has it on Android and I think Adobe too, among others. But on the Windows store I didn't find anything.

I'd totally forgotten about this app - I know Microsoft seem to be pushing Edge as the recommended PDF reader across Windows 10 (Over the older "Reader" Windows 8.1 app) but a new UWP app for PDF would be nice - I don't mind who builds it.

Lol. I was wondering why the w8.1 app hadn't been updated for 10. Now I get it.

Finally , after so long time its wake up call !

I think the upgrade was effective. I appreciate. One more thing though, the dark theme.

Adobe sucks! Go for Foxit!

That's pretty nifty, you can sign in to OneDrive on adobe and use it as a file manager

Text reflow, nope? Foxit is kinda slow on my 640XL with W10M, but no better reader than Xodo atm.

Well! I recommend trying Foxit PDF Reader. It also has UWP and Continuum support for Windows 10 Mobile. It works really nice and easy to install....
Windows Central Newsletter
Thank you for signing up to Windows Central. You will receive a verification email shortly.
There was a problem. Please refresh the page and try again.