Alcatel Onetouch's new phones are compatible with Windows Phone, Android, and Firefox OS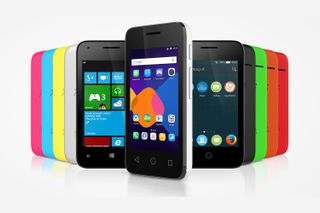 Alcatel Onetouch has announced some of what they plan to show next week at CES 2015. The company will debut its latest Pixi 3 series of smartphones. The phones come in 3.5-inch, 4-inch, 4.5-inch, and 5-inch models, the last three of which are LTE-capable. The line is also platform-agnostic, running not only on Windows Phone, but also Android and Firefox OS.
Additional hardware details and pricing for the Pixi 3 series has not yet been announced. Alcatel says that they plan to reveal more once CES 2015 gets underway next week.
Press release:
ALCATEL ONETOUCH at CES 2015:
Opening Access to the Latest Technology to Everyone
4G LTE connectivity is now within everyone's reach
OS-agnostic smartphones available on Firefox, Windows, or Android
The ALCATEL ONETOUCH WATCH opens up a new smartwatch category
Color Run makes the ALCATEL ONETOUCH booth a blast
CES - Las Vegas, January 2, 2015 – With a series of announcements at the International CES, ALCATEL ONETOUCH, one of the world's largest smartphone brands, makes good on its commitment to offer the latest technological innovations to all.
The brand's new PIXI smartphones make mobile Internet available to everyone, while offering another innovative feature of OS-agnostic. It is available with Firefox, Windows or Android, providing the flexibility to all consumers. What's more? The smartly priced WATCH creates a newly attainable smartwatch category.
4G LTE at an affordable price
First among ALCATEL ONETOUCH's announcements at CES, the smartphone brand is launching its affordable PIXI 3 series, ranging from a pocket-friendly 3.5-inch display to a larger 5-inch display. Offering both 3G and 4G LTE connectivity for the PIXI 3 (4"), (4.5") and (5") and 3G for the PIXI 3 (3.5"), the PIXI 3 series further features easy customization and the most popular applications pre-loaded.
OS-agnostic - Firefox, Windows or Android
Besides being the first among the PIXIs to offer 4G, the PIXI 3 series is also first to be compatible with three major operating systems: Firefox, Windows and Android. "Our users do not want complicated systems — they want something familiar from their work environment in the office, but also on a smartphone," said ALCATEL ONETOUCH Chief Marketing Officer Dan Dery.
Cross-device integration, from smartphones through to PCs. PIXI 3 series offers consumers simplicity of use and the reassurance of having the same system at home, at the office and on the go. With its OS-agnostic PIXI 3 series, ALCATEL ONETOUCH presents operating-system choices to its customers. This continues the efforts begun last year, when the brand teamed with Mozilla to launch the Firefox OS on its FIRE series of smartphones.
A Smartwatch at a Smart Price
It looks like a watch and feels like a watch but it's much smarter than that. ALCATEL ONETOUCH introduces the WATCH series, a smartwatch that puts a premium on elegant design at a very accessible price. In launching the WATCH, ALCATEL ONETOUCH creates a new market segment: the affordable smartwatch.
Offering the WATCH at a fraction of the cost of competitors, the smartphone brand has implemented its compact design expertise to offer a series of fine finishing that meet the demands of everyone looking for the same look and feel as a traditional watch.
While offering choices and styles, the WATCH is also packed with sensors and apps that allow users to monitor daily activity, and connects to Android smartphones to control music, take photos, receive notifications and more.
Visitors to ALCATEL ONETOUCH's CES booth will not only be able to test the brand's products but also really get in the game with activities such as the Interactive Color Run. Color Run is a five-kilometer race during which runners are doused with color at every kilometer. In this virtual version, a video wall will display landscape at a scrolling speed that matches the runner's speed. To win points, players will be able to throw colored sand at the images of other people as they run. Four different smartwatch functions will also display onscreen.
Windows Central Newsletter
Get the best of Windows Central in your inbox, every day!
Exactly..Are there 3 OSs in one device or 3 devices with same specifications running different OSs..??

I think it will launch different versions for each OS, as the phones in the picture have hardware keys instead of software.

Lol, I think someone needs to make some clarifications. I think it's the latter. Much like the HTC One M8 in flavors of Android or Windows. In any case, more choices can't be all that bad.

No clarification needs to be made... Lol. Who would need it..... Oh⬆ .. Lol.

You can have individual or 3 in 1 the choice is endless lol

I like that most people seemed to think they phone has multiple OS's. Show me a phone that comes with multiple OS's stock without modifying it.

Pretty sure that you will get a phone with a stock OS, but it will be able to be flashed to a ROM with a different OS easily. Think of it less as an appliance device where the OS is tailored to the hardware and more like a PC where you can choose the hardware and software environment separately. You can buy a desktop or laptop with Windows and change the OS to Android, Chrome, Linux, OSX, or whatever, and I think that these new phones will be much the same with a stock OS pre-installed, but options to put whatever OS (other than iOS) you want on it. I look forward to hearing more at CES, I will never buy another Alcatel device again, but it is a very interesting idea.

I thought it was triple-boot at first but no it's just the same phone with different OS like HTC ONE M8 Android version and HTC ONE M8 WindowsPhone version :D

And what's with the changing font size

Confusing for people who can't read, yes.

How is this confusing❓ ... Ummm HTC one for Windows, or Android? What's the least bit confusing about that?

It happens like this: Walk into a shop and say "Sir, I'd like one of those hideous Alcatel phones with the severe case of bezelitus" -"No problem, which operating system?" "The Windows please sir" -"Sorry we only have the Android model in stock"

Firefox is pretty much web OS actually

Unless I can install webOS on it, I am not interested in a PIXI. FFOS is nothing like webOS. Neither are Windows or Android for that matter.
Never forget 08/18/11

Neither I see any market for Firefox OS, nor the necessity for it as - unlike on Desktop devices - an open source OS is already market-leader. Nevertheless, it's always better to have a market and a choice. But please don't compare webOS with Firefox OS. Apple's iOS-UI became just another copy of Palm's Activity Cards. I don't see that kind of innovation in FFOS that webOS has been. Never forget webOS20090606.

Now we can really compare the performance between Android and Windows Phone in low/mid end devices =D

Very nice! now we need some higher end spec'd devices too. I wonder if this means you'll be able to do a "factory reset" on the device and put a different OS on it from the one you pcked up. Would love to be able to switch OS on the fly, even if it means reinstalling all my apps.

Probably not, as you would need the files for the install to be on the phone, which would take up like 5GB on a 4GB device lol

it could be possible via usb, or else microsd

True, but the OP appeared to be suggesting simply hard resetting the phone, then being given the option. I'm sure you could flash it though if you wanted to.

Im sure the way Samsung wp8 devices have that for slipping between carrier roms

It will be just like the HTC one m8. 99% sure it won't have an unlocked boot loader. Aka, no changing the OS.

So does that mean I could change my OS from WP to Android anytime?

It will be just like the HTC one m8. 99% sure it won't have an unlocked boot loader. Aka, no changing the OS. Sorry.

Will be locked, at least for Windows version.
You buy a phone with the OS you like. But they use same hardware so cheaper to manufacture and hit different markets and customers.

Is that watch compatible with all os?

Will the watch work with Lumia phones?

Google was threatening companies that wanted to allow android phones to boot other operating systems with eviction from the OHA and revocation of their Google Play licenses. Is Alcatel not part of OHA or is there some other way they are getting around Google's bullying?

It doesn't boot the OSes, it's three different phones.

Its not one phone. Its basically three phones or one with three SKUs

I think it will launch different versions for each OS, as the phones in the picture have hardware keys instead of software.

Makes sense. Of course Google is rightly paranoid about dual booting. Desktop PCs weren't locked to a specific OS and people showed they would overwhelmingly rather pay for Windows than run any linux derivitave for free. I think the same would play out with phones if Google would allow the choice.

The photo provided with the article shows phones with three different sets of hardware buttons. I'm 100% sure it's the same phone more or less available with three different OS's and three different key layout (unless it's software buttons..... Oooooo)

So many already have... This is nothing new.. Only the addition of the Firefox OS.

Will the watch work with Lumia phones or any other Windows phones?

That was my first thought when I saw this over on mobilesyrup http://mobilesyrup.com/2015/01/02/alcatel-onetouch-skips-android-wear-for-first-android-compatible-smartwatch/?utm_content=bufferfd922&utm_medium=social&utm_source=twitter.com&utm_campaign=buffer However seeing they are comming with 3 versions of phones, I would hope they are working to have the Watch work with all!!! I'm crossing my fingers !!!!!!

And this makes me go why the hell isn't the htc's get 8.1!!!

Eh, the M8 phone ships with 8.1.1?

The HTC 8X for T-Mobile doesn't, however, even though the Verizon version does.

Yeah I'm afraid they might have ditched the HTC 8X support-wise. I just used 8.1 Developer Preview. Boohoo I'm missing wifi calling who cares.

Performance is not good with the DP though.

At first I thought it was dual boot phone but ...meh...

I thought it was triple-boot XD

Very interesting, we need more OEMs like that.
They bought the Palm name from HP, hope they license WebOS from LG & continue the steps of Palm before HP started to mess em up

Not going to happen. We don't need another smartphone OS.

Yes we do.... So Windows Phone can look better by comparison lol

I think they brought the Pixi brand from HP too!

Looks nice. Any word on price?

If you can install a new OS on your phone easily, it would be fantastic. I am WP but to be able to try Firefox OS for a couple days and then, revert back to WP would be great. Just like a computer.

I assure you you will eventually get tired of it.

Of course it means that the phone can run all the OSs separately. :) would be nice if more phones were like this

Nope. You have to buy the phone with the OS you choose.

That's what I mean by Separately

What is confusing? Please explain what you don't understand, and how you don't understand it.

Most interesting point of the article is there may finally be a Firefox phone that is one, sold in the USA, and two, not a complete POS. This doesn't do much for Windows Phone, just another 5xx/6xx competitor in a saturating field.

Lol. I thought it was triple OS boot. Cute phone btw.

I am more interested in specs. I hope the 3.5 incher follows the footsteps of it's predecessors and has an HVGA display with 2mp cam, 512MB RAM and 4GB inbuilt memory with a dual-core processor.

Phones are platform agnostic, but the smartwatch only works with android?!?!

They are unrelated announcements..

I wonder which one will get updated faster lol

Alcatel phones are lower quality phones...we get them free when we top up certain amount. I think windows phones OS should maintain some hardware standards.

if they give the option to flash any of the three os's it would be a very nice phone, just like the htc hd2 :)

3 different phones not one phone

This has got to be the most amount of dumb comments I've ever seem on one article.

Can't wait for the article explaining how that will work

Explaining how what will work?

The first couple of comments had me like smh.. Common sense people.. Same phone designs for different o.s.

Will be really interesting to see WP v Android performance on identical hardware

We've had WP & Android on the same hardware for months, the HTC M8. I wonder why there aren't any comparison reviews out. I haven't yet seen any that directly compare performance.

Is this going to happen.. Wow,. Multi OS.. Superb

Updates are going to be interesting..not to mention malware threats.

Interesting. Alcatel used to be a big player in Europe (alongside Motorola and Ericsson) before Nokia crushed them all.
Motorola is pretty much MIA in Europe, Ericsson left Sony in charge of the phones and Nokia is in a hiatus until 2016. So it's nice to see this resurgence of Alcatel. I had an Alcatel once (my first mobile phone, actually) and I recall they were pretty good phones. I'll want to see more from them. And I'd sooner buy an Alcatel WP than anything out of Microsoft Mobile. Posted via the Windows Central App for Android

Hope they come with decent mid ranger. Posted via the Windows Central App

Lol at one of the world's largest phone brands

Err, isn't that Daniel Rubino in the Xbox tile on the Windows Phone?

When are we getting a good hardware and we get to decide which software we want?

Looks like an iPhone haha

I bet that's why they bought the Palm trademarks from HP. So they can announce the Pixi phones. Palm had a phone called the Palm Pixi a few years ago

It's the same phone with three different operating systems. I find it interesting people didn't figure that one right away... Posted via the Windows Central App for Android

I doubt the 3.5" version will have a Windows Phone version, as WP doesn't support HVGA resolution.

Sigh... More ugly phones. These companies don't even try. I see these sitting in the plastic packages in the prepaid phone section at WalMart. Selling one a day

Potential Blu Win HD killer?

I'm assuming that this means that you can get the same phone in a version of either of these OSs,and not that the phone will run all 3 OSs...

You mean dis phone runs on 3 OS's????

I think the blogger needs to review his blogging or writing skills..... The blog is so confusing

It looks like all buttons at the bottom of screens are hardware ones (not software emulated). If this is the case, than we don't need any further explanations :)

Nice to see Alcatel on Windows phone!!

That's what we want! OS choice on same hardware and ability to install OS of choice.