Alcatel Onetouch's new phones are compatible with Windows Phone, Android, and Firefox OS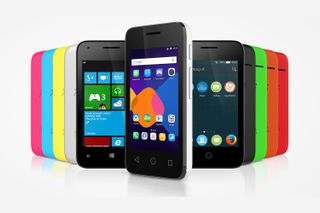 Alcatel Onetouch has announced some of what they plan to show next week at CES 2015. The company will debut its latest Pixi 3 series of smartphones. The phones come in 3.5-inch, 4-inch, 4.5-inch, and 5-inch models, the last three of which are LTE-capable. The line is also platform-agnostic, running not only on Windows Phone, but also Android and Firefox OS.
Additional hardware details and pricing for the Pixi 3 series has not yet been announced. Alcatel says that they plan to reveal more once CES 2015 gets underway next week.
Press release:
ALCATEL ONETOUCH at CES 2015:
Opening Access to the Latest Technology to Everyone
4G LTE connectivity is now within everyone's reach
OS-agnostic smartphones available on Firefox, Windows, or Android
The ALCATEL ONETOUCH WATCH opens up a new smartwatch category
Color Run makes the ALCATEL ONETOUCH booth a blast
CES - Las Vegas, January 2, 2015 – With a series of announcements at the International CES, ALCATEL ONETOUCH, one of the world's largest smartphone brands, makes good on its commitment to offer the latest technological innovations to all.
The brand's new PIXI smartphones make mobile Internet available to everyone, while offering another innovative feature of OS-agnostic. It is available with Firefox, Windows or Android, providing the flexibility to all consumers. What's more? The smartly priced WATCH creates a newly attainable smartwatch category.
4G LTE at an affordable price
First among ALCATEL ONETOUCH's announcements at CES, the smartphone brand is launching its affordable PIXI 3 series, ranging from a pocket-friendly 3.5-inch display to a larger 5-inch display. Offering both 3G and 4G LTE connectivity for the PIXI 3 (4"), (4.5") and (5") and 3G for the PIXI 3 (3.5"), the PIXI 3 series further features easy customization and the most popular applications pre-loaded.
OS-agnostic - Firefox, Windows or Android
Besides being the first among the PIXIs to offer 4G, the PIXI 3 series is also first to be compatible with three major operating systems: Firefox, Windows and Android. "Our users do not want complicated systems — they want something familiar from their work environment in the office, but also on a smartphone," said ALCATEL ONETOUCH Chief Marketing Officer Dan Dery.
Cross-device integration, from smartphones through to PCs. PIXI 3 series offers consumers simplicity of use and the reassurance of having the same system at home, at the office and on the go. With its OS-agnostic PIXI 3 series, ALCATEL ONETOUCH presents operating-system choices to its customers. This continues the efforts begun last year, when the brand teamed with Mozilla to launch the Firefox OS on its FIRE series of smartphones.
A Smartwatch at a Smart Price
It looks like a watch and feels like a watch but it's much smarter than that. ALCATEL ONETOUCH introduces the WATCH series, a smartwatch that puts a premium on elegant design at a very accessible price. In launching the WATCH, ALCATEL ONETOUCH creates a new market segment: the affordable smartwatch.
Offering the WATCH at a fraction of the cost of competitors, the smartphone brand has implemented its compact design expertise to offer a series of fine finishing that meet the demands of everyone looking for the same look and feel as a traditional watch.
While offering choices and styles, the WATCH is also packed with sensors and apps that allow users to monitor daily activity, and connects to Android smartphones to control music, take photos, receive notifications and more.
Visitors to ALCATEL ONETOUCH's CES booth will not only be able to test the brand's products but also really get in the game with activities such as the Interactive Color Run. Color Run is a five-kilometer race during which runners are doused with color at every kilometer. In this virtual version, a video wall will display landscape at a scrolling speed that matches the runner's speed. To win points, players will be able to throw colored sand at the images of other people as they run. Four different smartwatch functions will also display onscreen.
Get the Windows Central Newsletter
All the latest news, reviews, and guides for Windows and Xbox diehards.