Alcatel: The future of Windows Phone is in the entry-level segment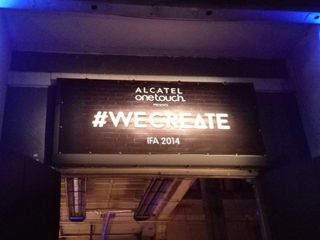 Alcatel may not have launched a Windows Phone since 2012, but all that may change in the near future. In an interview with The Guardian, vice president of Alcatel Dan Dery mentioned that the brand may launch entry-level devices based on Windows Phone.
Dery also stated that Alcatel is much more interested in launching a Windows Phone after the introduction of Windows 10.
Dery did not give out any specifics on when we might see an official announcement from Alcatel, only stating that devices were currently in the pipeline.
What do you guys think? Do any of Dery's statements resonate with you?
Source: The Guardian
Windows Central Newsletter
Get the best of Windows Central in your inbox, every day!
Harish Jonnalagadda is a Senior Editor overseeing Asia for Android Central, Windows Central's sister site. When not reviewing phones, he's testing PC hardware, including video cards, motherboards, gaming accessories, and keyboards.
Wuhuw ! First they copied ios with Android and now The will bring us a new winphone !! I like The win10-Phone vision :3

Bring on the 1520 and 930 successors!

Pretty sure those aren't entry level phones...

Mysterious -___- .... High end phones are called entry phones now :s but which devices will we call high end then :o

Entry level smartphones was how Android started the march to dominating the mobile OS marketshare!

Hope it wont fail on microsofts side and we will get a locker and useless to developers Windows Phone Version. Right now just Microsoft can develop, upgrade and change The whole os ..and that's bullshit :(
That variety of looks of android based on androids open source is so much cooler :(

The customization should not be done by the manufacturer though, but by the user. Every phone should be similar at startup, and if the user wants something else, it's up to the user to change that.

I think that's a fair route for everyone

I hate those tacky bloated "customizations". In a nutshell, I have a completely opposite opinion from yours.

+920 I'm against having different versions, like HTC Sense, Touchwiz, etc. Let the user customize the phone themselves.

Cant think of anything worse than all the different android versions. I like to know that when someone calls me to ask how to do something on their phone I can tell them. Without needing to sit and fiddle with their completely randomly laid out OS.

I want a high end "Microsoft Lumia" Phone... but.... I'll wait for Windows 10.

Isnt it "Windows based Phone" & not "Windows Phone"?

I believe it should be 'Windows phone' rather than 'Windows Phone'. Since the capital P makes it part of the name, but the small p shows that's its a phone running windows. You wouldn't say 'windows based phone' since its not a phone based on windows, its a phone running windows.

Yes, totally agree. Microsoft needs to focus on the entry-level, budget, prepaid markets to create brand awareness for Windows phone. Yes its great the Lumia 830 is all over Canadian carriers, but its also bad that there's no support from: staff at carriers, marketing from microsoft or customer awareness.

I​t's called entry level for av reason. Those who buy entry level services will eventually want to move on to higher end devices. If they focus only on entry level devices, and do not have higher end devices then people will leave the OS for high end devices on Android or iPhone.

No one is saying they should stop making high end phones. The low end is the key to building marketshare and awareness.

The problem with the current market scenario is that these high end phones are just sitting in shelves because there is no brand awareness, no one is buying these phones and carriers are not supporting them. They need a beachhead. Look at the BLU win Jr: An $89 unlocked dual SIM budget phone It was a total sellout on two occasions in MSstore with literally no marketing. Now they need to broaden that availability and expand the number of models into WalMart, Source, and elsewhere. Screw the carrier locked phones.

Thing is, when people get the entry level WP and want to move higher, they get stuck when they see no real flagship -- yeah, I know that everyone says that, but it's true. The 1520 is huge and phablets are not so popular around the world as in the US, so the viable option is the 930, of course. But, wait a second! It lacks features even low end devices have. But how come? Flagships are supposed to highlight what the company can really do; to aggregate all the best features into one premium device. Trust me, I LOVE the 930, but the lack of Glance and SD slot is really crippling. Not that Glance is all that important (although for me it is), but it's just not right that a flagship lacks something so simple that even a midrange has. It's just unacceptable! The same can be said about the processors. Every company upped their games to newer chipsets, while Microsoft (or Nokia, don't know which one was in charge yet) decided to use last year's chipset. I know the difference is minor, but it matters. I really, really hope Microsoft gets it right with the 1030. If it ever gets to see the light of day.

I don't believe the lack of an SD card or Glance has harmed the iPhone sales... And really, who even uses glance? I have it on, but find it pretty useless. If its on all the time it lights up your room at night. If you have it set to hover ot takes longer to get it to come on than just pressing the power button.

I find glance (Nokia) and active display(Motorola) incredibly useful. Just glance at the screen on your night table to see the time. No need to grab in the dark, reorient to find the screen button and turn on. It's a convenience that I look for now that I have utilized it.

You should avoid all lights in a bedroom, especially on a nightstand. It'll give you abnormal sleep

Please don't drag the iPhone into this. Apple releases 1 device per year, always a flagship. They don't have a midrange to compare. Not to mention they never had an SD slot, nor Glance to begin with. Take the 1520, for instance: It has Glance and an SD slot; why doesn't the 930 have it, too?? Besides, I believe you missed the whole point of my comment. I wasn't saying that not having Glance is a deal breaker per se, but the lack of this otherwise simple feature in the best of what the company can offer is preposterous, especially considering that even the midrange from the same company has this same feature. So it is not the best of what Nokia could offer. A flagship device simply CANNOT lack in features that its midrange counterpart has. And in response to your question, I use Glance and I find it extremely useful not having to wake the display up to see quick notifications, date, hour and, now, even the weather. And when it's charging at my bedside at night, it is useful to peek at the hour when I suddenly wake up in the middle of the night without burning my eyes.

Or maybe because the high end market is already swallowed by Apple, and to some extent, Google. That, and maybe because the people who are going to spend on a high-end phone are more likely to get one that is more established, existing OS reputation, and mature apps market. It doesn't take a VP to see the obvious.

The problems is VPs often don't see the obvious because they are so removed from reality. So it's good to hear this guy seems to know how his market works and what to do to help drive WP growth.

dont know how to define entry-level, something like 730 or 630 ??, yes may be there is where WP can steal market share from Android SS, HTC or Sony, a little difficult for the 930 or 1520, and extremely difficult for 830 to go again the competitors

Entry level is the 5xx line and 6xx line. Midrange is the 7xx, 8xx and 13xx lines... Premium would be the 9xx, 10xx and 15xx lines. Entry level: 4-5" display, 1GB RAM, 4-8GB internal, 5MP camera, etc...

Well .. Yeah actually that's the definition . ( a year ago those stats were mid range mostly )

Look at the brand from china, Xiaomi.
Impressive specs with affordable price, really affordable. Xiaomi has been making waves in Asia markets. And ady got more marketshare then windows phone. Microsoft need to put in good specs and price it as low as possible. It will sell. Human likes cheap things.

Well whatever helps WP is always a good thing. Personally,ill never buy another phone with less than high end specs again. I'm too much of a power user to be handcuffed by low end specs.

I am fine with the majority of Windows "phones" being toward entry level of the market, as long as they keep making flagships for those that want them. The hope is that those entry level phone users will upgrade to a higher end phone eventually.

The market is in phone entry or high end that are not dependent on a carrier. This enables both consumer and business customers' and supports the vision with the least amount of complexity. Unlocked GSM and LTE is the way. At this point heck with VERIZON and SPRINT they don't fit in the immediate future until after 2017.

High End Windows Phones work. Problem is the Carriers, they get "exclusive" Phones and dont do any advertising on them. Their sales staff try as hard as possible to convice you not to buy a WP. Later on they complain about low sales and lack of customer interest. Apple had the same problems with its Mac PCs, guess what they did to prevent this from further happening -> the Apple Store.

Hmm. How should I say it : Lumia flagships are no flagships any longer
--
For example Vodafone had the next phone contract so you purchase that one you get a new phone every year ( flagship phone ) . Why the Lumia 930 wasn't part of it - because the definition is ( and the goes for t-mobile , yellow , O2 ...) that a phone only gets a flagship rating when its produced by the company . But Nokia got soled to Microsoft so those phones wont be flagships anymore . That's why there's no advertising and why carriers don't really care about winphone

I dont know what you smoke but it is pretty bad stuff. Biggest BS I read in my life. Flagships are no Flagships anymore just because the D&S changed owners? Wow. Okay.

Uh, wouldn't this definition make every phone that a company produces a flagship?

No they are still flagships but carriers doesn't accept Lumia flagships anymore as flagships cause Nokia went down and was sold to ms .TThat'swhat iI heard from Vodafone ,o2 and yellow. Believe it or not lumias may are flagships to the public bur not for carriers anymore . ..hope it will change when Microsoft starts producing their own phones
---
No I was just talking about why Nokias flagships are not accepted AS flagships anymore .

I guess The New phones by Microsoft now will get the flagship status at carriers again ;) because now those phones are made and produced by Microsoft :)

I'm not really interested in buying an Alcatel phone myself, but what I take from here is the statement that carriers say that entry-level WPs do work. I think carriers and store sellers are one of the biggest obstacles to overcome, this is a very good sign I think :)

You don't consider the 930 or 1520 decent flagships? I may not like the 1520's size, but the 930/Icon is fantastic.

Those are great flagships that didn't make it to most carriers in the US.on fact, only the Icon made it Verizon and apparently has not been updated to Cyan and has been discontinued from Verizon stores. The HTC One is the only flagship on the horizon.

This is the number one problem with flagship Windows phones, across all carriers, at least in the US. By the time the exclusivity deal is over the flagship is no longer a flagship, and shortly after the carrier discontinues the phone. Once that happens, there is zero incentive for the carrier to approve any further updates. If only Microsoft could pull off a deal to convince the carriers that Microsoft will assume all responsibility for updates and testing. Doing this through the Preview only goes so far, as everyone still waiting for Cyan can attest to.

I have a 930 - its not entry level and struggle to find a better phone on the market - never mind the integration possibilities with my windows 8 laptop and surface pro 3 tablet. Really please with the phone. Sure I could would love an upgrade 925 (my previous phone) but what else would it have - we only need NEW when its better. Never want to be part of the Apple con show - every year a newer phone which is always behind the market but a better phone than last years iphone!

Coz Android low end hangs like hell.. WP will give same immersive experience in all price ranges ..

I love it! Get phones like the 530, 635 and 1320 out to Virgin Mobile, Boost Mobile and Simple Mobile. Send the 635 out to Red Pocket Mobile and MetroPCS. These sub $100 phones are exactly what they need. Many are already pushing the Blu Win HD. Great device at $179.

If Microsoft was not interested in going aggressively after the high end market, they should have left Nokia alone. Now we have many OEMs tackling low end and no one (except HTC) producing high end phones. You can count Samsung too, but they've been very quiet.

Exactly. Microsoft needs to wake up and stop trying to be Apple. As soon as they realize that flooding the prepaid MVNO's with 530's, 635's, and 735's is their best bet, they'll start gaining marketshare. Stop it with the carrier exclusive "flahship" bull****. Only fanboys buy "flagship" Windows Phones, on contract or not.

That's what they have been doing/trying to do, with their own models and the slew of new OEMs. And its probably going to show some results in this 2nd half of the year. Still, they must keep up and step up work on flagship models too.

Agreed. The flagship models should be sold from Microsoft's own store, and be available for all networks. No more carrier exclusives.

This is fine for Alcatel and even as the most important segment for MS. But MS cannot drop the ball (like they did with not having a Plan B for when McLaren failed to become a product.. still so bummed by them not having prepared for that eventuality) on the high end either, and in fact has to step up its effort there.

If only low end were spec upgraded as newer highend specs are supported

I think everyone knows that MS new strategy is attacking the low end market. I don't necessarily disagree with that strategy, but I think they should be able to produce at least one flagship while doing so. If they indend on only focusing on the low end they leave no upgrade path for those entry level folks. They need to be able to set fouth a vision of excellence at more than one price tier because many entry level customers won't remain in that tier forever and they'll jump ship when they don't see a clear upgrade path. Not having a flaghip is IMHO shortsighted.

He is almost right. A lumia 920 is far more better than any iOS handset to date. Maybe people forgot that Bluetooth is a necessary feature to share material across platforms which iOS is unable to do so. Reliablity is a factor which Android entry level handset are completely unreliable. if you forget to reset the handset in proper time, most of them will loose photography functionality and almost all of them after two month of continuous up time will loose telephony and messaging. If iOS turns to produce entry level handsets, apple shareholders will meet heart attack or strok; so, money lovers never think about customers. WP8,8.1 can be called the most stable entry level and also is as featureful as many mid rangers. In high end sector, Android is the king; why? thanks to OS weak points. iOS again hit their ignorant BFans (Blind Fans) with limited mid range handset in cover of high end! iPad mini3 is by far the most innovative and up to date in mini section, regaring iPad mini and mini 2!? Touch ID is the only difference between mini 2 and mini 3. mini 3 battery is decreased from its predecessor. This difference cost you 100 more USD!!!!!!!!!!!!!!!!!!!!! In both High end and entry level, WP is the best choice. in mid range section as the difference is minor and can only be found on the paper, WP is also king. From development point of view, iOS and Android are challenging to rule, but WP is not rests, it comes closer each hour to those two. A Lumia 525 worth to have, instead of any one of GS5 mini or iphone 5s. Total Cost of Ownership is most important factor in current market which android in absence of WP outpaced iOS and BB.

I think it's fine for Microsoft to encourage and support the OEMs especially in the mid to lower end of the market. I also believe Microsoft should take the Surface approach to Windows Phone. We need a hero device to get into the same conversations as Android and iOS. We need a Surface Phone, with innovation around battery life and that 41MP camera that is in the 1020.

What I'd love is a high performance mode, which boosted power when activated. Then, games and post processing could be done quickly, but could save battery life when not active. The phone would have to have a removable battery though, as the phone's heat would make it lose efficiency pretty fast.

I know they are right, but I'd wish they'd be wrong. Keep 2 high end releases MS!

I'm not him, but I'm running out of space on my phone too, I have about 4GB of photos from trips that I keep if friends want to see them. But most importantly, I have music. At the moment I have a 64gb card in a SanDisk Sansa, but I would rather have that card in a phone and have one device. My phone has only about 10GB of music, but I have way more (a lot of it 320 kbs ripped music) but between the two, apps only get the rest of the space. I really also like taking video on my phone because it's better than my dslr at video (of which I take a lot of) so that also uses up a lot of memory. I delete all my videos when I back them up, but sometimes that's not enough if you're not near a computer, and I don't have a data plan (Canada)

I hope Alcatel will release their phone at the end this year...

I don't understand why he thinks Win10 will suddenly change things. No one wants Universal/Metro apps and any new API features in Win10 will be ignored if they aren't supported on Win7.

Patiently waiting for the 1030 now...

slow and steady wins the race....i think MS likes the saying. my personal feeling is that MS has allowed far too many people to manufacture WP devices. the quality is bound to degrade. MS was never even close to as strong as Samsung in the mobile market, so a crappy windows phone is a crappy windows phone doesnt matter whether or not high end absolutely brilliant devices are out there...MS just cant do what samsung is doing. and Apple....well let's not even talk about them...they are @rses to say the least but boy they maintain their quality. it breaks my heart to see that WP, when introduced and for the greater part of it's existence was so magnificiently different from the rest and now becoming increasingly like the rest. nevertheless i still love it.

I am perfectly ok if there are a lot of low end WPs. However, there better be phones in the more expensive ranges as well. I don't want to be forced to go with a low end phone or have a pitiful selection on the higher end. Really, what happens when owners want something more from their phones? What are they going to do then? Stick with more low end phones? Manufacturers ought to plan for the economic success of their customer base. It could be in the developed world or the nations that are on the way up. It could happen in 6 months when an individual finishes school and gets his/her first job or that promotion. Or it could happen in 5-10 years when their nation is stronger.

Even the major Electronic stores like Reliance Digital & Croma in Bangalore don't keep Lumia's and other brand of WP. They don't give that space as yet. In addition Indian newspapers review WP and still add a footnote that better options at the price range are the droids!!!! MS has to do something about these. On the OS front, I've been a WinMo, Wp7 and now 8.1 but still find the Android phones much faster when it comes to apps opening, ability to maneuver.... WhatsApp still takes a 5 sec more compared to Android... The ever occurjng 'Resuming' & 'Loading' for which MS hasn't found a fix as yet

I don't remember Alcatel making a WP device at all. Perhaps if they advertised…. But I completely disagree with this statement. Low-end phones sell in different parts of the world because they're affordable, WP8 works great on them and they can be purchased without a contract. Those of us that have the luxury of being able to afford high-end phones like the 1520, 930/Icon, M8, etc, (albeit with subsidies), love our phones too and can't wait for Microsoft and other OEMs to keep pushing high-end devices so that we can wow friends and family members.The problem is that because of their low market share, WP gets third billing when it comes to apps and carriers and second billing when it comes OEMs.