Alcatel One Touch taken for a spin: Where is that Windows Phone camera button?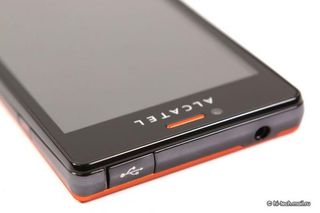 Today we have an in depth good look at the Alcatel One Touch Windows Phone handset, designed to compete in the lower cost segment it looks to come in around US $226.36.
While much of the attention is understandably on the higher end Windows Phone 8 devices there remains a pressing need to get lower cost devices into the hands of consumers. The Alcatel One Touch brings with it a good specification at a lower price point but stands out as the first Windows Phone without a dedicated camera button. Read on past the break to find out more.
As a Windows Phone 7 device the One Touch comes with a single core Qualcomm MSM7227A 1 GHz CPU but also comes with a no compromise 512MB of system memory. That means that even though this phone is priced aggressively at the lower end there shouldn't be any issues running Windows Phone 7.5 apps. While much has been done by devs to optimise their applications to run on the 256MB Tango Spec devices there still remains some performance concerns and applications that just will not run, so the Alcatel should be good news in this regard.
The full specifications are as follows
Network: GSM 850/900/1800/1900 MHz, HSDPA 850/900/1900/2100 MHz
Operating System: Windows Phone 7.5
Processor: Qualcomm MSM7227A 1 GHz
Memory: 512 MB RAM, 4GB of internal memory, there is no expansion slot
Screen: capacitive IPS, 4.0 ", 800x480 pixels
Camera: 5 megapixel with autofocus, single flash, 720p video 30 fps. Front camera VGA
Wireless connectivity: Wi-Fi 802.11 b / g / n, Bluetooth 2.1 + EDR (A2DP), GPS
Dining: Removable 1500 mAh battery
Dimensions, weight: 124.2 x 64.2 x 10.75 mm
Recommended price in Russia: 6990 rubles
The phone has a removable battery but like all Windows Phone 7 era devices the memory cannot be upgraded further so the 4GB will have to do. The One Touch looks like a very well made handset; the colourful back cover is compared to a Sony Experia in one shot and bares more than a passing resemblance to the styling. The detailing does look very good, the earpiece is colour coded with the back for a pleasing effect.
Controversially this handset does not look to have the now familiar dedicated camera button. It does sport a 5MP rear facing camera and a front facing VGA sensor too for video calling duties. The samples in the review look roughly what we'd expect from a 5MP camera but there isn't much variation in photos to get a good idea on performance.
From the preview the device looks to have a good spec at this price point. What we don't know is how well the device will be supported by Alcatel, it doesn't look like any attempt has been made to create apps for their new Phone but that could change. The need remains to create Windows Phone handsets that can reach down into lower cost markets. When Windows Phone 7.x devices receive the new Start Screen update with 7.8 it will bring the look of the two operating systems into line.
We'll be sure to do a full Windows Phone Central review of this device if we can lay our hands on one.
Source: Hi-Tech@mail; thanks, @JCinWinupd8, for the tip!
Windows Central Newsletter
Get the best of Windows Central in in your inbox, every day!
this reminds me of the walkmans back in the day. looks intriguing tho.

Don't know why you would buy this over the coming Lumia 620.

My thoughts exactly... Who ever buys this over the 620 is a massive idiot.

You don't know? Some people don't have a choice. Not all phones are sold in all markets.

Yes they are... It's called eBay ;)

Maybe someone doesn't like how the Lumia looks. Who knows?

sure, but the 620 is a WP8 device for 250$ while this is a WP7 device for 25$ less.
You can also get an unlocked Lumia 800 for around the same price.
It's really strange to release a 7.x device and price it at that range

There will still be people that will buy this device.

Without the camera button a wp is useless imho :/

The OS doesn't have much going for it, in your opinion, I take it. A massive exaggeration, buddy.

I won't agree that it's useless, but I use that dedicated camera button so much I definitely won't get a phone that doesn't have it. The fact this phone is priced 25$ less than a WP8 device is a bigger reason to skip it

I certainly wouldn't want to not have my camera button, however, I do find I use touch to focus/shoot more often then not with my 900.

For me it's simply a defining feature of the Windows Phone platform to have a dedicated button that let's you launch the camera app from anywhere and even from the lock screen. You can always TAKE the picture however you want, but it's so convenient to have the hardware button

+1. It always better to have it, and I love it as a selling point to my friends. But I tend to use the screen as well. I seem to have better success getting decent pictures. Mostly, I blame Operator Error.

wow, that's one ugly phone

How is it even possible to make a WP device without a camera button? Wasn't that a mandatory option for all WP devices?

Precisely what I was thinking... not sure how they're getting certified by Microsoft without it.

Maybe because it runs 7.5 and not 8? No idea really just food for thought

I thought a camera button was compulsory? How does Alcatel get away with a WP phone which does not have one?
Alcatel is by the way a brand that most people in Western Europe would probably not touch. Their phones during the early GSM years were just a joke compared to Nokia, Motorola and Ericsson. And this fact is not forgotten.

One of my main gripes about android is that google would allow it on almost any device as long as it "runs" i really hope m/s dont follow suit otherwise we'll end up with dozens of totally unsuitable devices flooding the market, which is not what WP needs

Nokia and HTC pretty much nailed the lower end market with the 8s and the 620. Unless 7.8 brings in really awesome features like fast resume and/or background Skype calling, i dont see a reason why will anyone not buy them over this one from Alcatel or the 7.5 existing devices

With only 4 GB, users of this phone probably won't be snapping a lot of photos. Even so, when did Microsoft relax the physical camera button requirement?

This phone will be great if it was in 2011. Still, countries without budget WP8s like the 8S or the 620 could use this phone.
And whatsapp is available on WP7.5, that's 1 app that WP8 doesn't have (yet).

Not a bad looking budget phone. Just gotta pin the camera app to start screen for photos I suppose.

YUCK!!!! is that the usb port at the TOP of the phone???

Lumia 800 has it too, and one gorgeous phone it is :) but yes, it was way better hidden than this rubber whatever that's called :)

here it is:
http://youtu.be/Ehng3SKa9Dw

I had an Alcatel DSL modem back in 1996. Had to reboot it every few days...

i thought camera button is standard option Oo

Not ALL windows phones 7 devices couldn't add storage. My old Samsung Focus still has a 16GB miniSD card installed in it, bringing the total storage up from 8GB to 24GB.

I was going to comment on that as well. I upgraded my focus to have nearly 40GB of memory.

Again another phone rendered uesless to most people with onlt 4GB of storage. Just give it 8GB as a minmum. I get that its a low cost phone but its still meant to be a smart phone. Its not very smart if you can only install a tiny amount of apps on it.

No camera button? Better go with first Gen wp7 wave

Yeah, one like the Focus, with expandable Memory! ;)

You can also upgrade the memory on HTC Mozarts, it means taking it apart but it happily accepts a 32gb sd card...


i kinda like the design though. but the material looks cheap

I like the design. For a budget handset, id go for this rather than a flawed Nokia (256MB should never have been allowed). However Nokia would probably still win out for me, on the basis of drive...
Windows Central Newsletter
Thank you for signing up to Windows Central. You will receive a verification email shortly.
There was a problem. Please refresh the page and try again.