Alien Hive – an evolutionary match three game for Windows Phone and Windows 8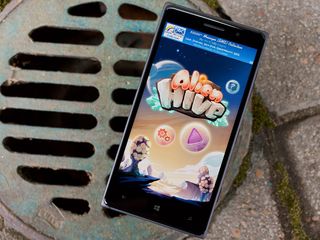 If you are bored with the match three genre of Windows Phone games, take a look at Alien Hive. It is a relatively new game (came out late last month) available for both Windows Phone and Windows 8 that combines the match-three gaming style with a sliding puzzle.
You shift the tiles around to create matches of three or more of the same symbol and when you do, the elements transform into a new tile style. The goal is to complete as many matches as possible and evolve the objects into a new alien species. There are two gaming modes with Alien Hive, nice graphics and challenging game play.
In playing Alien Hive over the past few days, it comes across as a challenging match-three game that requires a little more strategic thinking than your run of the mill game. The game has had a good amount of success over on iOS and Android platforms and Alien Hive should see the same level of success here on Windows Phone.
A quick rundown of Alien Hive's main menu has three options present. You have access to a help section, the game's settings and a button to choose your gaming mode.
Settings for Alien Hive include your typical sound/music settings as well as options for language support, viewing the hall of aliens, viewing your high scores and checking in on the game's credits. The hall of aliens is a collection of all the alien species you can create through game play.
The game will walk you through a series of tutorials when you first start game play. Additionally, Alien Hive has a nicely laid out series of help screens to assist you with how to create the matches, how to deal with the naughty bots and info on all the power items. Kudos to the developer for offering such a nice help section for those times you need a little assistance.
Game play is split into two gaming modes. You can enter the Hive and begin your evolutionary matchmaking or venture into the Blitz where you have 60 seconds to score as many points as possible. You also have a link to the gaming store (the rocket ship) on the mode selection screen where you can pick up gaming cash and boosters via in-app purchases.
The mechanics of game play departs ever so slightly from what you might expect from a match three game. Instead of swapping tile positions to create a match, you slide the tiles around to create the match. The two gaming styles vary slightly with the Hive game board having an empty slot to shift tiles around and the Blitz game board allowing you to shift the entire row of tiles around.
Tiles can be moved up, down, left or right to create matches of three or more of the same object. Matches can be grouped in a row or cluster, just as long as all the matching tiles are adjacent. As you create matches, the combination of the objects evolves into a new object that in turn has to be matched to continue the evolutionary process. All of which should end up with a new alien species being created.
Prior to launching either game mode, you will have the opportunity to use some of your gaming cash (earned as you play the game or picked up through in-app purchase) to put power items into play. Power items include a magic fruit that will instantly evolve any paired object, a blaster that will destroy any one object, a Bot Killer that will remove any Naught Bots from play and more. The more you play, the more power items become available for purchase.
You will also earn bonus items in the Hive mode that include a Wormhole that allows you to shift entire rows across the gaming board three times to create matches or set up matches.
Again, Alien Hive's two gaming modes share the same goal, create matches of three or more of the same objects, but how you go about accomplishing this is uniquely different with each mode. You have the different mechanics and each mode has its own layout.
The Blitz mode has your timer and score running across the top of the game screen and the power items running across the bottom of the screen. You slide the entire row or column of tiles around to create the matches.
The Hive mode's layout is similar to the Blitz's with your score, playing level and energy amount displayed across the top of the screen with your power items and gaming coin count running across the bottom of the screen. While a timer dictates game time with the Blitz mode, your energy level dictates the game time with the Hive mode.
The gaming board for the Hive mode is a 6x6 grid with all but one space filled with a tile. This empty space will let you shift the tiles around to create your match three combos. As you create the matches, the tiles will evolve, creating a new tile that can be matched. This evolutionary process makes Alien Hive a rather challenging game in that not only do you have to consider how each move impacts the game board but also how each evolutionary change impacts it.
You begin game play in the Hive mode with 100 crystals with each move costing you one crystal. Oh and each power item you use will cost you an energy crystal as well. You can replenish your energy during game play by matching plants or crystals. Matching crystals will also earn you a little extra gaming coins.
Gaming Tip: Remember to move tiles in groups whenever possible to minimize how much energy you use. If you need to slide three tiles, don't move them one at a time. Tap and slide the deepest tile in the group. It will only cost you one energy point.
To add to the challenge of game play with the Hive mode, Naughty Bots will come into play at some point. Naughty Bots latch on to a tile and render it un-moveable. Their grasp will rotate clockwise to adjacent tiles with every move and if you want to get rid of the Naughty Bots, you can use the Bot Killer power item to eliminate any one Naughty Bot.
Overall Impression
Alien Hive covers the basics rather nicely with quality graphics, challenging game play and simple game mechanics. Add the evolutionary elements of the game along with host of power items and Alien Hive separates itself ever so slightly from the vast number of match-three style games available for Windows Phone and Windows 8 devices.
The two gaming modes complement each other well in that the Hive mode is one of strategy and the Blitz mode is one of speed. I also found that regardless of which mode you choose, game play starts off a little on the easy side and you can find matches with ease. Then when you least expect it, you run smack into a wall and the game tests your skills at observation, planning and luck.
Alien Hive fits the cliché' of a game that is easy to pick up but difficult to master. Overall it is a fun, challenging way to pass the time and a welcome addition to the Windows Phone Store and the match-three genre of games.
Windows Central Newsletter
Get the best of Windows Central in in your inbox, every day!
George is the Reviews Editor at Windows Central, concentrating on Windows 10 PC and Mobile apps. He's been a supporter of the platform since the days of Windows CE and uses his current Windows 10 Mobile phone daily to keep up with life and enjoy a game during down time.
Update: Not working with W10 TP :/

Snake rewind updated! Controls r much better now!

Never hold your phone over sewers like that!!

I agree. I learned it the easy way. You see my sony xperia went down the drain and then i got a 1520. Best mistake I ever made.
Sent via the Wibdows Cenfral App for Ma Stinkin' Butt.

Wasnt this an android game first?

Ice age avalanche is here why wud u need this crap

Not available here in Brazil. Developers I can help you.

Had this game on my Z10 and it was one of those games you keep going back to. Happy to see it available for Windows phone - but wish it didn't have the ad banner. I find that a bit distracting.

Well nice game 4stars but after some minutes just got bored... Doesn't worth the time
Windows Central Newsletter
Thank you for signing up to Windows Central. You will receive a verification email shortly.
There was a problem. Please refresh the page and try again.