Alltel, US Cellular to Drop Lime Green Motorola Q9c, also Licorice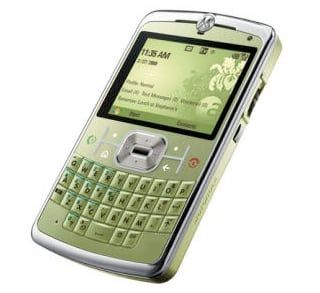 Update: Yeah, so it's also available in Black, er, Licorice as well. Serves us right trying to post a story during a 20 minute layover. Sorry there. Please disregard the catty comments about color availability below.
Engadget Mobile is reporting the only good Motorola news we've heard in weeks - that the Q9c is going to hit Alltel and US Cellular for just $99.99 after contract. That's the good news. The bad news is this decidedly business-friendly device (We said of Sprint Q9c that
Windows Central Newsletter
Get the best of Windows Central in your inbox, every day!
[quote=WMExperts Articles;1427122]The bad news is this decidedly business-friendly device (We said of Sprint Q9c that

definitly a fashion statement kind of phone