Amex Mobile app rebrands as American Express, goes fully native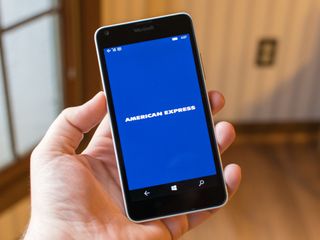 American Express has released an important update to its Windows Phone app. No longer Amex Mobile, the app is now just called American Express. It also seems like this is a full-fledged native application, where the previous version was a simple web wrapper.
In this updated American Express app, you have access to your Membership Rewards points, which you can use towards a number of products and gift cards. And of course you can make quick payments and check your activity.
You'll find the new American Express app now on the Windows Store. Do note that on the store, the app still seems to be called Amex Mobile, however, the name and interface changes are apparent once you download the app.
Thanks to PST on Twitter for the tip!
Download American Express from the Windows Store (opens in new tab)
Oh shizzle... Here come the apps

Yep just need all the others now (Discover, Capital One, Citi bank, BB&T, Everything else)

There is an app for Citi Cards already. In fact, I think it was updated today as well.

Your right... Citi 2.8 rating :-/

Never happy...even for a moment

Now discover card needs to get with it.

The only problem is see here is that we aren't getting support from new developers.. We've already had these apps.. Granted, it's terrific that it seems as though our current set of developers might stick around a little longer....
......
Nevertheless, when, and if, we start seeing the same amount of attention from new developers it will be much more exciting... I can't get excited about all these current apps getting updated, because for all I know it's probably just a short surge of support that may dwindle.. Although, I hope it doesn't, and I do think the UWA model could work.... The point is that it's entirely too early to honestly admit that it's working, and it's just gonna take time.

There's been a few new ones too Figure for ios and windows phone only World of tanks blitz trip advisor 1800 flowers wall street journal todoist perfect365 deviantart Box There's a lot more but that's just what I can list off from recent stuff.

Lol 1800 flowers is huge. I've used them for flowers delivered to girls and such. One day man when you get a girlfriend you may need it

Lol... No, I meant that, really! That's surprising. Didn't know it was in the store... And, I have a sheep, thank you very much.

Take heed Bank of America.

I didn't realise there was an area for developers... sad but true, I'll look now and keep popping in !!

IDK.... Maybe a little later.

@rodneyej. Dude you are such a killjoy :P.

Lol.. Sorry. It really wasn't supposed to be negative, rather to the point.

@rodneyej, lol I know just lately you've been carrying a negative aura around you lol. So when there is positive news at least let it remain that way :).

I'll think about it.. Lol

Dude you really need to start researching before you comment. There have been new developers. Stop basing all your comments on anecdotal evidence.

Correction: Here coomes AN app.... Not Apps... Now we need Bank of America and a ton of other large banks to "COME BACK" (as we had apps and they got pulled) and then I would actually say "Here comes the apps"

OMG! There's thousands of apps that people need. We've got a long, long, long way to go.

Thousands? Hyperbole much?

I- MEAN- THOUSANDS❕❕.... For example, and I've used these examples many times...
......
The V&H tuner app for my Harley.. Now, that's one of many critical companion apps that consumers are gonna want when they buy new products.. This particular app serves as the interface for the small tuner that stays connected under the seat of the bike. The tuner basically adjust air/fuel ratio so that the bike runs at optimum efficiency after modification. The FP3 is extremely popular for motorcyclist, yet the app is only available for iDroid.... Now, there are literally thousands of products like this on the market... Products for home automation, automobile apps, retail store apps, electronics, appliances, games, enterprise, workplace apps, necessary school apps, banks.. Wait, Banks? Hundreds of banks, and credit unions alone in the US.. Even companies who run promotions like McDonalds, and Subway, have apps.. We actually got, or had, "The Voice" app, but network, and entertainment apps are a good example as well... I'm taking about the apps that get things done.... There's thousands around the world. Thousands. And, you can find these on iOS, and Android.. That's reality. It's fact.
.......
I think our perception of the app gap gets skewed when we think of the top 20-50 popular apps.. A look at how many of those Windows has makes the situation look not as critical. But, popular apps are a very small percentage of "needed", critical, or even total apps... That V&H app I mentioned earlier is not considered a "popular" app.. But, if a user needs that app, then goes looking for the Tyme home automation app, and finally tries to find the Mercedes Benz application for his SL,,,,, you can guarantee that if he was searching on a WP his next device is gonna be of iDroudian nature... Lol. Belidat!!! So, yes thousands, and thousands, of apps we need.. Don't get it twisted!!! Just pray they come.

Thousands? As in two or more thousand? I guess my need for apps is not the same as others. I can think of maybe 6-7 apps that I'd like to have (and really none that I need). I think you should list the thousands of apps we "need" in alphabetical order and in order of importance. :-)

6-7 for you, 10 for the person next to you, and the 3 people next to him, about 5-10 apps for them. Everyone's tastes are differnt, I dont need 10,000 apps but, the 3-5 I wish I had but, there are many people like you and that builds to THOUSANDS OF APPS, not just your 6-7....

Yea, Thousands if not 10s of thousands.... I guess you have ONLY owned a Windows Phone device... Try living with a iOS or Android device for a week or 2....explore apps....Even a crappy Android device, it's unreal to see all the apps from every bank, Tap to pay, Every TV station, Every Radio station, the little store on the corner, Yep it's there too. How about Games ? OMG.. Small apps, like money saving scanner apps, to other providers, How about Dish network, and offical apps from Name companies, not all 3rd party apps that are just a browser link. I am a HUGE Windows Phone fan, and was a Windows Mobile and even PocketPC before than. fan...big time but, once you see how the other side lives, you'll see what you have been missing. It really is a WHOLE different world, depending on your wants and needs of course.

You would be far better of leaving Bank of America. Did it 7 years ago after being with them almost 30 years, I have never regretted leaving them.

You gotta count last week as well,,,, as far as apps go..

Is this for Win 8.1 as well?

Doesn't look like it. The description in the store on my Windows Phone running 8.1 say it is for"any Windows 10 devices". Hopefully that means it will be available on PCs and tablets too.

Yes it's on the desktop too

I guess this app doesn't work in the uk?

wow the sky really is falling now :')

Hmm appears to be USA only... But I changed my region so maybe that's messing things up...

well DUH, its called American Express for a reason lol

thats fine and all but wen in india?

Never in India. It doesn't deserve it Posted via the Windows Central App for Android

Its actually two continents

It's the first name of an actress, too.

Also, 3 continents. Central America also counts you guys ;)

Central America does count, but it's not a continent. :)

Strange, we have AmEx in Europe too.

Yeah doesn't work for AMEX in Australia, which has a huge presence here.

I don't see any changes from the web and amex on my lumia 530 windows 8.1 !!!

The old version was available in the UK. Now I can't see it at all.

Alguien aquí de la CAIXA hola :)

La Caixa tiene App para Windows?

Is it Windows 10 only, or also Windows 8.1?

Zoinks! That's good news!

I downloaded it just to see for myself. It is a native Windows 10 app. Very cool. I don't have an account so I haven't seen much of the app...but I was disappointed that when you push back on the main screen, it prompts you to close the app instead of just letting the system handle it (by suspending the app).

Maybe because of security? Or bug? ;)

Yeah, it's probably to handle a bug. Hopefully they figure it out.

Here's hoping it goes universal next and comes to desktop!

Finally, forward movement!

Man. WindowsCentral is getting busy recently. I have the old webwrapper lying around but rarely used. But a native app is always welcome!

Got the app but everytime i try to log in it opens the web browser and that's pretty much it ...

Same here... that ain't native to me...

That's for security reasons, a company wouldn't create it's own security protocols.... Once you login it should return you to the app.

It doesn't return to the app

I get the same, even logging in via edge still doesn't allow me to use app. Hopefully it's a temporary error

Now here we come I need discover and capital one to step into the game

It's nice to see banks banks supporting Windows Phone.

WOW, there is one....Now we need about 150,000 more to come or be added and MAYBE we can almost say the app gap is fading a little...

The gap isn't important, only the apps that many people use which happen to be popular

Need to compare it to the IOS one, looks oddly familar. Islandwood perhaps?

Good stuff. Started using AE a few months ago so it's nice to see they've updated the app.

I left AE because of no win phone support Posted via the Windows Central App for Android

Oh yes. The best Windows news for me in months. I use primarily AMEX and this is super good news.

Give us capital one!!!!!!app

I can't see the app in the store. Is it for w10?

Wow great app! Works good.

Amex in Australia supports Apple pay, is it too much to hope that they will support MS wallet soon?

Still a web wrapper on 8.1

Not available for download from the uk store ☹

I can download it on my Lumia 930 (with Windows 10 Mobile) and my Windows 10 laptop, but when I login it still opens the webbrowser.

OKAY what is Microsoft doing with the unused NFC technology being wasted on the Lumia, Samsung pay is everywhere...and here we all have Windows phones and can't use the same technology at retail stores instead of our credit cards?!

I just updated, and the app works really well.

Cool. Hopefully, this is a sign of things to come.

Doesn't work for Australuan AE holders, not support link to ask a question whether the support of AE customers outside of USA is coming. I wish Windows Central could contact AE and ask them on our behalf.
Windows Central Newsletter
Thank you for signing up to Windows Central. You will receive a verification email shortly.
There was a problem. Please refresh the page and try again.