Apple seeking to ban HTC Android imports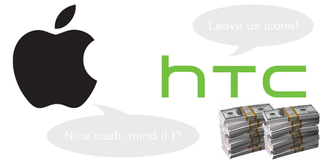 Apple is on a fight against the world it seems (albeit Microsoft is no angel) when it comes to smartphone patents (and insane term trademarks). I must admit that I find it strange, not to mention anyone who's not familiar with the ins and outs of smartphone technology who could wonder "wouldn't this be the same if Sony were to sue Microsoft over competing with the PlayStation?" The fruit company is after HTC again (opens in new tab) with their products running the Android OS.
What has this got to do with our platform? Well, there's no touching OEMs on Windows Phone since everything's protected (if you will) by Microsoft so HTC is comfortably wrapped in Ballmer Bubblewrap. Google, on the other hand, offers no protection (or indemnification) for OEMs and partners with their platform. HTC is a loved WP7 manufacturer, so we hate to see anything negative happen to them.
Affected products include the HTC Droid Incredible, Droid Incredible 2, Wildfire, T-Mobile mytouch 3G, T-Mobile myTouch 3G Slide, T-Mobile G1, T-Mobile G2, Evo 4G, Aria, Desire, Hero, Merge, Inspire 4G, Evo 4G, Thunderbolt, Thunderbolt 4G, and the HTC Flyer tablet
The ITC () is looking into Apple's request for an investigation be started under section 337 of the Tariff Act of 1930 (opens in new tab) against HTC imports. They will provide a conclusion as to whether an investigation is to be undertaken within 30 days. Peter Chou, CEO of HTC, defended the company against Apple's claims:
Source: TheNextWeb (opens in new tab)
Rich Edmonds is Senior Editor of PC hardware at Windows Central, covering everything related to PC components and NAS. He's been involved in technology for more than a decade and knows a thing or two about the magic inside a PC chassis. You can follow him over on Twitter at @RichEdmonds.
I love the caption on that pic!! LOL! I hope this is allowed though. Apple sure is sue happy nowadays.

Though I've been reading and following wpcentral for a while, I never wanted to comment so much on something in my life. I'm an Android fanboy and probably will always be, but I've loved what Microsoft has done to Windows Phone, so I follow this as well as Android Central. It seems to me that Apple is trying to ban every Android and Windows Phone manufacturer from selling phones in the United States. First Samsung and now HTC. Instead of creating innovative hardware and software to bring people back to iOS, they would rather attempt to ban the companies who make the consumer experience better. This is a desperate move and only proves that Apple is afraid of the growth of these two platforms. I used to have some basic respect for apple, but within the past year they have proven themselves to be annoying brats that don't know how to react to competition and ridicule.

I'm currently an art student, and as a WP7 & PC user, happen to be quite the black sheep surrounded by Apple fanboys. I must say there is no group in the tech industry that seems so self centered with holier-than-thou attitudes than the Apple fans*. I must say that they must get part of it from the company itself, Apple. The company and its employees seem to reek of elitism, and it trickles down everywhere the brand exists. I mean c'mon! Trying to patent the words "app store" after Amazon starts using it!?*I recognize that not ALL Apple users are like this.

I was on Windows Mobile and saw the new WP and wanted it but later found it out it wouldn't be coming to Sprint so I jumped on an Evo and loved it! Like you I enjoy both Android and WP7! Currently own the Arrive and want the Evo 3D (as my brother has it and its slick). I will probably get marked down but oh well! Just wanted to contribute! Oh and I have the Mango Beta!!! It is great!! Multitasking not so much though... but it is a Beta! Now on topic... I am tired of Apple's shenanigans and hopefully they lose all of the upcoming lawsuits! To death with them all!

lol, dream on Jobsy.. they're such whiny whiners and sour losers.And for the record, the HD7 eats iPhones for breakfast :)

Couldn't agree more about HD7. I ditched my 3GS for it :)

down with apple * down with apple* apple should be the smarter here and start Kicking out an Ios on OTHER devices , but thats never gona happen with their attemp to Monopolies the smartphone market in the US/worldBOOOOOOOOOOOOOOOOOO!!!

Really, I am not surprised. Apple has always been sue happy.
Windows Central Newsletter
Thank you for signing up to Windows Central. You will receive a verification email shortly.
There was a problem. Please refresh the page and try again.