Experiencing Facebook issues on Windows Phone? You're not alone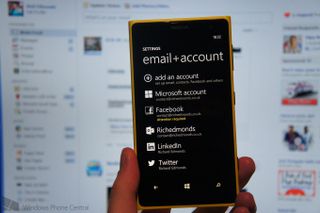 Update 5PM ET: Microsoft's Joe Belfiore has Tweeted that Facebook is working on a fix right now. Stand by...
Facebook is one of the top social networks available today and is an important part of millions of lives. Windows Phone sports integration with the service, pulling content from the network for contacts and more. We've received reports that synchronising accounts appear to be failing, so what's going on?
Wev'e been able to confirm this with the error 83CF1104 hitting us when attempting to sync the connected account, but we're wanting to know just how many of you have been affected by the problem, especially since reports are coming in from multiple regions. Be sure to vote in our poll below and sound off in the comments. We've reached out to Microsoft for comment on the issue and will update accordingly.
Readers have also taken to our forums to keep everyone up-to-date.
Thanks to everyone who tipped us on this problem!
Get the Windows Central Newsletter
All the latest news, reviews, and guides for Windows and Xbox diehards.
Rich Edmonds was formerly a Senior Editor of PC hardware at Windows Central, covering everything related to PC components and NAS. He's been involved in technology for more than a decade and knows a thing or two about the magic inside a PC chassis. You can follow him on Twitter at @RichEdmonds.
No problems (in Croatia) so far, but that could change in an instant.

I've got no problems on the titan II in USA

Facebook.com has issues, not just the WP platform. Timelines having issues.

All good here in Chicagoland

Check in Settings > (swap right) > Accounts, to see if your accounts are syncing.
I have seen intermittent problem last couple of days with Hotmail/Outlook and Facebook.

Yea I did that, doesn't say attention required.

I've had intermittent problems with facebook, but hotmail/outlook has been fine. Facebook is also fine now

Had the same here last few days, right now it's Ok, Pennsylvania USA

Idk what's going on lately but since the update to GDR2 my live tiles don't work as well, and I will get random periods where my notifications will go off like crazy then nothing for hours. Hope GDR3 fixes all this. Better yet bring on WP 8.1.

I'm having trouble with the messaging app. When I go to open it, it just hangs and loads showing the loading dots then it closes. I have open it 3 times to get it to work. Its frustrating.

I get notification of updates from weeks ago. Guess MS servers are struggling.

I am affected by this problem, El Salvador, Central América.

Que bien! Gente que habla español! :)

Todos hablamos español en CentroAmerica...desde Panamá a Guatemala

Todos hablamos español, lo se (Enviado desde Costa Rica)

Aqui en California Facebook paro de sincronizar las photo de mid contactos. (salvatrucha)

There is a known issue where the profile picture refuses to update when a new one is chosen

+1 here with that, in Costa Rica

I thought that problem was local to me, changed pic 5 times in last week. Hopefully it gets fixed soon. Fb for updated but my pic is same on my phone and other friend's WP, so expecting WP fb sync glitch in both push n pull

Yes, this is so irritating. I learned on the forums it syncs to your Profile cover picture now (which you can't change manually). That's why it doesn't update yours or other people's pictures when they change. Only way to change your own is delete the old picture from your FB. That's a pretty dumb workaround, hope they sort it soon. They finally got the integrated messaging to work properly after like a whole year, so I'm not holding my breath...

Is this the same error that this post is referring to?
Hate that my contact photos don't update anymore...

My integrated messaging still doesn't work. If I send a message from a PC or through the FB app, it doesn't get picked up by the integrated messaging at all, but the reply does, leaving odd half conversations in my messaging inbox where I can't see what it was that I said. Frustrating.

The weirdest thing is that all of the WP8s that I've seen have this issue, but my mom's WP7 is still up-to-date, despite changing her picture.

I'm having this problem on my 920

If you delete the pic that is shown on your live tile from fb on a computer then try changing your tile after that. This has solved the problem for me. Lumia 920 UK.

Thats no where near a fix, you lose all comments and likes on your profile photo then.

"There is a known issue where the profile picture refuses to update when a new one is chosen" +2 My wife's and mine have the same issue. Both Lumia 720. Brazil

Go on facebook with your pc
open your profile picture
click on options->set as profile pic
confirm. And done. You basically set the same pic again... worked for me and,my girlfriend. So then at least your own pic is up-to-date

This is very weird. I didn't have this sync error outlined in this post at all, even after I forced FB to sync just to check. But I was reading through this little exchange because my picture isn't updating, and after I tried your method, I'm not getting the sync error.

I have the same issue. Also, there is no my photos page in my me tile.

That's pretty much my problem. Might be other issues I haven't noticed.

For all who r facing to upload profile pictures in Lumia 720 u dont hav direct upload method...for that first u have to upload ur profile picture that time ur privicy shoulb b "only me" so tht nobody can see ur new previously uploaded DP...then tht same picture u can make it as profile picture by keeping the privicy "public".so tht everybody only can see ur new profile picture and can get more likes at once

Wrong, I have previously experienced this issue on a number of occasions before, but the issue is very intermittent and we can't say when the issue will appear and when it doesn't.

720. No problem. Working fine.

Fine in Dublin (so far lol)

Going fine in Donegal too haha

Worked fine for me, Region India, then I changed to US and tried again and still was able to sync.

Not seeing FB content in my people hub at all, as well, Win8.1 hub has been wonky with FB this week too. Notifications aren't coming through consistently.

They never have for me. Its annoying.

Yeah, same here. I love everything MSFT. But I can't fathom why this is still an issue. Please... get it fixed already!

Nothing to me (Brazil)
The only problem I have is I change my profile picture (Facebook and Outlook), but some hours later, my profile picture has return to the old one.
MY pic on Facebook and outook (W8) is correct.
The problem seems to be only on WP8.
I'm using GDR3 Preview.

Changed my profile pic two weeks ago and has never updated on my me tile. I actually installed update 3 hoping it would fix. It didn't...

I fixed the problem by deleting the offending photo from my fb profile pictures list and then removing and relinking my fb account.

Just deleted the pic from .com. Nice call out, we shall see if it worked. I will edit this post. Thanks for the idea, Q.

Np x. And just fyi. I had the issue before I upgraded to gdr3. Samsung Ativ S Neo on Sprint running developer GDR3

I have the same problem. Nokia L920 GDR3 Preview.

My account synchronization is fine as far as I can tell, but I haven't been able to use integrated chat at all lately. Keep seeing "Can't connect to chat". This is in UK.

Actually this reminded me something. My Family room Messenger chat started working again this week. I had given up on it thinking Messenger is long gone. Apparently not in WP Rooms. I know it is not using Skype because that chat is separate.

I hope this helps : This has happened to me several.. err a LOT of times, too (facebook chat) and I've read a weird fix about this.
NOT to use skype. As far as I can remember, it messes around the OS.
Links :
http://answers.microsoft.com/en-us/windows/forum/windows_8-ecoms/faceboo... http://www.errordetails.com/260006/wp8-skype-app-conflicting-with-fb-chat So I did try this after I hard reset my L920. Integrated Facebook chat is now running without a problem.

works fine for me - Lumia 928 (Utah)

No issues with it in India yet

Strangly, my fb app started receiving notifications again after stopping since gdr3. Related? Maybe!

It might be a good idea to expand the poll. I had sync errors when using gdr2. My chats never properly worked either. But since upgrading to gdr3 I've had no issues. Just tried another sync and it was successful. Chats are working as well. Commenting from Canada on Rogers.

No issues wit t in INDIA..!! 920!!

Ntg till now bro fine for me!!

Problem started on 920 in India now

Problem has been resolved however there's a problem with Gmail sync since morning

I'm not getting error messages but its not updating properly. It started on Wednesday.

I got that issue here in Melbourne Australia

Same sob story down in Adelaide, AU

No live tile count, even though when i open the app i find some notifications

The only problem I'm facing is with Twitter high data usage...

calmdown, they are rolling out the problem slowly to your region.. Coming Weeks.. :P

Working fine here in Canada, in a Rogers 920

My Facebook toast notifications never work, its rare if they do. And yes synchronization is a problem once in a blue moon. Really want my notifications to work tho. Anyone else with that problem?

After the GRD2 update my contact pics quite syncing with Facebook. U.S C.A

What chad said. My contact pics no longer sync. I don't, however, think it is a gdr2 issue. My daughter has the same issue with her 520, and I don't think it's been updated. Need to add another choice to the poll!

Interesting, my mom's 521 has the same problem,but it's running GRD2.Me Tile updates, none of my other contacts are syncing.

I'm getting the problem. I'm in Venezuela and my Lumia 920's region is set to United States.

Problem has been resolved however there's a problem with Gmail sync since morningProblem has been resolved however there's a problem with Gmail sync since morning

Getting the same error code on mine. Located in Mexico :)

some of my friend's profile picture not sync with the Facebook

Facebook (notifications) have been broken since WP's inception. No suprises here.

yes, i'm hit by the same error. Romania.

Contact pics haven't been updating

Same error in vienna ( Austria, Europe ) hope it will fix soon ....

Events labelled as "maybe attending" are no longer turning up in the calender... And events with lots of people don't work in the Facebook app. Dunno bout this

same error, USA region. I hope they are fixing the problem of Facebook profile pics not syncing with contacts. The People app is showing older profile pics, even the Me tile. it's irritating!!

I'm good in UK. I have a 920 on EE (Orange).

Brand new 1020 from last night getting the error.

Having the same problem on the Nokia Lumia 928 error 83CF1104.

No issues here in London. And to those experiencing the profile picture issue, there is a simple fix. Log onto FB on your computer, go to profile pictures, hit the edit icon in top right hand corner of the pic you want and choose "make profile picture". Then simply sync FB account on your phone by opening me tile or through email + accounts. Annoying, but easier than deleting tiles and pics.

My Me Tile has stopped syncing with Facebook months ago as well as most of my People tile.

Just tried to manually sync and now am having issues,tried deleting and reinstalling account integration but have had no success! This sucks...how is this gonna get resolved? USA region

Having the same problem, also my Me tile is not updating, had the same picture ever since I got the GDR2 fix, its really irritating >.<
Thought I was the only one experiencing this
820, Botswana, Africa

No problems here in Dallas Tx

Facebook + Windows Phone = DISASTER
More than 3 yrs since d inception of WP, yet there is no fully functional Facebook or Facebook messenger on WP!
Inbuilt fb chat in messaging hub is pathetic! Msgs arriving with much delay, no picture msgs & now stops working fully.! WTF MS..!!

Yepp.... I feel the same...

I'm getting this for my Outlook account and Twitter account, but Facebook account is fine. Argh!!!

No issue here in Aruba. Works perfecr

Mine says "not up to date" I am using the beta version, but checked the regular app and no update is available....oh well, right when it seemed to be working good, the beta that is, it now isn't.

tried signing into regular fb app and it says sorry there was an error....thats here in the states on my 1020.

Was having no problems then removed it and re added to force a profile pic change and now get the error. UK user. I think everyone will get that error if they do what I did.

I'm also having that problem in India. Lumia 820, update 3 developers preview.

Fb for wp sucks anyway. I use web base

I get the error code 80072FA8 on my Samsung Focus Flash for AT&T in Houston, TX

My fiancé's profile has stopped updating the profile pic on my phone or hers for a while now. Not sure if this is related.

As usual, the said error is coming to ur WP in 'Coming Week'.! :P

No problem with my L520 GDR3 preview in north Spain!

Lumia 820 from UK, FB error code 83cf1104. Been trying all day even created new FB account, still not working!

I deleted mine .. The website is way better

Lumia 822 with Update 2 and Amber. It seems everything is broken in some way: Messenger said "Can't connect to chat" even with just my Microsoft account synced. I had to sign in to Nokia Music before I could even load the Nokia Account settings page. Could not chat or be synced in a Room I created. Doing a factory reset caused 'Download application' error when redownloading Nokia's updates, and could only reinstall through the Windows Phone website. Messenger seems to be working now, but only Microsoft Messenger. Facebook will connect for What's New in the People Hub. Friend Photos and chat are still offline. My photos appear in my albums. "Attention required" displays on FB in my settings. I tried changing password, removing account from phone and from Microsoft account in general, but that didn't work

I have a lot of the same issues.

I am getting the same error :( i am on 3 in the UK, HTX 8X on GDR3 Microsoft/Facebook need to sortout the Facebook intergration, messenger is half baked and you get some chat messeges when they feel like turning up. Also the app is so bad its not funny, Slow does not go far enough. to be honest any intergration is pretty bad with most app, Twitter, LinkedIn. i do NOT seem to get any nottification from any of the app. My ME tile updates but that is with only the last notification. (NOT GOOD)

Yep, I was having trouble this morning and also this afternoon. I use the Facebook Beta app though, so not sure if the issue is related. (In USA here trying to connect.)

Notifications are up-to-date but all the contact pictures are displaying old pics, including the me tile. This is really annoying!

I have a Lumia 920 and it works without problem, but I've got a Lumia 1020 today and it has the same problem you mentioned. I first thought there is something wrong with a phone. My Samsung Omnia 7 on WP7.8 doesn't have any problem either.

Mine actually started to updatep people's profile pictures again

Having the error. Can not sync anything of fb (chat, people, pics). I'm from Dominican Republic. I have Lumia 920.

Canada no go :( re-entered login info now continually says loading Facebook?

I wonder if this issue has been what's draining my L920 battery like crazy the past two nights. Battery is great all day until I either open Me or People Hubs, or use the Facebook Beta app. Never drained like that before. But I am not seeing any errors yet. And I was about to start uninstalling some apps to stop the drain. Damn battery drains! Fix it MS & Nokia!!!! :(

No problems with my HTC HD7 running WP 7.8 in Orlando, FL. Is this isolated to WP 7.x or WP 8 or can it affect Facebook integration no matter what OS it's on?

Also hoping these issues are not eating up my data plan but since my dumb carrier had to remove Data Sense I will never know.... :(

Im not sure if this is related to Facebook integration or the GDR3 update, but I'm experiencing serious delays when opening my text messages. It seemed better when I turned off Facebook chat.

My FB profile pic won't update on my phone. I've tried everything!

My phone is good, but my wife is getting the error here in San Antonio.

my "me" tile photo won't update to the new one from facebook anymore, it used to.

No problems here either. L820, GDR3, Romania. Facebook on the PC didn't instantly load messages on the Desktop on 2 occasions though.

Everything fine in Russia. In Soviet Russia FB have problem with you!

Haven't seen a new beta in a while.

Not getting that specific error, but I have been having problems since I picked up my L925. Everthing was fine on my L810, and HD7. 1). Me Tile pic ALWAYS defaults to the FB pic... and I don't have a FB pic. No matter what I do, it will not show the Live account pic, unless I delete the FB connection all together. Bring it back, and the FB pic over rides it again. 2). Chat in the messaging hub doesn't work at all. Always says "can't connect to chat", or "can't connect to see who's online". 3). People hub FB contact profile pics don't awlays update, or shows old pics. I have all of these issues, but seeing "what's new" in the people hub, or in the photo hub works fine. I can update status, and see replies, etc. works perectly fine.
I have contacted MS, and Nokia about it and all I've really gotten out of it is "do a hard reset". I don't want to go through that if the issue isn't going to be fixed.

Yes, I've the same issue on no. 3. But I do not experiencing issue on no. 1 and 2. About the sync problem, I do have the same problem. It says, not up to date in my setting. Updated manually but still shows the same 'Not up to date'. Lumia 720 user here, Malaysia's phone, live in Irbid, Jordan.

same problems as 1 and 3...but for me, chat works fine. this problem seems to exist for many users, I hope they are working to fix this. no need to hard reset and lose any data, this will be fixed.

My profile pic will not synch. I changed my profile pic on Facebook and the change replicates everywhere but the phone.

Canadian Lumia 520 here on GDR3, reporting no problems synching facebook

Not getting any fb error - but my Microsoft account / Twitter / LinkedIn are not up to date, even if I manually sync them!!

Go to Settings > Backup. If text messages is on, turn it off. That worked for me.

No issues on my end. T-Mobile HTC 8X, GDR3 in Houston, Texas.

83CF1104 error here in the Philippines.

I'm not getting issues with the built-in hub of Facebook, but the Facebook app is drunk as always; giving me dozens of duplicate notifications well over a week after they initially took place.

Mine doesn't sync the profile photos

Sync seems to be fixed in Canada now ;) Rogers Nokia Lumia 920

What about the so called twitter bug using too much data?

Nokia Lumia 920 Cyan user here from Belgium (German device), no problems so far ...

New 620 lumia windows error code 83cf1104 all day today... Im in the UK and the phone is open to any network.

Same error Samsung ativ S unlocked in Canada :'(

Good here, sometimes I receive an error but I'll just retype my password and it's fine

I've been having Facebook chat issues since I linked it to Skype.. Any fixes?!

My Me Title is showing 5 - 9 counts from time to time. If I check inside no updates. And I feel like this useless refresh is draining my battery faster. I already disabled Twitter now it's looks like Facebook!! Ok what's next??

Italy here. I'm experiencing the issue.

What do you know. Facebook made a change that broke a 3rd party application. Happens all the time. Look at the mess up with Social Fixer and Galleria plugins.

I got this problem. India

I am facing this problem.from india

I haven't had Facebook messages delivered to my messaging app for a few weeks now, except for a couple of days when it worked intermittently. I'm in Seattle. Messaging app keeps saying it can't connect.

Same problem here in uk as well...

Slavebook? Why does anyone who is straight in his mind want to use the spy-service? I understand that 1 billion humans do use it. But 6 billions are smarter. Why not deliver all your personal, discrete information at the NSA in Fort Meade?

Not working in India
Its perfectly fine till yesterday, I deleted it as its not updating my profile pic. Since then the issue begin ! Tried this morning even!!! No luck
Fix it Asap

fine in Malaysia, something random or non-significant... my Me-Tile finally pulled my latest profile picture! (Y)

I have not faced the problem, however, problems with notifications. Rarely I received the notifications from Facebook as well as other apps. Notifications in WP was TOO BAD!

I am also facing the same problm

Can't connect to chat every time I wish to check the online list,sync failure.(India)

Same Problem Here .. Unit: Lumia 520 (GDR2)
Country: Philippines

Seriously,every day i get disappointed with this OS,most of the time there would be some app which isn`t there which i need and if there are apps, it willn't have many basic features.Toast notifications never arrive on tym,some times even live tiles don`t work properly.Now,there seems to be issues with even core components like the people hub,first Twitter with the data usage and now this...Whats next,sync problems with microsoft account??damn this..

Having problems here. Philippines. I can't get to update the Me tile with my current Facebook profile picture.

I have this problem on my Nokia Lumia 925 since yasterday here in Egypt

What Microsoft aren`t saying is this "To be very frank,this OS is in open beta.Thanks for being beta testers for us."

Im having sm issues wd inbuilt fb.... Notifications doesnt get updated.....

Hotmail hasn't been able to sync for a week now. Very frustrating

I own a L520, India.I have been having this problem too. The notifications sync, but I cant chat from the integrated messaging app.

My facebook chat shows... cant be "cant connect to chat" 4om Q8.

ever happen with me!! PL solve it!!

Crashes like a champ. And FB chat always notifies me even when I already have the chat opened in my PC and chatting. Before GDR3preview mobile FB would not notify me when I have the FB opened in my PC browser.

I am sorry but Facebook is the worst on WP8. I use it for everything except for Facebook.

I have problem on my L520...it is showing error while synchorising contacts

Im in Muscat, Oman...... Had to reboot my phone once thinking it's a problem with a few settings. Facing the same error even when i can access my FB application. Kindly help!

I am very frustrated too because I do use FB integration for my contacts (linking them and using FB profile picture as calling photo). So I followed the instructions to remove and then add the FB account again in the phone and now I do not have any FB contact, losing links, losing pictures. Thanks God that Google is still syncing ok - all my contacts are in Google Contacts (of course now without a pictures). Waiting for fixing it ASAP. I think it is a FB failure, not MS, sure they changed something in the sync protocol, the FB integration itself works fine - Me tile works, only the chat and the contacts. The MS FB application works fine (v. 5.1.2.0). Just my 5 cents - I am very satisfied with FB integration on WP8 (also in WP7.x, I had a ZTE Tania before). I do not use the integrated chat and live notifications, manually checking for a new messages when I have time.

+1 ...exactly what's happening to me word for word!

Same error number for me this morning. If it wasn't for this post I am not sure if I would have noticed though. People hub updated without a problem so not sure exactly what is not syncing..

Same error in Finland with Lumia 925

Same problem in Serbia :-/

Just switched from a HTC HD 7 to an HTC 8x. The HD 7's facebook intergration is fine, the 8X's is giving me the 83cf1104 error. USA

My me tile gives me trouble instead. It doesn't show the latest picture that i have selected as my display picture. And even when i change it from within the me tile, it doesn't really show the change, even though it changes the display picture of my fb acc. Anyone has any thoughts regarding this? I am desperate here. Thanks in advance. :)

Anyone found a solution yet?

Finally they fixed it and everything is fine now. After a hour of linking approx 1/4 of FB contacts to other contacts (3/4 was linked as before).


I just opened the Facebook settings on my phone, re-entered the password, and it started syncing again

This helped me some times ago but now this does not work... 83CF1104 again and again. It have pissed me yet...


i am getting 80072F30 error code

Began almost two days and I still get the 83CF3104 error.

Facing same problem here in India :( error 83CF1104

Facing sync issues here in Mumbai.
L820, India

Check-in feature in the Me-tile doesn't work, have to open the fb-app for that. 920 with GDR2 in Sweden

Used to have that problem but then I tried things and now it works. Lol

I have problem in facebook chat. It shows cannot see who's online

I am not getting error but my me tile photo is not getting updated. It has been weeks still not updated.

Both exchange and Facebook stopped syncing this morning on my 920. - USA

No error like the one mentioned, but I've been getting erors with attaching photos especially to messages, the app will take 3-5 minutes to load up the picture files, and then it will take equally as long to attach them to the message- if at all. Notifications are equally as unreliable, I won't get any notifications for a while, but then I will get one FB notification, and it will have roughly 5+ toast notifications, (and the phone won't stop vibrating) and the FB tile and lockscreen will have a number 23 or something ridiculous. that one notification could even be already read on my computer before the FB app goes crazy on my 920.

So I had this problem on my wifes brand new 620 which I'd persuaded her to get (gulp). Wasn't working all day yesterday and today, and has just sprung into life and downloaded all her Facebook contacts. Hooray :-)

I just tried to sync my facebook account and it is working here now, new NL1020, after not working all day yesterday. Now to relink my contacts to their FB accounts...

Seems like the problem is fixed

I agree, when I woke up this morning everything was fine.

same problem here in india

Problem solved in the DR.

Finally my Facebook integration is syncing. And working on all fronts...lumia 920 att USA...i manually synced and it all of a sudden worked

I have the problem with the picture, whenever I synch it I get the old one and it won't update until I remove the Facebook account.

Nevermind, tried today and problem solved.

not kind 83CF3104 error. but it doesnot sync my contacts my messages on time..

Yes! Finally working again!.

Problem resolved .....India

it can synchronize now, but the profile pics are still outdated...no gain :(

it has sync in india but can't connect to chat??????why???

Still having problems synching with the peole hub. I also cant connect to the store;requested for help at the microsoft site and on here via a thread,nothing doing yet. Im at my wits end here. Lumia720, Nigeria.

Still having problems synching with the peole hub. I also cant connect to the store;requested for help at the microsoft site and on here via a thread,nothing doing yet. Im at my wits end here. Lumia720, Nigeria.

Yeah,and facebook chat still comatose.

I am absolutely furious... my Windows Phone will not sync with any of it's services except gmail. I'm in British Columbia and I likely will not buy another Windows Phone after this. If the situation is not resolved immediately Microsoft is fired.

Facebook sync seems to be working now.. The new profile pcitures are also getting synced..

Me to have a same proble..chat cant connect,,, but peoples tab shows the updates automatically... just fix this error or remove that option

My Facebook app wont open at all.. My phone is updated, does anyone k,ow what the problem could be?

What is this problem.?? 0x83cf1109

I used some apps like viber, wechat, whatsapp. But i can't used facebook. Help me!!! Plxzzz

Same problem here, Bangkok, Thailand

Hi Team, Post upgrade to Windows Phone 8.1, I have noticed that the Facebook app does not reflect most of the pictures in my Home Page when viewed through my Nokia Lumia 520 Windows phone. No error messages. The Version of Facebook App on my phone is: v 8.3.2.0 I am based in India. Please advise. regards, Soma Gupta

My messenger app keep saying that can't log in right now. My other apps are working fine with my data connections both Wi-Fi and Mobile Data. What is the problem with it. I tried with re installing it also. I reseted my phone, But same issue..y????????????????? Phone model Lumia 925, WP 8.1

Please help!! facebook app dont refresh news feed for days, when i open it from internet browser, pop up message appears "WARNING! your flash player may be out of date. please update to continue" and youtube like that too, but everything else is fine and work great.