The Avengers smashes into Windows Phone 8 with RJS!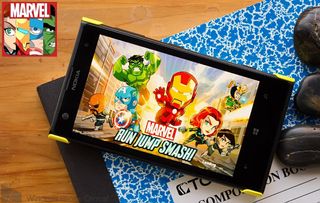 Last month Marvel Entertainment released the Windows 8 game Run, Jump, Smash! and now the game is landing on Windows Phone Store shelves as the abbreviated title RJS!
The superhero gaming title is an endless runner styled game that has you playing the role of your favorite Marvel Comic's superhero. As the title suggests you run, jump and smash your way through various obstacles, enemies, and ultimately battling super villains.
Key features of the game include:
Devastating superhero attacks
Game play set in iconic Marvel Comic locations
Collect coins to upgrade your characters or buy special power-ups
Heroes include The Hulk, Ironman, Captain America, Thor, Black Widow and more
Just with the Windows 8 version of Run, Jump and Smash!, the Windows Phone version requires a data connection to play and you can compete with friends to see who can climb the top of the leaderboard. We will take Marvel's RJS! out for a test drive this weekend and get a full review up on the site in a few days.
There is not trial version available for RJS! with the full version running $1.49. RJS! is available for Windows Phone 8 devices only and you can find your copy here in the Windows Phone Store (opens in new tab). If you prefer the larger screen for your gaming needs, Run, Jump and Smash! for Windows 8 can be found here in the Windows Store (opens in new tab).
Thanks, KrisJoeEll, for the tip!
Windows Central Newsletter
Get the best of Windows Central in in your inbox, every day!
George is the Reviews Editor at Windows Central, concentrating on Windows 10 PC and Mobile apps. He's been a supporter of the platform since the days of Windows CE and uses his current Windows 10 Mobile phone daily to keep up with life and enjoy a game during down time.
Seems cool, kind of like Jetpack Joyride. Looking forward to the review :)

Good news in 8.1 http://mobile.theverge.com/2014/2/15/5414058/windows-phone-8-1-start-scr...

Will it run on a 512mb device?

Thanks. Hadn't had my Mt.Dew this morning. Still shaking out the cobwebs.

Plz leave for 512mb devices!!

You mean, no pay anyway..

Good call, I bought it for Windows 8 with no trial because it was highly recommended from this site, didn't like it and wasted my money.

+925 Fortunately another 925 user already tried it and found the game laggy. THIS is why trials should be mandatory. It has nothing to do with "won't buy anyway."

How big is it? Probably too big for my 1520, I'm guessing ;(

Lol too big for the 1520 yet not small enough for the 520. Hilarious and ironic

I bought it. I'll gladly pay for anything with Iron Man in it.

Yeah I couldn't resist not buying it. Cap n spidey? Sold!

I have a developer unlocked phone
Can I sideload apps on my Lumia 620 ?

No. Only the apps you build yourself.

But in a video on youtube
Someone was playing subway surfers on Lumia 520

Not only subway surfers, I play modern combat 4 too in my Lumia 520 (student unlocked). Visit windowsphonehub.in and you'll know everything....

Yes you can if are sure that your phone is un locked (if you have a developer account that doesn't mean that your phone is unlocked) you have absolutely wp8 SDK, search in your PC "deploy" from the app that will appear you can download it

How to unlock phone ? (India )

That's what I just told you. Visit windowsphonehub.in and under "Tutorials" look for "How to unlock"

Silly question probably, but if you purchased it for Windows 8 do you have to purchase it again for WP 8 and if so why???

Obviously, if you bought a game for Nintendo GBA do you get the same game for free on Wii??

I honestly did not know. But I'd say that when your big push is ONE experience across ALL your devices, then that would be why they would desire to be DIFFERENT.

Might change in the future (might)

That's what MSFT is after. Unification of Windows 8 and Windows Phone 8. But its more difficult than it looks.

Game development cost money. Depending on what tools are used to make the game, you don't just make a game and publish to all platforms, there's more work involved tailoring it to each platform. You need to keep that in mind

This 'be online to play' trend is getting on my nerves. >_

Offtopic but very interesting - verge confirms 8.1 will have start screen backgrounds and browser sync :D

Provide the link here please!!

Here ya go - http://mobile.theverge.com/2014/2/15/5414058/windows-phone-8-1-start-scr...

Its awesome hope we will get backgrounds

I only hope its not another fake leak from our beloved TheVerge...

theverge is a trusted website unlike wmpoweruser :-p

I hope so :) because many articles from that website has been proved invalid. Further more its coming from Tom Warren -_- Long before I lost faith from that site and stopped reading.... Agree, wmpoweruser is the worst one there!

Hopefully not fake... Not just start screen wallpaper but all the leaked features. Specifically notification centre.

I'm 100% sure about Notification centre aka Action Centre. And other features, check out this video of Hands on review of WP8.1 SDK: http://www.youtube.com/watch?v=r0K5eoSMsQY

Make it available for 512mb ram developers it can run on these phones

Weird: it has a Brazilian certificate in the store and is available in the Brazilian Windows 8 but not in the BR WP8 Store. :S

Yeah... I'll have to switch countries --'

Want games from warner bros!!! When is assassins creed pirates coming to wp? Damn excited to know when its coming and will buy that game.

Finally! I don't know why, but it sucks on Windows 8 (Surface 2 here).

Has MS stopped the production of surfaces?? Is that a rumour??

Not that I'm aware of. At least I haven't heard anything about this.

Again ram differences.. Windows better stop selling 512 mb ram devices and sell only 1 gb ram devices.

It should be like a pc then having some space like pc where u can extend the ram. It will be great then

100% Agree!!!
Unfortunately its not possible at the moment.

Why? Some people want a phone and not a gaming device. You bought a phone, deal with it.

U shut up plzzzz. This game can run on 512 Mb Ram and btw i don't know when gaming evolves on the future 1 Gb ram will also become useless then don't whine at that moment. Here for downloading COD ghosts on my pc i have 4 gb ram but the game needs 6 gb ram. At least. i have an option here to extend. So if optimization is not possible in the future at least we can extend ram.

Didn't you ever learn not to say 'shut up'? Btw the game does not run on 512mb ram, it may do so at a later update but for now..no..

Tell me can Modern Combat 4, Subway Surfers, Temple Run 2, OZ, Brave run on 512MB ram according to store info? Hell no! But surprisingly I've completed MC4 already in my L520 student unlocked. Don't tryna make sense all out of what store and game info has told you... And you don't actually need to wait for an "update" to run games in 512mb ram, a simple patch and modification of app manifest file can do it right away, though it doesn't always work (I don't think its okay to say these things here in the first place but anyway...)

Can't forecast future with the logic we currently have. Maybe who knows we won't even require "RAM" chips for games and apps in the future. But right now an expandable RAM could solve all the problem...

It's pretty laggy on a 925 so there's no chance of 512mb support

It works fine on my 925. There are some frame drops, though, but nothing major. Works better than on my Surface 2.

Why I need to have the internet connection to play? What's the sense of this???

This shit requires 1GB ram?? Poor graphics..

I'll wait for it to become free... Just like Avengers Initiative did.

Looking forward for the review (video?). Thx

Why do I have to pay for a game that has in-app purchases... This is more acceptable in a free to play version where the micro transactions subsidize the game, but double dipping a purchase make me angry...and you wouldn't like me when I am angry....

Hulk Smash!! :)
Yeah I agree..

Ill wait till its free and is 512mb user freindly.

Doesn't run with the Lumia 720

This app uses features your phone doesn't have. Learn more.
Bollocks!! :(

Yay avengers! Posted via the WPC App for Android!
Windows Central Newsletter
Thank you for signing up to Windows Central. You will receive a verification email shortly.
There was a problem. Please refresh the page and try again.