Play as the Avengers on your Surface in Marvel Run Jump Smash!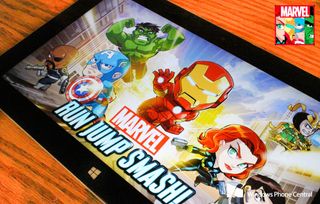 While there are a zillion endless runners on Windows Phone, Marvel brings one on Windows 8 as well. Marvel Run Jump Smash! is an endless runner where you play as superhero characters like Iron Man, the Incredible Hulk, Captain America, or Black Widow.
As the name suggests, the game involves running, jumping, and smashing your way through different environments, dodging obstacles, and battling super villains like Loki by deploying your superhero's unique 'Special Attack'. As you run, you collect coins that help boost your run and let you buy special power-ups to boost your distance and score.
In the game, you can compete with friends to gain the top leaderboard position and fight Super Villains and their henchmen in iconic Marvel locations. Also, as you go along, you can unlock addition superheroes and then swing as Spider-man, shoot arrows as Hawkeye, unleash the thunder as Thor, or binary blast as Captain Marvel!
Marvel Run Jump Smash! is pretty interesting and addictive, especially if you are a Marvel comics fan. Well, who isn't? It's a pity though that the game requires an active Internet connection to play, and is a no go when offline.
Download the game for your Windows 8 devices from the Windows Store (opens in new tab) for $1.49. There's no trial available unfortunately, but it's a good one for sure. Let us know how your run has been.
Source: Windows Experience Blog
Get the Windows Central Newsletter
All the latest news, reviews, and guides for Windows and Xbox diehards.
Awesome game. Glad to see it come to Windows 8 the same day it also hits Android and iOS!

Hopefully, I need it on my 1520, after Lego marvel superheros, my kid obsessed with marvel

I wish apps like this didn't require Internet access. I wanted to play some Wordament on a flight today and couldn't. Man, I suck at that game and I want to practice!

Im sure u can play wordament offline..... I think!

last time i checked, you couldn't, granted that was a few months ago

This would have been an instant buy for me but if my kids can't play it in the car or at high school sporting events I won't even consider it.

I'm going to buy this just because it isn't freemium. Also, HULK SMASH!!!

Surely there are many microtransactions as well on top of the price to buy it, no?

Man, I hope not. If there are, I'll be uninstalling it immediately. Actually, eff that. I'm going to find that crap out BEFORE I pay for it. The only thing worse than freemium is paymium. *Update*. Yup. There are IAPs. At least there are on the iOS and Android versions. Pretty sneaky. Looks like I'll be passing this one up as well.

So it's basicly a fre2play game that you pay for... I wish the articles would say something about this, so it will be easyer for people to avoid devs that do this.

Why don't you just buy it and not buy any of the IAP stuff? I have a few payed for and free games with IAP purchases and it's only very rarely that I'll ever actually buy something for it.
Most games are good that you can still enjoy them without having to spend money for extra stuff.

Because IAP games typically require mind-numbing repetitive play in order to advance without paying. It sucks all the fun out.

Should I get a Lenovo miix 2 or Dell venue 8 pro?

Except that it is nearly twice the cost.

It's way a lot better compare to the Dell and Miix 2.

Had to check the date on this post. Whew. Not having a stroke.

Hands down the Dell. Its going for $200 right now at Microcenter. Edit: and yes im sure someone will say they don't have a microcenter. My point is that you can find it for cheap if you look hard enough. I haven't seen such deals for the Lenovo yet.

I have the Venue 8 Pro and quite like it. Well worth the price, I think.

Just tried this game on my Dell Venue 8 Pro. The frame rates are ATROCIOUS! If there was a freakin trial, I would never have bought this game.

Venue 8 Pro is a solid tablet, but it's hard to turn down an 8" tablet with a 1080p screen. If you have the cash, go Lenovo. If you're on a budget, go Dell. Either way, you win.

Ahn okay, I was looking forward to this news here. You see, I saw an ad on YouTube from this game - it's on MarvelUK page - and it the end, it says that it is available on iOS, Android, Windows Phone and Windows 8, respectively.
Well, where's the god damn WP app?!

Yeah well it may NOT be false advertising. Maybe it's coming late. Just hope for the best this week. :D

It's crap on Windows 8.1 on a PC. It's super slow to load and has crashed twice so far.

How many more games are going to be made exactly like this with a different theme?

My guess is 20-30 million.

It reminds me of the "angry birds knockoffs craze" that we still see trickles of.

Wish it had Xbox Live support.

Once we get killed, nothing happens.. The character just sits there.. Are we doing something wrong? I shouldn't have bought this so quickly for my kids, I didn't realise you can't play without an internet connection.. LAME..

Crashes right after you press play on Surface RT

Works fine on mine, although the frame rate isn't the best. Son loves it. I don't see why anybody over the age of 10 would want it.

I just Watched the trailer for the game and in the end its clearly shows that its awaliable for windows phone 8. But its not in the store. And it is not reported here. Did marvel made a mistake in that video?

I'm sure it'll come soon. I'm excited too and hopefully this week.