B612 is a pretty good selfie camera app from the makers of LINE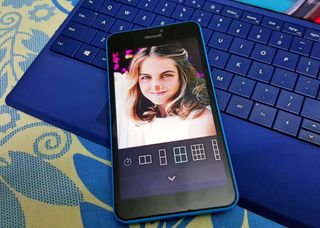 LINE, the popular messaging service from Japan, has announced the release of a Windows Phone version of B612, the popular camera app made especially for selfies and already available for Android and iOS.
B612 offers dynamic features for selfie lovers including photos, videos, and 18 easy-to-use collages along with 78 filters that can be quickly switched at your fingertips. The app also helps you create a collage shot.
B612 is a pretty good app for taking selfies and allows you to swipe the screen from top to bottom to show your friends your pictures. You can tap on a filter to apply to your selfie, and the app remembers which filters you like using most and selects them for you. The Vignette feature allows for darkening the borders of photos to bring out what's truly important. Each vignette automatically adjusts to the filter you're using.
You can use the Timer feature that allows you to pose before the shutter comes down. Once you're done, you can share the photos on Facebook, Twitter, and Instagram. For Lumia users, Microsoft offers the Lumia Selfie app, but B612 is a pretty good alternative that's loaded with features. Give it a whirl, and let us know how you like it.
I like Lumia selfie, but I'll give it a try

Surprisingly that's one Lumia app i don't like. The quality sucks. Camera 360 is awesome

I prefer Camera360 Sight over Camera360... Worth a try..

Nope I Can't install it on my 640XL developer does not allow it to install on an SD so I haven't got enough room. Why do developers do that?

LOL you don't even have 14mb space on your device?

So far I have sacrificed 1GB in phone storage for apps even being I have 64GB SD card in phone .... I don't like "Developer needs the app to install in phone memory

Lumia Selfie is actually a good app

Nice app. Maybe I don't see it but it doesn't have a quick way to pick the filter

You have to swipe left or right I believe

Seems like it's used like Retrica, right?

Finally! When I had android (:S) for a few weeks this was one of the apps I liked the most, and one of the apps I was missing when came back to WP :)

They should bring their games to us, with xbox achievements... I would love. xD

why still no retrica on windows

We don't need it. I've found waaaay better apps. ;)

Phototastic , Gloomlogue , Creative Studio

Nothing that adds to the number of selfies in the world is good.

Windows phone front facing camera is terrible still the app can't truly be used for its full potential until this is fixed

how did they came up with the name?

Asteroid B612, named for the asteroid home of the eponymous young hero of Antoine de Saint-Exupéry's The Little Prince.
- Wikipedia

I'm not sure I trust Wikipedia..

It kinda sounds like a "Scandal" reference. B613 is the name of the shadow organization, run by the main character's father.

swipe up for more options, swipe down to toggle between front & main camera..... swipe left or right for filters... nice, good app for quick shots on the move.

I'm new to selfies, are all selfies mirror imaged after the shutter click? Or just one using windows phones? Does this app mirror image after shutter?

swipe up for more options..theres option for mirror mode :) after u've taken pic just before saving it u can tap on the logo to change its design

LOL..Sounds similar to B613 on Scandal..!

That is a weird name for an app.

Unable to install. Lumia 1520, India.

I tried it and it was pretty good!

Right now it's the only AND the best selfie app you'll ever find on WP store that supports REAL-TIME filters. I mean you've got yourself your own Retrica now :D :D Thanks a ton LINE devs and GKYS Lumia Selfie, Camera 360: Sight, etc WHY? because you guys suck for not making an app like LINE's B612!

i have a opinion if someone whant to answer : do you think this app its ported by the devolepers of ios or android?, and do you think the strategy of microsoft porting apps from ios and android is beinng to result?

Terrible picture quality. Decreases the resolution. My phone has 5mp front cam, but this app makes it look like VGA..!!!

As I opened b612 it says "unable to use camera". Yesterday I've made an reset. So please help me to fix this out.
Windows Central Newsletter
Thank you for signing up to Windows Central. You will receive a verification email shortly.
There was a problem. Please refresh the page and try again.