The back cover of purported new Microsoft 'Lumia 1330' phablet appears online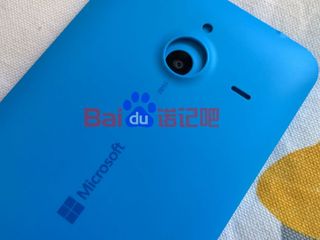 Images have been posted of what appears to be the back cover of an unannounced Microsoft Lumia smartphone, which may indicate that an announcement of a new Windows Phone device from the company could be coming in the near future.
The back cover was posted on a Chinese Weibo account and shows what looks like an elevated camera hole. In addition to the Microsoft branding, there's also a Zeiss label on the cover. A second leaked image shows the cover with a Lumia 535 sitting inside of it, which makes it look like the phone has a display significantly larger than 5-inches.
The site NokiaPowerUser has claimed that such a device is a Lumia 1320 follow-up, possible bearing the name Microsoft Lumia 1330. The device purportedly has a 5.7-inch 720p display, Snapdragon 400 processor, 14 MP PureView rear camera, 5 MP front-facing camera and 32 GB of internal storage.
Such a phone was originally spotted in a slew of leaked device covers back in early November. One of those phones was the Lumia 535, which was announced, but the larger device has since not come out leading to more questions. If the new photos are accurate, then a budget-phablet Windows Phone for 2015 may be on the near horizon.
At this time, Windows Central has no firm confirmation of such a device, nor any indication that a US release for it will occur. Only Cricket in the US has picked up the Lumia 1320 with all the major ones passing it over, and that is likely to be the case again. Still, for emerging markets, a replacement Lumia 1320 seems like a logical next step in Microsoft's Lumia x30 line of smartphones.
Any announcements for such a new Lumia would likely occur at Mobile World Congress due to it being a less US-focused event, unlike next week's CES event in Las Vegas.
As always, treat these kinds of leaks with a healthy dose of skepticism.
Indeed. If this has SD support, amoled display with full glance capability and decent performance I will finally have an upgrade option from my 820. Please MS, make my dream come true!

I totally agree. I love my 820. But will upgrade to the 1330 if it has SD card support and for "hey Cortana"

Hey cortana is only possible on phones with snapdragon 80x processor

Won't have Hey Cortana if it has the Snapdragon 400 processor.

This is what we want ,phones with 16gb,32gb ,even 64gb WITH micro SD card support

Oh, I just realised, this has the same APU downgrade that the 830 suffers from. Looks like my 820 is STILL without an upgrade option. This is getting tiresome...

I've had many Lumias in the past two years, and the 830 is a solid phone. I like it better than the 925.

Blasphemy! The only thing 830 matches the 925 in is looks, and the only place it beats 925 is in battery time. Otherwise it's a pretty unimpressive device.

Another place it beats 925 is in the Storage department :)

and indeed the 830 is a faster phone than the 925.

Is there already a device out there featuring Amoled with Glance? If not, have there been any (official) statements indicating that this might come with future devices?

1020 and 925 are both AMOLED with glance.

I think, 730/735 has glance.

Yes, I need 820 replacement to. Would prefer 600 processor. We also need NFC, I can't have a phone without that now

They need to f*cking stop making low end phones. It's been months and months and all Lumia releases have been worthless snapdragon 400s that lack the features that any pro user would want.

I would love to see a leak for a better specced phone, though I'd imagine they have that under lock and key, like with the surprise that was the sp3... I hope. Personally I don't buy low end devices. But then this device will probably never be released where I am.

Exactly! I don't understand their thinking at all. No one is gonna downgrade from a high-end iPhone or Samsung but it seems like that's what they believe will happen :(

*Right, because the flagship phone are outselling the 512MB devices right now...* I don't know if that comment is a joke of just ignorance at its full. MS has become a big company thanks to cheap computers, MS wouldn't be like it is today if it wasn't for cheap computers back in the 80's-90's... well thanks to piracy too. They already did this, start with low cost devices and when the enterprise and the consumer follows you, you already control the majority... You want examples: MS-DOS and Windows. They are popular thanks to clone computers because they were cheaper than the ones made by HP, Compaq, IBM, Dell, etc... MS won't hear rich boys screaming "give us a flagship device" because the enterprises prefers cheap devices for their employees to do their works, those named: Lumia 520, 521, 530, 620, 630, Billy Jr., etc... They will succeed because of those cheap devices.

Sounds like sarcasm to me. Butthurt much?

Rich boys? I'm a lowly public service worker. The 820 is a mid range device for the average chap, not a high end iPhone for the wealthy. You seem confused...

In the US, people judge eachother on what phone they have. Sad but true.

iPhones are for the wealthy? I thought they were just for idiot consumers who dont know anything about technology and just buy stuff, even if they cant afford it.

I think the flagships will come out post Build, along with WindowsPhone 10.

You have a sharp pair of eyes

Would probably buy this I it was a good price in the UK...not that it will be, probably about £100 too much like most phones.

£100 is much for a phone? LOL, get back to your 520. Of you want quality you have to pay for it.

@fatfro:
He didn't talk about his assumption of the final retail price.
He suggested the price, whatever it might be, will be 100 bucks HIGHER than a desirable price point.

Offtopic :Happy new Year guys.

Happy new year from Brazil!!

Thanks! Happy New Years to you too!

Happy New Year from THE Orlando.

@Permanently Banned:
Is this now to become a thing like "seems faster"?!
Anyway: Happy New Year to everyone.

That's the 535 under the cover in the first photo also, for those who are confused.

Man, it's like we both read the same article ! wow....

I have a feeling that this year will be year of camera battles.

And Lumias will win again ;)

If there is a 1030 coming soon, no doubt Lumias will win.

Lumia rules the mobile smartphones in camera department,hands down

Then they need to stop excluding haac mics from the lower end hardware. My low end 620 had em and great video is just an extension of great photography. Btw the camera in my 620 was great despite not being Zeiss or pureview.

i'm loving it to hear that it's becoming a staple to hv a 5MP in FFC for new msft lumia devices.

Between Windows Phones? Not if we see another year of strictly mid and low range devices.

This is my next device.. Whatever it's called doesn't matter. It's a mid range device. I'm already using the 1320. Only bummer is the slightly smaller screen. Hopefully a higher ppi count this time around.

Higher PPI is a defacto result. Both displays are 720p. So the same amount of pixels on a smaller screen = higher density = higher PPI.

If cheap Chinese phones can have 1080p for those prices, so can this thing.
I'm not into the ppi wars generally but 720p on a screen that big in 2015 just seems like a cheap move... Micromax has a phone at $350 with a 1080p AMOLED (!).

Agreed. 1080 minimum. I love the resolution on the LG G3

I honestly don't consider this mid range. Mid range is the Moto X, Nexus 5, One Plus One. This is low end. Posted via the Windows Central App for Android

When will we have a successor to the 1520. It's time for a upgrade and I want a high end phablet.

Exactly. I know that wp market is mostly based on the low and mid range market. But Microsoft must deliver new high end phones.
The 930 is a great phone, and the 1520 is amazing, but they are showing their age. It doesn't matter that their hardware is well above what the OS needs, but it's a matter of market perception.
Yes, wp runs great on a snapdragon 400, but we're already seeing it's limitations.

Same here. I have an Upgrade available yet have to wait lord knows how long for a viable upgrade to my 1520. Sucks. I bet we have to wait until end of 2015.

I'm happy with my 1520. Till something it can't do is in existence, no change. After all, were talking MS here, nothing anytime soon.

I honestly wouldnt be shocked if Microsoft misses another holiday season in 2015, and attempts to introduce a flagship for Mobile World Congress in 2016. But of course, in that scenario, Windows on mobile would be pretty close to dead, even more than it is now, in markets like the U.S. and Western Europe.

The 1520 is discontinued I suspect we will get one in June when release I near win 10 launch, at the moment no point! Seems logical flag ship upgrade the phablets don't sell like phones, a much slower rate! Microsoft probably doesn't want an abundance of 1520's unsold!

They are kidding around with their launches. I have an 820 and I want to upgrade. 830 has a very low vibrational feedback and a single led flash. 930 with no glance screen. I have no choices. Lots of people are waiting for a good flagship. They are lazy.

For real.
Microsoft stuck on low end phones, they shouldn't have brought Nokia at all.
I'm tired of seeing low end phones from Microsoft.

High end phones would come with wp10 I think Posted via the Windows Phone Central App for Android

Not saying you shouldn't want something higher-end but exactly how does this make MS lazy? It's their second phone and its aimed towards the market segment where they have a clear strength. Personally, it makes no sense to release a flagship now when they are about to put out Windows 10.

Market strength! You just have me diarrhea from laughter.

I don't think you understand what I mean. Currently WP has a definite strength in that it runs far better on budget hardware than the Android alternative. Even my Android toting friends admit that it runs like trash on anything that isn't high-end.

Ok, see. I'll seek Imodium.

They have got the potential but not the numbers. Market share is very low and there is not much hold on the market. It's Just the 520 that saved them.

It's been a long time since the purchase. And they have just launched the 535. This is yet to come. Will take some time.

It's been less than a year since the purchase. It takes months to design a phone and bring it to market. On the flip-side the 9xx, 10xx, and 15xx ranges are our crown jewels so I suspect they are going to bring out the successors to those with Windows 10. I'd like to see them too but I can understand why they aren't here yet.

That's bullshit! I used to be a Microsoft apologist but that tether snapped ages ago. Nokia would have had plenty of new phones in production or on the drawing board at least and Microsoft hired the exact same people working on said phones!!!

This sounds like the equivalent of a 830 gone phablet. Good thing overall. I like the color too.

Sweet. 32 gig of ram is a sweet spot for me.


I'm not kidding. I'm one to take advantage of storage in the cloud for music, documents, pictures and stuff and I don't use my phone for gaming or watching movies. I have an XBOXONE, Netflix and Plex for that. Where I live, I have wifi. Where I work, I have wifi and most places I visit have wifi, even my church has it. So why store on my phone? With AT&T LTE speeds, I can get what I need fast. Apps I get but don't use are uninstalled. I'm a minimalist like that. When I did android, I found I needed additional storage and an sd card was a must. Not so on Windows phone.

So you are able to take advantage of cloud storage on WP, but you weren't able to on Android. Sounds logical.

Not that you give a damn but with the Windows Phones I've owned, its a natural process to utilize cloud storage so I learned to adapt to that. None had external card storage in case you need nuance. When I had an android device, it had an SD slot and that was a natural way to go. Images automatically uploaded to the cloud but with android, I tend to not think cloud storage like I do with Windows Phone.

More like... The new absolute minimum WITH microSD slot.

Not RAM, 32 gigs of internal storage.

This cracked me up. (ram instaed if storage)

32 gb of "ram",, yeah for sure it would be "sweet" for all the world not only for you...

"Windows Central has no confirmation of such a device", yet the rum'o'meter gives it a 7/10.
Anyway, looks like the 5 MP front-facing camera is now mandatory.

if they had confirmation, then it would have been a 10..

If they had confirmation it wouldn't be a rumor then.

i guess the FCC website is not confirmation of this new model. https://apps.fcc.gov/oetcf/eas/reports/ViewExhibitReport.cfm?mode=Exhibits&RequestTimeout=500&calledFromFrame=N&application_id=595511&fcc_id=PYARM-1062

No PureView, just Zeiss. Hmmm.... Maybe not 14 mp

It's says PureView in the first paragraph.

It might be like the 730, only Ziess lens, no PureView.

Agree. Maybe don't have six lances and OIS

Snapdragon 400 :( will not support hey Cortana and other nice features denim offers. I will buy a phone will all the features stated with snapdragon 800 the moment they release.

I had forgotten about that... I just completely lost interest in considering this phone. That's assuming I would even have it on offer to buy.

I'm surprised that Microsoft hasn't announced a 1520 successor yet..... It's been a year since the phone came out........

And even longer waiting for a 1020 successor announcement.

Shall we say 920 even? An no 830 does not count.

920>930 that has been done!

But it hasn't. Because its not available in the US. Theres the icon, but that's Verizon only. Not the same carrier that had the 920. So yea...

No more low end phones. Please Microsoft change the names to... We know what is what anymore. 520,530,534 and so on. It's confusing for the consumers..

Whats so confusing? 5xx, 6xx, 7xx, 8xx, 9xx, etc... different series where "xx" numbers that are higher = more recent releases and iterations. And two levels of WP phablet 13xx and 15xx. Everyone else uses #s too...iPhone 5s, Galaxy S5, One (M8)... Would having a Microsoft Lumia Nightfire 4 clarify things for anyone? Oh yeah, it's newer than the Nightfire 3...but where does it stand in comparison to the Lumia Icedragon 2?

People remember names and brands like Galaxy and iPhone and Xperia, not numbers like 1330.

Wonder why we call it Lumia then, shit, with a number, just like our competitors. Omg.

LUMIA.... The answer is LUMIA.
Sony's Xperia line of phones currently includes the Z3, Z3 Compact, E3, T2 Ultra, T3, E1, M2, Z2...etc...
That is infinitely worse than the Lumia system.

As a current 1320 owner excited to see this, can never see me moving away from a phablet its the perfect form factor for me.

Argh phablets... I just want a 5" head tracking parallax 3D screen, 8 core processor, blazing fast 50MP camera with forwards and backwards shutters, 8GB of RAM, and retinal scan (or 3D facial recognition)... Is that too much to ask? I need something worthy of an upgrade from my 1020. Current "flagships" are absolutely yawn... I want my jaw to drop like it did for the Lumia 920 a couple of years ago. Please Microsoft?

yea, he doare microsoft not release a new 1530 now, especially since they can totally make it an upgrade and not a complete sidegrade.

Even 1320 has it successor. Means that there are possibility for 1020 & 1520 successor too.

Oh I think that goes without question. The bigger question for people is when?

Maybe come out with windows 10 since it is a flagship. Lol. Really hope these two comes out with SDragon 805/808 processor. So far the most powerful WP yet is M8 Windows with S.Dragon 801 processor follow by 930&1520 with S.Dragon 800..

Hope it came out around April just like wp 8.1 last years.

I don't think it's too far fetched to now expect another flagship either November 2015 or even for MWC in 2016. IMO, If a true flagship does indeed not show up until early 2016, the platform will be diving under the 2% mark in the U.S., where flagships are key, and then Microsoft can kiss even their low developer support (in mobile) goodbye.

What about.. It's gonna be hard for MSFT to upgrade my 1520... I mean its a perfect phone, preetier then the IPHONE 6

No sense core, processor is aging, bezel/frame could be more stream lined a bit, improve optics, add an extra GB of ram... There's plenty to upgrade on the 1520, and longer we wait, the more that will be expected of it.

Wait, the 1520 doesn't have SensorCore?

Honestly, I understand why you verbally punch people, Dan.

Whew! For a minute there, I was going to start wondering how Run! Rabbit Run!, was counting my steps!

I wonder if there there will be a 1520 successor

I wonder if India will want it?

US carriers will carry low and mid range more openly of they're were flagships to flank them - here's a super phone. can't afford it? here's the lower end equivalents. - MS needs to have at least one high end phone yearly.

Love my 1320! Thanks cricket!

Why did they skip 11xx, 12xx, and 14xx designations? Can we fill in those gaps this year? And throughout the year, not all at once?

Glance+amoled
And I ll get it!

It would be nice if it had a dual-sim version. I hate carrying two phones :(

What about its ram? When it went for testing it was only .38gb

RAM gets eaten by the OS and apps running. That is what that number is.

So Lumia 1330 is probably a 1gb ram phone right??

I think it should have at least 1.5 gigabytes of RAM. Even mid/low range Samsung phones have that. With touchwiz is needed but it never did any harm for more RAM. Posted via the Windows Central App for Android

These leaked "specs" were from a benchmark app. Apps can access a limited amount of ram, 180mb each for 512mb phones, 380mb for 1GB phones That's why it was 0.38gb :) Edit, Bing/Google "App memory limits for Windows Phone 8" and check for your self :)

So, yes, would have been easier to write.

How can "yes" be an answer to "What about its ram" ?

.38 =1gb of ram. Holy crap, I just did it!

So "yes" isn't easier any more ?
Did my reply offend you in anyway ?

No offense. I guess I'm crabby, sorry. But to answer the question. Anirban asked if it is 1 gig phone. Answer is yes, particularly in light of your well written earlier response.

Jesus Christ How Many Snapdragon 400s did Microsoft buy? (In a southern Leonardo Dicaprio voice)

Considering you just wrote this article, you really shouldn't mock other websites online, looks bad for your image ( ' _ ' )_/
Just a friendly advice :)

Why has got Finland denim Update For 1520? We are still waiting

This has nothing to do with this article. Please try our forums, thanks!

Where's the snapdragon 800/810/805 in windows phones for 2015?

364 days are still left for that.

The best thing is windows central acknowledges Nokia power user!!!

Id be happy if it 6" device

Ok Microsoft, you can make as many low end phone as you want. Just don't let shitty android apps run on windows phone, TQ!!!

Look, everyone, ANOTHER budget device from Microsoft? What would this be, the fifth thing they've released without a flagship SoC inside?

Nah that's not a budget phone, it's mid range

How is this budget range?

1. The resolution is lower than my 2012 Lumia 920 (1280x720 vs. 1280x768). It's a terrible resolution for such a large device. 2. The Snapdragon 400 is a low-end SoC, just above what's in the Lumia 530. It's actually what's in the Lumia 635 and 730/735 (as well as the 830, but that's just another example of Microsoft's poor hardware choices). The Snapdragon 400 lost out to the 2-year-old MSM8960 that is inside the Lumia 810/820/822, the Lumia 920/925/928, and the Lumia 1020. This SoC won't support Hey, Cortana, as was announced with the Lumia 830 (requires SD 800 or higher). 3. The camera is beneat what is inside the Lumia 930, which is a 20-MP camera. There also is no mention of OIS. 4. We didn't see SensorCore mentioned either, though maybe that'll happen (perhaps in a more-advanced version, closer to what the Band offers?). Basically, it's the budget version of the 1530 that hasn't been seen in rumored posts like this, jsut as the 1320 was and is the budget version of the 1520. This thing runs on parts that were relevant in 2012, if not worse. It'll be carring a budget-class GPU (the 400 has been shown, in testing, to have a pitiful graphics processor), and it'll only have 1 GB of RAM (not the end of the world, but still mediocre). It's missing a lot of neat-ish features, and trails in hardware capabilities by a lot, when put next to devices like the Note 4, One (M8), Lumia 930, and so on.

I hope it comes under $350. And is announced soon. MWC is too far.

Why's it been so long since we've gotten any refresh on the OS..... Feel like its been forever. I don't mean Lumia camera enhancements. Actual OS upgrades... Lol. Sheesh I'm getting bored

Maybe coz I've had wp 8.1 DP since the beginning but isn't there anything else to preview by now? Since 8.1 has been done for ages...

Looks good, but i am still waiting for the 2015 Lumia 1520 !

I'm content with the 830 still

Happy new year from the moon......don't you believe that humans can't travel through the Van Allen Radiation Belt

Forget it. I wanted something better than the 1020 and my 930, with 1920x1080p or higher and sd card support otherwise I'll pass.

Really hope this phone comes to cricket. I have the 1320 and really happy with it besides the camera with low megapixels. SD card support is a must but Having preview for developers on my cricket Lumia 1320 has made it so much better.

They need to bring out a successor to the 1520...

I'm sure they will and will look awesome! Can't wait to know about the specs :D

Really? I mean, they haven't released a successor to the 1020, after almost 18 months. The successor to the 920 was hidden away on Verizon, and missed out on things like Glance. The 820's successor isn't even a full-on upgrade from the 820 (with a worse SoC). I wouldn't bet on a near-future 1520 replacement, simply becuase Microsoft's spent a year pushing low-end devices like crazy. It's why I'm still on a Lumia 920.

What an ugly phone. What's with the front bezel at the bottom being so large? And don't you think we need the successor to the 1020 as the 1320 has been released not that long ago? I have a 1520 myself but still....

If glance screen and camera button is available this is my next phone

Why have they put another phone inside the 1330 shell?...perfer just to see the shell

It seems MS is happy to lose 920/925/1020 and 1520 users. MS has left the flagship market to iPhone and Samsung. Very bad market strategy.

To right! Without Evangelists and something for mid range Customers to aspire to, WinPhone will wither on the vine. Elop doesn't seem to understand the significance of the L1020 and the need for a successor. This makes me understand the need to jettison Elop ASAP.

Still waiting for an 830 size and looking phone with everything the 1520 has, and wireless charging.

Looks good to me, I like my 1320 but the camera is terrible - especially compared to my Wifes Icon. Even though I appreciate the screen real estate of the 1320, I would prefer a slightly smaller unit - the 5.7 looks like it would work for me. Really like the size of the new 5.5" iPhone 6+. Now I just have to wait for something that will work on an ATT MVNO without an ATT or (Cricket) rom.

Too late windows central too late.... Lol

Nice. But where is the L1020 successor? Just because Elop doesn't like to take pictures doesn't mean nobody does!

5 inches is the ideal size for me. Glad to hear they're working on something and I'm sure it will be awesome but I also hope they're working on something along the lines of the Icon (5" and no camera pokingout of the back).

How about a snapdragon 610 or 615 instead of a 400 in freaking every major mid range phone in the lineup. Come on Microsoft give us a real midrange phone. The 830 should have had a 610 processor.

because the OS doesn't have support for 64-bit?

I bought my 830 just few weeks ago...

I am waiting for this! Now rocking the lumia 1320, 6 inch display is great for me! Only the camera is a bit meh so this is a perfect upgrade for me!!

Did it take MS so long to release 8.1 because 10 is so close to coming out???

None of these releases are helping me at all. I need a high-end Windows phone. All the people who had Lumia Icon, Lumia 920, 925, 928, 930 need upgrades... we need a new flagship. I feel like this should have been their first move. A VaporMg chassis phone, a la Surface Phone, that can serve as a next step hardware-wise for current customers. I also feel like Microsoft should ditch the number naming schema that serves as legacy from Nokia. None of their other product lines encompass this naming schema. I am looking for change, otherwise people will stop taking Windows Phone seriously. They will think that Microsoft just doesn't care. Similar to the Ballmer days. Just do something to wake up the tech world. Surface 3 was huge but now we need something on the phone end that can live up to the same caliber.

Ugh... Another low-end phone.

Happy 1020 user here. Want to try this without loosing features, good move? Also has to have reversible USB type-C, anyone knows?

Probably available everywhere but the US again right? Think phones like this could be the "flagship" for carriers like Cricket and what not.

That moment when we have no OnePlus One equivalent.... We'd kill for a phone with 1080p or higher, >1GB o' RAM, the latest and greatest Qualcomm processor, NFC, a massive camera and a dang MicroSD slot. Maybe a removable battery if that's your kinda thing and the dedicated camera button which we argue over so much. I personally just want GLANCE ON A NEW PHONE.

Which is better or can accommodate more features besides screen resolution, amoled or the other

So another "affordable flagship"?
Albeit with a larger screen...

That microsoft logo is so much better than 535, :P

confirmation of this device is on the FCC website. it does not have built in wireless charging so this may be the wireless charging cover.

Um... Probably already been noted above but... Flagship please MS, Flag ship!!

the only thing that matters is the price. This is a perfectly reasonable midrange phone, but the price needs to reflect that. $399 MAX or just forget it altogether. The L830 (as we all know) is about $100 overpriced. L830 - $349 and the L1330 - $399.

Another cheapo device from Micrsoft. I'm sorry, but the worst thing that happened to Lumia was Microsoft buying that part of Nokia. At least if Nokia had kept it, we'd be seeing true flagships coming out by now, real successors to the 1020. Now, all we see is cheap stuff. Lame.

all I have to say is that with the new Qualcomm chip coming out next year id better see a Microsoft smart phone that utilizes it or sadly, this Nokia 1520 I have will be the last windows phone ill get for a while.

"As always, treat these kinds of leaks with a healthy dose of skepticism." OK to that, but when you analyse the quality of the leaks at NPU... Well, they have a very high quantity of hits and a few miss... So's my opinion, they are very reliable... but If this is like 3 month ago, I will be banned for this comment... The excuse: "Trolling", yeah right! I was/am trolling because just one admin says so...

More low and mid rangers, yay! /s

Still leaning toward a bb passport or iPhone 6, upgrading from Nokia l925. Don't see anything by Microsoft that would make stay on wp right now.

I've just replaced my nl925 with a Lumia 735. In design and style it takes me back to my original Lumia 800 but thinner, lighter and more elegant. Subjectively, performance is sharper than the 925 and I prefer camera and sound output. I agree it's not a "high-end" device, but it is a more than adequate stand-in until a new flagship arrives later in the year. It's my favourite phone out of all the many Android, iOS, Windows Mobile, WP, Blackberry and Nokia devices I have owned, the majority of which were released as flagships: stylish, elegant and a pleasure to use. Judging by my experience with the 735, performance of the supposed 1330 will be fine, it will have an excellent camera, decent screen and solid battery. It's not something to get too excited about but it's also not likely to be a worthless piece of low-end junk. A bit more balance in the comments would be helpful!

I will say that Microsoft is right on focusing on low and mid range. Look at the device usage stats. The 520 is king. The high end Lumias don't even register. Windows phone is taking off with people on a budget who can only afford a pay as you go phone.
Us fanboys will get a new high end device when the time comes. Hopefully in 2015.

the model that suppose to be the 1330 is an generational leap from the 1320 and their joke camera of 5 Mpx , now is find weird that the 930 have better camera than the 1330 being an higher model should be same as 930, also i find lack of coordination to Qualcomm their provider because if they are developing an serie 600 processor would they tell to Microsoft to start to develop Microsoft phones with the newer processor avalaible even if that mean stop of produce phones or still making the past generation models till wait the arrival the newer processor to start to produce the next generation of models to an real competence model to their rivals, just Microsoft already lacks a lot to learn from Nokia in develop phones..

Please consider upvoting this specs suggestion for another variant of 1330.
The leaked specs are a bit dissapointing.
https://windowsphone.uservoice.com/forums/101801-feature-suggestions/sug... Thanks. Posted via Windows Phone Central App on Android

"Only Cricket in the US has picked up the Lumia 1320 with all the major ones passing it over" WRONG; I have a 1320 that is powered by AT&T

Windows Central Newsletter
Get the best of Windows Central in in your inbox, every day!
Thank you for signing up to Windows Central. You will receive a verification email shortly.
There was a problem. Please refresh the page and try again.