Ballmer Admits Windows Mobile 7 is Late? Also: Ouch!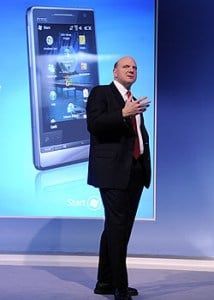 File under: Awkward! At the CIO summit yesterday, Steve Ballmer got an uncomfortable question from the audience that, well, has been on a lot of people's minds:
Ballmer's response was basically "we're getting to it" and he pointed out that, yes, Windows Mobile sold more units than the iPhone did last year. As WinMo fans, it might have been nice to have Ballmer point out some of the platform's advantages over the iPhone -- but we have to grant that many of these advantages are more likely to appeal to the nerd / IT manager than they are to the consumer. Setting cross-platform sniping aside, the most interesting part of Ballmer's response to us was this little nugget:
Emphasis ours above -- apparently Microsoft "wanted" to have Windows Mobile 7 ready to rock this year. It's not exactly a surprise, sure, but it's still nice to hear from the horse's mouth. Ballmer says that they've put a team in place that will be able to "accelerate" development for Windows Mobile to deliver the "things people want on the highest-end phones."
Anybody out there in a WinMo shop, facing a user insurrection asking for competing platforms?
Windows Central Newsletter
Get the best of Windows Central in in your inbox, every day!
i want to switch to iphone or android for a change.
but their phones SUCKS! i refuse to buy anything that is QVGA or HQVGA junks!
give me 800x480 or higher and u will have my money!

The only smartphones coming non-touchscreen or touchscreen-use-optional are either BlackBerry, Symbian or Windows Mobile. I can't stand Nokia and my experience with BlackBerry wasn't a pleasant one so I'm not going anywhere. Android and iPhone don't exist as far as I care, until Apple stops making everybody slaves to the screen and Android proves it's really open (i.e. stops forcing Google's stuff down people's throat.) Palm's new OS will really have to prove itself before I even consider it.
Windows Central Newsletter
Thank you for signing up to Windows Central. You will receive a verification email shortly.
There was a problem. Please refresh the page and try again.