BBC retiring Windows Media format for streaming radio, now affecting some Windows Phone apps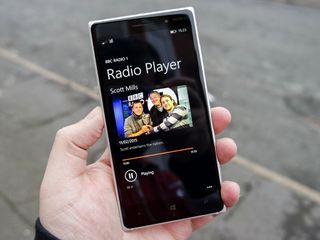 If you're a fan of listening to BBC Radio stations through something like the excellent Radio Lounge UK, by Igneous Software, then you're likely going to hear some bad news when you try and fire up the streams. Put simply, BBC stations no longer work through this app, or any others that were relying on the old, Windows Media format for the stations feeds. Because it's gone. This is what the BBC has to say about it.
As it turns out, Windows Media was supposed to be replaced by December 31 last year by the all-new, Audio Factory. As it turns out, there seems to have been a mild reprieve but from today all stations will have switched over. We're not 100% sure what this means right now for BBC radio in Windows Phone apps, but we'll update if and when we hear anything else. In the mean time, you'll need to use the BBC iPlayer Radio app instead, which just isn't as good as most of the popular third-party offerings. But at least it works.
Update: As per the comments at the foot of this post, Igneous will be pushing out an update very soon!
Source: BBC
Thanks Nick for the tip!
Richard Devine is an Editor at Windows Central. A former Project Manager and long-term tech addict, he joined Mobile Nations in 2011 and has been found on Android Central and iMore as well as Windows Central. Currently you'll find him covering all manner of PC hardware and gaming, and you can follow him on Twitter and Instagram.
More windows phone abandonment. The trend continues.

Not directly. The BBC is upgrading its backend stuff which has led to what's happening here. For all we know Radio Lounge can be updated to work with the new stream. But we don't know for sure yet.

Yup - Update in progress right now. Expect a new version within the next 24 hrs!

Excellent thanks for the heads up

Radio Lounge update is now live in the Store.... Go get it!

It would have been nice to have, but it doesn't work. I just downloaded it and still get the standard BBC message.

Martin - Sounds like the store didn't serve you the update. Might be worth trying again. Which station are you referring to? Thanks.

I have tried downloading from the app store several times and I tried again just now. The version in the App Store is 3.4. For Radio 1, 4 and 4X the pictures are all current, but the audio plays a message saying "BBC no longer provides this service in the windows media format". I am using a Nokia Lumia 800 running Windows 7.8.

I have the same problem. If I search for Radio Lounge in the Marketplace, it says "version 3.4.1.0" - why are we not seeing the new version? I'm using an HTC HD7 running Windows 7.8.

Unfortunately we're scaling back our support for legacy Windows Phone 7.x handsets due to the increasing overhead of managing the subtle variations between the two codebases. At the moment there is only a very small percentage of our user base in that situation and we need to balance availability of resources against the largest population. Once our resource is freed up from some Podcast Lounge develoment, we'll see what we can do here. Sorry for any inconvenience caused.

Ok, thanks for replying anyway

They are discontinuing the format only.... So take a chill..... Let the third party guys update.... It's only a format

It's not directed at windows phone... Read the article before you comment..

Nothing to do with Windows Phone. WP can stream other standard formats too, but apps written to exclusively use Windows Media will have to be fixed.

More idiots crying on windows central without actually understanding the news. The trend continues.

Hrhr you expect them to read, or god forbid comprehend? muhahaha good luck with that. ;)

I agree with EchoOne30....
I had the feeling for a long time that Windows Phone is a dying OS, and I'm afraid Windows 10 doesn't change it. I hope I'm wrong but only time will show...

Moving everything to some amalgamation of AAC, big suprise from iBBC /s

It's the superior format; why would they not move to it?

what's so superior about it? Objective test show they are mostly on par, with AAC worse at muddying higher frequencies and WMA worse at channel seperation. The differences are marginal even then. If superiority is what they were after one would think they'd be using ogg vorbis.

If you're suggesting it's an Apple motivated move, you know nothing about the codec, John Snow.

The BBC full time depts (not outsourced) are stuffed full of beards and weirds on an Apple and Unix agenda. http://careerssearch.bbc.co.uk Go there and look at the tech jobs. One big Apple and Linux fest, they culturally hate MS. Sick left wing organization.

The BBC aren't going to be to bothered about pulling the plug on WP. I'm sure they will still sleep soundly at night.

They haven't pulled the plug on WP. They have removed an old outdated format, which just happens to affect some third party WP apps that still used it.

I don't think they have pulled the plug on wp as they haven't really supported it in the first place!

Hey all. We're the developers of Radio Lounge and we're hard at work testing an update which will restore the national radio streams to full working order. Standby for an update within the next 24 hrs! Thanks!

Impressive response time!

I'm not from the UK but developer response is always appreciated. Do you take donations?

We don't unfortunately, but a thanks is more than enough. Supporting our other app "Podcast Lounge" always helps too ;o)

Wow, very impressed with developer acknowledgment in the comments and advising an update is on the way, within 24 hours! ❤

The update is now live in the Windows Phone Store. Enjoy!

Wmv/wma is old tech, they should abandon... Even MS is abandoning it. BBC fault is not updating the app first.

Blimey, someone actually read the article before ranting!

Noticed and reported this ro many via social media few days ago, also reported it to number of app developers including TuneIn, App Radio and myTuner Radio which were able to use alternative streams within rather quickly, TuneIn was the first to fix this however is very poorly designed in Windows and next was App Radio. BBC iPlayer is so bad not just in design but also in performance that we avoid using it altogether, hope BBC revamps the app from fresh with fresh modern look.

The funny things is they are the type of company that then says no one is using Windows Phone and shuts an app down (I know not in this case). But their view is that way because their app is crap and the Windows phone users are using better alternatives. But if they had a great app people might use that!
I.e. Wrong metrics are used to determine users. I bet other companies look at wrong web headers which now report WP IE as webkit and think no IE mobile users exist too. Back on thread, WMA needs to go. Other alternatives are cross platform.

Shouldnt be surpised the guy running this part JIM SIMMONS, look at his linked in profile. He has tagged 7 companies to follow: Names on the list: Apple, Google Name not on the list: Microsoft As I say, Apple and Unix lurvers. Thats the BBC for you. It should come as no suprised that journalist and media people er toward the left side of politics and consider themselves "alternative". The irony as Jeremy Paxman pointed out at the recent Microsoft Future Decode event, was that the morons with an iPhone who think they are alternative are using a mass produced products, exactly making you _not_ alternative or a unique invidual. If you want to see the kind of BS that people fall for, its all here in this stupid Google video: https://www.youtube.com/watch?v=bTFPSQ7Q0zw Beards, check No one in a shirt and tie, or suit - check. Fixie bike - check Stupid plinky plonky Indie music playing in background - check No one with a real job, all sending "twitteresque" glib messages posing as work - check Honesly, people think they are all hipster, when in fact they are themselves a product of mass consumerism and marketing. It would be funny if it wasn't all so tragic. The BBC needs to be binned, along with the license fee.

Personally am extremely impressed with following non-Microsoft big names (non-games) that support almost every platform almost perfectly: Netflix Amazon Viber WhatsApp Facebook Messenger Evernote eBay PayPal Microsoft is doing an great job itself and personally have allot of respect for how hard they are working to achieve the best all in ecosystem, yes they are like many investing in purchase of new apps however it's a good move overall as they already have a good foundation in place of other platforms. Would be great to see more URL/service association for different apps such as opening YouTube links automatically in certain third-party apps, I think Twitter app does that for some links however is not as it should be which could be OS limitation at this stage. BBC Has in another article/blog recently hinted that they will be releasing an Windows 10 app which I hope is a proper app instead of webapp look/feel also hope is universal.

Haha tell me something new.

Windows phone is like the show afraid and naked. Lol. U have to look around for alternatives whatever u can eat

Hey, all. It's Vinnie from RadioFeeds UK & Ireland (www.radiofeeds.co.uk) here. We've been around since 2001 and are the internet's most up-to-date directory of UK and Irish radio stations. We have an app-free player for Windows Phones 7.5/8. You can access this from your phone's browser at www.radiofeeds.co.uk/wp Although we've found difficulty in supporting the Windows Phones 8s (ironically, we had no problems with 7.5!) Over 75% of stations should still work on WP8, including the new BBC streams. Please give it a try today (and make sure you choose the mp3 option, not the WMP or AAC+ options!). Feel free to drop us a line if you'd like to make any suggestions or comments. You can do this from the pages. I look forrward to hearing from you! Vinnie

Awesome! Thanks for the great work. On the other hand, you guys could definitely do with a site re-design. Definitely looks a bit dated. Even default Bootstrap might look a bit nicer.

Thanks for the compliment, Ben. We'd find it hard to disagree with you there, but I'm afraid RadioFeeds has really only been me (but with plenty of help from my important community of visitors and broadcasters for keeping the directory up-to-date). As a result, I haven't had the luxury of resources, training or personnel to be able to put the touches into making it look nice and modern. For me, it's always been about the functionality and the breadth of multi-platform support, and much effort was focussed on those two points (as well as keeping the directory to most up-to-date anywhere on the web). A bit too much effort was put into functionality at times! Taking the Windows Phone 7.5 pages as an example, it was the most difficult mobile player to get working properly. Some of the mp3 streams and all of the Windows Media streams didn't play ball with me and it was really just brute force of experimentation that made it work in the end. I didn't even have a Windows phone, so it involved many trips to phone shops (thanks, O2, Oxford Street!) to play around with the Lumias and the Omnias. After creating a successfully working app-free player, imagine my disappointment when Windows Phone 8 came along and around 25% of the mp3 and AAC+ streams failed again! I've not been able to fix this SHOUTcast problem, unfortunately, and that appears to be terminal. Blame Microsoft! But I've very recently (an hour ago, in fact) put up some warning messages should a user come across these troublesome SHOUTcast streams. I'd put the figure of such streams more at around 20%, perhaps, these days. Just to share a bit of history, I first worked on producing mobile support for RadioFeeds in 2005. I had a Dell Axim on Windows Mobile 2003SE and I absolutely loved it. I thought it was much better than even the earlier versions of iOS. So those were the first pages to be developed after the main desktop site. The legacy pages can still be seen at www.radiofeeds.co.uk/pda. As you can see, it was clearly about the functionality and not much else! ;) Anyhow, I hope these pages provide some enjoyment for all you WP7/8 users out there, even if it's not the prettiest thing around.

Does anyone know how to get in touch with the developer of Listen Again, Austin Donnelly? This app only uses the WMA streams and is now dead. EDIT: oh hell, even RadioPlayer is screwed!

Just got this update from the peeps at Radio Player: Thanks for your email. We're aware of the problems with BBC stations on our Windows Phone app. Some of their stations do work and you may find manually reconnecting a few times yields playback. The BBC are working with us on a longer-term fix which we should be able to put out in due course. In the interim, the BBC does offer their own Windows Phone app which may help you out for now. I don't feel like telling them iPlayer Radio is a P.O.S...

They should use Opus Audio Codec - High Quality Open & Free :)

The official BBC iPlayer Radio app on windows phone is next to useless, stuttering playback, refusing to play streams and very difficult to navigate. It also has a battery drain bug which makes it impossible to use if you are away from a charger (see the reviews in the store!!!). The news that third party apps are now not working (especially the excellent Listen Again) is very sad. I have mentioned in other threads that unless windows phone secures decent BBC apps there may be more lost users in the UK (market. Share down from 9% to 6%).

I reported this yesterday on the forums.

If you read the comments on the BBC blog, it appears the BBC didn't give any third-parties sufficient warning, because all the Sonos owners out there are screaming blue murder that the audio is now downgraded, the method used to stream to Sonos devices is currently a "fallback" that the Beeb clearly isn't going to keep running, and these are now international and not UK only streams, so all the sports coverage is gone because of rights issues.

Epic fail by the BBC, wrapping the 320kpbs AAC feed in a proprietary Apple streaming protocol and offering everyone else an intermittent 128kpbs MP3 feed.

Well to be fair, ShoutCast is also proprietary, and they are not just using HLS, but HDS as well, which is an Adobe system.
The issues really are that:
- they've not waited until their truly open standard MPEG-DASH streams are up and running
- they didn't inform developers widely enough and with enough visibility that this was coming
- they didn't overlap running the new stuff with the old stuff to give developers a transition period

BBC have broken iPlayer for thousands of smart TV users & wii users as well so not surprised by this news.

Maybe someone will find it interesting.
I have added support for HLS in your application the same day as stopped support for WMA (BBC RADIO STREAMS)
Windows Central Newsletter
Get the best of Windows Central in in your inbox, every day!
Thank you for signing up to Windows Central. You will receive a verification email shortly.
There was a problem. Please refresh the page and try again.