Beastgrip, a camera grip system for Windows Phone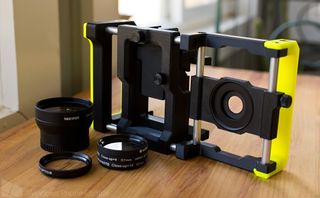 To call Beastgrip a camera grip for your Windows Phone would be an understatement. Beastgrip is more of a systems foundation for your Windows Phone camera that has a cold shoe to mount lights from, a lens mount for accessory lenses, and five accessory mounts that can be used with tripods, rails, stabilizers and more.
Beastgrip is the product of Chicago-based inventor/photographer Vadym Chalenko. He took his idea to KickStarter (opens in new tab) and is about a month away from filling orders. We were able to get our hands on a pre-release model and found Beastgrip to be an impressive, well built, photography accessory for Windows Phones.
Design
While Beastgrip expands your Windows Phone capabilities, the concept is rather simple. You have an adjustable clamp that slides horizontally on rails and a camera port that adjusts vertically on rails. Along each corner and close to the center of the base of the grip you will find the five 1/4 inch accessory mounts.
The clamp that holds your Windows Phone in place is lined with a thin strip of foam to cushion the Beastgrip's grip. The foam in the top part of the clamp has a gap to accommodate the camera hardware button on our Windows Phone and avoid it from being pressed. The base of this clamp can also be re-positioned to accommodate narrower phones.
Beastgrip Mounting Clamp
Once you have placed your Windows Phone in the mount, you can position it horizontally to line up with the camera port and move the port vertically into position. Tension screws are scattered about the Beastgrip to keep everything nicely in place.
While ruggedly built, the Beastgrip is not a protective device for your Windows Phone. I think the Beastgrip could survive a hefty fall but your Windows Phone screen is exposed and wouldn't be so fortunate.
Volume and Power Buttons remain exposed
Looking at the Beastgrip solely as a grip, it isn't as sleek as the Nokia Camera Grip for the Lumia 1020 but offers a very grippable handle. The design is level enough to be free standing both horizontally and vertically.
It is a bulky accessory for your Windows Phone and pants pocket carry goes out the window. Then again, you aren't buying the Beastgrip for its pocketability.
Accessories, accessories, accessories…
Where the Beastgrip separates itself from the Nokia Camera Grip is the accessory mounts. The cold shoe will let you mount a video light, you have the 1/4 inch accessory screw mounts and the lens port is threaded to accept 37mm screw mount lenses and filters. You can even purchase (or build) a depth of field converter to use SLR lenses with the Beastgrip.
Beastgrip 1/4" Mounts
The ability to mount accessories lenses is a tremendous asset to the grip. For under $20, you can purchase a set of close-up filters and give your Windows Phone camera's macro/close-up abilities a hefty boost in magnification. Then there are the wide-angle and telephoto accessory lenses that will open up your field of view or get you a little closer to your subject. Prices for these lenses range from $10 on up with the wide angled choice out-numbering the telephoto options. I did notice that with a wide-angle lens the Lumia 1020 generated a good bit of vignetting. It is not the fault of the Beastgrip, just a odd match-up with the lenses. The vignette isn't too dramatic on the .45x wide-angle (opens in new tab) lens but extreme with the .16x wide-angle (opens in new tab). You can eliminate it by zooming in ever so slightly with your Windows Phone camera until the image fills your viewfinder.
Vignetting with .45x Wide-Angle Lens
The SLR lens converter is a little more involved than the screw-on lenses. In a nutshell, you are building a converter that will project the image from the SLR lens to a focusing screen. The Windows Phone camera will then focus on the screen for the image. The pre-built DOF Converters can be rather pricey but you can build your own (here's Beastgrip's DYI instructions (opens in new tab)) for just over $100.
Beastgrip Macro Sample
We haven't put a DOF converter to the test with the Beastgrip but in using the close-up filters and accessory lenses, the image quality is rather nice​.
Lastly, on the accessory front, keep in mind the Beastgrip is fitted with a cold shoe mount. It is simply a mounting point for a light and lacks the electronic contacts a hot shoe mount (like the one on a DSLR) would have.
Beastgrip Cold Shoe Mount
While not a connected mount, I can see it coming in handy for videographers who want to shed a little light on their subjects.
A few things to point out
While Vadym did a really nice job in designing the Beastgrip, there are a few things that should be pointed out.
First, you do not have access to your camera hardware button and will rely on the on-screen mechanics to capture images and record video. You do have access to the power button and volume rocker when your Windows Phone is in the Beastgrip though. Answering calls is a little challenging, or at least with the Lumia 1020, in that the earpiece sits under the left handle. I do not think either issue is a deal breaker but worth noting.
Beastgrip Camera Port
Second, the camera port blocks your camera flash. I do not see this as a major issue (never been a big flash user) but you will need to make sure you disable the camera flash or you may get light reflection off the plastic, which will muck up your photo. Granted if you did have a flash port you might be able to use a remotely triggered flash in the cold shoe but still, I don't see it as a major issue (although I recognize some may feel differently).
I would not mind seeing a hardware shutter button incorporated into the Beastgrip but with it being a "universal" grip that may be a difficult task.
Additionally, I did notice that with the Lumia 1020 that the left grip handle brushes up against the speaker of the Windows Phone. The Beastgrip does come with a set of spacing plates that can be installed to level out the fit of the Lumia 1020. This will to give the Lumia 1020 just enough clearance to avoid brushing up against the handle. Still, I would not mind seeing another millimeter or so of clearance just to be on the safe side.
In using the Beastgrip over the past few days, it is hard to find any major flaws in the grip. The design works and really adds to your Windows Phone camera's potential. When you combine the hardware potential of the Beastgrip with all the fantastic photography apps available for Windows Phone, you get a very proficient camera set-up.
Is the Beastgrip a must have accessory for your Windows Phone?
Beastgrip with Nokia Lumia 1020
While I really like the Beastgrip, it isn't for everyone. If your Windows Phone photography is mostly snapshots and casual photos, the Beastgrip is likely not for you. If you want to elevate your Windows Phone photography or are an avid shutterbug, the Beastgrip will definitely come in handy.
The Beastgrip has fabulous versatility with its accessory mounts, lens options and cold shoe mount. Personally, I like macro photography and the ability to use close-up filters with the Beastgrip is great. Combine the close-up lenses with Nokia Camera's zoom later feature and you can really dial in close to your subjects.
Sample Image with close-up filters (left) and without (right)
And the Beastgrip's versatility isn't restricted to still images. Videographers will appreciate the mounting options that can accommodate stabilizing rigs, rails, rollers and other rigs. The cold shoe mount will help with lighting and the lens options will help you widen or tighten up those shots.
Beastgrip should be available sometime in March but you can pre-order the grip now. The cost is $75 and you have a wide variety of choices for the accent colors with the base color being white, gray or black. Out of the box, the Beastgrip fits everything from the Lumia 920 to the Lumia 520. Sizing plates and rods are included to increase the Beastgrips size to accommodate larger phones (such as the Lumia 1520) or fine-tune the fit for other Windows Phones such as the Lumia 1020. The accessory lenses are not included with the grip but can be picked up at various online retailers such as Amazon.com (opens in new tab), B&H Photo (opens in new tab), or Adorama (opens in new tab).
Beastgrip Macro Sample
I will still rely on my DSLR for my photography heavy lifting but the Beastgrip definitely increases the capability of my Windows Phone camera. I really enjoyed using the close-up lenses and will likely lean on the Beastgrip for the times I want to travel light and leave my DSLR at home.
You can find out more about ordering the Beastgrip here at the Beastgrip website (opens in new tab) and if you feel like chatting it up about the Beastgrip, you can head over to this discussion in the WPCentral Forums.
Windows Central Newsletter
Get the best of Windows Central in your inbox, every day!
George is the Reviews Editor at Windows Central, concentrating on Windows 10 PC and Mobile apps. He's been a supporter of the platform since the days of Windows CE and uses his current Windows 10 Mobile phone daily to keep up with life and enjoy a game during down time.
I just bought Sony grip for smartphones and it's great for my Lumia 720 :-) check Sony SPA-MK20M

Such a good thing. I would like to use this for my videography projects. Is it available in India?

Does the pre-order includes also the lenses or it is separate?

lenses are not included with the grip

So, this was specifically designed for WP devices❔

Designed for smartphones in general.

Nothing for the big boy.(Lumia 1520)

The grip comes with a set of extension rods that can be installed to handle the larger phones such as the Lumia 1520. Just didn't have one lying around the house to use as an example.

Oh ok the article just says from the Lumia 520 to 920, so I just assumed that the bigger phones were not compatible. (929, 1320, 1520). But thanks.

In the pics, is that a 920 or 720?

I hope they make 730 with same design but smaller 4.3" display with same or almost same specs and be a mid ranger that would be sweet :D

I can see how the horizontal extension works but I think there is no vertical extension. The 1520 is not narrow so the grip may not work afterall?

That would need to be called the Hulk grip.

This looks like a sensational accessory. If I were a photography student, I'd use this Beastgrip to practice and learn without having to purchase a expensive semi professional camera. I like even more the modularity of Beastgrip, just imagine how many other photography accessories could be used to make the experience more professional without paying too much!

If you were a photography student, you would not be using a camera phone, period. In other obvious news, a smartphone doesn't cut it in a web design course, and a wiimote won't help you with tennis lessons.

The 1020 actually lets you get away with it.

Wow, why so harsh, nbolmer? You must be the only person on the planet who knows everything. Chill out. "Period".

He's just a student, if he were a photographer he'd use it. Look he's frustrated cause he wanted to take tennis lessons and the class idiot told him to buy a Nintendo Wii cause its the same thing.

Oh brother. Yes, a camera phone is appropriate for a photography course.

True. First assignment in photography for me was to vary apeture and explore depth of field (DOF). So that would be a fail with this camera. You can buy a used DSLR for $200 and a nifty fifty lens for $100. Why would you even mess with this contraption?

Looks great... Don't feel like purchasing though..

How would you rate this for photosynth usage? Would you be able to do seamless full sphere stitches?

I think it makes aligning up the photos easier. The grip helps you hold the Windows Phone steadier and then there's the tripod mounts that will make aligning up your photosynth shots a lot easier.

The lenses is what makes it interesting to me & I wouldn't mind enhancing the 1020's beast of a camera but in the end I don't see myself purchasing this at the moment.

Same here. I'm waiting for something like the standard camera grip case plus ability to change lenses.

Wow this thing is sweet! I'd love to have one for my 1020...

So the point of this over a DSLR is what?

I was kind if wondering that too. If you're still going to be carrying around a camera bag for your lenses, etc., then... I mean, sure, the phone is smaller/lighter than the DSLR's body, but it's really the lenses that are the bulk of the space/weight (and cost). The 1020's camera is very impressive, but it still can't touch a good DSLR.

Exactly, this accessory just seems a bit pointless to me as you still have to carry lenses and a bulky piece of equipment as well as spend the time setting it up, by which time someone using a DSLR will have the picture taken already!!

I don't think it's pointless... you may still have to carry lenses but they easily fit in your pocket and it takes seconds to set up. I do not think it will replace a DSLR but it wasn't designed to do that. It was designed to expand the capabilities of your Windows Phone camera by offering a system that can handle lens accessories and different mounts. It's not going to be for everyone but for those wanting more from their Windows Phone camera, it's a good investment.

Portability, wtf!! You still have to carry lenses and a bulky piece of equipment around with you so that's not really an advantage. With a DSLR you carry the camera and lenses, with this you have to carry the phone, camera grip and lenses!!

Do you not carry your phone as it is now?

You said you carry dslr, lenses. And this way you'd carry phone, grip and lenses. But the first way you would carry dslr, lenses and your phone still. Unless your talking about still carrying the dslr with its lenses as well then this case would just be an extra weight to lug. But if you are just saying the phone the grip and its lenses, the lenses for phones are so lightweight compared to a dslrs. I'm just trying to see what your talking about.

Those lenses look small and could probably fit in your jeans pocket or cargo pants pockets. I wouldn't attempt that with DSLR lenses. Your phone is already in your pocket, so you're just carrying the grip. Or everything would just fit in a small bag... Much, much smaller and lighter than dslr gear. Not as powerful, yes, but cheaper and more portable.

There is none. DSLRs aren't that big. Put a pancake lens on one and you are ready to go.

I would buy this if the need were there, which it's sadly not. Doesn't take lots of photos like back in the days. If L1020 and this would've arrived 5 years ago it would've been in my bag right away :P

There are thin cases on eBay with interchangeable lenses, why to make a case so beasty?

I'd guess that's the unfortunate price you have to pay for "one size fits all"...

Is the camera/shutter button covered? Seems like it.

You didn't even bother reading the article? Seems like it.

I watched the video and that was not covered. Don't be a dick...

It says it specifically in the article though: "First, you do not have access to your camera hardware button and will rely on the on-screen mechanics to capture images and record video. You do have access to the power button and volume rocker when your Windows Phone is in the Beastgrip though." Don't be lazy...

The point is I watched the video review instead of the article as I was in a restaurant eating and asked a fucking question that the video didn't touch on. God forbid...

At this point though, aren't you better off just buying a "real" camera? The whole point of a really nice cellphone camera is *not* carrying all this other crap around with you (the best camera is the one you have with you??). I mean, I like photography, I love my Lumia, but huhhhhh? (weird, I'm not usually the Luddite naysayer)

Are the different kinds of lenses available for the lumia 520 as well?

Very cool, I'm more interested in just having something so I can easily mount my 920 on a tripod. Nice additions though, I like the cold shoe mount.

I kinda want a 1020 just for this.

I want it! Just a little bit expansive..

Looks far too big to me...surely it defeats the point of a camera phone?!
For me - the perfect fusion of things is the standard 1020 camera grip, with a collapsible lens hood/filter ring. What more do we really need?

It' all look like shit. with that shit trying to make obectives work on phones. keep it like it is.

Will it fit the 1520? If so then count me in as a customer.

I think Disney and marvel are making 1 for the 1520, I made this ? Up top and some guy says its called the Hulk Grip.

For the lumia 1020, i think the Nokia pd-95g camera/battery grip is a better option, I mean the beast grip doesnt supply battery and i dont see why i should need a cold foot from a clunky grip. but thats just me.

Hmm I find this a bit too complicated and expensive. This is my setup for my Nokia 808 Pureview (the same can be done for the 1020 of course): http://t.co/3Q3tNAXANi The vignetting is due to the small diameter of beastgrip. On mine, I've chosen a 52mm filter mount, and I can stack like 4-5 filters without vignetting. A bigger diameter allows also to use existing filters (Nikon, etc.) I'm not sure, for instance, that ND filters exist in such a small diameter. Overall cost of my DIY setup : 10$ max. The most expensive was the sugru to glue the filter mount on the hard shell :)

Definitely keeping my eye on this. However I do think that the covering of the shutter button is an inportant issue. Secondly it isn't clear to me which lumia devices could fit in this. Will e.g. the 520 and 1520 fit in this? A major plus is the fact that you can added lenses to this system.

Just waiting on the relevant step up ring and macro tubes to finish my DOF adapter and I am away! https://scontent-b-lhr.xx.fbcdn.net/hphotos-frc3/t1/1625458_101521626044... This is in no way a replacement for the Nokia Camera grip. I use the Nokia one for point and shoot days out (e.g. zoo) and then this for serious stuff (UrbEx). Being completely universal anybody can use it (520 all the way to 1520, iphone, Motorola RAZR, anything. Phablets have extended rods) and with a DOF adapter you can use prime lenses. End result should be similar to that of 35mm film, except you can see what the end picture will be before you take it unlike film!

Hmmm.... this is Very cool, & Nice Windows Phone. camera Is a Nice. Awsome Phone.

I ordered one last week and it arrived the other day! I posted about it over in the Lumia 1520 forums.

Using it with dof adaptor inverts the image n there no software to univert while shooting?