Best PC gaming antivirus software 2021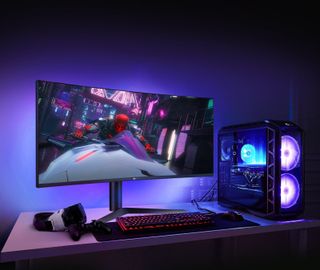 (Image credit: LG)
Gaming PCs are some of the most powerful systems out there, but GPU horsepower and processor clock speeds won't matter at all if a virus infects your computer and prevents it from working properly. Therefore, dedicated antivirus software is something every PC gamer should opt to install, as it will effectively shield your PC from dangerous forms of malware and spyware. However, since you want most of your system's RAM to be used for gaming purposes, it's essential to choose the best antivirus software, one that takes up as little memory as possible while active. Among these softwares, our favorite is BullGuard Antivirus 2020. Between its comprehensive security systems, small resource demands, and additional Game Booster feature, BullGuard is the best overall option for PC gamers.
Best Overall: BullGuard Antivirus 2020
Why you can trust Windows Central Our expert reviewers spend hours testing and comparing products and services so you can choose the best for you. Find out more about how we test.
BullGuard Antivirus 2020
A beast of an antivirus
Reasons to buy
+
Powerful security
+
Plenty of options and features
+
Game Booster program
The best overall gamer-friendly antivirus software on the market is BullGuard. Its next-gen security systems utilize machine learning to adapt to and protect against dangerous softwares, and it also comes with a ton of different options for user customization. These include parental controls that can be used to restrict websites or limit usage time, the ability to open certain firewall ports if desired, update scheduling, system scan planning, and much more. The icing on the cake is the Game Booster program within the software that closes, reduces, or suppresses background programs while gaming, allowing your system to prioritize in-game performance fully. All of this sounds like it would result in BullGuard being RAM-hungry, but in truth, it has a low memory usage footprint. If you want, you can also protect multiple devices for only a minor upcharge, meaning that BullGuard is also an excellent choice if you're getting antivirus for every computer in the house. A multi-device plan also includes identity theft protection and a secure browser so that it might be worth it to you.
Best Runner-Up: Norton Antivirus Plus
Norton Antivirus Plus
Second place is still incredible
Reasons to buy
+
Powerful security
+
Plenty of options and features
+
Less expensive
Norton Antivirus Plus is essentially a slightly less expensive version of BullGuard that doesn't include a dedicated Game Booster program. Like BullGuard, Norton's software comes with plenty of different options that you can tweak, and it also doesn't use much of your system's RAM, which is essential. While it does lack a Game Booster, Norton's Quiet and Silent settings will prevent pop-up notifications from other programs from interrupting your gameplay. As with BullGuard, you can protect more than one device by paying a little more. These options also give you a VPN and identity protection.
Best Heavyweight: Kaspersky Antivirus 2020
Kaspersky Antivirus 2020
This one means business
Reasons to buy
+
Best security
+
Plenty of options and features
Reasons to avoid
-
A little expensive
-
Uses considerably more RAM
If you're looking for an elite antivirus that performs superbly while still not having a harmful impact on your system's gaming performance, Kaspersky's software will be your ideal pick. Out of all of the options on this list, Kaspersky Antivirus offers the most robust and consistent security while also including lots of bonus customization options. As a result, though, it uses considerably more RAM than the other options do, although the impact on game performance is hardly much of an issue. The price is also as expensive as BullGuard, so I only recommend Kaspersky if you want the most elite protection available.
Best Lightweight: Webroot SecureAnywhere
Webroot SecureAnywhere
You won't even notice it's running
Reasons to buy
+
Great security
+
Lowest RAM usage
+
Less expensive
Reasons to avoid
-
Not as robust as other choices in terms of customization
-
Security isn't as amazing
People who want to keep RAM usage as low as possible should opt for Webroot SecureAnywhere. Most of its systems operate in the cloud, which helps minimize RAM usage substantially, and the level of protection it offers is still excellent, albeit not as good as something like Kaspersky or BullGuard. Also, it has less overall options and features compared to other options. Nevertheless, it's an excellent pick for folks who want to preserve as much of their memory as they possibly can for gaming. You can get access to protection for several devices for the same price that other softwares charge for just one device, too, which is excellent.
Best Mutli-Device: Bitdefender Antivirus Plus
Bitdefender Antivirus Plus
Keep everything covered
Reasons to buy
+
Powerful security
+
Less expensive
+
Upgraded version works on mobile devices
Reasons to avoid
-
Not as robust as other choices in terms of customization
If you're after protection for multiple different devices, there's not a better option than Bitdefender. It offers roughly the same level as security as Norton and BullGuard. While it does have fewer overall options to customize and also uses more RAM than something like Webroot SecureAnywhere, it does provide users with the most affordable way to get protection for several devices. The base subscription matches the price of Webroot's and covers three devices, while the upgraded version of the software, Bitdefender Total Security, is less expensive than the plans offered by the competition. It's also worth noting that Bitdefender Total Security can be used with Android and iOS mobile devices as well as computers.
Affordable Game Booster: McAfee Gamer Security
McAfee Gamer Security
Game Booster FTW
Reasons to buy
+
Great security
+
Less expensive
+
Game Booster program
Reasons to avoid
-
Not as robust as other choices in terms of customization
-
Security isn't as amazing
McAfee Gamer Security is McAfee's gaming-focused antivirus, and it offers excellent overall protection along with a very effective Game Booster program. There aren't as many options to customize as other choices on the list, and the security isn't as efficient or effective as Kaspersky or BullGuard — it's about on par with Webroot. However, the tradeoff is that the price is considerably lower than BullGuard, and you end up still getting a performance-enhancing Game Booster. Overall, this is the option you should go with if you don't mind sacrificing some protection quality to get your hands on a less expensive Game Booster.
Bottom line
Every PC gamer needs a good antivirus software, as none of your gaming horsepower will ultimately get a chance to shine if your system falls prey to predatory malware and spyware. Ideally, for a gaming PC, you'll want to opt for an antivirus that uses a small amount of RAM so that your computer can allocate most of your memory to your games.
When it comes to gaming-friendly antivirus softwares, there are a lot of different options available, and each one has something unique to offer. Out of all of them, we think that BullGuard Antivirus 2020 is the best one due to its powerful security systems, low RAM usage, and competent Game Booster program. You'll have to pay a little extra for it, but at the end of the day, the quality and versatility of BullGuard speaks for itself.
Get the Windows Central Newsletter
All the latest news, reviews, and guides for Windows and Xbox diehards.
Brendan Lowry is a Windows Central writer and Oakland University graduate with a burning passion for video games, of which he's been an avid fan since childhood. You'll find him doing reviews, editorials, and general coverage on everything Xbox and PC. Follow him on Twitter.