Best Golf Apps for Windows 10
The golf season is in full swing with the Master's Tournament just around the corner. The Windows Store has several golf apps to help you follow the action and test your skills on the links.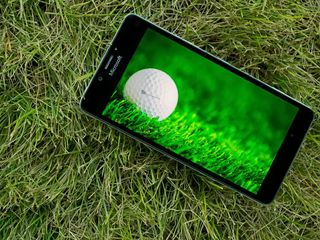 While we no longer have games such as Let's Golf 2 available, there are still plenty of quality golf-oriented apps. They can help keep score while you are on the course or pass the time when conditions aren't the best to hit the links. These are the best golf apps for Windows 10.
Updated April 4, 2017: We made a few changes to this article based on new releases, reader input and staff debate. There are some new titles in the mix, as well as those that we continue to view as the best from the Windows Store.
Mini Golf Club
Why you can trust Windows Central Our expert reviewers spend hours testing and comparing products and services so you can choose the best for you. Find out more about how we test.
While full games of golf are a rare breed in the Windows Store, there are plenty of miniature-golf-style games to make up for things. Mini Golf Club is one of the best offerings to test your skills with the flat blade, offering over 300 interactive holes of putt-putt.
Mini Golf Club has four game modes that include tournament play, multiplayer games, practice holes and a premium mode that has uniquely designed holes that are more challenging. If that wasn't enough, you can create your own golf holes with an editor feature.
Graphics are rich with color and detail, the game controls are simple, and the physics engine offers a nice level of realism for each shot. There are a few booster zones to aid your shots, such as wind and jump areas, but for the most part success depends on your aim and mastery of physics.
Mini Golf Club is a free, ad-supported game that is available for Windows 10 PC and Mobile. You can remove the ad banners with a $1.49 in-app purchase.
Download Mini Golf Club from the Windows Store (opens in new tab)
PGA Tour
PGA Tour is the official Windows 10 app for the PGA Tour. The app delivers tournament leaderboards and tee times, course information, player stats and the latest news from the Tour.
The free app is available for Windows 10 PC and offers a clean interface with some cool features such as 3D shot trails and hole visualizations. PGA Tour has Cortana integration for voice activated interaction and support for Windows Ink where you can add on-screen telestration that can be shared over social networks.
Notifications are available for breaking news, player activity and tournament scoring. You can log into PGA Tour with a My Tour account to synchronize all your favorites and settings across Windows 10 devices.
If you follow the Tour, PGA Tour is a must have app for your Windows 10 PC. It's a shame that there is not a Windows 10 Mobile version available, but the app plays out nicely from a Surface tablet for mobility.
Download PGA Tour from the Windows Store (opens in new tab)
Fairway Solitaire
Fairway Solitaire isn't a game that puts you in the tee box or putting green of a golf course, but it delivers a fun golf-oriented Windows 10 game. Fairway Solitaire is a mashup between a round of golf and a game of solitaire.
The card hands are dealt out across over 350 hand-crafted golf holes with four mini-games and 37 trophies to earn. You have a pro shop where you can buy accessories to improve your game and soft-spoken announcers to chart your every move. You even have a pesky Caddyshack-style gopher that sabotages your game at every chance.
Gameplay follows the traditional game of solitaire, but with water hazards and sand traps that block your cards and a bag of golf clubs that act as wild cards. Holes or card hands are grouped together much like you would find on a golf course, and scoring is based on par, which is the acceptable number of cards left uncollected. Par or better unlocks the next set of levels.
Graphics are bright and colorful, animations lively, and the gameplay offers a nice challenge for your card playing skills. It may not be a traditional game of golf, but overall Fairway Solitaire does a great job of bringing that Links experience to a deck of cards. Fairway Solitaire is a free game available for Windows 10 PC and Mobile that provides you access to the first few courses. Unlocking the remaining courses costs you $1.99.
mScorecard
mScorecard is an easy-to-use Windows 10 Mobile app to help you keep score on the golf course. The free app has more than 40,000 golf courses available for download that can be searched based on your current location or by keyword. Once downloaded, course information is but a tap away.
mScorecard can track your strokes and putts, breaking things down to fairways hit, greens reached in regulation, ups and downs, sand saves and penalties. GPS support is available for an overhead view of the holes and the ability to calculate distance to the green.
As you complete rounds, mScorecard can calculate and track your handicap index and analyze statistics to manage and improve your overall game. If you like to add friendly wagers to your games, mScorecard includes popular side games such as Skins, Nassau, Match Play, Stroke Play, longest drive and more.
The only downside to mScorecard is the lack of overhead views of each hole, but the GPS feature minimizes that loss. Overall, mScorecard is a handy Windows 10 Mobile app to have on the course. A free membership is required to use mScorecard to enable you to synchronize your stats between devices and share your scores over social networks.
Download mScorecard from the Windows Store (opens in new tab)
Mini Golf Buddies
Mini Golf Buddies is a casually-paced Windows 10 game that sends you to a challenging miniature golf course. Available for Windows 10 PC and Mobile, the free game has two game modes. The single player mode includes a 60-hole campaign and the multiplayer mode supports up to four players. The multiplayer mode is a pass-and-play style in which you compete for the best score on each of the 60 holes.
While casually paced, you face a game timer with each hole. The game clock pressure isn't very intense and takes into account the difficulty of the hole. For example, a straight shot par two hole may afford you 30 seconds to sink the putt while a zig-zag par five hole allows 90 seconds.
Graphics are clean looking with a slight, eight-bit retro appearance. Completing holes under par earns you gold that can be used to unlock additional player styles. Mini Golf Buddies includes 43 characters, ranging from a Canadian Mountie to a Zombie.
Mechanics are user friendly and each hole can be zoomed in or out as needed. The variety of hole difficulty presents a fun level of difficulty to test your putting skills. Overall, Mini Golf Buddies easily ranks among the best golf games available in the Windows Store.
Download Mini Golf Buddies from the Windows Store (opens in new tab)
If you have tried any of these Windows 10 golf apps, let us know what you think in the comments. There are other options available in the Windows Store, and if we have missed your favorite app, feel free to share recommendations in the comments.
Windows Central Newsletter
Get the best of Windows Central in your inbox, every day!
George is the Reviews Editor at Windows Central, concentrating on Windows 10 PC and Mobile apps. He's been a supporter of the platform since the days of Windows CE and uses his current Windows 10 Mobile phone daily to keep up with life and enjoy a game during down time.
So many best of articles these days.

Maybe this should be retitled as "best golf games that are not really golf games"

I had tiger and let's golf 2. I want a good golf game.

I still play "Let's Golf 2". Based on the list I'll continue to do so.

I regret not purchasing Let's Golf 2 as it's no longer available.

The duffer in all of us? Why would you even think everyone likes golf? I can't stand ANY sports, least of all golf. That's just people in ugly pants, walking.

I don't like golf either, but golf games are fun.

Why isn't Windows 8.1 games being highligted?! Not everyone has jumped on the not ready for prime time Windows 10 for phones. Is this Windows 10 Central or is it Windows Central?

It's windows get with the times and move on.

The best golf game I've found so far is Perfect Golf avaialble on Steam. It's fairly realistic and works across all platforms.

Does anyone remember the game 'World Class Leader Board'? "Looks like...he hit the tree, Jim"

I remember it on the Commodore 64 and it required a 'dongle'

You should have listed mini golf buddies. Its one of the best golf game available. I play that a lot.

The only good app on this list is the PGA app - just don't get why it is not available for mobile. Particularly the mScore app is not the best score tracker App ... None on the Windows Platform are really good ... But MobiTee seems to me like the most usable from all (a shame they do not update it with the iOS feature set and design though; support is quick however)

Too many ads in mini golf club

Thanks for an interesting selection! I hope it will be useful if I will start playing golf =)

Two decent 2D golf platformers (in the style of Super Stickman Golf)... Super Golf Land Pocket Golf Pro Two decent overhead 2D... Fun-Putt Mini Golf Remix Putt Masters Pro One other decent 3D game... Mini Golf Star Pro Fable Coin Golf is back in the Store, really enjoyed that one, think it disappeared for a while.