Best Xbox Cloud Gaming (xCloud) games 2022: Touch controls, phones, and PC
Our top titles for Xbox Cloud Gaming, all ideal for mobile gaming, and streaming via the internet.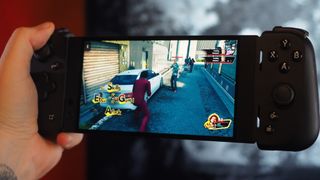 (Image credit: Future)
Not all Xbox cloud games are created equal, which is why if you're just starting out with the service, I thought I'd round up all the best and brightest games the service has to offer — but given the limitations of Xbox Cloud Gaming, making recommendations isn't a fully straightforward affair.
Xbox Cloud Gaming, now in beta, is a relatively new offering from Microsoft, giving you access to hundreds of playable games as part of the Xbox Game Pass Ultimate subscription tier. Xbox Game Pass Ultimate costs $15 per month, and in addition to cloud gaming, it gives you hundreds of games on Xbox, PC, and Xbox Live Gold for multiplayer on consoles. There are also perks and offers baked into Game Pass, such as skins for Halo Infinite or trials for services like Spotify and Crunchyroll.
Xbox Cloud Gaming lets you stream any game from its sizeable library to web browsers via xbox.com/play (opens in new tab), the Xbox Game Pass app on Android, Xbox consoles, and PC via the Xbox app on Windows 10 and 11. While it's not available on Apple devices natively due to the company's strict app restrictions, it's still available via the web.
Xbox Cloud Gaming is available in 25 regions globally right now, gradually expanding the program over time as Microsoft Azure's cloud footprint grows across the globe, pending server availability. Microsoft announced its intention to more than double Xbox Cloud Gaming's server availability over the next fiscal year, intending to grow the Xbox audience well beyond the console install base.
The service has improved immeasurably over the past year, with improvements to the video encoding algorithm bringing visual improvements to streams and latency boosts to controls. You can play Xbox cloud games on an Xbox console or PC using a regular controller instead of installing them. You can play games on a smartphone or a tablet using touch controls or a clip-on Android gaming controller for Xbox. You can pair a regular Xbox controller via Bluetooth too, and even some 2022 Samsung TVs have Xbox Cloud Gaming built in too, with mouse and keyboard support in the works.
There are a range of limitations when it comes to playing Xbox games from the cloud, but in the right scenario, you can have a ton of fun from practically any location with a stable 4G or 5G connection if you choose the right games for the right setting.
Best Xbox cloud games with touch controls
One of the biggest benefits of Xbox Cloud Gaming is the ability to play games straight from your phone, with no controller or console needed. Not every game supports touch controls on Xbox Cloud Gaming, though. In the Xbox Game Pass apps, there's usually a section with "Touch-enabled" listed to help you easily browse the dozens of games that are available with touch. That being said, many games simply do not work as touch-based games. For example, Pillars of Eternity has touch controls on Xbox Cloud Gaming, but the tiny fonts and UI complexity makes playing with touch quite literally a nightmare, and hardly something I could recommend. Also, generally speaking, games with 3D movement and environments can be a bit tough to operate with touch controls — many mobile shooters often inject heavy aim assist to help offset this, but Xbox games often don't have it to the degree needed for mobile gameplay.
However, there are dozens of games that have more adaptable user interfaces, larger fonts, and gameplay that lend themselves well to touch controls, and here are some of the best.
Note: All of your cloud gaming progress is saved to your Xbox Live account, meaning you can easily sync and pick up and play your games on an Xbox console or another Xbox Cloud Gaming device at any time.
Hades
Hades is a natural fit for Xbox Cloud Gaming for a few reasons. The game's roguelike gameplay loop lends itself well to gaming in short bursts. You can literally jump into the game, do a few areas for 10 minutes, then jump out to continue on later.
As the son of the lord of the underworld, you resolve to escape the depths of hell armed with an array of godlike artifacts right out of ancient Greek mythology. The gods of Olympus also rain down blessings to help you on your way, with each failure rewarding the player with new story elements and dialogue to flesh out this unique roguelike adventure from the creators of Bastion and Transistor.
The fixed camera perspective works well for mobile cloud gaming since you only need to use one thumb to move, without having to also manipulate a camera as seen in games with fully 3D environments. Hades has unique touch controls designed specifically for the game too, making this an excellent gateway to the wonderful world of Xbox Cloud Gaming.
Minecraft Dungeons
Minecraft Dungeons is an action RPG set in the popular Minecraft universe, playable with friends in 4-player co-op.
In Minecraft Dungeons, you set about to defend the overworld from all sorts of classic Minecrafty threats: skeletons, endermen, spiders, and creepers await, with tons of new mobs unique to the Minecraft experience. Each area culminates in boss battles too, which drop powerful loot that helps you customize and tailor your playstyle. Play as an agile warrior with a two-handed sword rushing down swarms of monsters, or battle as a wizard, wielding powerful spell-oriented artifacts powered by the souls of your enemies. There's a ton of variety in the game, with heaps more added through an extensive range of DLC.
Minecraft Dungeons' fixed-camera perspective lends itself well to Xbox Cloud Gaming, since like Hades, you can control your movement with one thumb and focus on attacks with the other. The game also has fairly short gameplay loops for easy drop-in, jump-out mobile gameplay.
Yakuza: Like a Dragon
Yakuza: Like a Dragon is a fresh and fun take on the Yakuza franchise that flips its gameplay genre from being a hard-hitting beat 'em up to an equally as impactful JRPG. You play as Ichiban Kasuga, a lowly Yakuza grunt who has been serving an 18-year prison sentence for a crime he didn't commit to protect his yakuza clan. When Ichiban serves his time and returns home, he discovers that his clan had been destroyed and betrayed by the man he idolized.
Ichiban's story of uncovering the truth and rising from rock bottom is an exciting thrill-ride that careens back and forth from heart-breaking drama, light-hearted comedy, and intense action that will have you on the edge of your seats. And the action in Yakuza: Like a Dragon's turn-based combat system is extremely well done as it utilizes special button prompts that allow players to enhance attacks or blocking incoming damage when timed correctly, preserving the series' beat 'em up mechanics while keeping gameplay fresh.
Yakuza: Like a Dragon is enabled with Xbox Cloud Gaming's touch controls. As this game is a turn-based RPG, it lends itself well with this control scheme as you will only need one hand to navigate the battle menus and explore the streets of Yokohama.
Dragon Quest XI
Embark on an unforgettable adventure in Dragon Quest XI S: Echoes of an Elusive Age — Definitive Edition, the latest title in the genre-defining JRPG series, Dragon Quest. Dragon Quest XI tells the tale of the Luminary, a young hero on a quest to save the world of Erdrea from an ancient evil while being on the run from a kingdom that believes the Luminary is prophesied to bring doom to the land.
Dragon Quest XI is an exceptional game that continues to refine what made the Dragon Quest franchise a household name while providing quality-of-life improvements to entice newcomers, like difficulty modifiers and turning off random battles, for example. The story is a classic tale of good vs. evil that will pull at your heartstrings and make you laugh with child-like joy. The characters you will meet are well written and likeable heroes who will aid you through thick and thin. And the gameplay is top-notch with a massive world to explore, challenging bosses to defeat in turn-based battles, dozens of mini-games to unwind in, and hundreds of hours of side content to sink your teeth into.
Dragon Quest XI's turn-based combat is a natural fit for Xbox Cloud Gaming, meaning that even during occasional lag spikes you can avoid death. This is also a great game for going mobile with, thanks to its touchscreen controls.
Death's Door
Death's Door is another tremendous action RPG that, once again, works great on Xbox Cloud Gaming thanks to its fixed isometric camera perspective and single-stick movement style.
Death's Door is a little on the harder end of the spectrum, with tough gameplay that brings the best of Zelda and Diablo together into one cutesy, gothic whole.
Wearing its soulslike inspirations on its sleeve, Death's Door puts you in control of a corvid agent of death, tasked to hunt down an eclectic cast of rogue souls who simply refuse to die. The boss battles in Death's Door are truly spectacular and memorable, that will task your thumbs to their limits across various wild and wonderful environments.
Best Xbox cloud games for sub-optimal latency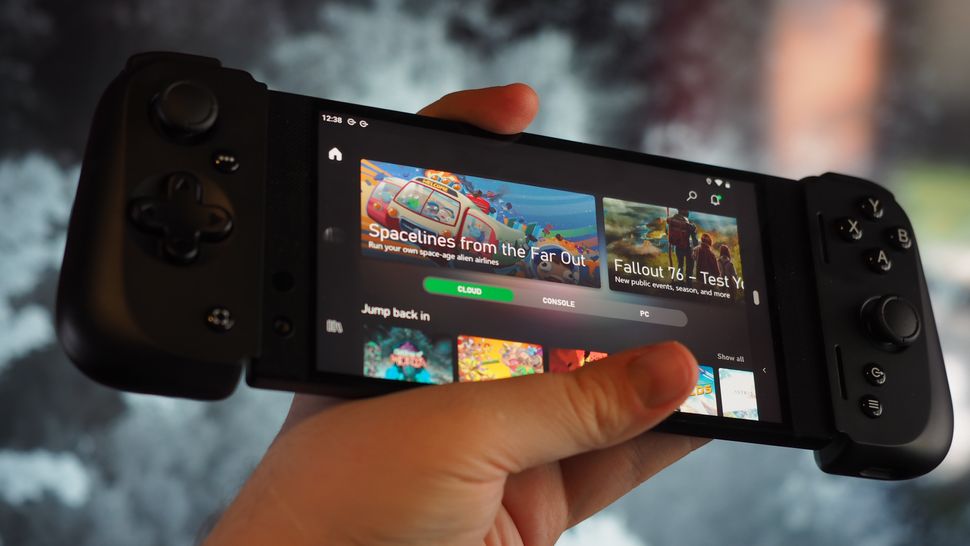 When you have a solid 5G connection or good 5GHz Wi-Fi or wired internet connectivity, Xbox Cloud Gaming can feel almost native at times, pushing all the way up to 1080p with 60 frames per second. However, having a super solid connection isn't always practical, or even possible.
Whether it's a Wi-Fi deadspot in your home, or public Wi-Fi in an airport, there is still a range of games that are a bit more lenient when it comes to their gameplay, making them ideal for those situations where you can't bring guaranteed rapid reactions.
Note: Pairing an Android mobile controller like the Razer Kishi V2 will also help shred some latency off the proceedings, given that Bluetooth controllers come with their own added latency issues typically.
Monster Train
Monster Train is a unique game that combined deck building with turn-based strategic gameplay. In Monster Train, your task is to carry a demonic artifact on a perilous journey through the circles of hell, besieged by waves of angelic entities who seek the annihilation of all demonkind.
The deck-building gameplay revolves around building up halls of monsters that synergize and combo well together, forcing invaders to run a gauntlet of your best cards while you defend your train from repeated randomized onslaughts and boss battles. On your journey, you'll find all manner of ways to upgrade your loadout as you head deeper into danger, with a range of different supported playstyles across different demonic clans.
Monster Train lends itself well to latency-sensitive gaming situations owing to its turn-based gameplay and decent touch controls.
Powerwash Simulator
Powerwash Simulator is exactly as it sounds: grab a power washer and start your very own power wash business!
In the town of Muckingham, a volcanic ash cloud has painted the neighborhood in a thick layer of grime and dirt, granting you a unique opportunity to make some cold, hard cash!
Powerwash Simulator is a simple and light-hearted game, where you take on increasingly complex power washing challenges in a variety of neighborhood locations. It's ideal for sub-optimal connection Xbox Cloud Gaming owing to the low-stakes gameplay that doesn't press you on speed or accuracy.
Besiege
Besiege is a unique physics puzzle game that revolves around destroying armies of NPCs with your own crazy medieval contraptions, and the low-stakes gameplay makes it a fun option for those who are seeing latency dips on their connection.
Start off with simple battering rams, and upgrade to huge siege engines that can fly, explode, and skewer your way through a variety of satisfyingly destructible obstacles.
Slay the Spire
Slay the Spire is another turn-based deck-building game, making it ideal for scenarios where you might not have the best connection available.
Slay the Spire is a classic roguelike, where players ascend procedurally generated floors in a tower crammed with monsters and demons. As you ascend, you gain access to a wide variety of attacks and abilities to help power your ascent, with dangers increasing along the way.
Given its turn-based nature and decent touch controls, Slay the Spire has been something of a mainstay among fans of Xbox Cloud Gaming.
Flight Simulator
Flight Simulator is a reboot of Microsoft's oldest and most legendary homegrown video game franchise, putting you in the cockpit of dozens of modern and classic aircraft in one of the most impressive video game worlds ever built.
Flight Simulator pulls in real-time weather and satellite data to build out its open world, giving you truly unprecedented realism as you take to the skies. Visit real-world landmarks like the Pyramids of Giza or Big Ben clocktower while working through a campaign of missions and flight jobs across the globe.
Thanks to the game's low-stakes gameplay, Flight Simulator is ideal for those times you might not have an optimal connection for cloud gameplay.
Best Xbox cloud games for PC and Xbox
Xbox Cloud Gaming isn't just about gaming on your phone. Indeed, if you have a big tablet, a supported smart TV, a Windows 10/11 PC, or a modern Xbox console, you can also stream games from the cloud with an Xbox Game Pass Ultimate subscription.
Streaming games from the cloud gives you an opportunity to try them out without downloading them fully to your storage, and jumping on via a tablet or laptop is also a way to free up the TV if someone else is stealing it from you (grr). PCs also tend to get better picture quality as Microsoft offloads some of the video encoding duties to local compute, which should improve latency in some scenarios too.
Practically every game on Xbox Game Pass Ultimate is great for a large screen with a connected Xbox controller, but here are some of the best worth checking out.
Scarlet Nexus
Scarlet Nexus is a self-styled "brainpunk" game set in a futuristic world where technology and humanity have become intertwined. Brain implants and augmented reality are commonplace, but so are fantastical demonic entities known as Others that look as though they emerged straight from some fever-warped nightmare.
As an elite soldier with psionic abilities, it's your job to protect one of the last safe havens for humanity from these otherworldly creatures, although you'll quickly learn that not everything is as it seems. Conspiracy lurks in the background, as you navigate this slick and fast-paced action game with responsive and satisfying combat split across two separate story arcs.
Scarlet Nexus has been my go-to testbed for Xbox Cloud Gaming since it joined the service owing to its demanding combat, and with the latest upgrades, this is one game that really shows what the power of Xbox cloud can do on a PC or console.
Psychonauts 2
Psychonauts 2 is the long-awaiting sequel to the cult-hit, Xbox platformer, Psychonauts. After many heroic exploits, the young psychic Razputin is invited to join the Psychonauts, an organization of psychic secret agents he's been dreaming about joining for years. However, his first day on the job will not be easy as a mole has infiltrated the Psychonauts headquarters and rumors are spreading that a cult is planning to resurrect their most diabolical enemy, Maligula.
Psychonauts 2 is one of the best Xbox games in recent memory. The gameplay features tight and intuitive controls, the combat is significantly improved from the first game, and the level design has some of the wildest and insanely imaginative art direction ever seen in a 3D platformer. The story is just as top-notch as it tackles themes of mental health by having our hero Raz literally explore the troubled psyche of the characters he meets and helping them heal from their traumatic past.
Psychonauts 2 features touch controls, allowing players to navigate the game's surreal levels on their compatible mobile devices via Xbox Cloud Gaming. On larger displays, the game's colors and art direction really pop in a way that phones often miss out on.
Undertale
Undertale is an indie RPG where you fall down a hole and discover a mysterious and wonderous world filled with monsters called "The Underground." On your journey to return to the surface you'll meet a cast of wacky and eccentric characters, engage in turn-based battles that mixes elements of various game genres, and determine the outcome of the story through choices where you can either spare or destroy your enemies.
Undertale took the internet by storm in 2015 and it still holds up today. The 16-bit retro graphics are endearing to behold, the soundtrack is a joy to listen to, the story and characters are intriguing and memorable, and the combat system never gets old as every battle has new tactics and gimmicks to keep you on your toes. With the multitude of moral choices that can completely change the story and make each subsequent different, players will find lots of meaningful replay value in Undertale.
Undertale is a perfect game to play on the cloud. Its retro aesthetic and text-based story delivery means it will demand very little power from your internet connection so you can play the game at its best at almost any latency.
Forza Horizon 5
In what will perhaps be remembered among the greatest racing games of all time, Forza Horizon 5 is amazing on Xbox Cloud Gaming, made all the more glorious when played on a big screen.
Crisp visuals and stunning vistas await in this Mexican-inspired open-world racing playground, with dozens of modes and hundreds of cars to experience and unlock with endless ways to play.
Forza Horizon 5 is a great experience even without the greatest download speeds available, with a signature rewind feature allowing you to reverse time and course correct in those moments where a lag spike might send you off in the wrong direction.
Hollow Knight
Hollow Knight is a legendary metroidvania-style action game with gorgeous retro-art and haunting atmospherics, set in a ruined insectoid kingdom.
As the titular Hollow Knight, you'll dive into ruined cities and cursed hovels battling all sorts of twisted creatures and hulking beasts, unlocking powerful upgrades and uncovering hidden treasure along the way. A quirky cast of memorable critters await to greet you, with plenty of ambient storytelling across a truly massive campaign, with 30 boss battles and scores of locations.
Hollow Knight is another unmissable gem on Xbox Cloud Gaming, and while the UI can be a bit difficult to discern on a smaller device, it works great on a larger display streaming via PC or an Xbox console. And hey, the sequel, Hollow Knight: Silksong, is also launching straight into Xbox Game Pass too.
... and more!
There is quite truly an absurd amount of great games worthy of your time and attention on Xbox Cloud Gaming, and while we're listing at least a few of the best experiences up here, there are dozens more games worth checking out. Here are a few additional recommendations you should definitely peruse from the full list of games on Xbox Game Pass.
Totally Accurate Battle Simulator
The Rift Breaker
Neon Abyss
Undungeon
Edge of Eternity
Darkest Dungeon
DOOM
Loot River
And many, many more!
As Microsoft grows its cloud offering, the company has actually built an internal team dedicated specifically to cloud-first gaming experiences that account for things like display size and latency variance. Microsoft has even begun working with Hideo Kojima of Metal Gear fame on a cloud-first experience, rumored to be titled "Overdose."
It may be a fair while before global internet speeds become stable enough for cloud gaming to be the preferred modality for Xbox play, but the fact that it's designed to be powered by Xbox home console hardware repurposed as servers ensures that there will always be a market for local systems. Microsoft has always said that the cloud will remain an option, rather than the default, but the cloud will help Xbox game developers access larger audiences than would ever potentially be possible with home consoles and PC alone.
Windows Central Newsletter
Get the best of Windows Central in in your inbox, every day!
Jez Corden a Managing Editor at Windows Central, focusing primarily on all things Xbox and gaming. Jez is known for breaking exclusive news and analysis as relates to the Microsoft ecosystem while being powered by caffeine. Follow on Twitter @JezCorden and listen to his Xbox Two podcast, all about, you guessed it, Xbox!
Windows Central Newsletter
Thank you for signing up to Windows Central. You will receive a verification email shortly.
There was a problem. Please refresh the page and try again.