Carriers to blame for Samsung's weak start with Windows Phone 8?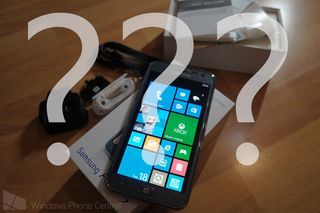 Samsung hasn't been giving Windows Phone a lot of love since the latest version dropped back in October. Here in the US, you still can't walk into a carriers store and get an ATIV S or ATIV Odyssey. With recent remarks from Samsung about their timid feelings towards Windows RT, a lot of people started suspecting that the relationships between them and Microsoft was beginning to sour.
You can set aside some of those wild theories, analysts are painting a different picture of the situation. Who is to blame? Apparently, the carriers.
A report from The Korea Times describes a situation where the biggest obstacle to seeing a Windows Phone 8 device from Samsung is the carriers. They don't want to give Samsung any more power than it already has. Nearly 50% of all Android devices are on Samsung hardware and carriers are really reluctant to create a situation where Samsung dominates two mobile operating systems.
Some analysts see Windows Phone growing in popularity over the next year, as does Samsung. Therefore the South Korean company would want to build devices for whatever is popular and push sales with its own branding. For example they use 'Galaxy' for almost anything running Android. It isn't too extreme to see 'ATIV' become their Windows line of devices, both tablets and phones.
Samsung has shown a willingness to dominate a market if there is demand. We haven't seen it yet with Windows Phone, because the OS hasn't reached that critical point yet where everyone wants one. It's coming, but not there yet. Remember how Verizon was supposed to get the ATIV Odyssey in December, but now we're waiting for this week?
What do you think? Is Samsung having a rough start because of carrier resistance? Are carriers afraid of giving OEM's too much control? In 2007, Apple made a relationship with carriers and consumers that both Microsoft and Google would love to replicate. However, most carriers would rather screw consumers over than concede power to manufactures and other partners.
Would love to hear your thoughts on this. This is all talk from analysts, so take that as you will. But it is hard to know what happens with companies behind closed doors, the best we can all do is speculate until we see action.
Source: iFans, Thanks for the tip Thuc N!
Get the Windows Central Newsletter
All the latest news, reviews, and guides for Windows and Xbox diehards.