Official UK Blinkbox Music app is now available for Windows Phone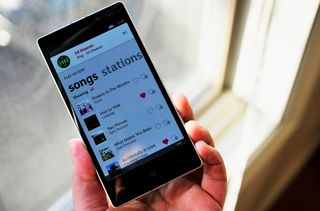 Blinkbox Music is a music service by UK supermarket Tesco. The company's attempt to tap into the streaming market has led the team to launch mobile apps, including an official client for Windows Phone. While we're looking at the initial release, it's quite the experience on Microsoft's mobile platform. Tesco's catalogue of music contains over 12 million songs, making it an attractive option for those seeking an alternative to popular streaming services.
Tesco has also implemented a personal radio station, which will take into account tracks you "like" or "dislike" to create an experience better tailored to your tastes. The music service also uses theses negative track ratings to prevent said songs from being played again. As an added bonus, resident DJs also curate radio stations that cover a variety of genres and topics, whether it's the top 40 or some floor fillers.
It's free to download and free to use, so long as you can put up with advertising. There's an optional upgrade of just £1 per week, which will see your account refreshed with zero advertising, ability to create playlists (both offline and online), as well as 500 Tesco Clubcard Points as a small reward for subscribing. It's not a bad deal, and a welcomed boost if you're wanting to save some points for the next trip to the store.
Check out the official Blinkbox Music app and let us know your thoughts on this initial release.
Windows Central Newsletter
Get the best of Windows Central in your inbox, every day!
Rich Edmonds was formerly a Senior Editor of PC hardware at Windows Central, covering everything related to PC components and NAS. He's been involved in technology for more than a decade and knows a thing or two about the magic inside a PC chassis. You can follow him on Twitter at @RichEdmonds.
Looks decent. Though I'm still feeling weighed down with my year long xbox music subscription...

What a troubled life you live.
#FirstWorldProblems

Fact. But its keeping me from going gung ho about these other music services

just cancel your subscription on the support page and tell them to refund it completely or partly. the experience is a fuck up. they cant blame you for that. fyi. I have no problems using it - paying for it as well

A regular app like old WinAmp, non streaming services that doesn't need mp3 tags, does that exist on WP or is everything like this?

You can sync your own mp3s if you want.

Yeah, but what to play them with?

what if they are not MP3 but some other format. Windows Phone has big troubles with other formats

That app is useless if you don't have your tags right, and its also the app that destroyed all the tags I had.

Well it seems to work just fine with my mp3 songs, even some untagged ones...

MixRadio apparently also has its own mp3 player (press "My Music"). You can also try Cool Music Player.

The UI sure is nicer than others, but £1 week is quite sour for my taste. Especially when I have to convert it to Reais.

I'm assuming that's because you don't want to pay for music at all, as that's less than 1/2 of what spotify costs

That's the same price as Nokia Mix Radio....

Right, so about a 3rd of Starbucks coffee per week. Brazil isn't that poor, assuming you dont live in the flavellas.

If its anything like the video app and the pricing in particular, I wont waste my time

Yeah, what about a normal audio/video app.. VLC lol :D Still good to see new apps

Interesting... there's a big rumour in the market that Tesco will be offloading Blinkbox as it's 'non-core' to their operations. Perhaps this release dispels that or maybe left and right hand aren't talking...

I would presume they have been working on the app for a while, with the decision to (possibly) offload it only a recent proposition given their problems, so it would not make sense to not publish the app when they have done so much work on it. Also, if it's just that they sell to aother company, then having more apps available on more platforms will mean less work for new buyer etc etc

Rumours are what they are: rumours. Tesco have never announced they wanted to offload blinkbox.

The UI looks nice. Looks better than Xbox music

Considering Tesco is a UK retailer that's not really surprising, is it?

How does this club card points work again? Do you get 500 points every week? Every month?

I believe it's a one off credit of 500 points.

Hi there, Clubcard points are accrued after sign up. We give you 100 points on your first payment, 200 points on your second payment and a further 200 points on the third. For full details there's a help article in our FAQs. Thanks, The blinkbox Music Team

Why not available for me ? I live in Albania but my region is US,

Can you read? It's UK only!

Tesco = British. It's quite simple...

£1 a week? That's like half the price of Spotify for a month which here in Sweden is about £8. How's the collection of music?

Yes 25% of Xbox music numbers.

Wow! Lovely UI. Too bad it's UK only!

It's awesome to use! Prefer it over Mix radio

Riiiiight! So I can't download a single station for offline use. Anybody?

It is nicer to use than MixRadio.... Less glitchy at any rate. BUT, I love the extras that MixRadio offers such as Wikipedia/Twitter info, when bands are playing next, and lyrics.
& of course, this app doesn't seem to show offline downloads, & it has adverts.
I'll use Blinkbox, but MixRadio is where my subscription money will be heading!
I'm impressed though. Very nice app.

This is a beta version, blinkbox is still working to get offline stations ready. Stay tuned.

It's a decent streaming service used to use this alot on Android. I prefer the UI on this version of the app. Not sure I'll use it enough to warrant paying £52 a year to go ad free tho even with the sweetener of 500 club are points.

So do you need to committ to a full year to get the 500 clubcard points. Or can you subscribe for one month and then cancel? I might give this a go since it's so cheap. Currently pay for Xbox Music and i'm happy with it. This is about half the price though so worth a punt if a rolling month-to-month subscription is available. I haven't used Mix Radio in a long time - What do you get in terms of extras for paying a subscription for that?

Hi Dan, The points start totting up after the first month, if you cancel, you won't qualify to get the full 500. We give you 100 points on your first payment, 200 points on your second payment and a further 200 points on the third. For full details there's a help article in our FAQs. Thanks, The blinkbox Music Team

Nope, can't download this either!

You don't download stations for offline listening. I have an ipod and I can on that

Hi Andrew, We're still in Beta so haven't added offline listening just yet. We do intend to add this as soon as we can so do look out for updates :) Thanks, The blinkbox Music Team

Woah Nokia still in there! :D

This service is actually pretty good