Blu Products of Miami and K-Touch of Beijing officially hop onto the Windows Phone OEM train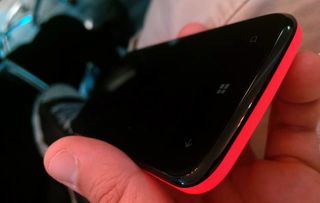 Microsoft has confirmed two more manufacturers will soon be launching new Windows Phones, according to a report over on LiveSino. The company made the announcements at the Qualcomm Reference Design and Wireless Innovation Summit in China, stating that both K-Touch and Blu will be joining the ecosystem.
The former claims to be the largest mobile phone manufacturer in China, touting 700 R&D staff based in centers scattered around the world. K-Touch also has partnerships set up with leading carriers in its home region, including China Mobile, China Unicom and China Telecom, offering a range of Android hardware.
Blu, who has so far specialized in Android mobile devices, focuses on Latin America and parts of the US. It's flagship device is a 4G Android smartphone with a 2.2 GHz Snapdragon 800 CPU, 3 GB RAM, 5.5-inch Full-HD display and 32 GB on-board storage. As a matter of fact, Blu recently teased a Windows Phone (pictured above).
We're interested to see what both manufactures can bring to the table. Windows Phone 8.1 will certainly appeal to the masses and more hardware support can only be a good thing.
Windows Central Newsletter
Get the best of Windows Central in your inbox, every day!
Rich Edmonds was formerly a Senior Editor of PC hardware at Windows Central, covering everything related to PC components and NAS. He's been involved in technology for more than a decade and knows a thing or two about the magic inside a PC chassis. You can follow him on Twitter at @RichEdmonds.
Things are looking up for Windows Phone.

Yes, the more the better.

All it takes is one, and others will follow.

Pretty amazing how all of a sudden almost everyone is back on board again. Just still a bit sad that Nokia had to carry the load for too long. Anyway, better times ahead!

Fees used to be quite expensive for Windows Phone. Now they are free for devices smaller than 9inches so expect to see more and more OEMs jumping on board.

Maybe there will be an explosion of new 8.1 handsets in the coming months.

Prety sure there will! :D There are now already 10 handsets (rumored to be) coming up for this year, and I'm prety sure we will be able to add some more Nokia devices to that list, Samsung will probably also release something with WP8.1.

K-Touch. Had one - my first and last dual-sim just before my Windows Mobile 6.1 Motorola A3100. Was rubbish, but so we're most non iPhones back then.

Crack open China and see the Marketshare soar.

Mobile phone are becoming like what PC was in the 90's anyone can build them, just buy different parts from manufactures of mobile part and have an assembly company put it together in china....those company work with whatever parts are available....they can't have specialize part or innovation departments to develop there own because they don't have the money or can't order enough product to customize product that is exclusive to them...but I bet they will have a hard time competing

I plan on supporting Blu if the prices are right based on their intended market targets. This is a great opportunity for Blu to make a name for themselves by joining the WP momentum early on and establishing a foothold if they can. For that very reason, if their hardware is reliable, I plan on supporting their products. The big name OEMs don't need us to establish their names as they have already established quite a bit of mindshare and market share. All in all, if the 17 OEMs can deliver at least one low end and half of them release one mid range and atleast half of that release a high end phone this year, Windows Phone will see the best year that it has ever had and will gain mindshare faster than ever.

I agree it's more about availability than anything else. You wont have to wait for Nokia to release their phones around the world. Also there's a chance these will also be cheaper and in areas Nokia doesn't sell as well in.

I'm actually very curious to see what Blu comes out with. My brother has a midrange Blu phone and I thought it was impressive, especially for the price.

If they bring a 3gb ram phone with @ least 480/720p to market before microkia & price wasnt bad id buy it

Glad to see all the interest. I'm willing to bet, though, that some (many?) of these devices never receive the support they will need to sell well. Otherwise the OEM will lose interest. There needs to be a substantial marketing push behind each device, incentives, etc. People need a reason to take a chance.

Well if they'd make pricing reasonable then oems like this could do well

Nice! Come on other OEMs! Also jump on board the amazing train that is called Windows Phone! Chooo chooooo! Chuga-Chuga-Chuga-Chuga-Chuga-Chuga-Chuga

Lol.. Choo choo choo... Chuga chuga.. ;)

The more the merrier, by this time next year WP availability will be on par with Android... it probably will not sell as well as Android right away, but availability has a lot more to do with sales than the app store.

I don't think availability will be quite that high. Most of these new OEMs won't even sell to the north American market.

Perhaps you are not up to date with the news today, but North America doesn't represent the five continents.

Obviously. My point is that even with all these new manufacturers jumping on board, although it will help tremendously, we shouldn't expect to see the same selection that Android offers. I only used North America as an example, but even in other parts of the world, where selection might be better, it still won't rival Android.

Sweet, more oems = more exposure = more mind share = increase in market share = more apps. Well in theory that's how it should work lol.

I like the rounded look of that phone in the picture.

There should be at least one aluminum unibody phone on Windows Phone. I mean iPhoners would like that.

I took a look at the k-touch site. They have some nice looking phones. I followed the nibiru link on their web site and there are some nice devices there.

I'm from Latin America and I don't know sh*t about this OEM, LOL.

They've only been around for a few years mostly as a feature phone manufacture

This year end will be great for wp again.

My friend has a blu android phone. The phone it self is nice, but when she showed me and transitions in the home screen, it was laggy as hell. Not that it should matter, just an observation

I just hope that the phones are unlocked and have the radios for Verizon's LTE network. I wouldn't mind trying one out and keeping it as a backup.