Bush Eluma runs Windows 10 Mobile, now available in the U.K. for £79.95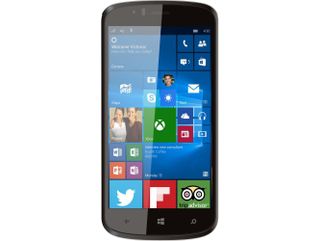 Bush has launched a handset running Windows 10 Mobile, dubbed Eluma. The budget phone is available SIM-free at Argos for £79.95, offering decent hardware for the price.
You get a 5-inch 720p display, a quad-core CPU of unknown origin, 16GB internal storage (no mention of RAM), microSD slot, 8MP camera at the back, 5MP front shooter, dual-SIM and LTE connectivity. ANd you also get a white back cover for free with the handset. Not bad for a device that costs £79.95 unlocked.
If you're interested, the Bush Eluma is now available at Argos.
See at Argos (opens in new tab)
What about the big OEMs? Haven't heard from them regarding Windows 10 mobile devices.

Microsoft and Acer not big enough for you?

On Mobile? No. We are waiting for LG, Samsung, Motorola/Lenovo, Sony, Xiaomi...

Precisely. No where are they?

I think it will happen as its pretty very low risk for them if they are doing the HW development for Android anyway as MS will take over the OS updates and development. So using the same HW they can appeal to 2 markets

Samsung already have UWM(w8 ),Xiaomi has custom rom for LTE device(don't remember exactly).Im not sure about Lg but I'm pretty sure Motorola/Lenovo(Google) will never change their os or use 2os.

Motorola isn't owned by Google anymore.

Sony are irrelevant, Moto are irrelevant, LG are irrelevant. Xiaomi are only relevant in Asia, but that's a big market. Samsung are the one who's needed but they're doing quite alright with droid. Microsoft ultimately should have licenced the Nokia brand. HTC are fighting for survival, if Samsung won't join the party, Microsoft would do well to bankroll them (and offer a financial incentive to Huawei) to try and gain traction. But Microsoft don't care much for Windows phone in the post-Ballmer era. Bush was a big electronics brand in the UK, in 1960's and 70's lol. This will likely be built by the cheapest bidder and Argos have simply branded it Bush. Doubtful that it will sell big volumes, especially with Lumia discounting on the 5 and 6 series... But fair play to Argos for throwing some support behind the platform!

strangely in 2016 samsun have a galaxy tab with windows 10 so i think they will be joining the party if they sell. Money = sales = more manufactorers will make windows phones.

Considering all the bugs in the unfinished software, I doubt they are willing to make a windows phone for now.

hes talking about lg, samsun, htc, sony ect.

MWC. That's when they release new devices, and that's a couple weeks away.

Great spec at price if it is 1gb ram

I'm guessing a Snapdragon 210 at 1.2 and 1 RAM. What else didn't they list?

Anything less than 1 GB doesn't meet
Microsoft's requirements, right?

That's not what I'm trying to imply, Mr. Dugmore.

..my comment wasn't even directed at you, and it was an honest question.

The RAM is 2gb http://cellcute.com/store/bush-eluma/

Not bad for a budget phone. Overall shape reminds me of the old Samsung Focus.

That's what I was thinking, that was a great blower.

Bring it on those Chinese OEMs as well, then it will open the flood gates.

W10M needs improvement before any hope of significant adoption.

Yup, let the OEMs modify the UI. Let them add their own OS features. Add whatever spywares and bloatwares they want. Give them more control over the OS and turn into Android clone. Would Microsoft want to do that?

We need xiaomi....they could really help push down the prices of windows phones...

So much this. I would buy a Xiaomi in a heartbeat.

These are the kind of devices that should come to South American market.

Capacitive buttons. I sure miss those. So these cheap phones have them but flagships don't. :(

I'm liking the on screen buttons on my 950XL more than I thought I would. As long as I have a physical camera button, I'm good.

Agreed. After 6 months of usage I passed my 735 to my wife because of lacking of capacitive buttons and I bought a blu win HD. I even did not buy the 950 because of that.

920->930->950 Not missing them at all. Could you please point out at least one reason why you miss them?

I'm glad they've gone too.. Don't miss accidentally tapping the bloody things one bit. Or having to turn on battery saver to stop them glaring at you whilst watching a video....

Premium look, no wasted screen space, always reachable, don't **** up the item displacement when going up/down (lol buttons that move, how stupid is that), better use of horizontal space. These came up by thinking for 2 milliseconds, can bring more if needed

Premium look? How is this a meter...I could argue that a bar that adapts to the accent color is far more premium. Wated space? It can be minimized, a big bezel wastes space, while on screen uses space when needed. Displacement? I have no such issues :D So you are still at zero reasonable points, it looks like you have problems not the on screen keys :D

No he isn't at zero points... Always reachable it's the biggest one. No need to sweep from bottom. And as far as the bezel is concerned, it could be true that you can gain space by minimizing it but unfortunately this is never done. Example is the 550 (but also the 735 and the 950). Large bezel and on screen buttons.

They are always reachable, I do not know if you used them. In the few moments when you are going to appreciate full screen you can hide them. Apps like FB hide the bar when looking at the photo, then you close the photo (by swiping the photo away from the screen) and the bar pops out automatically. As far as bezels are concerned if you have a 950 the lower bezel is reduced to the minimal size, minimal means that less than that size would make the ergonomics worse, you need the keys to be reachable with your thumb. 9 people out of 10 that criticize on screen buttons have never tried them and when they use them they are convinced that they are better in usability and the colored bar looks great for a lot of people.

I dunno. Adding another step to one of the most very basic of navigation operations isn't great from a designer's perspective. I studied Human Computer Interface design for my degree, and my opinion is that it stinks. Not saying capacitive buttons are perfect, but I'd venture to say it's less flawed. Also, even some of MS's own apps don't take the on screen buttons into account. I can't count how many times there are buttons at the bottom of the app screen that are covered by the on-screen nav buttons. Total epic user interface fail.

Well if you are discussing of bad implementation of some apps that is a whole different matter. All my apps (4 of them: 2 win10, 2 win8.1) properly adapt to on screen buttons and it is very easy to make them behave that way.. By an usability point of view it is just more possibilities: if the app does not make use of it then the virtual bar requires the same number of steps of the capacitive bar, if the app uses it properly (see facebook example above) it gives even better usability. So on screen usability>= capacitive buttons usability, nothing lost something to gain.

920 to 950 here and glad they're gone purely because they're a huge distraction when watching videos and playing games. Add in the chance of tapping them by accident and having Cortana trigger in my pocket while listening to music, and I never want to go back.

I feel the same way if only they set a timeout for the light like Samsung did

Great offer , but I already have 535.

This has LTE, which is a deal-breaker for many these days. It it's for me. 2G is already starting to be turned off where I live, and 3G spectrum is still around but its starting to be cannibalized for more LTE spectrum. That means 3G is slow and getting slower, while LTE is fast and getting faster. 3G-only devices are therefore unacceptable in some places now.

3G is really starting to suck in India...

Windows Central should buy all of those devices to make reviews and do comparisons and see quality on the devices spectrum, not only from the big names.

Wow. Windows central should buy them? Come again please

I just don't have the words to say to you Federico....man wth

Buy it and send one to Richard Devine. He's the one windows central writer living in UK.

I'm sure Windows Central is the most popular portal. So the manufacturers could give them new devices to test.

Or get a review unit, the idea is to get a more complex idea about and how small OEMs are doing with their devices, not only from the big OEMs. ​I get carried away, sorry, I know they are not rich and many devices they review are adquired with their own money, not even a review unit would be sent by all the OEMs and neither all their devices lineup.

These are some good specs for the price. If these devices flood the market sooner or later market share will rise.

So who is really making this? Bush like Polaroid is just a name sold to Chinese manufacturers to sell under in the UK.

It's a rebranded Archos Cesium 50. From the same manufacturer that makes the BLU WIN series.

this is the exact handset i believe! http://www.archos.com/corporate/press/press_releases/EN_ARCHOS_50Cesium_...

The Bush is a tiny bit shorter and thinner, and has 16 Gb with expansion up to 128 Gb instead of 8Gb with 32Gb expansion. Other than that they are appear identical. Since Argos annoyingly doesn't list any specific specs we can't really tell if the gave anything else a bump.

Bush is the Argos own brand. They are just rebadged OEM stuff. I am not sure if Polaroid is an Argos brand or just a generic one. I am sure I have seen them in Currys

Polaroid is a separate company, they don't manufacture anything themselves, but instead re-brand other manufacturers products (e.g. Polaroid TV's are made by Vestel in Turkey).

As far as I'm aware Asda own the polaroid brand in the UK.

Not bad might buy one as a a back up. It also says it is Dual Sim which is unusual here in the UK

Great Offer - for the U.K Windows Mobile, Great spec at price if it is 1gb ram Thanks John Lelan http://www.agileinfoways.com/contact-us/

Great to see another Windows mobile entering the fray. And it's £20 cheaper than the Archos. Excellent.

Windows 10 mobile is still half baked

I hope you have a baking oven.. :p

It may not be 100%... but not far off in my opinion - Besides 95% of the public will not notice or even care, they will see it as a good phone at a very good price

Perhaps, but stuff like having the device reboot or start screen vanish are completely unacceptable on a retail-ready device. These should have been given top priority to fix before release.

As was WP8 before Cyan. But they finished it fine. Btw it is more likely that the OS is 90% baked but it will take 50% of R&D costs to top it off to 100%.

And won't ever be as fast, consistent and fluid as windows phone 8.0 sadly

Uh oh, someone has pulled out their crystal ball and seen the future because W10 Mobile hasn't been perfected in a matter of months. Let's all jump ship now. /s

Samsung Focus is that you?

Me too lol. Posted via the Windows Central App for Nexus 5x

Bush Jeb still not working properly.

That is a strange name for a phone.

By the way ANd is wrong, is and Posted via the Windows Central App for Android

Big OEM,s like Alcatel , now Bush , Acer, note Samsung producing W10 machines as well, X3 OEMs already , I note Lenovo, Samsung , HP , Toshiba, all producing other W10 machines , not bad at all. Obviously Microsoft is a minor OEM too... https://blogs.windows.com/windowsexperience/2016/01/06/alcatel-onetouch-announces-new-windows-10-phone-coming-soon-to-t-mobile/ & http://www.pocket-lint.com/news/135111-acer-jade-primo-windows-10-phone-turns-into-a-pc-when-you-attach-a-keyboard
Windows Central Newsletter
Thank you for signing up to Windows Central. You will receive a verification email shortly.
There was a problem. Please refresh the page and try again.