Smartphone camera showdown: iPhone 5S, Lumia 925 and Lumia 1020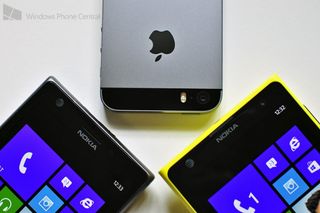 Windows Phone Central compares and contrasts today's top smartphone cameras
2013 so far can be described as the year of the camera phone. Between Nokia's engineering and the likes of its competitors playing catch up, consumers have plenty of choice when it comes to smartphones with excellent cameras.
Following up our recent Lumia shoot out, we decided to take three of today's high end devices out for a showdown, specifically the brand new iPhone 5S, Lumia 925 (review) and Lumia 1020 (review). All three can be considered top contenders on paper, but we'll see who is the best when we dig deeper into the pixels.
Care to see our results? You may be surprised.
Camera specifications
Before we dive into the shot by shot analysis, let's directly compare all the hardware:
iPhone 5S
8 megapixels with 1.5µ pixels
ƒ/2.2 aperture
Sensor size: n/a
Sapphire crystal lens cover
True Tone flash
Backside illumination sensor
Five-element lens
Hybrid IR filter
Lumia 925
8.7 megapixels PureView with 1.4µ pixels
ƒ/2.0 aperture
Sensor size: 1/3 inch
Carl Zeiss Tessar lens
Backside illumination sensor
Six-element lens
Dual LED flash
Lumia 1020
41 megapixels PureView with 1.12µ pixels
ƒ/2.2 aperture
Sensor size: 1/1.5 inch
Carl Zeiss Tessar lens
Backside illumination sensor
Six-element lens
Xenon flash
On paper, all of those specifications are quite amazing for any camera phone. Apple does edge out the Lumia 925 and Lumia 1020 in pixel size. While the Lumia 1020 has a bigger sensor overall, it crams so many pixels on to it that they are smaller than the Lumia 925, which is slightly smaller than iPhone 5S. That matters for noise reduction as the bigger the pixels, the better the image (though HTC One's 2.0µ pixels are perhaps too extreme, as image quality is reportedly not that great).
The Lumia 1020 definitely wins for being able to "crop to zoom" as its 41 megapixels gives Windows Phone much more to work with compared to the iPhone's 8 megapixels. Still, for normally framed photos we have to admit that Apple's iPhone 5S does an admirable job compared to both Lumias.
Conditions
For the Lumias, all images were shot using the Nokia Pro Cam app on full auto. For the iPhone 5S, auto was also used with the default settings. No flash was used in any photos (we may do a flash comparison follow up in a few days). Phones were handheld hence the slight discrepancy in angles.
For full-shot comparisons, the Lumia 1020's 5 MP oversampled images were used. For crops, the full sample from the 1020's 38 MP images was substituted, since using "crop to zoom" on the phone would do the same thing in real life. Images were resized to fit for web use.
Low light
We noticed that in low-light imaging the iPhone 5S tended to be on the yellow side for white balance with the Lumia 1020 doing slightly better and surprisingly the Lumia 925 doing the best for color in nighttime situations.
The iPhone 5S does well in regards to sharpness, possibly due to the f/2.2 aperture when compared to the Lumia 925's f/2.0. Lower apertures let in more light but it can also make images softer. You can see this in the night photo below of the table outside, where the foreground and background were both in focus for the iPhone 5S. Of course that lower aperture gave us brighter photos on the Lumia 925 when compared to the iPhone and even the Lumia 1020.
If we had to rank them, it would be the Lumia 1020 at top followed by the iPhone 5S and Lumia 925 running neck and neck for second place. Apple's iPhone 5S was slightly sharper with more detail and less noise, but the color representation on the Lumia 925 was much more accurate and images were overall brighter.
Daytime
During the day, the Lumia 1020 was the top performer with brighter colors and whiter-whites than either the Lumia 925 or iPhone 5S. It also of course provided the most detail. You can especially see this in the beach-log photo (and crop) below, where the color of the rocks stood out more on the Lumia 1020's sample. The iPhone 5S meanwhile had much more detail than the Lumia 925, though both were slightly off on color.
The Lumia 925, while a strong performer, fell short of the iPhone 5S for sharpness and detail.
Here, again, the Lumia 1020 wins against both the iPhone 5S and Lumia 925. For second place though, we're going to give it to the iPhone 5S with the Lumia 925 falling behind for third.
Panorama
All three phones of course can do panorama stitching, though we have to give the nod here to Apple who's built-in panorama was both easier to use and much more accurate. Indeed, in trying to photograph the power station, Nokia's Panorama app completely failed on two different phones.
Nokia recently updated their Panorama app after we tried to shoot the power station sample above, so it's not clear if the new ability to shoot in portrait would have helped. Regardless, we have a feeling Apple will still dominate this category as their app is really fantastic (and easy to access).
Front facing camera
All three phones also sport a 1.2 MP front facing camera, with Nokia's also having a f/2.4 aperture (we're not sure on Apple's). Here, Nokia has a nice advantage of sharpness over Apple's iPhone and even slightly better lighting with punchier colors. Nokia also has their excellent Glam Me app for softening and enhancing self-portrait images, giving Lumias another plus.
Ease of use
When it comes to ease of use, it really depends on how one configures the device. On the Lumia 925 and 1020, Pro Cam is certainly slower to launch and more complicated to use than the native camera app. However, users are free to set the default camera app to whichever one they please, including the faster and simpler native camera app.
Still, the iPhone 5S is more straightforward to use out of the box. The flipside to that is there are no "expert" controls on the iPhone 5S—the camera does all the work for you and you are left with the final result. For the most part, this actually works quite well most of the time due to Apple's excellent image processing, but 'prosumer' users will appreciate the fine tuning capabilities found in both Lumias.
With the native camera app, the Lumia 1020 and Lumia 925 are certainly fast enough for most users, but the iPhone 5S with its autofocus system is even faster both for snapping the photo and its processing. This is even true when using the Windows Phone shutter key to launch the camera when in idle. That's because Apple now has their slide-to-unlock camera feature which makes the process slightly faster.
Apple's camera action allows you to slide-to-awake the camera directly
Alternatively, Windows Phone has the benefit of being able to "feel" to launch the camera since you have a physical shutter key. With the iPhone 5S, you have to look at the screen and position your finger on the camera slider to get it to work. So once again, pros versus cons. The fact of the matter is Windows Phone could benefit from Apple's slide to unlock feature and Apple could stand to use a physical shutter key.
The iPhone is more robust by having more on the screen functions e.g. faux HDR option, square-mode for Instagram photos, panorama, video, slo-mo (video) and filters all without having to dig for them. Windows Phone has Lenses as an alternative, which while very innovative they could become overwhelming (and cumbersome) every time you need quick access to even basic features like filters, panorama or HDR.
Conclusion
From our experience, the Lumia 1020 is still the undisputed champion for a smartphone camera in terms of raw image quality. Colors were punchier, white balance was decent, images were sharp and there was plenty of detail. Toss in the ability to "crop to zoom" unlike any other device and the Lumia 1020 has a lot going for it. Of course there is still room for improvement, like faster image processing and quicker launching of the Pro Cam app (especially if your device is locked).
The Lumia 925 is still out favorite "everyday device" and our recommended Windows Phone for people who aren't photography buffs but still want a solid camera. Having said that, overall image quality was below that of the iPhone 5S. The Lumia 925 excels in low-light photos and daylight shots looked great too—in that sense, there are very few complaints. But if we're pixel-peeping and directly comparing it to the iPhone 5S, Apple gets the nod here for overall image quality.
Indeed we were very impressed with Apple's efforts. Their in-house image processing is certainly top notch and the iPhone 5S is very easy to use. It's a shame that the iPhone's tech doesn't come in more hardware varieties though—you're stuck with what Apple gives you.
But there's no question in our mind: the iPhone 5S delivers some excellent images and its small size betrays its powerful camera. While the Lumia 1020 can still best it in all areas but speed, the iPhone 5S is quite impressive.
A word of caution
The problem with doing in-depth camera analysis like this is we end up getting hooked on the minutia. To be honest, it wasn't until we started looking at cropped photos on 27-inch IPS/Anti Glare display at 2560 X 1440 resolution (and Adobe RGB, natch) did we notice that the iPhone 5S's photos were often (not always) superior to the Lumia 925.
Taken with the iPhone 5S
What does this mean for sharing photos on email, Instagram, Twitter, Facebook and other digital networks? It's simple: all three smartphones will give you excellent images with slight tradeoffs. The Lumia 1020 is the best for IQ, but slower (and the phone is bulkier). The iPhone 5S gives very good images but you're stuck with a tiny 4-inch display and no manual controls (i.e. forget long exposures or artistic creations). The Lumia 925 is light and nimble with a gorgeous display, but image quality, while excellent, falls behind both devices.
In the end, the differences between all three devices are less than what you are gaining overall: photos that aren't embarrassing to look at on a computer display. And that's just awesome, which ever device you choose.
Get the Windows Central Newsletter
All the latest news, reviews, and guides for Windows and Xbox diehards.
Daniel Rubino is the Editor-in-chief of Windows Central, head reviewer, podcast co-host, and analyst. He has been covering Microsoft since 2007 when this site was called WMExperts (and later Windows Phone Central). His interests include Windows, laptops, next-gen computing, and for some reason, watches. Before all this tech stuff, he worked on a Ph.D. in linguistics, watched people sleep (for medical purposes!), and ran the projectors at movie theaters because it was fun.