Camera360 Sight gets updated with new tutorials and more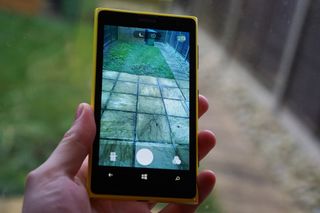 Just when you thought the holidays were over, the developer of Camera360 Sight has released an update, gift wrapped for all fans of the photography app. The advanced version of Camera360 has hit version 1.0.1, bringing with it:
Sight added tutorials, tap menu and enter "Tutorial" to learn about finger operations (gesture support).
Sight has launched its official website, go to "Settings -> About" and tap the app icon or go to sight.camera360.com to check it out!
Solved black screen issue while editing photos.
Fixed bugs and improved stability.
Optimized icons. -.Slide upwards to browse more photos
Be sure to look out for the update on the store today and let us know how you find the changes detailed above.
Thanks Aman for the tip!
Windows Central Newsletter
Get the best of Windows Central in your inbox, every day!
Rich Edmonds was formerly a Senior Editor of PC hardware at Windows Central, covering everything related to PC components and NAS. He's been involved in technology for more than a decade and knows a thing or two about the magic inside a PC chassis. You can follow him on Twitter at @RichEdmonds.
How can be this app that fast .. And the normal Lumia camera just been fast ?? And was all slow at particularly lower end ?

How can this app be that fast and the Nokia Lumia Camera just can't be fast? And it's slow particularly with low end devices? Is that what you mean?

What I mean .. This app is fast at all devices .. And the Lumia camera was slow till the denim which brings speed on higher end .. But lower still slow .. So how this app is fast on low-end and the Lumia cam not ?!

I don't have denim and its pretty fast.

But the clarity of the image is not good as Nokia Camera.

Definitely..., it is bad thing !! I dnt knw why this resolution limitations?

That is the only reason i don't install this app, else everything is awesome.

i use it for edit not to picture with it is better like that !

Yup, editing feature is awesome.

Meanwhile the picture quality of lumia camera is going worse in each update..
Nokia camera>>>lumia camera

Yes that's why i only prefer Nokia Camera above all the camera apps in market.

The Denim update definitely kicked up the camera several notches. So your argument is invalid. /Lumia 930

Camera update in Denim is limited to high end devices, not for low end devices.

Is it available?
The Lumia camera 5

True that. That's why I'd never buy a low-end device.

Yeah editing is too good wz it ... Lower end devices will get improvements later .. As happened with the app itself when only it was available to prureview high end only ;)

Excatly! Lumia 822 with Denim and the Lumia Camera is so SLOW!

Yeah, but do you have version 5.0 of Lumia Camera?

This app is good . Too good.

"finger operations"
Because gestures isn't a word.

This app is great
Quit complaining folks... It's the fastest camera app on this platform, I have over 10 camera apps. Waiting for Denim though

Denim will make the other apps obsolete.

I believe you.
U are speaking based on facts right :)
Also a L930 and L620 user bt no Denim
I need it badly for the countdown :)

Yeah, I just love the Denim update for my Lumia 930. It's really nice. The camera is lightning fast and the "rich capture"-mode is amazing. :)

what? i have lumia 830 with out of the box denim update and still lumia camera without rich capture. how on earth you get lumia camera 5?

But the yellowish image issues on my L1020 appears a lot when I use this camera360 sight app

Go to edit -> crop, rotate and auto fix -> fix
It makes a yellowish tint go away!!!!

Like THIS PAGE ON FACEBOOK,its all about gadget and tech.
https://t.co/aOnhfask8B

Like THIS PAGE ON FACEBOOK,its all about gadget and tech..
https://t.co/aOnhfask8B

Like THIS PAGE ON FACEBOOK,its all about gadget and tech
https://t.co/aOnhfask8B

Sems to be cool update to get!!!

Useless, crashes everytime I take a picture

Would love to use this as my default, with auto upload to OneDrive.

How about Afterlight. That app is popular on iPhone. CMIIW

Whilst everyone sings odes to the Denim update and the better camera experience, a stunning majority of Windows Phone user base sits on the low end. Or it's caught somewhere in between with older but still excellent devices. I understand hardware limitations and why my Lumia 920 simply cannot have all the new goodies, but I seriously doubt obsolete hardware is the reason why Nokia/Lumia camera takes forever to launch. The rest of the Windows Phone Lumia community simply asks for a startup time optimization, nothing else...

Exactly... I wonder how many are actually denim.

Does lumia denim is going to make my Lumia camera app om my lumia 925 any faster ???

The speed was improved only on Snapdragon 8xx Lumias?

Also on Snapdragon 4xx Lumias

But not on the 730/630... :/

730 is Snapdragon 400..?? No..??

Damn auto correct. I meant Pureview.

Preview Cameras=Preview Devices..??

It still takes time after we click a pic and open the pic in albums.

I am talking on behalf of my low end Lumia 525. I've got Denim update, but Lumia Camera is still as slow to launch.

The picture becomes very much dull after taken, in any filter

Started up saving images very fast but then got slowed down. Anyways still an original app :)

I felt this app had no use...

This app is great for older devices like 925/920. It gives you "continuous auto focus" just like Cyan brought to the 1520/icon/930.

No Autoflash. Such a basic function missing. I sent them feedback regarding this 3 times and even after three updates, its not there.

@Aryankr21, I am from East Malaysia. Got denim update about 3 days ago.

They said 920s and Thursday era of phones can't have continuous autofocus and this has it and speed, amazing. Wish I could set it as my default.

Some of the speed of "sight" is due to the fact that the picture size is less than 5mp no matter if you have a L 1020. Also no EXIF data is being stored. Many of the options of camera360 are missing on this new version like ISO adj and others. Needs some more work and a update or two .