CamScanner for Windows Phone 8 adds Japanese and Korean support in latest update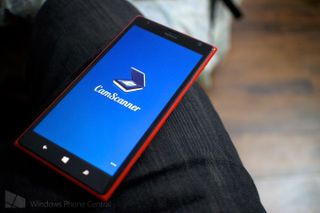 CamScanner, an app that turns your Windows Phone 8 device into a scanner, has just added Japanese and Korean support in its latest update. Version 2.0.0.21 also includes bug fixes and stability improvements. CamScanner arrived to the Windows Phone platform last month, but their app has already been available on Android and iOS. According to the store listing, they have 60 million people using their service for document scanning worldwide.
What's new in version 2.0.0.21:
Add Japanese and Korean support
Greatly improve stability
Bug fix
CamScanner uses the camera to scan documents and other items into PDF files. Scan your bills, invoices, contracts, business cards and more. One really useful feature is that it automatically detects and crop scanned images. There are also options to enhance documents with 5 enhance modes. You can then upload the scanned document to SkyDrive and send file link via email.
We don't have Korean and Japanese documents lying around to test those new features, but we're always happy when updates bring stability improvements and bug fixes. Need to scan some documents? CamScanner is a free download at the Windows Phone Store.
Do you use this app? Let us know how you feel about it in the comments!
Windows Central Newsletter
Get the best of Windows Central in in your inbox, every day!
Microsoft has released the update over the weekend. Normally we don't see updates rolled out on a Saturday or Sunday.

I love this app! It already saved my skin a couple of times when I needed a scan and since I don't own a scanner... It really does miracles. Now, I don't mind uploading everything to SkyDrive and sharing links, but it would be nice if Windows Phone 8.1 brought some sort of "Apps Storage Hub" (or whatever) where all apps would store their output (other than photos :D) for easy access and retrieval.

You answered your own question!

I meant other than SkyDrive. I want to be able to connect my phone to my computer and pull PDFs CamScanner made. Or other apps. Same goes with epubs for reader apps. I adore SkyDrive but what's wrong with offline life ? :)

Seems very useful, especially since I don't have any printers at home anymore. I'll give it a try!

When I first open, it's asking me to sign in. Is it my Microsoft account password is asking for? Or do I have to register for an account with them?

Register new, this app is not part of MS services, there is an option at the bottom to register by phone too.

Why are people saying it is part of MS?

Ok, registered used it and this app rocks! Kudos to the dev!

This app is near perfect. I just wish I could email the PDF directly from the app rather than share a link from SkyDrive. I'm sure this is a limitation of the mail client though since I can't attach a PDF from the file system outside if the app.

Still can't copy recognized text (OCR) when offline. :(
Windows Central Newsletter
Thank you for signing up to Windows Central. You will receive a verification email shortly.
There was a problem. Please refresh the page and try again.