Get this now: Chronos Calendar for Windows Phone is not only great but it's free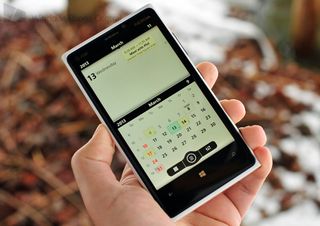 We don't cover calendar issues here too frequently if only because we know the native calendar app for Windows Phone is "meh" and third-party apps are hit and miss. Toss in the fact that everyone has their own idea of what makes a good calendar and it's a hard topic to cover.
But we were recommended Chronos Calendar by a reader today and upon trying it, we were kind of blown away.
For one, it's in our opinion gorgeous. The app supports high resolution graphics and boy do they shine on a Windows Phone 8 device. With bold, crisp visuals, we really enjoy checking out the split view (day on top, monthly below) for our appointments. Navigation is also simple with the 3 button center console: view toggle, jump list, settings. Tapping any day will cycle through that selection on to the top window, allowing you to quickly visualize your tasks.
The app though has a ton of features below the hood too, including the ability to sync with the built-in Windows Calendar and synching with your Microsoft Account. That's super important because you want this app to basically substitute for your native calendar app and for the most part, you can. When you add a new appointment, it will give you the native appointment maker but will sync the info both to your Microsoft Account and Chronos at the same time. It's quite brilliant and works without a hitch.
The Live Tile is also nothing to brush off. Sure it has a double wide that flips with more info but the developer has also pushed in an editor, allowing you to customize the look and feel of that tile. Whether it is the color, information being displayed or 'dim forthcoming days' the app has just about every choice you would want in a robust calendar app.
Finally, the app is fast with a 2.5 second load time making it an easy replacement for your built calendar. It's sprightly and nimble, just as a calendar app should be.
We'll be doing a full review of Chronos Calendar in the coming weeks but for now, just go and get it yourself. It's completely free with no ads, which you will realize is mind boggling after you try it.
Pick it up here in the Store for Windows Phone 7.x and 8 devices. Highly Recommended. Thanks, Mattias H., for the tip!
Daniel Rubino is the Executive Editor of Windows Central, head reviewer, podcast co-host, and analyst. He has been covering Microsoft here since 2007, back when this site was called WMExperts (and later Windows Phone Central). His interests include Windows, Microsoft Surface, laptops, next-gen computing, and arguing with people on the internet.
Using this one and think it's just great :)

But doesn't work with Exchange...so, nonstarter.

Not directly it doesn't. If you sync your phone's native calendar with exchange and then use the option in Chronos calendar that utilizes the "Built-in Windows Calendar," you'll be able to see it.

Chronos won't sync my private appointments from Exchange via the built-in Windows Calendar workaround.
All others including recurring non-private do show up.
What do I need to change to also see those?
If not all show up it'll not be a real solution for me.
I mainly use Chronos for the week-view, the built in calendar's month view is absolutely not good for anything.
You just cannot see anything, that is a real drag.
Thanks - lowrider

I can't seem to schedule recurring appointments. Suggestions anyone?

Will it blend? hehe seriously does it integrates with outlook.com? :)

Regards

Can't find it on WP8 ...?

Did you use our links? As evidenced by the photo above, it's running on WP8 just beautifully.

Yeah, doesn't work. Just figured out why. In Sweden the app is named "Almanakan" so I have it now, and its wonderful. I believe the developer to be Swedish so maybe that's the naming change. It says Chronos Almanakan when it starts up. "Almanacka" ITS spelled in Swedish. :-)

Is the 2.5 second load time for WP8 too? Opens relatively fast on my Omnia 7, but would be hoping that the Snapdragon S4 is enabling some near-instant load times for apps.

The load speed is around 1,5-2,5sec with Lumia 920 but its still very much worth the wait


Press search, press vision icon at bottom, point at QR code on screen, download. Works everytime.

60% of the time, it works all the time.

I'm gonna be honest with you that smells like pure Gasoline...

This is great because the calender view in windows phone 7.8 still is ugly with tiny fonts.

Yep. I wonder that if Microsoft have their brain when making such a small font calendar...
Window Phone is great but it has some stupid shortcomings...

The thing is, the tiny font on the calendar isn't even the information about the actual appointments. It's latin. I read somewhere that they're just place holders to tell you that you have something scheduled that day.They're not meant to actually be read

Does this not sync with Exchange?

Looks great, but I cannot seem to sync with Exchange. Of course, follow up should be, do i want to? Any security problems anyone is aware of for relying on third party app?

It syncs with Exchange as read only.

Read only...but if they found a way around that this would be an incredible calendar app...

Read/write sync with Exchange would make this a must have app for me; the layout and appearance are so much better than the stock calendar app.

Same here, will use this great app when it syncs fully with exchange!

Agreed. It Is beautiful, but I have to be able to fully synch with Exchange.

Any good calendar apps for multiple google calendar support?

I want to know this, too.

It's ugly, but it works. Thanks so much!

I was able to sync to all my google calendars using this app.

I exchanged Google for Bing years ago.

Beautiful. Should be a, Outlook.com commercial.

Wow, I completely didn't know that this app existed. It's fantastic.

Simply stunning app. Period.

May I just say that this app is designed absolutely beautifully. Sure it's not fully "metro" but it looks right at home on my Lumia. I love the attention to detail and the tastefulness of the color palette. The animations are smooth and the app just feels super polished.
I feel like we're on the brink of good things app wise as developers become more and more comfy with developing apps for Windows Phone. I'm dissapointed that the app is free because I would gladly pay for this level of design.
Well done

Totally agree. As you say, it's not very metro, and that's the only thing that disappoints me. And it's a very minor gripe! But the level of attention to detail is stunning.

This is one beautiful app. Didn't know it existed, definitely would've paid for it. Thx.

Have been using it for last two months , Awesome app and it updates frequently.

Very nice app. Much better than the stock calendar

What's does this app do better than the native app?

1) Beautiful Tile , tile customization.
2) Week View

Above two is what I always wanted from a native app so it does everything I wanted in a calendar app.

Monthly view is great, the live tile is better and detailed filters for what shows up or not.

1. great month view
2. Live Tile shows multiple events and your can filter how many
3. customization of Live Tile for color accent or photo. Allows the calendar to stand out in a screen filled with many apps.

In addition to what the above posters mentioned, it can also search for events and notes.

I've replaced the native calendar with this one in my home screen. There are some few features I wish existed but I love it. I definitely like it more than the native calendar.

Useful. Wish they would get rid of the nasty Applesque shading though. Also claims my 920 does not support some tile features - wtf?

Fantastic app but I agree about the Applesque shading. With a few small changes it could be given a more flat metro look. The live tile is amazing though.

What's in it for the developer? Free....and no Ads. Where's the payoff?

I ask myself that question about other apps as well. I use this app but I don't get how he makes a living. Also, for some reason I get worried when I see this. For some reason I think the developer is getting customers info somehow and selling. I'm sure I'm 110% wrong though.

I put no ads in my app. I do it because 1) Its kinda a pain to set up, especially if you don't pay taxes (I'm underage) and 2) I just do it as a hobby and want to improve the Windows Phone app store.

You...are awesome...beautiful app!

Oh no, I'm not the developer of this app, I just wanted to share why I didn't put ads in my app. Maybe he/she had similar reasons as to why he didn't put ads in his/hers

Ha. That was classic. I can't stop laughing now.

Would you have an instruction manual for this program available. It's very intuitive in some areas but not so in others. A simple setup guide would be great. If available, please post link here.

You are a credit to the WP Devs my friend. The WP community should thank you for this beautiful app. Takes away the shortcomings of the MS built in calendar.

He's not the developer of this app.

So sweet! Thanks for the heads up. It is replacing my native app!

This how everyone should do live tiles! Finally something living up to the potential. Even Microsoft apps have pretty useless tiles. Too bad there is no Facebook event support.

I will never use a third party calendar until this is supported. Almost all my private event invitations is on fb.

but does it have week view?!

Yes it does. Well sort of, it has a list view that fits a week on the screen. But not a list view in the same sense as the default calendar but...
Oh nevermind. Just try it. I'll you this much, this is the calendar I use and I demand week view from a smart phone calendar.

The one feature this app is missing is the ability to create appointments or tasks that take place every 3rd of the month, 2nd Wednesday of the month, or something similar to this. I hope its there and I'm just missing it. Also, more Gmail calendar support and exchange for the people that need it. I don't but I'm sure many do.

Wow I actually just noticed that when you hit the main icon in the front screen to create appointments, it takes you to the native calendar which lets you do the repeat events feature I was looking for. This is definitely replacing the built in calendar. Highly recommended.

Can you help me again finding this feature?
I do not understand how to repeat appointments every Friday of the week or something similar.


Click the main button on the bottom, the middle one. Then "add appointment" it will take you to the default calendar which lets you repeat appointments from there. Remember to scroll to the bottom and click "more details" once you're in the default calendar view.

Can you help me too !? I want to repeat events week by week.But when I click the bottom, middle button, only 3 items(Today, Reset Filter, Sync) appear.Can't find add add 'appointment' there. Did I click the wrong button!? Please teach me how to use it. (>_<)

Very nice app. Though I'm having no issues with the native one.

I love the way this app lays out the calendar view and appointments better.

I like this calendar a lot, except that it's not in the Windows Phone style. Which really bugs me, actually. If the built-in calendar had a good weekly/monthly view, I would like it enough.

Seriously no Google calendar support? :/

you can easily link your google calendar to your outlook.com one and have it everywhere on any device

I could only get my main Google calendar to sinc. I need all of them to sync.

I got all my google calendars to sync. Did you have all your google calendars synced with the native calendar app?

Does anyone know if Office 2013 syncs with Facebook event calendar like WPx?

Changed my mind. This has too many options. Think ill stick to the native app. Hopefully they improve that though.

Is it me or is it a little confusing, I like it but might take a minute to get used to it. Definitely better than the stock calendar.

Thanks for the tip! This App is trully amazing. I specially love the fact that we can personalize each tile size with a different photo from our own collection to make it more ours.

The biggest drawback for me is not being able to edit appointments/tasks within the app itself, you have to go the native app. Other than that. 10/10 for the customization! But I'm still staying with the native.

Yeah editing appointments would be nice but the pros outweigh the cons.

Should there be any concerns about giving the app my microsoft account login?

You're not giving the app your Microsoft Login, you're telling your Microsoft Account to trust the app (and let it access your calendar). That's very different and is akin to a "Facebook Login" on some third party sites--it's all handled thru an official API for that exact reason.

wow, what a beautiful app.

This app is freaking amazing and not dumb ugly and cheesy like a lot of the calendar apps in the marketplace. Honestly we need more apps like this in general and I want to punch Microsoft in the balls for not giving us something like this to begin with. Great find.

I'm trying this for no other reason than to see what I am missing. I have 4 accounts syncing to my WP calendar and I love it... Don't know what I would ask for

This app is so good that I wish there was an option to buy too.

I synced my Google calendar

Do you mind telling us how you managed to do that?

What's up with the names on the different days? Is there a way to get rid of them?

Yes. >Settings >General >Visibility Turn off "Name days / Historical birthdays"

I have been using this for months and love it. However, when I saw your article, I thought, "Wait a minute. I don't have a wide tile!" Went to the Marketplace and lo and behold, there was an update. Huge improvement on readability and now i can see appointments as any calendar app should. Running mine on WP7.8 nd on the Titan it is visually wonderful!

Originally ran this as a photo tile NEXT to the WP app. Now unpinned my WP internal app and use this eclusively. Best calendar app out there, and I have tried a couple previously.

I did the same thing. There are something that are missing but the developer states it is because of API limitations. Hopefully Microsoft opens this up and lets developers create better apps. Being able to edit an appointment from within the app is something that I would love to have.

It's refreshing but readonly on Exchange won't work for me.

I seem to have readonly access to google calendars. Even then, it's only the primary Google caledar. I need to be able to edit entries on any calendar I sync to the phone. The native app alows this and while this app is beautiful and feature rich if I can't edit the events on every caledar that's sync to the phone it's not worth using over the native calendar at the moment.

Best calendar app out there. To create exchange appointment, goto notes, general and check "always create appointment".

Thank you for sharing this!!!

I like the looks and features of this wonderful app and kudos to the developers! Sadly I won't be using this as my main calendar app just yet. I can't seem to have read/write access on the family room. Which me and my wife use all the time (its read only at this moment). If I can make family room appointments, then I'm happy to use this as my main calendar app!

I have read/write ability to my family room calendar.

I chose the logged in with MS account option because of the warning message that certain calendars would only be read only when I first chose to sync with the built in calendar.

It is really nice i am big addicted of Microsoft Calendar but this is look nice...but unable to delete or amendment..hopefully we will get this option or may be i couldn't see :)
Overall it is good.

Its a great calendar but my only complaint is that its not metro, modern, what ever they call it now.

My thoughts exactly. This app just looks out of place on my phone. Even the icon in the app list stands out like a sore thumb, but the app itself is pretty awesome.

Fantastic app...but I'm using multiple calendars, including Exchange...having read only to a calendar I heavily use is mostly useless for me, but my wife loves it for her use

I chose Windows Phone to get AWAY from those horrid skumorphic apps. If I wanted a flippin' Apple device I'd have purchased one. I'll pass.

Huh??? there's nothing skeuomorphic about this app. Perhaps you should look up the definition of the word.

Is there a way to have the calendar events show up on the screensaver, the way the native app does?

This app demonstrates the potential of WP platform as well as a few others that are taking advantage of the NT kernel. I ditched the built in calendar in favor of this app due to the amount of customization for the app AND for the live tile. Great job for a free app. I would have paid for this.

Here, here! That is exactly what I said. It is worth it. Can't wait to see more from this developer.

Very excellent app!! Way better than the built-in calendar!! But I think they can make the appoint editor bigger, the editor block is a bit too small......

Dear developer, if you read this, please release this application in Indonesia! :(

change region to USA, then reboot. Then go to store, search for any app not available in Indonesia. You can download everything, except paid apps. But many free aps are great including this one, so there you go.

I'm using Lumia 800, WP7.8...

Just downloaded it and tried to syncronize. So far, nothing. I signed in with my outlook.com account which is the same one I use for my native calendar and it isn't pulling anything up, even when I use the "syncronize" function. In addition, there are tons of crap on there which appear to be birthdays of famous people or something like that, which I definitely do not want on there.

So far, not good.

There are options to remove the birthdays and week numbers. You just have to dig.

I found that part, thanks though. Still no sync at all with my outlook calendar. I contacted the dev on FB, so hopefully something will get sorted out.

there is a post above that tells you kow to get rid of them Im going to try that myself later tonight.

I used this to replace the stock camera app. I'd say it works really well. I enjoy the sync and its ease of use.

Amazing app! I just replaced the native windows app from the start screen :D

Tried it out for a bit. Think I am going to stick with the default calendar.

Same here. The native calnder works just fine, syncs better and does not kill m battery like chronos does.

Anyone else notice it doesn't sync with Facebook calender? How can it it be better than the native app without FB Sync?!

Thanx for this application, best for me so far

EXCELLENT APP!! And super funny developer!

Very Good but for now is not a replacement to the built in calendar, missing some features. Could have a METRO look!

I hate how Microsoft protects its shitty calendar by not opening up all calendar features to developers. Third party can't have access to exchange (except via built in calendar) to create/edit, or deal with recurring events in any calendar. If they just pulled their head our of their ass perhaps this platform COULD succeed, own worse enemy...again.

This is a beautiful app. I would have paid for this one. Good find.

Has anyone else synced their MS account then noticed that when it imported the events the dates were moved up 1 day? The correct dates still appear in the native calendar....

not only super functional but olso just... very nice

Live tile does not appear to be working for me on my 822. I do like the nice big tile with the list of events and the ability to use a different color to bump the look, but I cannot figure out my problem with the live tile.

When I try to sync, "sync disabled." How do I sync?

you have to go into settings and enable sync you probably want to use microsoft my account or you may end up read only.

No MS exchange or CalDav... With that it would be perfect.

Apart from the annoying restriction of "read only" for Rooms Calendar. Brilliant app. Fix that and it will replace the in built one entirely

Don't like it. It's not metro.

Worth it for the live tile alone. Not sure why all the people complaining about read-only Exchange access don't just use this for viewing appointments, and use the native app for making appointments. I would guess that people spend more time checking their calendar than they do adding to it. The native app is useless to me for making meetings anyway since I can't check people's schedules to see if they're available- so 99% of my meetings are created on my laptop while logged into our corporate network. I suppose I make some appointments that aren't meetings and don't require other attendees, but why do I need to do that on exchange? Will I ever be somewhere that I'd have access to my exchange server but not my phone and be at risk of missing an appointment?

Very pretty app. A bit complex but I seemed to have figured it out fairly quickly. I really like being able to set the background picture as I desire (a Fallout 3 wallpaper).

I will pay for the ability to remove that spash screen.... I will repeat.

PLEASE SET UP A PAID VERSION SO THAT I CAN AVOID YOUR SPLASH SCREEN!!!!!



Nice calendar, there definietly is a learning curve. Not an essential, not really work the extra time it takes to set up :)


Really nice. Only gripe I have, and it's a small subjective one, is the use of the 3 button menu. Wish it was more Windows Phone style than like Android (reminds me of an Android interface). Functionality wise, Microsoft should buy/license this off the dev, lol. A Windows 8 version is much welcomed.

That's what I would call a Calender app. But I must agree, the GUI is simply like an Android VM, which prevents me from thinking more but 2 seconds if I keep that one installed or not. I stick it onto the to-be-watch-list instead.
If having looked like a WP8 app I would have a even bought it, since there's others in the range below 3 quid offering less. But in it's current form it simply destroys the clean so beloved look which sets WP8 in from of Android on iOS.

Beautiful, but useless for me, because of the live tile issues on WP 7.8 :'(

amazing app....just downloaded it and it works pretty well. much better than the native calendar

To the Dev; please post your website so we can get setup instructions. I can enter a new appointment into your app but it shows up on built in calendar, not your app. Looks good but not so intuitive to setup. I'm an older user so this might be the reason; can't see as well as most.


To be completly happy, Id like to have ability to see full month view in Live Tile and tasks in back of the tile.

I'm sorry but I'm not feeling it here at all. I think the standard calendar looks much better and is easier to use, too. This doesn't feel like a Windows Phone app at all. The one and only feature I like is the split screen, everything else about it is worse than the native calendar.

This app is really awesome but please!! Dont update every 30min cause its really a big waste of battery with live tile on

Yeap same here. Had to delete cause it sucked my 820's battery to 0 in a few hours. I had switched it off as background task but it still synced too often.

I'd have thought that if the background task was switched off then it wouldn't be syncing at all. I have the background task enabled and my battery life is fine.

A couple of issues
1. Whose names are listed under the dates. Don't care and don't want them. 2. When it linked all my accounts it brought in all the holidays for each account. Now I have each listed 4 times plus what ever else there is for that day. 3. Can't edit an appointment.


Why does each day have a weird name at the bottom? Today it says Ezra Jack Keats. What does that mean?

It's birthdays of famous people. You can turn that off in the settings.

"Famous" people that I've never heard of...

Shoulda stayed awake in school ;)

sadly it's not available in China market :(

Had to delete this one. After installing my battery went from 99 % to 0% in 5 hours.
At least I can only imagine it was this app as it was installed last.


Doesn't happen to me. It's true that I've had two occassions when my battery has run out at the same pace it charges, but it would be doing that all the time if this app was the culprit because it is one of the few that I let run in backround tasks. Could be worth another try?

The app seems realy good, but I have small problem. Reminders don't work at all. I have sync my microsoft calendar and otherwise it's working as it should. Live tile and other functions are working, but the app just dont remind when it should.

Cute, but no todo list as in native calendar. Phooey.

I'm a little late to the party, but the WP7.x version is not free. Downloaded the trial to give it a spin...

Today after reviewing the Chronos calender I was going to buy it, but I couldn't. IT HAS BEEN REMOVED FROM THE STORE!!!!

I've tried since yesterday to find this app but it's been unpublished on the WP store and unable to even be searched for via the store app.

Just bought it and linked to my Microsoft Calendar. It appears to have brought in my events for about one month only. Even when I sync over and over and go to future months it still doesn't bring in any of my appointments past June 10th. Also the print is a bit hard to read (actually better on the Nokia resident calendar (hate to say). I hope these problems can be resolved as the resident calendar isn't very good.

"FREE" to try.... tryna PUNK us!?!?

Free? Not any more it isn't.

This is how an app should look like. Simple, clean, light and gorgeous. If only more apps could look this good. I like a lot of the apps in the store but many of the developers that create the app always depend too much on the default WP look and it's ok for a few things but there are too many apps that look the same, black background, white square buttons and little imagination.

£1.49
I'm not calling that free.
Windows Central Newsletter
Get the best of Windows Central in in your inbox, every day!
Thank you for signing up to Windows Central. You will receive a verification email shortly.
There was a problem. Please refresh the page and try again.