Get this now: Chronos Calendar for Windows Phone is not only great but it's free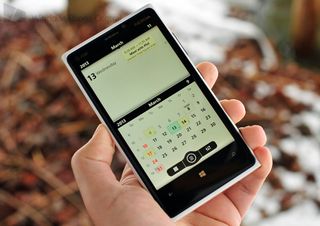 We don't cover calendar issues here too frequently if only because we know the native calendar app for Windows Phone is "meh" and third-party apps are hit and miss. Toss in the fact that everyone has their own idea of what makes a good calendar and it's a hard topic to cover.
But we were recommended Chronos Calendar by a reader today and upon trying it, we were kind of blown away.
For one, it's in our opinion gorgeous. The app supports high resolution graphics and boy do they shine on a Windows Phone 8 device. With bold, crisp visuals, we really enjoy checking out the split view (day on top, monthly below) for our appointments. Navigation is also simple with the 3 button center console: view toggle, jump list, settings. Tapping any day will cycle through that selection on to the top window, allowing you to quickly visualize your tasks.
The app though has a ton of features below the hood too, including the ability to sync with the built-in Windows Calendar and synching with your Microsoft Account. That's super important because you want this app to basically substitute for your native calendar app and for the most part, you can. When you add a new appointment, it will give you the native appointment maker but will sync the info both to your Microsoft Account and Chronos at the same time. It's quite brilliant and works without a hitch.
The Live Tile is also nothing to brush off. Sure it has a double wide that flips with more info but the developer has also pushed in an editor, allowing you to customize the look and feel of that tile. Whether it is the color, information being displayed or 'dim forthcoming days' the app has just about every choice you would want in a robust calendar app.
Finally, the app is fast with a 2.5 second load time making it an easy replacement for your built calendar. It's sprightly and nimble, just as a calendar app should be.
We'll be doing a full review of Chronos Calendar in the coming weeks but for now, just go and get it yourself. It's completely free with no ads, which you will realize is mind boggling after you try it.
Pick it up here in the Store for Windows Phone 7.x and 8 devices. Highly Recommended. Thanks, Mattias H., for the tip!
Daniel Rubino is the Editor-in-chief of Windows Central, head reviewer, podcast co-host, and analyst. He has been here covering Microsoft since 2007 when this site was called WMExperts (and later Windows Phone Central). His interests include Windows, Microsoft Surface, laptops, next-gen computing, and for some reason, watches. Before all this tech stuff, he worked on a Ph.D. in linguistics and ran the projectors at movie theaters, which has done absolutely nothing for his career.
Using this one and think it's just great :)

But doesn't work with Exchange...so, nonstarter.

Not directly it doesn't. If you sync your phone's native calendar with exchange and then use the option in Chronos calendar that utilizes the "Built-in Windows Calendar," you'll be able to see it.

Chronos won't sync my private appointments from Exchange via the built-in Windows Calendar workaround.
All others including recurring non-private do show up.
What do I need to change to also see those?
If not all show up it'll not be a real solution for me.
I mainly use Chronos for the week-view, the built in calendar's month view is absolutely not good for anything.
You just cannot see anything, that is a real drag.
Thanks - lowrider

I can't seem to schedule recurring appointments. Suggestions anyone?

Will it blend? hehe seriously does it integrates with outlook.com? :)

Regards

Can't find it on WP8 ...?

Did you use our links? As evidenced by the photo above, it's running on WP8 just beautifully.

Yeah, doesn't work. Just figured out why. In Sweden the app is named "Almanakan" so I have it now, and its wonderful. I believe the developer to be Swedish so maybe that's the naming change. It says Chronos Almanakan when it starts up. "Almanacka" ITS spelled in Swedish. :-)

Is the 2.5 second load time for WP8 too? Opens relatively fast on my Omnia 7, but would be hoping that the Snapdragon S4 is enabling some near-instant load times for apps.

The load speed is around 1,5-2,5sec with Lumia 920 but its still very much worth the wait


Press search, press vision icon at bottom, point at QR code on screen, download. Works everytime.

60% of the time, it works all the time.

I'm gonna be honest with you that smells like pure Gasoline...

This is great because the calender view in windows phone 7.8 still is ugly with tiny fonts.

Yep. I wonder that if Microsoft have their brain when making such a small font calendar...
Window Phone is great but it has some stupid shortcomings...

The thing is, the tiny font on the calendar isn't even the information about the actual appointments. It's latin. I read somewhere that they're just place holders to tell you that you have something scheduled that day.They're not meant to actually be read

Does this not sync with Exchange?

Looks great, but I cannot seem to sync with Exchange. Of course, follow up should be, do i want to? Any security problems anyone is aware of for relying on third party app?

It syncs with Exchange as read only.

Read only...but if they found a way around that this would be an incredible calendar app...

Read/write sync with Exchange would make this a must have app for me; the layout and appearance are so much better than the stock calendar app.

Same here, will use this great app when it syncs fully with exchange!

Agreed. It Is beautiful, but I have to be able to fully synch with Exchange.

Any good calendar apps for multiple google calendar support?

I want to know this, too.

It's ugly, but it works. Thanks so much!

I was able to sync to all my google calendars using this app.

I exchanged Google for Bing years ago.

Beautiful. Should be a, Outlook.com commercial.

Wow, I completely didn't know that this app existed. It's fantastic.

Simply stunning app. Period.

May I just say that this app is designed absolutely beautifully. Sure it's not fully "metro" but it looks right at home on my Lumia. I love the attention to detail and the tastefulness of the color palette. The animations are smooth and the app just feels super polished.
I feel like we're on the brink of good things app wise as developers become more and more comfy with developing apps for Windows Phone. I'm dissapointed that the app is free because I would gladly pay for this level of design.
Well done

Totally agree. As you say, it's not very metro, and that's the only thing that disappoints me. And it's a very minor gripe! But the level of attention to detail is stunning.

This is one beautiful app. Didn't know it existed, definitely would've paid for it. Thx.

Have been using it for last two months , Awesome app and it updates frequently.

Very nice app. Much better than the stock calendar

What's does this app do better than the native app?

1) Beautiful Tile , tile customization.
2) Week View

Above two is what I always wanted from a native app so it does everything I wanted in a calendar app.

Monthly view is great, the live tile is better and detailed filters for what shows up or not.

1. great month view
2. Live Tile shows multiple events and your can filter how many
3. customization of Live Tile for color accent or photo. Allows the calendar to stand out in a screen filled with many apps.

In addition to what the above posters mentioned, it can also search for events and notes.

I've replaced the native calendar with this one in my home screen. There are some few features I wish existed but I love it. I definitely like it more than the native calendar.

Useful. Wish they would get rid of the nasty Applesque shading though. Also claims my 920 does not support some tile features - wtf?

Fantastic app but I agree about the Applesque shading. With a few small changes it could be given a more flat metro look. The live tile is amazing though.

What's in it for the developer? Free....and no Ads. Where's the payoff?

I ask myself that question about other apps as well. I use this app but I don't get how he makes a living. Also, for some reason I get worried when I see this. For some reason I think the developer is getting customers info somehow and selling. I'm sure I'm 110% wrong though.

I put no ads in my app. I do it because 1) Its kinda a pain to set up, especially if you don't pay taxes (I'm underage) and 2) I just do it as a hobby and want to improve the Windows Phone app store.

You...are awesome...beautiful app!

Oh no, I'm not the developer of this app, I just wanted to share why I didn't put ads in my app. Maybe he/she had similar reasons as to why he didn't put ads in his/hers

Ha. That was classic. I can't stop laughing now.

Would you have an instruction manual for this program available. It's very intuitive in some areas but not so in others. A simple setup guide would be great. If available, please post link here.

You are a credit to the WP Devs my friend. The WP community should thank you for this beautiful app. Takes away the shortcomings of the MS built in calendar.

He's not the developer of this app.

So sweet! Thanks for the heads up. It is replacing my native app!

This how everyone should do live tiles! Finally something living up to the potential. Even Microsoft apps have pretty useless tiles. Too bad there is no Facebook event support.

I will never use a third party calendar until this is supported. Almost all my private event invitations is on fb.

but does it have week view?!

Yes it does. Well sort of, it has a list view that fits a week on the screen. But not a list view in the same sense as the default calendar but...
Oh nevermind. Just try it. I'll you this much, this is the calendar I use and I demand week view from a smart phone calendar.

The one feature this app is missing is the ability to create appointments or tasks that take place every 3rd of the month, 2nd Wednesday of the month, or something similar to this. I hope its there and I'm just missing it. Also, more Gmail calendar support and exchange for the people that need it. I don't but I'm sure many do.

Wow I actually just noticed that when you hit the main icon in the front screen to create appointments, it takes you to the native calendar which lets you do the repeat events feature I was looking for. This is definitely replacing the built in calendar. Highly recommended.

Can you help me again finding this feature?
I do not understand how to repeat appointments every Friday of the week or something similar.


Click the main button on the bottom, the middle one. Then "add appointment" it will take you to the default calendar which lets you repeat appointments from there. Remember to scroll to the bottom and click "more details" once you're in the default calendar view.

Can you help me too !? I want to repeat events week by week.But when I click the bottom, middle button, only 3 items(Today, Reset Filter, Sync) appear.Can't find add add 'appointment' there. Did I click the wrong button!? Please teach me how to use it. (>_<)

Very nice app. Though I'm having no issues with the native one.