City Dodge Review - a fast paced, crushing good Windows Phone game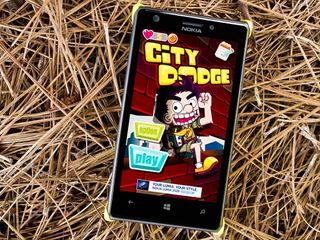 City Dodge is a rather unique Windows Phone game where you race back and forth on the screen, hoping to avoid getting pancaked by a collapsing ceiling. The game increases in speed, difficulty and you play until your character gets crushed by the ceiling.
You have hints, magnet and other boosts to collect to enhance your chances of survival and side missions to help the game from getting stale. City Dodge is a fast-paced game that has a certain amount of appeal to it. I can see it being a good choice when you are looking for something different to pass the time with but I'm not sure City Dodge could hold up to longer gaming sessions.
Game Layout
The main menu for City Dodge tosses out options to play the game and access the game's settings. Settings include two gaming control options, access to the help screen, sound/music controls, as well as links to send the developer feedback and rate the game in the Windows Phone Store.
Gaming controls come in two varieties. You have the two-button layout that you use to move your character from side to side and a single button that you swipe at to move your character. I'm not a fan of the single button and found the dual buttons more responsive.
City Dodge currently has five gaming scenes that include New York City, Paris, Paris (crazy/expert mode), India and Ancient Egypt. The New York City scene is the only scene available as you begin the game. The Help Section doesn't mention this but it appears the additional scenes are unlocked if you collect puzzle pieces or you can unlock them through in-app purchases.
At the top of the scene selection screen, you will find your energy levels, coin count and a trophy that will send you the online leaderboard. Each game of City Stage will burn one energy point with points being replenished over time or your can spend coins to buy energy points. You begin the game with 500 coins and should you need more they are available through in-app purchase.
Game Play
The object of City Dodge is to position your player in a safe spot on the screen. The ceiling is about to collapse and there is a doorway that will provide your character a safe spot to survive the collapse.
At the top of the gaming screen is your score, a bonus meter that will generate lanes on the screen (more on this in a second) and a pause button. Along the bottom of the screen, you have your movement controls and any bonus items that are available. You have a magnet that will pull any bonus items that appear to you; a light bulb (hint bonus) that will move you to the doorway; and a green fist that will grab enemies and take you to the door.
You also have gifts for bonus points and a heart that can be used to save you (a mulligan of sorts) should you get crushed.
As far as the lanes are concerned, this bonus feature will create vertical lines on the screen to better identify your safe haven. This bonus can come available as you play the game and survive (meter will turn green) or you can spend coins to use this bonus. The lanes do help gauge your movements, especially when the pace of the game increases.
Speaking of which, when you first start playing City Dodge the ceiling shakes for a couple of seconds, giving you a warning or delaying it's fall. When it resets, the doorway is in a different position and you have a few seconds to move to the new safety spot. The further you progress, the shorter this delay becomes. Additionally, the floor of the game area becomes irregular making it difficult to judge where your doorway is.
To help keep the game fresh, you also have missions to pursue. These missions have goals such as pass level ten in the game or use the hint bonus three times in a game. Successfully complete a mission and you'll earn bonus items or have items unlocked.
Overall Impression
City Dodge is a challenging arcade styled game for Windows Phone 8 and 7.x devices. While the game sounds easy moving a character side to side and avoiding getting crushed, you may be surprised how difficult this game can be. If you overshoot the safe spot just slightly, you may not have enough time to recover before the ceiling comes falling down.
While the game does require energy units to play, if you aren't a fan of in-app purchases, energy is replenished automatically (one unit, every five minutes). This isn't necessarily a bad thing in that you have to pace your game play and avoid getting burned out on the game too quickly. Still… I wouldn't mind seeing an option to earn coins during game play.
Overall, City Dodge may not be strong enough to hold up to marathon gaming sessions but the Windows Phone game isn't a bad option to consider for shorter bits of time. Graphics are nice, game play challenging and City Dodge has a certain level of appeal making it a nice addition to the Windows Phone gaming library.
City Dodge - Windows Phone 8 and 7.x - Free - Store Link
Windows Central Newsletter
Get the best of Windows Central in your inbox, every day!
George is the Reviews Editor at Windows Central, concentrating on Windows 10 PC and Mobile apps. He's been a supporter of the platform since the days of Windows CE and uses his current Windows 10 Mobile phone daily to keep up with life and enjoy a game during down time.
I love this game! Gonna redownload...

Actually a funny game... The game offers India.. My country love the game for that aspect and well it's not bad trying it

R we going to get another update of the OS b4 cyan rolls out for everyone. Coz there are still bugs like
In notification centre
The visual bugs
Lag while returning to the home screen from closing apps.
Battery life

Long explanation here. Scroll to the bottom to see the short answer. LDR's, which are Limited Distribution Releases, comprise mainly of bug fixes, come out anywhere from every week to every three weeks. GDR's, or General Distribution Relaxes Releases, come out around every three months. Lumia Cyan SHOULD, and I don't know here for sure, come out in about three months.
So yes, we should get another update.

Somehow, so many devs supporting WP 7.x this month.

They may support u to buy a WP 8

Wonder why it doesn't have the AE prefix.

I had this game for a while played it for about two weeks but something about made me bored. It felt like the same thing over and over again. I guess this game is just not for me.