'CloudFiles': finally a good, nay great DropBox client for Windows Mobile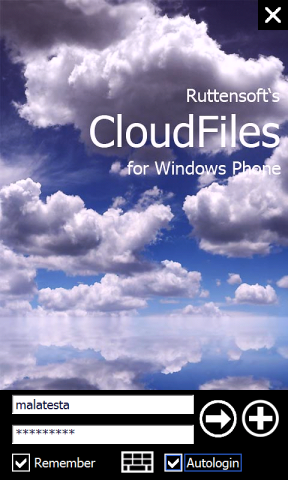 As we move into the future of cloud computing, online storage and retrieval is becoming more and more important.
Dropbox is a popular free file hosting site which offers 2gb of storage (and up to 100gb for paying customers). Like other services e.g. SugarSync, they offer a desktop client which allows drag-n-drop from your computer to the cloud.
The iPhone, Android, BlackBerry (soon) and even the iPad all have "official" clients from Dropbox themselves but alas Windows Mobile and WebOS are absent. Luckily Ruttensoft has stepped up to the plate to make their own client and truth be told, we're 90% sure they did a better job than what Dropbox could have managed.
If you're looking for a solution to cloud-based storage and management on your Windows phone, look no further. Read more after the jump for our review of CloudFiles.
First thing to note about CloudFiles is that it is in beta (0.7 was used for this article) albeit a late stage, meaning at this point we have a very good idea about how good it is plus it is nearly feature complete.
Second is that these betas "expire" and the reason for that is yes, CloudFiles will be a pay app. Clearly this is a downside to non-official programs from 3rd party developers. On the other hand, once you run CloudFiles and you see the detail and elegance that the author has instilled in the coding, you won't think twice about forking over some dollars (assuming they price it less than $10).
Seriously, the app is that good. When people want to see what Windows phones are capable of doing or showing off the UI, this app comes to mind. Part of that is that Ruttensoft has taking key UI designs from Windows Phone 7 and darn it all, it sure looks nice. We also hope this means Ruttensoft will carry over the program to WP7 (and pre-purchased licenses?) to our new baby OS.
On to the app...
Here are the main features (so far) of CloudFiles:
Browse through your Dropbox Files and Folders
Create/Delete/Move/Copy Folders
Delete/Move/Copy Files
See properties of a file (Name, Folder, Size & Last modified)
Upload a new file
Upload a whole folder (!)
Download a file
Download a whole folder (!)
Create a new Text note using the builtin text editor
Edit text-files within the application, it will directly be saved to your Dropbox account
Edit all other file types in your favorite Windows Mobile App, afterwards reupload it to your Dropbox account with one click!
Share your files by sending a link per Email
==> All files using a 30-day-expiration link
==> Move/Copy a file to the public folder and then share it with one click
Share your files by sending the file as Email Attachment (Downloading it to the device first)
Create folder favorites to quickly browse to them
See your Dropbox Account informations (Username, ID, Space used/Free)
Lots of file type's are skinned in the list
Autorotation of the app (if supported)
Landscape & Portrait-Support
All Touch Screen Devices supported from WM 6.0+, might work on WM 5.0 too.
Shoot & Upload pictures with one click (!). It will be stored with continuous numbers (SomeName001, SomeName002) directly in your gallery!
Bit.ly support for short share links (using your own Bit.ly-Account)
Create a new Dropbox account (new in v0.7)
And lots more
Catch all of that? There is basically nothing CloudFiles cannot do that your desktop client can. For version 0.8 (coming next week), they are also adding "retry up/download for failed files".
Overall, the app works as advertised with an easy to navigate UI, responsive actions and lets be frank, it's just nice to look at. There are still some little bugs here and there, for instance if left running in the background, the connection to the server will die off and when it tries to reconnect the app may crash (it relies on .NET CF). Also on my LG eXpo, the launch camera/direct post feature returned a "No camera hardware" error and disabled my ambient-light control.
Sharing files with others is easy as you can email the file to anyone. It will download and auto-attach the file or send the public link in a configurable email template. You can also just download the file, edit it directly, copy it or delete. Uploading is also easy with just a simple menu select, you can even overwrite existing files with newer versions (it thankfully prompts you).
What else to say? The program is a perfect solution for Dropbox users and if you are not one, this should sway you to look at it as a viable alternative to whatever it is you currently do to save those valuable photos, .cab files, documents or whatever you want.
What about Microsoft's Mesh? While an excellent desktop client exists, the mobile version pales in comparison to CloudFiles in terms of direct features and options. We do hope Microsoft does not forget about Mesh in Windows Phone 7 because for now, we find Dropbox/CloudFiles a much more robust and powerful solution.
We'll revisit this program once it goes official 1.0 and see if the pricing is as great as the app itself. For now, you can download it right here.
Windows Central Newsletter
Get the best of Windows Central in your inbox, every day!
George is the Reviews Editor at Windows Central, concentrating on Windows 10 PC and Mobile apps. He's been a supporter of the platform since the days of Windows CE and uses his current Windows 10 Mobile phone daily to keep up with life and enjoy a game during down time.
Microsoft offers Live Mesh for free though it doesn't have all the features this does.

Yes, Live Mesh may have less features now, but its free and you get 5GB storage, and if things go as they seem to be pointing, this will be rolled into skydrive where you will get 25GB free, possibly more or increasing as needed. This may be of value to some but I wouldnt pay for this service.

Yea I'll be sticking with Live Mesh...

Depends what your needs are. For myself, Mesh is kind of useless since there's no easy way (that I know of) to publicly share files/folders. With Dropbox, you can create a public-link for any file and others can download--it's how I distribute my ROMs or even files that I've posted here on WMExperts. Plus I can drop files in other people's dropbox, which is very convenient.

I suppose the sharing functionality will come when (?) they link Mesh with Skydrive.

Cool app!All the features and functioning looks nice.But does this app compatible with the other smart phones too?