Cortana going to the Brit Awards with Clean Bandit in latest Microsoft UK ad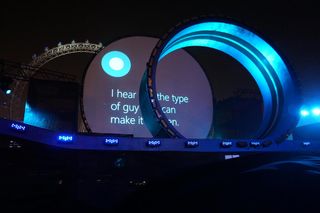 The Brit Awards is one of the biggest nights in the UK music industry and Cortana will be going with the Grammy winning act, Clean Bandit. Microsoft UK's latest ad sees the group putting Cortana to work ahead of the big night, including reminding Grace not to dance on any tables.
Oh, and Cortana will be wearing a phone down the red carpet. Of course.
Check it out in the video up top.
Thanks to everyone who tipped us!
Richard Devine is an Editor at Windows Central. A former Project Manager and long-term tech addict, he joined Mobile Nations in 2011 and has been found on Android Central and iMore as well as Windows Central. Currently you'll find him covering all manner of PC hardware and gaming, and you can follow him on Twitter and Instagram.
We love you Cortana, waiting for you here in Saudi Arabia!!

Cortana is awesome!!! You guys might like my Cortana Fan -Fiction "Movie" - Cortana Lives - "The Untold Story." We've heard Microsoft's version of how Cortana came to Windows. Here's Cortana's: https://m.youtube.com/watch?v=iQknywYZ2_g https://jltechword.wordpress.com/2014/11/04/cortana-lives-halos-heroines...

I like your video, it could be better, some texts are hard to read, I suggest you creating a PDF story

India :D
no alpha beta theta

Alpha "beta" theta..learn ye dead languages properly!

Well done! You did a great job.
Corrected now :P

Good man. See, and no one got nasty... That's the way it should be.

When did Greek die? Learn THY dead languages properly :)

The thought occurred to me after the fact, no one mentioned it for hours...so I let it go. Bravo, to you.

I'm using Cortana US. If she comes in Saudi, hmmm... Mafi maloom al arabie. Hehehe

I'm pretty sure she's coming, and she will speak Arabic, Skype translator supports Arabic, do there's voice recognition engine

What is Skype translator..?

I like this ad lots. Best one so far!

Come to Svenska också plz.

Clean Bandit - Telephone Banking.
Love that song!
I'm also amazed how controversial the video is for 'Come Over'. Apparently Clean Bandit used a Muslim call to prayer in the opening part of the video...which is a bad thing apparently. Personally, I think it's just some beautiful cinematography from Morocco - and is a nice advert for the country and its people.
Then again, I applaud the likes of Richard Dawkins and Doug Stanhope - so the nuances of religions will never make much sense to me!
Long story short - Clean Bandit are a superb band. Good tie up MS.

If you want to see something boarderline with Arabs you should see the new PaddyPower ad, it shows a football team that's been bought by an Arab, who has changed the uniform into traditional arab dress, so all the footballers come running out tripping over their sandals and long outfits. Little offensive I thought.

Maybe Arabs thought it was comical, not borderline. Then again, why Arab? They might be Persian, or some other species.

Well, that Muslim calls of prayer it's not really that bad I think. It just sounds beautiful. An ancient tradition comes alive... lol

Same here. It is beautiful... Reading the Youtube comments though, you'd think they'd just desecrated the Koran or something. I think it's a beautiful celebration of something that I personally would probably never likely see or hear. Aaah, some day the people in this world will grow up and realise that there have been thousands of deities and hundreds of religions in the past, and that the ones we have today are just different representations of the same thing. Christians, Jews, Muslims....is there really a difference?! Whatever the case, Clean Bandit are all good :)

Bubblegum music is good.... ROFLMAO another no name pos band made in the noughties!!!

ROFLMAO?
How old?!
I wouldn't expect someone that uses such silly abbreviations to have much of an open mind when it comes to music. ;)

finally.. a really nice ad from Microsoft.. loved it! :D

That voice doesn't sound like Cortana. Do they use someone different for the UK?

Yes, we get a posh British voice. Annoyed me at first as I wanted Jen Taylor, but no biggie as I'll get an even more different voice once Cortana comes to Japan.

I'd prefer it if she was a man like the British Siri. I like using her but I find her voice irritating so I tend to type all my requests.

Blasphemy!
Cortana with a male voice ... Is just wrong lol lol. Maybe master chief for those who prefer that. Can't have Jarvis as they don't have rights to that and will prove to be cost prohibitive.

Jarvis...good alternative. Then again, remember that robot from the 50's sci fi television series....very primitive looking, round, bubble head...what was that fuckers name?

DANGER! WILL ROBINSON DANGER DANGER! That one?

Not sure....he rolled about, was cylindrical, and had a glass covered dome.
I'm sure that description narrows it down, lol

KITT from Knight Rider will do.

Well, a posh English voice.

I know it don't belong here but wanna tell the wpcentral writers that Lumia 720 got updated in india

Tip them by using Tip Us :)

Don't know where is that I am new to this

I could beat an ATT executive with my sandal for not releasing anything denim.

And that's when I think I am blessed that there are only cv phones here :P

Cortana will become #1 only when she becomes available worldwide!

Is there really a ranking system for assistants...I think they go by phone sells/activations

Ah, the Brit Awards.... The Award show that screwed Depeche Mode for lifetime outstanding Achievement award. And when they finally decided to to give it to them, they didn't want them to be aired on Live TV receiving the award. It got the band pissed off and told the The Brits staff to shove the award up their arse.

what seriously? that's so funny Depeche mode just telling them to shove off haha

Depeche Mode should be in this not some no name teeny bopper crap band like these fools.

What a f%%%ing fail! Promoting shazam in a Cortana ad, when it is eaxctly what Cortana can do? Detect music, built in! All of these internal f%%% ups from MS, i just sooo stupid! I'm sorry but it is!

Obviously not everyone has a windows phone, so allowing someone with shazam (available on every platform) to identify the ad grows the reach of the audience and who actually has access to finding out more information from the commercial.

Point exactly! So why confuse people telling them that they have to bother with an app when they can do it just like that!

Jeez man. Maybe you should calm your tits.

Just because you have tits, doesn't mean that everyone else has ;) He he.... I'm calm! :)

Maybe when you shazam the ad it gives you a popup telling you she can do it built in, (albeit not as well). But then as all the digital assistance can do it, its not really a feature worth promoting.

the shazaam plug was to identify the song in the ad you muppet

Well.... Thats what Cortana can do! Built in, without having to even install Shazaam. ;)

Never heard of Clean Bandit, but its good to see Cortana getting more exposure. :)

You're not missing anything. Bubblegum shit.

Ahh, I see. Thanks for letting me know. :D

No Jen Taylor in the UK though! Wish we had the choice.

When'll the official version pic of Cortana come to India ???

We all know 'wen' its coming to India and you dont so we wont tell you -_-

That is weird to hear Cortana as someone other than Jen Taylor. Very strange.

wait, Jen Taylor was that you ?! That's not the voice of cortana. Who did British voice?

Now that is a good ad. Microsoft really could learn from its own international branches

Does anyone else here use Cortana and share your usage info just because you want Cortana to keep "learning"?

It would be nice if we had an option to have Jen Taylor as Cortana in the UK.

Yup.... Still can't stand the British "accent"....

Technically, I think you'll find you're the one with the "accent". ;)

Idk but does clean bandit rely use windows phone

These Cortana adverts are pretty stupid. As we all know that Cortana does not engage in conversational narrative. The sickening misrepresentation in Joe Belefoir Cortana demos is getting nauseating.
Windows Central Newsletter
Get the best of Windows Central in in your inbox, every day!
Thank you for signing up to Windows Central. You will receive a verification email shortly.
There was a problem. Please refresh the page and try again.