Cortana will now help you celebrate holidays with special greetings, games, and more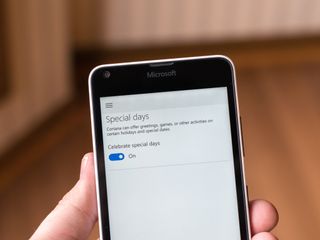 In time for the holidays, Cortana has gotten a little more festive, adding a new setting for "special days". The virtual assistant can now help you celebrate holidays and other important dates with special greetings, games, and more.
In Cortana's Notebook, you can now scroll down to find the new Special Days section. Head there to turn on the assistant's ability to mark special occasions, then tap the save button, and you're all set. This feature should be available to all Windows Phone users now.
Thanks to David for the tip
I have the option in India(haven't changed the country or language). Go to Notebooks and scroll down to Special Days.

Unless its part of Donald Trumps idea of indexing everyone's religious beliefs!

Naw, this is perfect for the dysfunctional American society we currently live in. Not a Trump thang.

Yaa...dark theme looks cool

That white patch looks like cortana is suffering from leucoderma

Not seeing this option on my WP8.1 - but I do see it on desktop.

May be only for windows 10 devices...

Explains why I can't find it.

ATTENTION. TRY THIS EVERYONE --- ASK CORTANA TO "PLAY A GAME" AND WATCH WHAT SHE DOES. ITS COOL. SHE PLAYS TRIVIA WITH YOU OFF THE INTERNET :) GOOD STUFF

She can also offer you suggestions about where you could get that capslock key fixed ;-)

Now say to Cortana merry Christmas lol

I dint understand why Cortana is different when you tap Search button Vs. open Cortana tile

It was kind of briefly explained by Daniel last year http://m.windowscentral.com/why-pin-cortana-to-your-start-screen

Was "Reservations" there before too?

Yeah. I was wondering the same thing.

Us only ofc, dont even know Cortana. We sure got a long way to go in Europe. America will never succeed but happy for their W10M users that are getting spoiled with lots of extra features compared to users in Europe. Liking W10M anyhow despite lack of top features like cortana. FFS ios and android users even got cortana.

WP used to have healthy market share in Europe. Not anymore thanks Nadella.

I have only one question for Cortana, when will release Windows 10 mobile??? :D

It's already in my pocket.

586.17 is in pre-Insider testing right now.

586.29 was released yesterday. Where are you? Mars?

What makes a special occasion ?

No options except news and weather. Is it US only?

When I say Merry Christmas to Cortana (I'm using a Lumia 830 with WP8.1), she says Merry Christmas too! I'm from the UK.

Not US only, I've got it in the UK

Release it for Mexico!!!!! What are they waiting for?

The other morning I noticed huge improvement in Cortana's summary page. (Tap the Search button and wait a second or two.) She had my estimated ETA to work, my morning appointments (not just my ongoing two-week long event), weather, and top new stories for all my interests. Before then, most of that didn't show.

Maybe WC should mention that on the 950 Cortana currently only works in the settings for the country where the phone was bought. For example: If you buy a 950 in France or England you can't use Cortana in German. Downloading the additional language files doesn't work on the 950 due to a bug.

Its not a 950 bug. Its a well known bug for the past 4 builds now. And its not the only thing thats not working. Its nice to see that even the released build of windows 10 mobile ( same as the insider preview build ) isnt optimized. Sad.

I am starting to wonder when the whole world has cortana,

I hate how quiet hours and music listening (shazam feat) is intergraded to Cortana now, considering its not available in my country :(

I don't have this so it's US only.

Will Cortana Celebrate Ramadhan ?

Haha my cortana ( lumia 1520/ win 10 ) isnt working. Great ******* job microsoft.

Must be Windows 10 Mobile only. Dont see it on my L822 with 8.1

Yeah, it's not available to all windows phones, as per usual.

Dear windows team, we seriosly need cortana in Africa!

Not in India I guess as I am not able to see :(

I can't see a way to teaching Cortana when my birthday or other important dates? Anyone have idea how to do this? Would be super cool if Cortana could sing Happy Birthday to me on my birthday!!!
Windows Central Newsletter
Thank you for signing up to Windows Central. You will receive a verification email shortly.
There was a problem. Please refresh the page and try again.