Could Instagram come officially to Windows Phone before Android?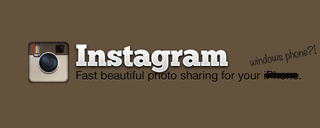 Although we have wait on the fate of Metrogram, the unofficial Instagram client for Windows Phone announced this past weekend, FastCompany is citing an unnamed source that Microsoft may have worked out a deal with the developers behind Instagram for an official, certified Windows Phone version. For those not familiar, Instagram is a extremely popular photo sharing app with kitsch filters on iOS. Instagram have acknowledged that they're working on an Android version, but now we're learning that Windows Phone may get it first.
Windows Phone boasts Metro UI which has been positively received by most and is a unique experience available on a mobile platform. This, added with the quick camera functionality and consistent quality across hardware, will ensure that an Instagram app would look (and feel) fantastic. Even though Windows Phone is still picking up steam with market share, Android suffers from fragmentation which could have a negative impact on the user experience.
Instagram would be a worthy addition to the Marketplace, a popular app that many smartphone owners on a competitive platform use, and the software giant is looking to spend to get the apps people want.
Source: FastCompany; thanks Lucas for the heads up! For more info on Instagram, check our iMore's coverage.
Rich Edmonds is Senior Editor of PC hardware at Windows Central, covering everything related to PC components and NAS. He's been involved in technology for more than a decade and knows a thing or two about the magic inside a PC chassis. You can follow him over on Twitter at @RichEdmonds.
I sure hope this happens.

Nice to hear that. Hopefully it won't take long to appear on the Marketplace.

I find it hard to believe - they don't even have iPad version yet, and that's much easier to develop than a whole new port.

Could be because the iPad's camera is so terrible. Don't underestimate MS throwing money at a company to get an app made--we've heard they're doing this even more so for some big apps in first half of 2012

iPad 2's camera is all right I think. I don't see much difference compared to my Omnia 7.
I do hope that Microsoft is actually doing this! I love Instagram.

Its not. The iPad 2 is the same lens they use in the iPod Touch. Its a terrible mess (I have one & make it a point to NEVER use it besides during video calls).

To be honest I never used it for anything other than Skype :-)

i doubt that the issue is the quality, but more like the practicality. can you imagine everyone holding up ipads to take instagram pictures? you look stupid doing that on a regular basis.

How about browsing and social features of Instagram? I'd quite like to be able to view photos in a big screen - and right now I have to use third-party app for that.
Also with iCloud photo stream most photos from my phone are on my iPad anyway.

I would never use such a useless application, but it's good for the WP7 ecosystem as a whole.

if you've ever posted photos to facebook or twitter, it's not useless.

I actually despise Instagram with a passion but the idea of us sniping such a high profile app before Android makes me really happy.

@Solidstate89 and @KeegdnaB42: I agree that this is good news for the platform as a whole.

So, does any one have an idea on why a deal would need to be worked out between the developers and Microsoft? Why isn't it as simple as the developer deciding to port their app? Instead, Microsoft has to get involved? Does this mean that Microsoft has to pay them?

Sorry for all the questions.

Because due to lower popularity of Windows Phone the developers are not interesting in porting app on their own.

well... im going to say developers are bad bad people and im one of them lol (i only make wp7 apps, so i guess if i hit big time i can be considered a bad bad dev for not making stuff for other OS lol)

What does this bring to the table?
Really... we already have the best photosharing features built right into skydrive. If I want to play with photos, we already have Photofunia which does an excellent job of playing with photos.

I cant se what this adds that we already dont have. Anyone who can give me a clue?

It adds an app that WP didn't have before. An app that has a following. Not implying one app is gonna cause a mass exodus from iOS to WP. But it closes that gap in schism that exist for some on why they won't at least entertain switching. And you can rattle off a million like apps. If that made a difference to anyone, they would just use the alternatives anyways. So like some said, whatever makes the "WP doesn't have the all the apps and games" argument more and more invalid is good for the product

And what might work for you may not be what others might care for.

its filters and editing capabilities far exceed any exisiting photo/camera app for WP

I never fully understood the purpose of this app. I hate viewing instagram pictures on facebook, posted by someone using insta-gram. You see a thumbnail and you click on the picture to view and what does it do??? Take you to another website. Why ?? Why do i need to now visit another website to view the full resolution of the picture. And the website sucks. Tons of space surrounding one picture. Do we really need a whole new web page and website to view one picture??? Seems really redundant to me. But i guess that fits in fine with isheep.
Sorta like siri. I'm going to pick up my phone, unlock it, press a hardware button, and ask a stupid question like "what's my schedule for today...' Siri should say, ' i don't know you're only one click away from viewing the freakin calendar yourself. You're already holding the phone and you've already make 2-3 actions on the phone to get to siri, so why not just go one further and click the freaking calendar icon as see for yourself"...
I can't stand Apple idiots and i certainly don't want any of their technologies incorporated into my Windows Phone.
Move along to copy-cat Android Instagram...

What a pointless misinformed rant!
Instagram is not a product of Apple, and it is mostly a social 'stylish' photography website. It works exactly like most other photo website - Flickr, etc. It is a nice small app and if you don't like - just ignore it!

I want this app to come :)

Checking to see if I can post from my phone.

Dear everyone,
It's not just an app, it's a social network in its own right. Users upload most of their photos soley to the actual instagram app and don't publish them to twitter, facebook, tumblr or flickr. You follow people, you have followers, you "like" photos and you can comment on them.
It's not one of the top iphone apps because it's a camera app, it's one of the top iphone apps because it's an exclusive social network that you can only access via an iphone or ipod touch. Brands use it to upload photos of exclusive discounts and advertise in other ways. That's how big it is. That's how much people use the app to browse photos, not just to tweak them and upload them to twitter or facebook.
There are also at least 5 web-based viewers which allow you to merely view photos on instagram and comment on them. So once again, you don't just access these photos via twitter and facebook links.
So this is a big deal for WP.

Calm down. It sounds like you're breathlessly describing the cure for cancer.

just bored at work and an actual instagram user. easy to get the two confused, i'm sure.

Looks like android got it first
https://www.windowscentral.com/e?link=https2F2F...
Windows Central Newsletter
Thank you for signing up to Windows Central. You will receive a verification email shortly.
There was a problem. Please refresh the page and try again.