Create your own comic strips with Comic IT, today's AdDuplex HERO App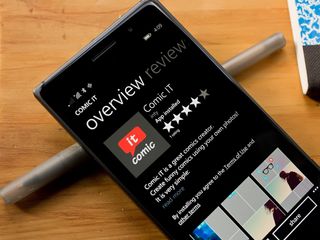 Comic IT is a Windows Phone photography app that offers you the chance to tap into your creative juices to build photo collages and give it a comic book touch. The app also closes out this month's AdDuplex HERO App collection.
The HERO Apps program is a promotional campaign for Windows Phone and Windows developers on the AdDuplex Network and partners AdDuplex with myAppFree, AppDeals, PluralSight and Windows Central to deliver a host of benefits to the top apps and games each month. Our role in the HERO App campaign is to offer a little exposure to these titles by sharing them with you, our readers, throughout the month.
Comic IT opens up with an opportunity to run through a tutorial on how to create your comic book collages. You can always skip the tutorial and go at it from scratch. Should you need to re-visit the tutorial, a help button is hidden under the three-dot menu at the bottom of the main pages.
Comic IT is broken down into three areas of creativity of modes. They include:
The Layout Mode is where you choose how many image frames you want in your collage. Comic IT has seven layout styles ranging from one photo to five. To add a photo to your creation, tap the image button in the upper right corner of each frame. You can also flip the image if needed.
The Stickers Mode is where you can add an assortment of mustaches, glasses, hats and masks to your images.
The Bubbles Mode where you can add text banners or conversation bubbles to your images.
Stickers and Bubbles can be moved around your image as needed, resized, rotated and flipped. Sadly, there is only one font option with Comic IT, so all you Comic Sans fans may be disappointed.
The editor treats the Stickers and Bubbles Mode as layers in a manner of speaking, which isn't a big issue but can create a little confusion. The editing progression goes from the Layout Mode to the Stickers Mode to the Bubbles Mode and then you save the image. Should you back up and add a sticker or edit its placement, any text bubbles you create will disappear simply because you are dialing back the layers. Move forward back to the Bubbles Mode and your text re-appears because you are activating that layer.
I don't think this is a deal breaker, but you may scratch your head and wonder where your bubbles vanished. It also makes fine-tuning the placement of your stickers and bubbles a little difficult. Speaking of saving images, from the Lumia 830 they are saved at a resolution of 720 x 1214 at 154 dpi to your Saved Pictures folder.
The only gripe I have with Comic IT deals with the ad-support. Full-screen ads will appear randomly as you work on your comic book collage. I understand the need for ad-support and appreciate developers who choose this option to allow them to offer their apps free. However, ad-support should never detract from the app experience. I am afraid Comic IT's ad-support comes painfully close to being a distraction and definitely disrupts the editing flow.
Nonetheless, Comic IT is a nice creative photo editor to have tucked away on your Windows Phone. You may not use it daily but if the need arises to add a little dialog to your photos, Comic IT should work out nicely.
Download Comic IT from the Windows Phone Store (Free)
AdDuplex HERO Promotion
AdDuplex is a fantastic resource for the cross-promotion of Windows Phone and Windows apps. AdDuplex has launched a new program designed to help developers promote their apps even further with free access to various tools and resources from AdDuplex.
The HERO Apps promotion partners AdDuplex with Windows Central, myAppFree, AppDeals and PluralSight (opens in new tab) to provide additional benefits to the top apps every month that include:
Vouchers to advertise on AdDuplex
One month subscription to Pluralsight Plus
A featured campaign with myAppFree
A featured campaign with AppDeals
A review here on Windows Central
If you are a Windows or Windows Phone developer, you can sign up for the HERO Apps program here at AdDuplex's website. To participate in the program, you will need to apply within thirty days after your app or game has launched on the AdDuplex network.
Windows Central is already partnered with the myAppFree campaign and is proud to be partnering up with AdDuplex with the HERO Apps program. It is another excellent opportunity to help promote both the Windows Phone and Windows platform.
Keep in mind that the HERO Apps are different than what you find with the myAppFree deals. The HERO Apps are free, ad-supported titles that often have the option to remove the ad-support via in-app purchases. The myAppFree deal delivers a paid app or game at a discounted price or for free.
Windows Central Newsletter
Get the best of Windows Central in your inbox, every day!
George is the Reviews Editor at Windows Central, concentrating on Windows 10 PC and Mobile apps. He's been a supporter of the platform since the days of Windows CE and uses his current Windows 10 Mobile phone daily to keep up with life and enjoy a game during down time.
well can we get some free games on the ocassion of Halloween !!

check the myAppfree app...

When an update for Windows Central app?

this app is only okay for me, i've never used one like this before and i was picturing it adding a cell shaded/comic effect to my photos to make it look more comicy but that is not the case. can still make some decent stuff if you are clever enough i guess.

Still not as good as Bitstrips. I hope they jump in with Win 10 as soon as possible :/

The excitement will have passed when we get it. Were a secondary market. Where B actors, and old apps go to retirement.

Sau khi Save ảnh xong thì chất lượng ảnh bị giảm rõ rệt @@

"full of fun....मजेदार है."

George thanks for review an our app :) This is still first version and new releases with new features coming soon. We have a lot of ideas, so Comic IT will be actively maintained in a while.

Talk about too little too Late!!!! I mean where was this when Bit Strips was as popular as Snap Chat, that phase has disappeared like top hats and canes!!!! Good luck to them though, as much as they are late, I still have to Appreciate that they took a chance on Windows Phone!!!! So well done for that!!!!

Cool! This should be entertaining...