Custom ROMs for Verizon Trophy, Sprint Arrive on the horizon with new HSPL tool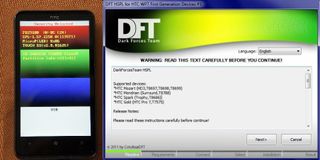 Today's a big day as DFT have released their HSPL RSPL tool version 3 for Windows Phone. Previous versions allowed access to GSM editons of Generation 1 HTC devices which is why they're able to run those custom ROMs that we've reported on previously. This latest version of the HSPL RSPL tool released today now enables support for two CDMA phones: the Verizon Trophy and Sprint Arrive (7 Pro). From the changelog:
Added support for 'SCHU1000' and 'PD291200' MIDs
Removed OTA update inside RSPL and HSPL, this allows to keep HSPL after
HTC OTA Zune update.
Added warning screen about 4.XX and 5.XX
But still NO support for 4.XX and 5.XX
Support for CDMA devices: GoldC and SparkW (Edit: Gold_C is the codename for the Sprint Arrive and Spark_W for the Verizon Trophy)
Wizard UI: only WWE support remains
This tool is the first needed to unlock the bootloader allowing the loading of custom ROMs onto the device. That means "ROM chefs" can now begin the cooking and testing of custom builds, eventually getting to the point where a stable version can be released to the public.
That's good news for those who don't want to wait for the latest build of the OS to get "officially" released (assuming it will even happen). In short, whether Verizon or Sprint officially release 8107 to fix the keyboard, you should be able to load a custom ROM with it in the near future.
Stay tuned for those custom ROMs over the next few weeks as we'll report any that come forth.
Daniel Rubino is the Executive Editor of Windows Central, head reviewer, podcast co-host, and analyst. He has been covering Microsoft here since 2007, back when this site was called WMExperts (and later Windows Phone Central). His interests include Windows, Microsoft Surface, laptops, next-gen computing, and arguing with people on the internet.
This is welcome for those of us stranded on Sprint. Does this effectively unlock the device for homebrew apps?

Not directly, but you can load a cusotm ROM (eventually) which will be super unlocked i.e. homebrew with no count limitations, loading of XAPs via IE9, homebrew Marketplace, etc.

AKA a fully unlocked device(root access after flashing a custom rom) :)

It's Spark_W for the Verizon Trophy....
Wish I could use this on my factory rom to get a full unlock. I really can't nuke my phone unless there is a way to backup Marketplace game saves.....

Already running stock Microsoft 8107 on my VZW Trophy...still nice to see especially with ChevronWP7 out of tokens (forever? indefinitely?) this way you could get a device to run homebrew on without tokens.

How did you get the stock 8107 on your Trophy?

Connect your phone to Zune ? The 8107 came out for the Verizon Trophy about 2-3 weeks ago.

ummm thats simply not true.

8107 is not a big update, only thing it fixes is switching from CDMA to GSM, unless you travel worldwide it's not a big deal. The problem with the Verizon trophy is when you travel overseas and use GSM, it would lose 3G if it came back to the US.
And it's no lie, it came down about 2-3 weeks ago, no noticed changes on the phone

I don't understand why you don't tell about Magladr for Samsung?!

I dumped sprint for the failure to support wp7 they put out the arrive great phone but keyboards are for a select group of folks.and now they say it didn't sell

The update from Verizon last month was not 8107, it was just a radio firmware update. However, the .cab files from MS for 8107 are available and will install with some minimal effort involved. Should be able to find the info on the forums, otherwise I will put the walkthrough I followed on here later (bookmark is on the computer). I did post it in the forum somewhere i believe.

Yes, this is good news, Verizon & Sprint have stuck it to us here in the U.S. for too long, Verizon can't even release the update to fix the keyboard. Lets see if Chefs can cook something up before Apollo. I personally am looking to get away from Verizon but if I can have a fully unlocked Trophy then I might reconsider. : )

Okay here's the guide I used:
http://robertmclaws.com/updating-your-windows-phone-to-8107
Step 9 I didn't need, just went to where I extracted the tool and the cabs and ran the update sender. Took about 15 minutes max, including the backup.

Here is a custom Rom for the arrive
http://forum.xda-developers.com/showthread.php?p=22582351

Sweet. Now how do I get this sucker installed?

Yay! Does that mean that we'll soon see a custom ROM for the Trophy that includes ICS (tethering)? I'm just dying to get my carputer hooked up to some internets.

I now have internet sharing on my arrive and I have more accent colors Yay!!

So, who has a Verizon Rom that offers ICS (Mangos built in Internet sharing, not a 3rd party one) and Root access ????? I need one now !

JodyMaccz. Your HTC Arrive now has internet sharing? Which update process did you follow. Have you tested it? It works?!!

@q21701 yes internet sharing works on the arrive well enough to get a game of CoD MW3 on my Xbox with no lag. I should also say 3G is all the way up at my house.

If you want to do it downgrade to NoDo with this http://forum.xda-developers.com/showthread.php?t=1142120

Then install DFT RSPL/HSPL http://forum.xda-developers.com/showthread.php?t=1195647

Then install this Rom NewTech 8107 http://forum.xda-developers.com/showthread.php?t=1499981

If you want to go back to stock just downgrade with the same NoDO RUU and update with zune and just to let you all know that right now this Rom does not let you play some xbox live games and there seems to be something wron with change prl you can read the thread for more information.

Does anyone have the custom ROM for Verizon? I know there's a test one out there that mwang has released to a few people, but can't get ahold of it.
Windows Central Newsletter
Get the best of Windows Central in in your inbox, every day!
Thank you for signing up to Windows Central. You will receive a verification email shortly.
There was a problem. Please refresh the page and try again.