Darts Match flies into the Windows Phone Store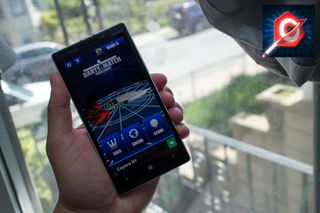 Are you ready for another addictive game for Windows Phone? If so, you should check out Darts Match. This sports/recreation game has originally launched for iOS and Android in March, but the Windows Phone version followed soon after. You can play the game of darts against the computer or your Facebook friends. Head past the break to watch our gameplay video.
Features:
Challenge the computer or your Facebook friends in games of 501, 301, or Around the Clock.
Perfect your throwing arm in practice mode.
Improve your throwing accuracy with a game of around the clock.
Records three-dart averages, checkout percentages, number of games won and total number of 100+, 140+, and 180 scores.
Suggested checkout finishes.
PDC/Unicorn approved dartboard.
Realistic caller and crowd sound effects.
There are three classic games to play: 501, 301, and Around the Clock. With 501 and 301, the goal is to be the first player to reach zero. When it's your turn, swipe up to throw a dart. Throw your darts at the numbered sections to reduce your current score to 0. The outer ring doubles the sections point value, while the middle ring triples the sections point value. Bulls-eye is worth 50 points, while the ring around it is worth 25 points.
It gets a little complicated when you're about to reach zero. When you are within three darts of winning, the winning dart must land on a double or the bulls-eye.
Around the Clock has a different objective. You have to hit each single numbered section in order. Once you have made it from 1 through 20, you must next hit the outer bull and then finally the bulls-eye. The first player to make it to Bull wins the game.
If you need a little help, head over to the practice mode. From there, you can work on your swipes to improve your accuracy. Want a little advice? Try to aim above the bulls-eye. If you miss, at least you have a chance of hitting the section with 20 points instead of 3 points below the bulls-eye. Another tip is to make sure you swipe straight up. This will make sure your darts don't venture too much to the left or right.
The Darts Match store lets you customize the look and style of your darts. There are a lot of options to choose from and they're all free. There are three parts of the dart you can change. These appear to be just for looks, since we don't notice any differences in the way they fly when thrown.
Darts Match is a free download from the Windows Phone Store. There's an ad at the bottom of the screen, but it doesn't get in the way of playing. Currently, there's no option to pay for the removal of the ads. MotionLab, the developers of Darts Match, says phase two of the launch will see the introduction of in app purchases which are likely to include new game modes, alternative darts and a variety of competitive environments.
Is this the best game of darts for Windows Phone? Try it out and let us know in the comments!
Windows Central Newsletter
Get the best of Windows Central in your inbox, every day!
wow, looks like a very well made game, downloading....

24 mb ? As always, windows phone indie games are much bigger than the android versions. (i have a little less space actually, just about a 100mb on phone free, and haven't upgraded to 8.1 yet)

Just one more month if you want the official upgrade :D

I'm in India with a 520. It'd be about 1-1.5 months, i might upgrade when I'd get free from my exams.

Can I download asphalt 7 trailer? It's not available in the store. -#Lumia 520

Oh, come on guys!!! Brazil is a large country foe you developers!! :/

what about the offical cricket game? 3 of each from 15 up to bulls eye? anyone that plays darts has atleast heard of the game cricket. why not this type of game in with this?

I hear that cricket is currently in development and is coming soon ;)

Love it when devs are generous and give away free apps and absolutely NO in-app-purchase! :D And a good quality game too.

Really wanna some kind of darts game. Go check it out first.

Love it keep them coming.

This is easily the best and most realistic darts game I've ever played.