DC Comics pulled from the Windows Phone Store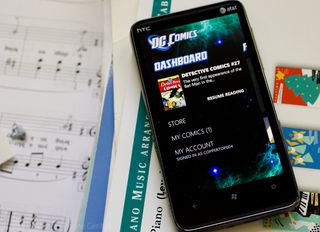 DC Comics was a popular comic reader for our Windows Phones. I say was because Comixology, the driving force behind the DC Comics app, has pulled the app from the Windows Phone Store and will no longer support those of us who still have the app installed on our phones.
Any purchases already made will still be accessible in your Comixology account but after May 1st, the app will no longer support purchasing new content.
Emails were sent out to DC Comics subscribers and while the notification was nice, the only reasoning behind the move was that Microsoft was phasing out the platform. Guess Comixology has never heard of Windows Phone 8.
Thanks, everyone, for the tips on this!
George is the Reviews Editor at Windows Central, concentrating on Windows 10 PC and Mobile apps. He's been a supporter of the platform since the days of Windows CE and uses his current Windows 10 Mobile phone daily to keep up with life and enjoy a game during down time.
wtf? like seriously wtf? I wonder if Google or Apple is paying these developers to do such things. Because reasoning makes no god damn sense.

Both of you think retardedly if that's what you actually think.

If you don't think that apple, google, or even Microsoft is not paying developers to bring apps to only their platform or not bring it to others; then it is you that is retarded

I think using the word "retardedly" is retarded.

Well... yeah. Hello, there's a reason why WP only got DC Comics only to begin with. Its called 'exclusivity' and yes, in cases like this, it sucks. Apple had a deal with Marvel for exclusivity, though I"m not sure if they still have that deal.
So, A> Not retarded. Yet, B> Not exactly some grand corporate conspiracy either.

Agreed!
Not that your retarded but its stupid to pull the app

I wouldn't put it past them.

Lol I remember when I ranted about my Lumia 900 being obsolete before a year was out. Smh. I wonder if they plan on porting it to wp8.... (technically at the most basic it could be as simple as a recompile)

This is what comiXology replied with when I asked them about WP8 app upgrade.
"We'd love to look into WP8 in the future, but right now our WP7 app will be riding off into the sunset!
Thanks for checking in!"

What I don't get is why the rush to get rid of the wp7 app... At least leave it for reading content for 2 or 3 more months!

What makes less sense to me is that I have WP8 and the app works just fine on it. Why pull the plug?!

Anyother pull out from WP applist. Microsoft should not allow these guys to reappear in marketplace once WP got good market share and that's the absolute punishment for them

The Geico app for Windows Phone is no longer working either. pic.twitter.com/wyihgM5eeW

Yep, I found this out the hard way just yesterday. Sigh.

I didn't even know Geico had a Windows Phone app.

I don't even know what to say. Phasing out the platform? Wow, just wow.

Hopefully the WP team at MS steps in and corrects situations like this.

Whoa, now! Don't get crazy!

Ballmer should get crazy, a big galoot like that going off the rails in your face is not something you want to happen.... @_@

Ballmer should show a nipple at Superbowl... When he then has the attention of the whole known world by doing such an outrageous thing, he should show the fantastic WP 8 and the phones to the ignorant masses... ;)
That's marketing...

Hope it shows up in WP 8 store.
This stuff is a drag to hear.

Torrent. j/k. Well... somewhat kidding. Piracy is NEVER an answer or >legit< alternative, but its out there.

Never heard of this app, no big deal to me. Major mainstream apps is what's most important.

Comixology is a major mainstream app. Comixology's Comics app was the #3 top grossing app for the iPad in 2012. The DC comics app was limited because it only allowed you to buy and read DC Comics, but Comics by Comixology allows you to buy and read digital comics from Marvel, DC, Image, IDW, Darkhorse and a number of other major comic book publishers. Many of the comics are released on the same day they come to comic book stores. I hope they pulled this because they're planning to launch a full app instead. All they'd have to do is port over their already made Windows 8 app.


Exactly. I have the Comics app on my android tablet and it's really nice. The only reason I didn't get into this app is because it was DC only. Hopefully there's a full roll out for WP8 soon.

There isn't. I used their app on Windows 8 and was curious about porting it over to WP8 so I messaged them on Twitter and they said they had no intension of doing so.

That's what I'm thinking, they'll probably port the W8 app over. Nice app, works well on my Surface RT.

It was actually a very well designed Windows Phone 7 app. Such a waste to see it go...

Contacted Comixology via their website contact page and asked about a WP8 version, reply back "nothing to announce at this time!". So pinging them might give them an idea how many want the app and might get them to do one.

I got the email from them with this announcement and replied back asking the same thing...I'm always bugging Marvel too because they're SO enAppled! =(

I actually said something to them about this on twitter yesterday. Same thing just a I'll pass your suggestion on to the right people kind of thing. So I tweeted Nokia and Joe Belfiore about it too. I even refernced the DC app when talking to Joe and Nokia. Hope they don't go looking for it now.

I've had it since it came out and used it maybe twice. Since it wasn't full fledged comixology, but dc only, I never felt the need to invest. I moved to Lindy reader (which also makes a windows rt reader) and never looked back. Just another developer whose lack of support leads to a lack of interest and a self fulfilled prophesy of failure. Honestly won't miss them.

I've been using ComiXology on my Surface RT and it's pretty good, I use it virtually every night to read my beloved Graphic Novels, I've asked them about a WP8 and asked for their site to include MS logo on their advertisement page, interestingly it they've putted the logo (probably just a fortunate coincidence), regarding WP8, they said they would forward the request to the appropriate internal team. I like ComoXology, they have a good portfolio, even on some more leftfield Gaphic Novels, which are the comic books I buy more, so I hope they do come on board.

If you guys want to be shocked by how many apps have been pulled go look at your purchased list. Just start clicking the "more button" at the bottom and look for the status next to the app.



Just to add, they have a Win 8 app, so it should be easy to port it to WP8.

The current app works just fine on WP8. Don't know why they are pulling it.

I sent them a tweet to ask where is thier app for Windows Phone 8... nothing yet.

Get ready for the "not enough marketshare to justify support" schpiel

Maybe they even had a thousand of downloads.

I guess they looked at pathetic download numbers and pulled the plug. Even with growing WP numbers app downloads are flat. I am also thinking about getting out of WP development. Developing for fun is ok but I do not want to pay $99 for the privilege.

Good thing I still have it. Guess I better re download comics I've gotten before may 1st. Nice to see Microsoft loosing the few good apps it actually has. Hopefully they make their comics app for WP, lol yeah right.

I don't know if that's going to help you... according to that screenshot, they say that the app will no longer support reading or downloading after May 31. So after May 1 purchasing isn't support, after May 31 reading and downloading are gone. They say your comics will be available in your cloud account and you have to read them on the web or in iOS or Android... That's like a scorched earth campaign against WP.

The email I got said the app will still support everything but new purchases. So I guess we'll see.

Been using it like crazy they will lose my money if it doesnt come back quick and I mean quick. Bought half the Blackest Night series not going to buy anymore if they dont soon

I'm pretty sure Comixology only made the app under obligation from their DC Comics content partner. (Who knows if DC made a deal with Windows Phone.) They did the bare minimum to support the app. Content often appeared wrong or missing. On the Comixology web page, they never listed the DC Comics Windows Phone app in their family along with Comixology, Marvel, and DC apps for iOS and Android.

And that is a huge problem TBH. I'm not saying that app devs need to be the forefront marketing engine for MS. But, they should at least have some indication they have a WP app. This is truly getting ridiculous.

A rep from comiXology told me they would "love" to look into WP8 in the future.

Comixology made a W8 app, a WP8 port should be easy. Fingers crossed.

They should at the very least make a WP8 version for the people that DO use it. Pretty crappy. They need to stay up with the times.

Meh. Their loss really. I am going to vote with my wallet. What they did today was a negative PR campaign against Windows Phone, so even if they changed their mind, I shan't be spending on them. Just like when BBC forced a not for profit indie dev to remove his excellent app, and I cancelled my TV license the very next day. Life is so much better without live TV anyway.



We still have some alternatives like Comic Time: http://www.windowsphone.com/en-us/store/app/comic-time/c150ba2a-b8ec-493...

We're not really losing anyhing as this app was so horrible and broken from the beginning. It would load all of the comics in the store, but it would be horribly slow while it downloads ALL of the comic images, and after maybe 10-20 minutes (seriously) I could actually interact with it. I would select a comic, go back to the main screen and it would then proceed to reload all of the comics again (for another 10-20 minutes). I emailed them and also kept it installed for over a year hoping for an update, but they never bothered to fix it. Good riddance.

The only update they ever did was after I pointed out to them in the first version there was no way to delete downloaded comics.

Agreed - the app was less than great. It broke for me after the first update, and a lot of my comics became just black pages, and only every second comic appeared in my list. Emailed them over a year ago to report the fault, they said thanks and that they'd look into it. Kept it installed hoping, but nothing ever changed.

well this sucks. i had just sent them a tweet asking when the main app was going to be on WP8 because i was on the fence about staying or going back to the droid (i still have 7 days to return my droid) guess im leaving for sure now.

yes comics are that important to me...between no xbox video support WP8 is now dead to me.
i'll still be lurking as i do own the 900 and 920.

Hi Guys!! You could try Comic Time, is really good!! You can downloads all comics that you want from SkyDrive and autofind scenes! Is great!
http://www.windowsphone.com/en-us/store/app/comic-time/c150ba2a-b8ec-493...

I'm peeved that DC Comics are pulling the app. I've got installed on my 920 and it works fine.
What concerns me more though is "... Windows Phone 7 ... as the platform is being phased out by Microsoft".
What a load of tripe. Yes, eventually WP7 will come to an end but why pull the app - it seems as though someone has misinterpreted what this actually means. They seem to think WP is being phased out. The app works fine on WP8.
Or, are they just putting the blame on Microsoft's shoulders -- Crazy.


Its ok I just deleted the app the day before anyway. The prices for new books are too expensive, the fact that they are the same price as a real copy is absurd. With a real book there is a collector value that may happen, but with the digital copy they are worthless after purchase. So if it cost the same anyway I'll buy the real thing every time! As for the app itself its ok and I did like the store locator.

I'm sorry to tell you but physical comic books today will have very little value tomorrow. If you pay more than .75 for a comic book you'll never make your money back. At best you'll make .65 a book 20 years from now.
Windows Central Newsletter
Thank you for signing up to Windows Central. You will receive a verification email shortly.
There was a problem. Please refresh the page and try again.