Deutsche Bank, Norisbank and Berliner Bank apps come to Windows Phone 8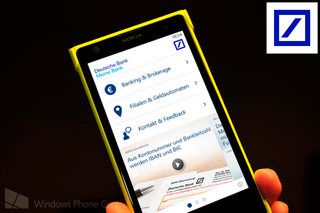 Deutsche Bank is one of the largest financial and banking institutions in the world. The bank has over 2 trillion Euros in assets and handles the finances and banking needs of private, business, corporate and institutional clients. It's a big bank that finally has proper apps for Windows Phone 8 users. That's right, not one, but three apps are available from Deutsche Bank AG in the Windows Phone Store.
You'll find three apps in the Windows Phone Store: My Bank, Norisbank and BB Mobile. All come from the same publisher – Deutsche Bank AG. The apps all offer users the same functionality, but you'll need to select the app appropriate for which Deutsche Bank branch you belong to. Deutsche Bank customers will go with My Bank, Norisbank customers will go with Norisbank, and Berliner Bank customers will be using BB Mobile. That said, here are the functions and features you get from all the apps:
Mobile banking and Brokerage – the apps offer all major banking functions. You can check your account balance, make a transfer or trade securities.
Branches and ATMs – find your nearest bank branch with the app. You can also find a nearby ATM to get cash or make deposits.
Contact and service numbers –Use the app to find the appropriate phone number for a banking feature or service.
If you're a customer of Deutsche Bank, Norisbank, or Berliner Bank you'll want to check out one of the apps above. Even though we won't be using these apps, we're happy to see our friends in Germany and elsewhere get their mobile banking needs satisfied on Windows Phone.
Tell us what you think of the apps below in the comments! Do your features work as advertised or you wanting more?
All apps are free in the Windows Phone Store. Download links to the Store are listed below. You can also find the QR codes to jump to the Store on your phone to download them.
Via: NPU
My Bank (Deutsche Bank) - Windows Phone Store
Norisbank - Windows Phone Store
BB Mobie (Berliner Bank) - Windows Phone Store
Windows Central Newsletter
Get the best of Windows Central in in your inbox, every day!
Someone should cover how awesome HDFC banking app is. It's got a perfect 5 star rating.

No excuse. That's what you have Santander, no f*****g excuse. Everytime i see an article about a banking app i hope its theirs but no, they continue to screw over WP users.

Same for Citibank!!! It's ridiculous how no one at Citibank knows anything about a WP app...

Desperately waiting for Commerzbank, second largest bank in Germany but neither a WP app nor offering a mobile site on IE or UC Browser that doesn't actually kick one out two clicks after logging in... Give me a break !!

I hate Commerzbank! Switched to my local Volksbank :P they even have an app

I don't bank with these banks but I'm glad people finally have access to their apps.

Always happy to see more apps come to WP. Still waiting on a Capital One 360 app.

CommBank also just released 2.0.0.0 update this week.

What's new in their 2.0 update? Looks like a great banking app!

It's a fantastic update. Their previous version was just a wrapper to their mobile website. This version brings it up to partity (bar NFC) with iOS and Android versions. The iOS and Android variants of this version in fact haven't even been released yet, Android rolling out next few weeks and iOS in January, so it's a bit of a landmark for Windows Phone I think, coming from the largest bank in Australia, and indeed one of the largest in the world. Full feature list are on the app details, but in summary: fast pin-based login balance for one account without login transfer money to existing accounts or via phone / email / facebook branch and atm locator

I'm waiting for SunTrust to release an app before I buy a Windows Phone

I wish my credit union would offer an apps for windows phone (alliant credit union).

DB's app is just a wrapper for their mobile site. =( http://m.youtube.com/watch?v=4-Idjc17Tkg&desktop_uri=3Fv%3D4-Id...

I'm leaving Citibank and going to chase. The only reason is because Chase has an app and Citi continues to have their head in the sand for WP. I can't wait any longer!!!

Citibank employees told me to switch to Android if I wanted the app....

Unf**king believable! Citi is freaking clueless.
Windows Central Newsletter
Thank you for signing up to Windows Central. You will receive a verification email shortly.
There was a problem. Please refresh the page and try again.