Developers: take this survey, and get a chance to win a free Nokia Lumia 930!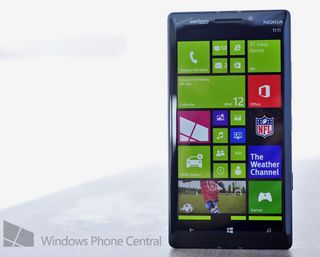 SURVEY ENTRIES NOW CLOSED
Hey developers! If you have ten minutes to spare today and happen to want a new smartphone (who doesn't?), then we have something for you: The Developer Economics Survey. Brought to you by our friends at Vision Mobile, this quick survey focuses on developer questions around the things that are important to developers: platforms, frameworks, customers, and more.
Of course, your answers will help Vision Mobile build their next report on app development today, but we know you really want to know what you might be able to win for your time. How's a new smartphone sound? You could win a brand-new Nokia Lumia 930! Also up for grabs are an iPhone 5s, a Samsung Galaxy S5, and a BlackBerry Z30, as well as some other cool gizmos.
Get the Windows Central Newsletter
All the latest news, reviews, and guides for Windows and Xbox diehards.
Derek Kessler is Special Projects Manager for Mobile Nations. He's been writing about tech since 2009, has far more phones than is considered humane, still carries a torch for Palm, and got a Tesla because it was the biggest gadget he could find. You can follow him on Twitter at @derekakessler.
As always bro...US only.....and alone.

It's not US only, it's worldwide, except for Brazil, for some reason. I read the fine print of the survey and it says that

Thank you for putting telling these "US only" rage people that they are incorrect this time, and shouldn't always assume this. :P

Thats the first question that popped into my mind.

Well I'm on a dev preview. I must be a developer then :P

How can you tell? Dont the 929 and 930 look identical I'm confused I thought the difference was the camera and one is 4.8inch and the other 5onch

it has a Verizon logo on it.

I think it is Verizon logo. Since 929 is for Verizon while 930 is supposed to be the 'world' version.

Can a developer take it for me? Heard today the S5 has the best display ever. Wow...that's impressive. Don't really like Big Sammy but got to admit they really good.

Good with specs & advertisement. Bad with software & design

I just had a thought. What if vision mobile holds the survey, but never chooses a winner? Instead, they just post a completely random name, the name if a person who doesn't exist, and fool everyone into taking their survey? No one would be any the wiser. Sounds like the typical carrot in front of the donkey story to me. You'll never get the phone anyway.

I do agree with you, i can be 101% possible

Lol. I'd fly to Vision Mobile's office and demand they send out the phone to the chosen winner! It's not some fly by night event... phones will be won.

That got me in splits. Good one, bro.

Spoiler Alert .. Remember my name .. Oups! US-only :(

Is not US only is world wide except for Brazil for some reason.

Why us only???? Lumia are all over the world :(

It's not US only, where did you read that?!

Thank you Nik :) actually I read it in previous comments

Someone wrote Brazil only - dang!!! ;-)

Took that a week or two ago.

I don't mind taking dozens of these surveys, only if I know that they are legit about their prizes and not just a cheap mean to get more participants. I don't trust these things anymore.

Don't try doing the survey on a mobile. Doesn't work we at all in IE11

I've filled it easily using my L920 :p

I got it done, but it's possibly the most annoying website to use on a phone.

Sucks when sites don't support zoom on wp8.1 and IE. Guess will fill survey from computer

Go to Settings > ease of access and tick the box 'allow zooming on all web content'.

Wait... is this for developers only or us "developers"?

Just make sure you say you are a developer in the survey, otherwise you become ineligible for prizes. Made that mistake myself :p

Hope Microsoft gives users who don't live in U.S. but have changed their region for Cortana There. At least consider for those who have changed their region!!!

Where did you read that it's US only, and how would your phone affect that?

I developed a nice sunburn the other day. I wonder if that counts? jk.

Finally, a WP giveaway! :D

Lucky that most people here are developers since WP8.1 :D

where did you read about US limitation? I haven't read that, there's only a note about Brazil.

Isn't anyone who has 8.1 a "developer" now?

They should have asked some developer test questions for validation, like, what does volatile do here? private bool volatile taskCompleted; or, something like that ;-)

So technically speaking anyone can do the survey and stand a chance to win a 930 even if they aren't developers (they would just have to lie at certain questions.). But obviously people won't do that.. pffffft...

You couldn't choose your prefered prize though. So chances of winning the Nokia, rather than a different device, is 25% of 0.2% of 0.01% :-(

can anyone tell me when is the result of the winner of lumia 930 is gonna come????

Are the results out yet??