Digitally Imported for Windows Phone beta opens up, gives you three months of DI.FM Premium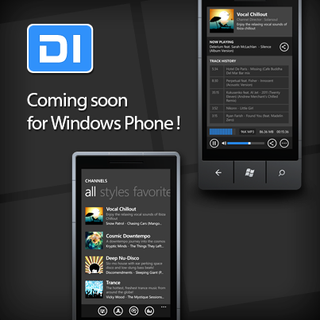 We've been getting a solid stream of official apps the past half year. And those few apps that haven't made the jump yet usually see solid alternatives within the development community of Windows Phone. But it is still important for the platform for official apps to keep joining. We've told you that Digitally Imported was working on a Windows Phone app. So you should go sign up for the beta.
Back in early May we learned that the team at Digitally Imported had an alpha build of an app for Windows Phone. It was at the time under internal testing with a planned beta for the public a few weeks away. While weeks turned into two months we won't complain. You can sign up for the beta right now. The team will give you three months of premium status for DI.FM if you provide them with feedback (or add it to your current subscription). Not a bad deal for helping develop the app.
The notice comes courtesy of their Facebook page, which also gives a sneak glimpse at the UI the app will have. In the meantime you can always enjoy the excellent third party app Beem.
Source: Facebook
Thanks for the tip Microsis!
Windows Central Newsletter
Get the best of Windows Central in your inbox, every day!
And way off topic. Don't make me sad. Tell me how cool you think DI.FM is and how you can't wait to join the beta and see Windows Phone grow.

Not at all interstd sam..

Don't waste your time commenting then.

And we're not at all interested in your off topic comment. Troll.

I'm totally interested, and have submitted my request. Sweet!

Sam, I can't believe just how great these new apps look. Its like the devs are hitting their stride with what works on Windows Phone 8 and Windows 8. Many of these designs are the most creative I've seen since I've been on the platform. I bumped into one called Super Contacts by dev Kim.Wpdev. This app works great and looks even better. This app DI.FM looks great too.

So it's just that kind of music?

DI.fm is all electronic styles of music. Sky.fm however is like DI.fm with all genres of music.

PSY-TRANCE & Progressive Trance!

DON'T FORGET HARD TRANCE MOTHERF*CKERS!!! ;-)

Great to see support from DI! At least the ads/premium fees are going to something productive...
Really cool news about the free premium for 3 months!
Also, I think it's worth noting that Beem and TuneIn are great 3rd party alternatives.

What's the app do (I'll research it to get the answer, but a little background wouldn't hurt for us that haven't heard of it)?

Cool music streaming platform/internet radio. Focus on EDM (electronic dance music), so things like trance, house, dubstep, trap, etc. Good mixes and a variety of stations to pick. Free, but you can become a premium member to lose ads and get higher quality streams.

Thanks for the info. Signed up for the free service and the Beta.

di.fm rocks!!! Well not really rock on there, ach lost my thread. :-)

Already signed. Big DI fan here. Can't wait to test it on my 620. :D Thanks for the info Sam.

Enjoy! Can't wait to try it out either.

+1 signed up for my Samsung Focus (and hopefully my new 1020 if the finances line up)

I use Beem and Beem for Sky Fm. Rad.io is also great for music, I don't think there is many people who have tried any of them, which is a shame as they are great.

I think Beem+ is a battery hog

Thanks for the info! I had it pinned through WebApps so I'm excited to see this having its own app. I signed up for the beta.

I signed up for the beta! I've gotten real into electronic music lately. Really looking for some good electronic playlists for working out.

HUGE pickup for WP. I love di.fm, it's the best resource for electronic music out there by far. One less reason to use my Android tab!

Beem or TuneIn already give you access to DI channels :)

Beem+ is the biggest battery hog of all time. I was getting 16-20 hours on my 928 and after using it for only an hour walking to class it went from %100 battery to 70%! My battery went down to 6 hours a day. Once I took it off it was worlds better.

What makes it so interesting? I've never heard of it

So is the premium added to the email we submit? My DI.FM profile is under a different email than my Microsoft account which is what they need to let me into the beta.

This is what I want to know.

Anyone else notice the odd looking WP on the right in the picture? What is that???

I think that's the app emulator.

Anyone get into the beta yet? I never got an email...