Dish to launch Sling TV, an Internet TV service starting at $20 a month for Xbox One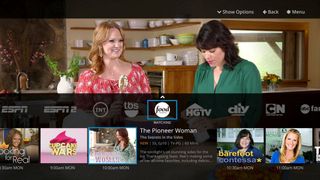 Satellite TV provider Dish has just announced Sling TV as part of its CES 2015 plans. The Internet-based television service will offer a selection of cable TV networks to a variety of platforms and devices with prices starting at $20 a month.
Sling TV (not to be confused with the Slingbox television set-top box) will launch sometime in the first quarter of 2015. Dish says:
Sling TV will be accessible via the web on Windows and Dish plans to launch a Sling TV app for the Xbox One console.
Windows Central Newsletter
Get the best of Windows Central in your inbox, every day!
I'm in! This is exciting :)

Sounds awesome but we need more news channels than CNN... Also my cable company gives me most of those channels for an extra $15 on top of my internet (basic cable no box) so I'm not sure if it'll make financial sense for me to switch.

Nice. Might get it and ditch cable.

Yeah its finally happening!

My words exactly! FINALLY CUTTING THE CORD!

Mobile app access such as Watch ESPN will be needed to make this truly viable for cord cutters.

Although, both Watch ESPN apps are terrible on Windows.

I think I read somewhere watchESPN would be included with this. It would be cool.

It'll be cool if there are some international channels

I really could use a service like this to watch NFL games. That's the only thing I miss by not subscribing to cable or satellite TV.

You can already get NFL Sunday Ticket from DirecTv without needing a dish subscription.

Certainly, but im in a position where I want more than normal games on tv, but the Sunday ticket is overkill.

But only if you live in a place in which you are unable to get Direct TV... I've tried ot sign up and they stated I was Ineligible for the NFL Sunday Ticket.. Or at least thats the way it was several weeks ago...

Unless u live somewhere that u can prove DirectTV is not viable like a college dorm you cannot get Sunday ticket without a sat service.

Looks like an equivalent to Now TV in the UK, with the usual american price hike for anything TV related.

Will other platforms have to use web to access the service or DISH is creating an app for iOS and Andriod? Once again, if no app for Windows and other platforms have an app, I'll pass on DISH Sling TV.

I haven't read anything about a WP app, sadly. They are making apps for iOS and Android though.

It really is frustrating that there isn't a Dish Anywhere app for Windows Phone. It's really the reason I don't use my 1520 full time. The struggle.

This does bother me as well as a WP user, not having apps at the same time as iOS or Android. Luckily due to my job I have about 6 different phones everything from Sony to Nokia HTC etc. Otherwise I can see why WP has had a stagnant growth cycle. Even with all the phones I get I personally still prefer WP. Posted via the Windows Central App for Android

It begins!!! Excited to see how things like this shake up cable packages!

I refuse to get cable, but this I will take... They can take my money starting now!

Dish owns Sling so thats not likley.

Wait, I'm confused. So it only has a few channels you can watch live? If it had more I'd ditch Hulu Plus. I don't watch any of the channels they offer live and Hulu is cheaper.

It appears thet are covering what folks are asking for. Live TV with Disney for the Kids, HGTV for the Wife And live sports for Dad with ESPN for 20.00 bucks. 70% of the demographic is covered and what the programming is what most people watch any way. Add locals over the air and most people would be happy. The Channels are all part of the ABC Family so maybe it is ABC finding a way around the cable companies. The change is welcomed from my perspective.

I like the change, but the app is separate from the OTA signals. I don't like that I would need to switch between apps to get to the sling tv or ota content.

Agreed. Somebody will take it to next level by adding it to Roku or one of the OTA DVR's like the Channel Master. The Channel Master OTA DVR is built by Echostar,Dish,Sling. I'm just glad to see movement away from cable/sat providers. The fact it comes from one of those providers means it could have traction.

It will be available on these streamers Amazon Fire TV
•Amazon Fire TV Stick
•Google Nexus Player
•LG Smart TVs
•Mac / OS X
•Roku set-top boxes
•Roku Streaming Stick
•Roku TV
•Windows PC
•Xbox One


Surely one of the mediabrowser devs will create a sling channel plugin for mediabrowser3. Assuming they will, you could get live ota tv, movies, recorded tv, and sling all from the same app.

What if they were both integrated into OneGuide?

I'm totally getting rid of Comcast now.

You will need their internet....

I'll have to do the math and see what their packages are to know if this really makes sense. If I end up spending the savings on internet bandwidth, it might not be worth it.

So it can stream CNN live?

I just cut the cord. Not looking to add any service but MS should be offering this as Xbox video... In the meantime I'm going back to FTA to watch TV

Look out PlayStation Tv. Dish and Microsoft are coming after your thunder.

Playstation TV does nothing but allow you to rent movies and tv shows Sony has, play old games and stream PS4 poorly.

It'll be for Roku as well! Roku 3 and 2xs will get a trial

I would rather have a set top box with this and my OTA signal, so it is all in one place. I would rather use the Xbox tv functionality than a separate app.

That's actually a good point. Unless they have deep tie to Kinect, I'd actually LOSE functionality and usability going the app approach. Now I'm curious to see what is produced. Since it's a partnership with Xbox, maybe we'll actually get lucky.

And it won't be available for WP or Windows 8.1, so what's the point or purpose in posting this?!

Xbox One App, and an app for windows is possible.

Author stated at the very end - "Sling TV will be accessible via the web on Windows and Dish plans to launch a Sling TV app for the Xbox One console." Both Microsoft/Windows products you big scary lookin mofo. Happy new year though. I cant wait to go home n play halo 5 *yawn*

No nickelodeon? How am I supposed to get my nightly Friends and George Lopez fix with this?!

Friends is on Netflix now if that makes you feel better

History channel and FX and im in

Don't get too excited. Their support for WP has been terrible. Their current Web based product doesn't work at all for streaming. They have apps for Andriod and iPhone. I've been complaining to them for years with zero impact. I'd love to see this change but I'm rather cynical about it based on my experience. Did they specifically reference Windows Phone?

Of all companies, I did not expect Dish to lead this foray. Saying that, take my money!

They just don't get it do they? those of us that have become Cable cutters as they call us do not want to pay for package deals and pay for channels we do not watch and that is all this is. A packaged internet channel line up, we want to be able to pay for just what we watch. Right direction but still a long way to go.

Finally! This is almost perfect. I am confident 3rd parties will create channels/plugins for apps like roku, mb3, playon, etc, so I am not too worried about the limited device options at the moment. I can finally get two channels I have been missing ever since cutting the cord and going OTA. My only issue is that I wish they had a larger a la carte selection. It would be nice to see larger networks like NFL network, USA, Bravo, History, Discovery, etc, even if they were $5 extra. Hopefully that will come at some point.

give me all the real madrid games and Im in!!!

Neat idea, but without SyFy and Comedy Central it won't work for me.

This is more expensive per channel than a basic cable package...

Is it only live TV or is there access to past episodes? It is a nice selection of channels, but I'm not sure it's worth $20, especially if I can't record what I want. I wonder if people will get this, the CBS service, and whatever else comes next, which together with Internet service will be more than cable service. Update: After some reasearch, it looks like they keep each episode for 3 days, so if you don't watch it in 3 days, it's GONE! There is no way to record anything long-term.

Can you get HBO and do you have to pay though the nose for a plan that gives you the option?

I hope so. And knowing HBO's pricing for most providers, you'll pay almost as much for HBO as you will Dish

They should add to the article that the Xbox One app will come with a free month of service. This is a good idea, hope it spreads.

Pretty Cool! Saw the other day they also had a spanish package for 10 dollas that included beIN Sports, so 30 bucks won't be that bad... Right now I'm connected, so I'm good. But I may get cutoff in the future...It's nice to have good friends.

We're getting closer and closer to replacing cable completely.

Adult Swim and Cartoon Network are the same channel. The core package is only 11 channels.

It's nice to have another option, and one which includes sports is unique. But I won't be paying for commercially supported content.

Nice!! Just what I've been waiting for, so I can now get rid of this high cable bill I have.. I'm down!

Agree, but I think Dish is in a pissing match with Fox right now over fees and has even dropped the channel from their satellite service. But once they come to terms, they have to add FNC too the news package.

They need to add a Windows 8.1/10 app for tablets and desktops and add channels like Discovery, The History Channel and Syfy. These would make it much more attractive for $20.00 per month.