Ditch threaded SMS on Windows Mobile 6.1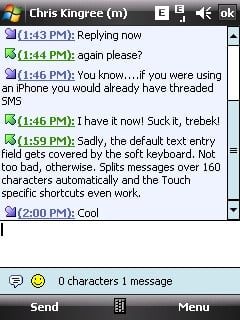 For many Windows Mobile users, threaded SMS long had been the Bigfoot of the mobile operating system. You were pretty sure it was out there, you had seen snippets of it, but you'd never actually seen it.
That finally changed with Windows Mobile 6.1 (yes, Palm had it much sooner, and there are hacks and third-party solutions out there, either as an alternative or for older phones).
But say you just updated your Blackjack II (opens in new tab) or your Motorola Q9h (opens in new tab) to 6.1, and you just don't like having your text messages look like instant message conversations (why, we'll never understand). The enterprising souls over at MoDaCo have you covered.
It involves a wee bit of registry hackery (and has also been neatly wrapped into a cab file), and reportedly works on touchscreen and non-touchscreen devices.
If threaded SMS on WM6.1 just isn't your thing, check out the solution here. And as always, backup your device first.
Get the Windows Central Newsletter
All the latest news, reviews, and guides for Windows and Xbox diehards.
i got a simpler solution
http://www.freewarepocketpc.net/ppc-download-mode-sms.html
download cab install and go into programs and u can turn it off or on without registry hacks. fast and simple. when i did the rev a upgrade at telus it didnt give it to me i put this on now i can do either

I don't like that you can't delete individual messages in a threaded list. its all or none.
I don't like you can't delete the entire thread from within the message in microsoft's implementation, but have to back out to the index screen.
basically, microsoft's implementation sucks.

Is there a way to make the texting screen at teh bottom of the threads bigger? When the thread gets long I cannot even see what I'm texting because the input window is 1 line deep. I've tried every way I can think of besides disabling threads. Maybe it's some simple thing that I've overlooked? Please answer or tweet me: @2020nexus. Thanks for the help!

I found that turning the onscreen keyboard on and then back off will resize the input area. Bill