Review: WM6.1 Update for the Motorola Q9h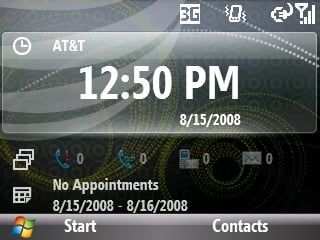 AT&T and Motorola officially released the Windows Mobile 6.1 update for the Motorola Q9h the other day. While updates hope to breathe new life into devices, they drive me crazy. On the one hand, you get updated and improved (hopefully) performance out of your phone. On the other hand, you have to erase everything off your phone. One of these days programmers will come up with a way to updating an OS without having to wipe out every application you've pain stakingly installed. On top of all that, sometimes the applications you've grown to depend on are no longer compatible with the new OS. Sometimes the update is more of a headache than improvement. Then again, sometimes it's well worth the trouble.
To see if the Moto Q9h WM 6.1 update sinks or swims, read on!
Here's the link to the Motorola Q9h Update (opens in new tab). You will first download an installer program that will coordinate the update's progress. All in all the update took me about fifteen minutes to complete. As advertised, updating to WM 6.1 clears the Q9h's memory. So it is critical you back up your contacts, email, appointments, etc. before you perform the update.
Once you've completed the update, you'll have to re-establish the partnership between the Moto Q9h and your computer and then re-install all your applications that were obliterated by the update. So, that's about fifteen minutes to perform the update itself and how many hours re-installing the applications and frantically searching for activation codes? All in all it took me about an hour total time to get the Moto Q9h back in order.
Speaking of re-installing applications, so far all my old applications work fine on WM 6.1 so the concern about application compatibility might not be so traumatic. Keep in mind though, the slider home screen does not accommodate the plug-ins (yet?) for these applications.
Changes
The most noticeable change with WM 6.1 is the slider home screen. The layout takes a little getting used to but it seems more efficient than any other home screen provided with the Motorola Q9h. If the slider panels aren't to your liking, your old screen styles are still there and you can still use Facade.
The one thing that could improve the slider home screen is the ability to customize a panel to scroll through favorite or more commonly used applications. XDA-Developers have developed a plug-in called CHome that allows you to create custom panels. CHome isn't the easiest application to work with but once you get the hang of it, it significantly enhances the slider home screen. Not only can you add custom panels but you can add speed dialing and internet links within the panel.
As is, the slider panels on the home screen cover messaging applications, calendar appointments, AT&T branded applications (mall, xpress mail, etc), music application, photo/video applications, and settings. The top of the home page is a large digital clock with date. Speaking of Xpress Mail, wouldn't it be nice if AT&T would STOP putting it on the Home Screen?
You've got hot keys for your Start Menu and the other hot key is customizable with the default going to Contacts. When you first hit the Start Menu, you see your most recently used applications but can expand the view to all applications with the press of a key.
Other changes include threaded text messages, more customizable Pocket IE, phone book access through Bluetooth Headsets, auto pairing with Bluetooth devices, auto discovery for Exchange servers, cut/paste/copy functions, auto complete text, custom domain email setup, and fetch mail for POP/IMAP accounts. In looking at Microsoft's comparison guide (opens in new tab), there are at least six features previously only on WM Pro devices that are now included on WM Standard devices.
You've got two new applications that can be downloaded, Mobile Banking and My Cast Weather. I haven't looked into Mobile Banking but My Cast is a handy weather application but the monthly fee to use the service is a little steep, especially when alternative applications and web based services are out there. Mobile Banking is advertised as a free service but not all financial institutions are supported. Mine is one not supported so I didn't dig too deep into this application.
Under the hood
There are some very nice changes under the hood with WM 6.1. The Quick List (accessible by pressing and holding the Home key) now includes a shortcut to the Task Manager. No longer do you need to program a hot key shortcut! And when you open the Task Manager, you'll immediately notice it has received a face lift as well.
The command to kill applications has been replaced with end applications. The new Task Manager also shows you what percentage of the CPU and how much memory an application is consuming. The changes help you manage your device's memory and CPU usage a lot better.
AT&T is also providing a GPS activator which allows you to use the Motorola Q9h's GPS with applications other than Navigator. Once you download the patch, I was able to use the internal GPS (listed as GPS Intermediate Driver) with Live Search and it acquired an accurate signal fast; much faster than using a third-party plug-in.
Overall Impression
It's taken a little time to get used to the changes WM 6.1 has brought to the Motorola Q9h. I can't help but see this update as bringing WM 6.1 Standard a little closer to WM Pro. While not perfect, the slider screen does present a slightly more efficient way to navigate through key elements of your Motorola Q9h. If I had to find one short coming of the new slider screen it would be its inability to launch third party applications. Again, and if anyone is listening from Microsoft or AT&T, if you had the ability to add slider panels or customize one, it would improve this Home Screen tremendously.
So, is the update worth the trouble? Yes. The modifications to the Quick List and the improved Task Manager alone make it worth the trouble. Add the GPS activation, slider panels, and the ability to cut/paste/copy it almost makes the pain of having to re-install all those applications go away.
Windows Central Newsletter
Get the best of Windows Central in your inbox, every day!
Where can I find this AT&T activator you mention?
Geoffrey

I second that on the GPS Activator ... I cannot find this hidden on the phone after the update. Are you talking about the patch from MoDaCo?

The activator is built into the WM 6.1 upgrade. The text of the post is a little confusing. The "patch" being referred to is the upgrade to WM 6.1.

To find the ATT GPS application, hit start, then show all programs and it should be in the upper right corner next to Contacts.

It does download ATT Navigator but it also enables the GPS for use in other applications.
Here's the icon you're looking for.....
It in the upper right corner. I saw it, clicked on it and now have GPS on Live Search.

A couple more generic WM6.1 questions for you:
[LIST]
[*]Did this update add Category support for Contacts and Calendar entries?
[*]Do the reminder times now match Outlook 2007? ... can you have a Zero minute reminder?
[*]Is MS Voice Command part of 6.1 Standard, like it is rumored to be for 6.1 Pro?
[*]Does auto formatting now do more than just capitalizing the first letter of a sentence?
[*]Can I cut and paste in Contacts/Email/Calendar/IE?
[/LIST]

1)I'll have to check on this one but I don't think so. I don't use category feature in Outlook so I'll have to dig around on this one.
2)You do have the option for No Reminder, 1, 5, 10, 15, 30 minutes as well as one hour, one day and one week.
3) Have not seen MS Voice Command . The Q has VoiceSignal already so I doubt ATT would have duplicated this feature.
4) Autoformatting not only capitilizes but has predictive text. Also, in the compose email screen as you type the address, it pulls up similar addresses in a drop down box. You still can hit the center button to pull up your contacts to choose an address from if you prefer.
5) yes for email and IE but I don't see a cut/paste function in the Contacts and Calender.

Categories do show up on Contacts but I do not see them on Calender entries....

If you sync your device with a PC, all the apps and data will be re-synched back to your device after upgrade. A more portable approach which I employ is to store all my data and apps (cab files) on a storage card so I can easily reinstall w/o a PC or when I upgrade devices.

Hi! Thank you for this article! I'm about to update my Q9h. I heard that we can use Jeyo to backup our sms's, but it wouldn't be stable on the threaded WM6.1. Do you have any other alternatives? Thanks! Wiling (Malaysia)

I just updated my Q9h and am generally happy. I'm having trouble, however, with Internet Connection sharing, which worked with 6.0. Now when I select "connect" it checks the cable and then goes to an endless "waiting for network". The settings are
PC Connection - USB
Network Connection - ATT ICS - I'd note that there is also a "MEdia Net" showing under GPRS connections, but it's not an option under ICS.
Any suggestions?

I'm not familiar with Jeyo.
Ruc makes a good recommendation on utilizing your storage card.
Some applications will restore themselves but I installed a lot of my apps OTA and they don't restore when I re-sync for the first time.
AEngineer.... I'll defer to someone with more technical knowledge on this one. If Dieter happens by maybe he'll have a clue. I did notice that it took a good bit for my Q to reconnect wirelessly with my work server. I don't know if it has to renew certificates or what but it took a few hits on the Send/Receive to get it up to snuff. Now it works good, maybe better than before.

To get the internet connection sharing to work you will have to modify the registry to unlock the GPRS settings, than you will have to change the GPRS settings of the ATT ICS to match the MEdia Net GPRS. However, for the ICS one there is no need for a user name or password. Once these things have been done u will need to go to ur connections manager and disconect from Media Net and than ur internet connection sharing should work via Bluetooth or USB. I will write up a more formal how to after work today and also place the reg hack in there.
Best of luck for now
Mattchew

can you send me the information on how to change the regesitry setting to get internet connections working again thanks JR

This is more of a question than a comment.
I am using a Motorola q9h for asia, not from at&t, can this update be used on my phone.
Thanks for anyone who can answer this for me.

i have been using moto Q9h and i just found that its new OS 6.1 is available. since i ve been using Q9h that has no association with AT&T will it work the same way as u describe above for AT&T moblies.

Where did you get those Auburn Tigers Background images?!

auWDE I ran across it somewhere on the web years ago and for the life of me can't remember where I found it. I did find this one that looks interesting. We do carry this Theme/Icon Set but it appears to be only for touchscreen devices. If I stumble across it, I'll let you know.

hi, I just update my moto Q9h global edition with Win 6.1, and the internet data connections aren't working; I am trying to delete the pre-set AT&T ones, but they are locked. Some body knows how to unlock, or delete those connections. MT

one day i went shopping outside ?and in an links of london store?I found some kinds of links of london i love most?they are: Links of london mens bracelets Links of london mens bracelets Links of london mens bracelets Links of london mens bracelets Links of london mens bracelets Links of london mens bracelets Links of london mens bracelets Links of london mens bracelets Links of london mens bracelets Links of london mens bracelets shopping Links of London Bracelets shopping Links of London Bracelets shopping Links of London Bracelets shopping Links of London Bracelets shopping Links of London Bracelets shopping Links of London Bracelets shopping Links of London Bracelets shopping Links of London Bracelets shopping Links of London Bracelets shopping Links of London Bracelets

I had a samsung jack with wm 6.1 and the voice command feature actually read text messages, well I dropped it into the toilet and had to settle for a Q9h from ebay. My question is that in wm 6.0 on the q9h doesn't read text messages or emails but 6.1 on the jackk did. So if I upgrade to the wm 6.1 on the moto q9h do you think it will change the speech engine to that that was on the Jacks wm 6.1 and allow my moto q9h to read texts and email as well? Thank you

This phone is awesome, he can not do Blackberry can do and much more! He is friendly and sustainable. The only thing that could be the size of the phone, but that is because it can store and do something to connect to the Internet to play music and make videos. I recommend! Also get a protective leather case for it, it helps if you fall.