DivvyUp for Windows Phone 8 is the must-have app for when you're done with your meal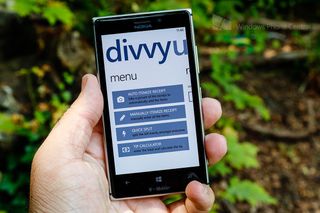 We've all been there. You're out for dinner or drinks with a group of friends and the check comes. Everyone takes a peek at it and it drops whatever bills they think will cover their portion. You get it last and after putting in your piece notice that somehow the total is short. You spend the next minute or two figuring out who underpaid and it's just a pain. DivvyUp for Windows Phone will help split checks, calculate tips, and save friendships. Let's check it out.
On Windows Phone we have a baker's dozen (or two) of great apps for finding where you're going to go out and eat. Yelp and UrbanSpoon being the two that come to mind immediately, in addition to the solid Local Scout feature in every single Windows Phone device. But DivvyUp could be the best app on Windows Phone for when you've finished your meal. Here are the basic features of the app:
Manually Itemize Receipt
Tip Calculator
Quick Split
Smart auto-rounding for easy payments
Customizable default settings
Matches your phone's metro-style theme color
Those are all the features you get in the app and for most people that's all you really need. But an in-app purchase of only $0.99 unlocks some really, really cool features. Like these:
Auto Itemize Receipt using OCR (currently supports US Dollars only)
Save previously itemized receipts
Email receipt breakdown to other diners
Customize the app's theme to any color
The app has more features than you can shake a stick at. By far the coolest is the ability to use the camera on your Windows Phone to automatically itemize the receipt using optical character recognition (OCR). Currently that mode only supports US dollars, but more support should be en route. You can always manually enter your receipt to divvy up the bill for other currencies.
So does the OCR tech work? I grabbed the nearest receipt I had handy (Caramel Apple for one) and tried it out. Worked great!
The advanced features which are super handy include the ability to save and email receipts. On business trips you can quickly save receipts from meals that you eat on company dime.
DivvyUp is available for Windows Phone 8 users, it's free but with a $0.99 in-app purchase you can unlocked some more features. Grab it in the Windows Phone Store, use the QR code below, or swipe to the right in our app.
Windows Central Newsletter
Get the best of Windows Central in your inbox, every day!
That app looks well designed.

You look well designed big boy...❕❕

Longest single use app of simple calculations ever written. For those of you who don't want to use an app... Simply take the total, multiply by the amount of tip (if 10% then x.1, if 15% then x.15 and so on) then divide by the amount of people at the table... DONE!!!

Yes, because I want to pay for part of your appetizer, salad, steak, and beer when all I ate was a burger and some water. If it were only that simple. I love the people that try to get everyone to split the meal when they are the ones that buy the most expensive thing on the menu. I bet you are one of those people jsnod25! ;)
I'm suddenly hungry. Wanna split a meal?

Ok so take your line items, add them with the + sign then multiply by the tip amount you want to give and your DONE! I'm sure you finished elementary school, so this shouldn't be a problem... Also, I'm the kind of person who covers the whole tab when I can. Are you? ;-)

Really? You don't want to give this guy $.99, but you will pay for your friend's steak? LOL I pay for my friends that are not as fortunate as me. Everyone else can pay for themselves. I've got a wife and 3 kids...can't always pick up everyone's tab that doesn't live under my roof. This is a cool app. I look forward to trying it out when my 1020 arrives. I can afford it since I'm not always letting my friends mooch of of me... :)

I have alot of paid apps, but I also know how to use a calculator, so I don't need to pay for an app that does what I can do for free. I also pay for people who are even more well off than me, speaks volumes about your character, especially when its least expected.

Are you for real? Here we have a great application on our hands and all you do is brag about how you pay for others and know how to count. Get off your high horse, your not some one of a kind human.

I really like it. One majorly cool enhancement would be the ability to pin the specific function to the start screen.

What I mean is..pin the tip calc or pin the itemizer or manual split. Whichever one you use most.

+1. Just downloaded the app. Very neat looking.

US dollars only? Did I miss something or are numbers written different there too now?

We use the 'Merica counting system. I hear only Myanmar and Liberia are elite enough to also use it.

Hi mce076, I'm the developer of DivvyUp and thought I'd shed some light as to why this is. To clarify, saying that the OCR only supports "US dollars" perhaps should be rephrased as "US receipts". Receipts have a lot of information other than what was ordered (phone numbers, addresses, promotions, etc). The algorithms created to identify the relevant items on the receipt are fine-tuned to US receipts. For example, if the OCR reads "Subtota1" then I assume that's a typo, etc. So truthfully, the OCR may very well work in other countries. I just haven't really tested it yet so don't want to set any false expectations. However manually itemizing the receipt supports all currencies and languages.

that actually make more sense and is probably what should have been explained in the article.. thanks for the clarification :)

Oreng, have you considered an enhancement to pin each "function" to the start menu?

Hi Randy,
I actually never thought about that before but I really like that idea! I'll definitely include that feature for the next big update. I also want to add a lense so that you can launch the Auto-Itemize (OCR) via the camera. But pinning for the other options would also be a great addition! Thanks for the suggestion!
And thanks to everyone else for the excellent feedback and suggestions! Keep them coming!!
- Oren
Creator of DivvyUp


If only we had this when I first started waiting tables . . . ugh.

Back in 1967??... Just the reels to hold all that data for the app would've taken up the whole kitchen... Just imagine how big your phone would've been❕❕.... Lol

Hahaha! Way I see it, we're headed in that direction again. The Lumia 625 is just the beginning!

Will give this a go next night out.

Nice app. But I'm too much of a loner for this to be useful for me. T.T

Don't have friends so no need for this app :(

So much for my idea for an app. :) But excellent work, nonetheless!
The next level:
I haven't tried it in real use yet, but don't see mention of these features so I'll suggest them now:
1) Track amounts for each diner and allow them to accrue and provide a way to track payment from the person to you to cover those charges, or similarly allow any diner to have paid towards the check and track what they pay against the actual amounts owed, tracking any credit against future dining charges allocated to them.
2) Support sending bills and payments via PayPal (and/or any other similar services) directly.
3) Sharing data with other users who also use the same app.

I like where you are going with that.

I prefer Settle Up! It suits my needs better and does a good job while at it.


One of my favorite apps! I sent suggestions to the developer and he is really open to the ideas. Great to talk to! Can't wait to see what else he has in store. I'm now an avid fan :)

I currently use Tip Calculator which lets me enter a tax rate and calculate the tip on the before tax amount after I enter the check total.
In this app, I see a setting to calculate the tip for either the before or the after tax amount. If I turn on the Before Tax setting, I do not see a place to enter the tax rate, and the calculated tip appears to be the same either way. I entered $100 and the app returned a tip of 18.00, and a total of 118.00. Am I mising something?


Hi blegs,
I'm the developer of DivvyUp and saw your question but I'm not entirely sure I understand your problem. The tip calculator simply calculates the tip percentage on whatever total you enter. This could be the subtotal (before tax) or total (after tax). It's up to you which total you enter. The setting you mention to calculate tip "Before/After Tax" is only used for Quick Split and Receipt Itemization since those functionalities have both a Subtotal and Total (which includes the tax) so that setting lets me know which value I should use to calculate the tip from.
I hope that clarifies things for you. Let me know if I misunderstood your question though.
- Oren

Oren - I replied to your email that was sent to my email account directly.

Nice app. I upgraded for 99 cents to get the premium features. Now all I need are friends...