DMD Panorama for Windows Phone takes and shares panoramic images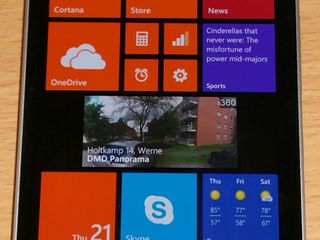 While there are other Windows Phone apps that can take and share panoramic images, such as Microsoft's own Lumia Panorama, there's a new app for users to try out now. DMD Panorama was previously released for iOS and Android and is now available in the Windows Phone Store for free.
Here's what users can expect from DMD Panorama:
Fully automated capture system
Blazing fast stitching, see the result in no time
Immersive 3D viewer, pinch or double tap to zoom, autoplay...
On-device local gallery
Web gallery to enjoy public panoramas
There is a caveat with this app. The smartphone must have a front-facing camera and a compass to use DMD Panorama, which means some low-end Windows Phone devices may not be able to access it.
Thanks to Elie-Gregoire Khoury for the tip!
Download DMD Panorama from the Windows Phone Store (Free)
Windows Central Newsletter
Get the best of Windows Central in in your inbox, every day!
Not compatible with the 1520, or so it says.

No. I've downloaded on mine.

Compatible with mine.. You're on W10TP?

A comparison article would be great.
@WindowsCentral

haha they're all awful. all of them have crappy resolution that you cant adjust. i've found it easier to just take my 1020 out and take photos and stitch them with Microsoft's ICE program.

I have a 1020, too. Hope can I do that?

This. It is blazing fast as claimed. Still a bit behind in terms of accuracy and resolution. But, it seems that the devs are working hard on improving both accuracy and resolution! Kudos for them! http://www.windowscentral.com/dmd-panorama-windows-phone-takes-and-shares-panoramic-images#comment-1812877

Seems to have some issues with distortion when I tried it. Also crashed after I finished my first panorama.

Nope.. Am sticking with PhotoSynth.

My 1520 doesn't qualify. I guess I don't really need this app then.

i wonder why , is this something related to region ?

Wierd. I tried it again and this time, it allowed me to get it. I'll check it out now and see whats up.

installed on my 1520...getting much better results than cycloramic

Nothing can beat photosynth

Photosynth's virtual sphere is way too small. It makes outdoor look goofy, and it really is not a panorama app. At least the size of the sphere should be adjustable in it.

Not to mention the resolution.

My Beef: 1. Terrible resolution (that you cant adjust) thus terrible quality. 2. Forced to hold the phone vertically (and at a very specific angle...) 3. Doesnt show up under "Lenses" 1/5 stars.

I always got a green image after first photo on my HTC 8X. Otherwise is a great panorama app. ( Only one for non lumia phones )

When I took my first click the image itself is in green... Why is that?

Installed it and then waved my phone around looking like a complete idiot because it said the compass was being interfered with. I've got others...just because it was o ios or android doesn't mean its the cats meow!

image stitching is good, but poor resolution

Hi all. This is our first shot on WP. On iOS for instance, we have made 40 updates and we have just released version 5.0. So many updates are coming on WP too. - Resolution is not an issue. On iOS, the version 1.0 was limited to 800 lines, 2.0 went up to 1300 lines, 3.0 provided HD for 2500 lines and we are testing now UHD on the Galaxy S6 with 4000x30,000 panos. We don't need 4 years to upgrade the resolution on WP, but we just need to breath after 2 months of heavy work discovering this new platform. - Too bad that we had to limit ourselves to Compass sensor, when there is a nice and smooth Gyro sensor on many devices. We have opened a ticket with Microsoft help center because we had a hard time with the gyro software interface. - Sorry for forcing you to "wave the device". You may check this video that shows the most efficient way to calibrate the compass. - Front cam is to take panoramic selfies. We planned to do it, but finally we decided to remove it from the launch. - Not compatible with 1520? Some could install it and some could not, very strange. Are you all on WP8.1? Please contact us if you have any issue, and we will do our best to help. So thanks for the reviews and comments, and I wish we haven't deceive too much with this first release. Elie

Nice work so far. I was definitely blown away with the speed. Keep up the good work!
Windows Central Newsletter
Thank you for signing up to Windows Central. You will receive a verification email shortly.
There was a problem. Please refresh the page and try again.