Double the fun as DualShot lands on the Windows Phone Store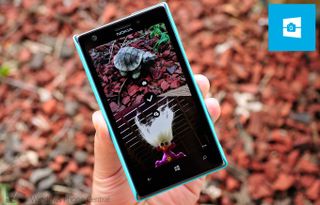 Last night we gave you a sneak peek at DualShot, the new app meant to replicate the popular Frontback app on iOS. That free app has now gone live in the Store for all to download (well, Windows Phone 8 users at least).
By taking two photos—one with the rear camera and one with the front—DualShot allows you to capture a new perspective on the world. Now when you share your photos, people will see your reaction to whatever it is you're actually seeing at the moment. We could imagine a lot of hilarious images could come out of usage of this app, indeed you all can see that I'm not a morning person in the photo above (yes, my hair is even crazier).
DualShot is built off of the Nokia camera SDK and it's a well-designed app—fast, fluid and simple to use. Once you are done with the photo, you can apply some filters to spice things up and then directly share to Facebook or Twitter. Of course a copy gets saved to your camera roll as well, should you want to save it for later. The app also features Lens support for quick access and the saving to your Lockscreen directly.
It's a fun app, free and of high quality. Nothing speaks better to Windows Phone than those qualifications.
Pick up DualShot here in the Store now and show us what you see.
Thanks, Missionsparta and others for the tip
Daniel Rubino is the Editor-in-chief of Windows Central, head reviewer, podcast co-host, and analyst. He has been here covering Microsoft since 2007 when this site was called WMExperts (and later Windows Phone Central). His interests include Windows, Microsoft Surface, laptops, next-gen computing, and for some reason, watches. Before all this tech stuff, he worked on a Ph.D. in linguistics and ran the projectors at movie theaters, which has done absolutely nothing for his career.
Dats gr8
Another camera app frm windows phone!!! Thnx Wpcentral fr d info! :)

This is embarrassing. Was just too much for you to actually type the entire word "for"....

We los d swag wen we rite fr.

Atleast every1 paid so much attention on the damn comment ;P

Doesnt allow installation on 520..not surprising. I'll wait till my 920 is back from Nokia Care

What part of dual shot do you not understand?? 520 does not have a front facing camera.

Thanks for the two question marks..you made your point. Read yesterday's article. There was some conversation on the app maybe allowing a front shot and then a back shot one after the other

Just use Collage in Nokia Creative Studio...

Hello,
It's normal because the 520 doesn't have a front face camera unfortunately.
ArchieCoder - DualShot developer

Downloaded it earlier. The UI is really great on the app, love how the devs have kept it inline with Metro. Image quality & filter effects are also very good. Nice job devs!

Thank you very much!
ArchieCoder - DualShot developer

I will be using this tonight at the clubs :)

We got a clubbin baller up in her

best dualshot app is Amicus Dual Shot, try it its awesome, works lika that of galaxy s4 dualshot like

Works like the Galaxy s4? Now I know I don't want it. jk.

Hello
Amicus Dual Shot is a different concept, it adds a second picture (in a smaller size) into the first picture.
ArchieCoder - DualShot developer

The first part of your comment got cut off

Well, everybody is in a good mood! Must be Friday afternoon! :)

Not yet. Morning still in the US

While I don't think I'll use this much, if at all, it's nice that we're getting new apps.

Cool. By the way what case you using for your 925?
:-)

Incipio from the AT&T store. It's okay. Not sure about the blue.

Ah nice. Will have a look.

Cheers

work perfectly on my L620 :D http://i.imgur.com/7Vc8o8o.jpg :p

I thought it was like amicus dual shot.

That app is a bit silly, if you ask me...hearts and what not. This is more straight forward with a split screen, filters and direct sharing.

Maybe its for u silly, but for others its awesome, my wife absolutely loves it.

Amicus dual shot is silly but in a unique way, dual shot is like a plain and boring version of nokias creative studios. Anyways I didn't rate it bad gave it 4 stars cause I know with future updates they'll make it great.

tested it. it's well done, works and looks good !!!


Take a picture. It'll last longer.

I don't know why, but I was under the impression that it took both pics at the same time.

Same here I thought it would've been more interesting if it took at the same time. Not much meaning taking them separately since it's not exactly what you're seeing anymore.

Maybe a future update they can implement it that way and when using the app your screen is split to see both front and rear views at the same time too. So you can get everything lined up right. Then apply filters and such. That I'd like to see.

Could bea rescources thing. I would thing on the 1020 the phone would melt if it had to take a 38mp and down convert to 5 and take the 1.3mp front cam at the same time.

I think the LG G2 was marketing this feature being able to take them at the same time. But I agree it could be some technical limits. Not sure what im talking about though...

Hello,
I would have love to add this feature, but the Windows Phone SDK doesn't permit this. It is the same for iOS.
ArchieCoder - DualShot developer

It's nice to see the actual developer answering questions, if you are the real developer that is. But if you are, kudos man! Wish every developer came here to see how and what people think about their apps. Rating and commenting on the Store is good, but I never see it as the real deal. Most people give bad ratings based on their expectations from the app instead of the actual functionality of it. I just tried your app and found it a delight. Great work! I'll rate the app in the Store too. Good Wishes, Salams... PS: Mr. Daniel, love your tag line/phrase...

Same Here, and that makes the app pretty pointless :C imagine taking a picture at a concert and having to stop to take the first pic, then the second... pfff. i would just take the two with the higher quality camera and collage them later :C

There is no purpose for this app. Same as taking two pictures. Stupid

Seems like mostly really pointless apps are released on the Windows Phone platform.

Congratulations, you've won the "dumbest comment of the day".

Oh goody, where's my prize?

No, not stupid. Just not an everyday thing.

How is it stupid ? IT would be usefull for things like taking a pic of the babies expression and of what he is watching. this app cobines them into one jp file.

Kids might love it, maybe people with tons of friends at a party would love it.

Having perhaps broken a record of installing and uninstalling an app in under two minutes, I have to agree with this statement.


This app don't takes the pictures at the same moment, and it froze my Lumia 920 i had to soft reset it + you can't save dualshot pictures in your library instead you have to email them to a secondary email and save them manually ... I hope a update comes fast to fix these issues...

Hello!
All DualShot pictures are automatically saved into the Camera Roll. It is like all regular camera apps.
Concerning the freezing, it seems more than an hardware problem with your Lumia 920. It was hugely tested with the Lumia 920 before the release.
Thank you
ArchieCoder - DualShot developer

Sorry i was to fast with typing this comment, the app is working now! Is is also possible to take the 2 pictures at the same moment or is this a Windows Phone 8 limitation?
Regards!

Can any one say is it possible to directly download videos to music and videos hub...?

Not from the phone, you must connect it to a PC.

So... I'm confused here... the author says its like the iOS camera app that does this... but um... if i'm not mistaken, didn't Samsung have this EXACT same thing with their Galaxy S4 camera? of which had been released months prior to iOS's????
Oh how easily forgotten things can be.

Hello,
DualShot is a different concept than the Samsung app. If you are looking for the equivalent of the Samsung app, take a look at Amicus Dual Shot. Those are put an image over an image with a smaller size.
ArchieCoder - DualShot developer

Can any body reply to my early question.plzzz

I like it and I'll definitely use it. I have a couple of update requests that might make it even more,fun: 1. I'd like to apply editing/filters to each shot individually before combining into one "dual shot" jpg.
2. I'd like different configurations, like side by side and picture in picture
3 Captions.

+920. Good Wishes, Salams...

I wish it used bot the cams at te same time without the limitation and allowing camera button to single click.

Loved the concept and app. Not sure how often I'd use it, but its a nifty idea.
It would be nice if it were possible to rotate photos after they are taken. Sometimes, its easier to turn the phone on its side to use the front or back cameras, so being able to shoot the photo at a comfortable angle and then rotate the photo afterwards would be a great feature.

Hi Daniel / Friends,
Any major difference between DualShots & Dual Cam Photo
http://www.wpcentral.com/put-yourself-picture-dual-cam-photo-windows-phone-8
cheers!




Awesome app...i have always envied the other is platforms when they had this and we didn't...not anymore

I tought it shoots the two pictures (front and back) simultaneously... this way is useless, I could have done it manually.

Exactly!! that was my reaction when I tried the app

Is this app Lumia exclusive?

"Splitpic" is much better, as it has more options. Even "Pucture2cam" is better.

I think I'm the only one who find this app kind of useless :(

Omg I have to get my bandit 1520 soon
Windows Central Newsletter
Thank you for signing up to Windows Central. You will receive a verification email shortly.
There was a problem. Please refresh the page and try again.