From the Editor's Desk: Taking a break from the doldrums of winter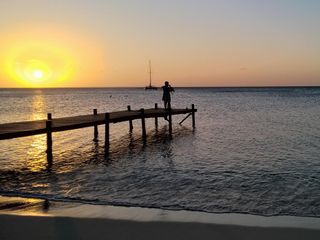 Once a week, myself or Richard Devine try to do an editor's desk post. It's an opportunity for us to talk about larger things than just today's news or reviews, including community business, or things that irk us.
Today's post will be rather short one as I am out of the country missing the warm weather.
Time for a break
Interesting fact, for the last eight years I have not had a vacation. Sure, I have travelled, but that is much different especially when you toss in the stress of work. So for the first time in nearly a decade, I am taking a whopping five days off. Luckily, I am leaving the thirty inches of snow in Massachusetts for some warm weather and sand.
As such, do not expect much writing for me until the weekend or even next Monday. We all need to unplug once in a while, so this is my chance to do so. Richard Devine will be watching the site and as usual, our team of writers and reviewers will be continuing their work. In other words, if things are not as exciting, chill as the world is not ending.
Also, let's no spam the comments with "zomgwhereisdanrubino?" questions. I am but one cog in the machine that Windows Central.
Windows 10 Preview for phone
When is it coming? The million dollar question of the week is when Microsoft will release the preview update for Windows 10 on the phone. No one knows. Sure, they jokingly said after the Seahawks win the Super Bowl, but that was in jest. The timeline was always "in February" and that could be as early as this week or next. The release depends on when the team feels the build they have is solid enough for a public release. There will always be bugs in preview software, but some are bigger than others.
Regardless, Microsoft never meant that the moment after the Super Bowl ended this thing would be released. Let's all just relax as constantly refreshing pages or tipping us that Wikipedia has the date as February 12 is not going to help.
Finally, as someone born and raised in New England (and living 20 minutes from Foxboro), Congratulations to the Patriots!
Daniel Rubino is the Executive Editor of Windows Central, head reviewer, podcast co-host, and analyst. He has been covering Microsoft here since 2007, back when this site was called WMExperts (and later Windows Phone Central). His interests include Windows, Microsoft Surface, laptops, next-gen computing, and arguing with people on the internet.
First:
zomgwhereisdanielrubino?
Second:
you deserve a break.

zomgwhereisdanrubino? :D Enjoy your vacations :P

أين هو دانيال روبينو؟
Where is Daniel Rubino?
Wo ist Daniel Rubino?
Où est Daniel Rubino?
Dónde está Daniel Rubino?

Daniel Rubino kuja ast?
Daniel Rubino charta de?
Daniel Rubino kahan hai?
Daniel Rubino chere talai?
Daniel Rubino kitthay way?

Daniel Rubino kahan hai?
Daniel Rubino kitthay way?
LOL! Punjabi.

LOL!
Wherever you are Dan, enjoy your break to its fullest form!!

You aren't in Boracay or Palawan..then you're missing paradise

Hololens is so awesome. Can't wait.

Wait a minute! Phil & Derek on a single WindowsCentral post? Someone get René & Its a party!

Android folks are joking now..

Typo in the last line of the third para of "Time for a break": 'that IS Windows Central.'
Gosh, you're already losing your touch ;)

Wish you fun and a lot of drinks Dan. ;)

Enjoy your time off Daniel. God bless. JLWard

OK, Dad's gone. PARTY TIME. Also. Patriots still suck. It's going back to the North West next season.

You know...like when parents go away and leave the kids with the keys to the house?

I think it's lost on the cultural difference Rich.

I know that feeling.... It happens all around the world I guess

"don't you wanna be my daddy?" :3 Yes I got the joke. But Couldn't resist.

Hurrah!
Let's start by renaming the site to something better like "When in India? A coming soon Central".

Or better "Switch over to android" or "When is Denim coming to Icon"

Lol... So tired of all the Indians asking this shit on every article. Australians are very racist to Indians as a lot are very rude, act entitled and think speaking English at x3 speed makes them clever. Having said that there are a lot that are kind and good people. Also I'm an asshole. #pullmyfinger

"Australians are racist to Indians"
Well I have lived in many countries and one being Aus and people there were too nice to me..!! It's just a perception of few that carries on and yes I think it's the best country to live in the world..!! Filled university forms there already..!!

Correction: Pittsburgh is not in the North West.

I think he's referring to the fact that Washington is in the north west. Meaning hopefully they win next time.

Steelers FTW! You have great taste good sir.

So it's--Richard Rubino..?

Good rest! And come to visit our beaches.

I am not waiting for Windows 10 for phones. I am still discovering new features in Denim although I installed it many weeks ago, like Internet Sharing through Bluetooth! :)

Why not do a podcast? =_=

I'll have to use my Hololens and pretend Daniel is here till he gets back. (Enjoy your trip!) :)

Dan, enjoy your vacation. Thanks for all the hard work. Appreciate it. ;)

#zomgwhereisdanrubino is gunna become a thing. Have fun on your well deserved vacation!

I put it as a Word Flow word.

Sorry for OT, but this Richard Devine: http://en.wikipedia.org/wiki/Richard_Devine ?

Our Richard Devine isn't based in Atlanta, that's for sure.

If it's anyone remotely famous for anything. Then no. Also. I'm British.

Well, he did release some albums on the Warp label ... that's pretty British too :p

Even on Vacation Dan is punctual on posting here :'( ,,,,, Enjoy !!!

Daniel, even at the beach, if some W10 insider calls you, please, pick up the phone and post us the news! Joking! ; )

Enjoy your vacation. You're missing out on some fresh pow though.

Windows 10 is coming next week on Tuesday

How do you know that for sure?

That would be 'Patch Tuesday' for Microsoft. I think he's making a joke.

Because it is the 10th (windows10) and Tuesday is a good day to release it...

Have a great whopping week Daniel and don't drink too much. I want you to come back safe!!!

Maybe HoloLens will help us find Dan? #zomgwhereisdanielrubino

@Daniel You left us in the snow. More snow is falling here. Stuck in CT.

Enjoy your vacation Daniel. You deserve it :)

Go rest Daniel! We know it's difficult to handle with us haha

Have an awsome vacation Daniel.. It's seems like you are not gonna be here in WC to report W10 for phones preview release... gonna miss that unique way of reporting all the small and big details in those threads.. ;)

Enjoy your vacation Daniel, you deserve it :)

It's hard to go a long stint without a vacation, or even a long one. My wife and I were that way for a long time after we got married. Have some fun and really relax! But don't get taken, or we'll have to send in Liam.

I don't blame you Dan. After yesterdays Superbowl give-away to the Patriots, I'd rather be out of the country too. Anyway, enjoy some much needed R&R.

I'd welcome a Windows 10 release on the 12th as that is my birthday. What a gift that would be! :)


I have a feeling w10 phone preview won't come out until Daniel is back...

The million dollar question of the week is when Microsoft will release denim update for rest of the devices......

Have an awesome vacation, good sir.

Yep winter does suck Daniel, has its good points I suppose but its summer where iam and the 930 is available on all our carriers. Sucks to be you I guess. What's with the hate Aman2901 ? Did Daniel ignore you? You poor thing go get yourself a cuddle, you've earnt it. Sucks to be Indian in India. #AustraliaFTW

Enjoy...dan we gonna miss uou

I love you Dan.I'll miss you dearly.Stay safe and don't venture out too far from wherever you put up. Don't move around after dark..bring the party home instead. Hydrate properly and avoid food on the street please.
And even if you get really excited remember to pass motions regularly. Dan, I really want you to switch off completely and forget about anything Windows related. You will always be my favorite son and I will be waiting for your calls.
Love you dear.

Damn 8 years?!! Well have a great vacation Mr Rubino you absolutely deserve it!

Daniel Rubino needn't worry about being forgotten while he takes a break, it'll be a long time before we forget the name Davros Rosenberg

Daniel wouldn't leave for a week when windows 10 for phone would come out, right? :P

Yup. I suspect he already confirmed it with MS.

I have never had a vacation after more than 40 years of working.The last time i got a raise Bill Clinton was president. Hey you guys need a writer at WC?

Enjoy your time Daniel ;-)

That picture postcard looks like a beach scene from Mauritius...Enjoy your beach time!

On Jan 26th, Joe Belfiore said in a tweet that the YouTube video introducing the preview for phones will be uploaded in "1-2 Weeks", which is this week. They uploaded a similar video when they released the new preview for PCs. So I expect the preview for phones to arrive this week. https://twitter.com/joebelfiore/status/559844130839203840

Dan you really do a great job and your break is well earned. Enjoy!!

Wow, 8 years is quite a long time!

Enjoy your vacation, Dan. Unsolicited advice - Don't ever not take a friggin vacation again! Life is too damn short, and work is just not worth it.

Enjoy your vacation Mr Rubino

Wait, so the windows 10 for phone preview will be released on 2/12?
Windows Central Newsletter
Get the best of Windows Central in in your inbox, every day!
Thank you for signing up to Windows Central. You will receive a verification email shortly.
There was a problem. Please refresh the page and try again.