Facebook's $19 billion deal to buy WhatsApp is approved by the EU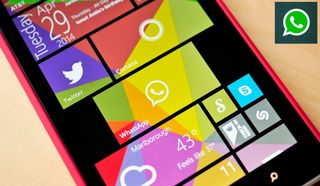 Facebook has received approval from the European Union for its $19 billion purchase of WhatsApp. The main concern over the deal in Europe was that the deal would harm communication in the telecom market. The European Commission said that the acquisition would not impede competition, according to Re/code:
The purchase was previously given the go-ahead by the United States back in April. Facebook announced its intention to acquire WhatsApp back in February of this year.
Do you feel that the EU was right to approve the acquisiton? Sound off in the comments.
Source: Re/code
Windows Central Newsletter
Get the best of Windows Central in your inbox, every day!
If you care about privacy, you should be worried about Cortana, not Facebook.

I hope we dont get to hear whatsapp hacked passwords, privacy breaches or anything......

That's why its whatscrap!!

Way too much money for a messaging platform especially when most of the newcomers are just the flavor of the week.

Hike messanger is better than WhatsApp

Agreed. There is no way Whatsapp is worth 7.6 Minecrafts.

Somebody please give me that start screen background.

How much is 19 BILLION? and in DOLLAR? :/

Trying to beat Microsoft LOL

yeup, Snapchat is about to close a raise in which Yahoo is participating, which would value Snapchat at $10 billion. Uber is valued at $17 billion, a few others are in the billions as well like Dropbox and Airbnb Crazy valuations these days.

It can't be worth that much. I've never used it.

You're probably from the USA where most of people still uses text Sms, but in many other places people just use WhatsApp

Yep....I had actually forgotten the sound of a normal text message until one came in today (from the bank).
Whatsapp is my main form of messaging, along with email and FB Messenger

Entitled much? Lol. Anyways, sms is dead in Europe, everyone uses whatsapp or other ip messaging service.

Why? At least in the U.S. text messaging makes more sense: they're free and unlimited on most plans and don't require 4G/LTE/3G/WiFi connectivity--i.e. can be transmitted via regular cellular connections.

Because in Europe texts cost 10p/€ or equivalent and you don't get the "typing" "read" or "ignored" style notification, and its faster with free voice, picture, file etc messages

Apple must not be worth too much, I've never owned one of their products /s

Lol ... They are worth more than 200 billion. I think more than anyone in market.

Here is Saudi Arabia, you must have a WhatsApp, even if you don't want to use!

Same here. Indians have a love affair of sorts with WhatsApp.

Yes. If some one feels this is against his/her privacy, delete all history and move on to a messenger that provides privacy.

hmm idk why i thought this deal was complete a long time ago weird

The birth of a conglomerate.... Soon Facebook will adapt to a new slogan like this "We Own YOU!"

technically still all part of social and networking and all falls withing the same sector, so I wouldn't call them a conglomerate

Well, they may seem to want to collect conversations from all of us..... Its getting pretty scary

I never knew whatsapp was worth that much

the demand of watsapp made it worth otherwise it jsut another messenger app.

Yep, even when other messengers like Hike have more features and more frequent updates.

Okay, so it's approved. End of story. Now for a far more important matter, when are they going to update the app for Windows Phone?

It's working quiet well...

But it still doesn't have Onedrive backup (Apple is so far ahead of Windows Phone in this regard. When you reinstall an iPhone, EVERYTHING syncs over....including Whatsapp history).
Android also has a much better implemented backup system - one where it is actually possible to move the backup file manually to a new phone.
This is such a big frustration of mine....hopefully Whatsapp will address this issue asap

Why the hell whatsapp see's scope of update only for iOs n android only and not on windows phone. All i feel is plain, simple bias.
At least change the ugly UI !!

That painful loading screen when I have to upload a photo. When on earth is the update coming?!

It's trash. I wish it as polished and fluid as facebook messenger. I guess in the coming months it will improve with facebook now owning them.

Yeah, because Facebook works do well on WP..

Update? They're going to kill it!

I am sure this deal will turn out fine! After all between them they managed to produce two crap apps for WP

I couldn't agree with you more. Exactly crap apps

No antitrust concerns from me... People have tons of apps to choose.from for communications. I a. concerned with someone giving that company a valuation of $19 Billion!!! What the hell are they smoke at facebook!? I want some of whatever it is! That said... I'm not actually concerned... I don't own any Facebook... Lol

It's not a valuation, it's the price. And pretty sure facebook is smoking $100 bills.

I dont Care. Using both so : F it

Maybe they can use some of that scratch to make a decent Facebook app for WP;)

They are just going to use the same privacy violations as they used with Facebook messenger on whatsapp. They know alot of people use whatsapp, so they just hit a goldmine of personal information that they can now legally steal.

want integration back on wp. apps arent great and will get criticized daily.

I assume now they will integrate it into Facebook Messenger.

I hate mark and his involvement with FBI there will be no privacy anymore. Of course this will be end of whatsapp on my mobiles. BBM on the run now Posted via the Windows Phone Central App for Android

I'm using whatapps everyday with my friends and family, and most of my friends use Whatapps too..... Yet, until now,I still don't think Whatapps worth 19 billions

Already moved to Viber, it having a desktop and metro app + call function is just better in all regards than WhatsApp

OMG 19 BILLION? I don't even use this app...

CIA,FBI STATE,FED they all want the info... Jeez

Ow... the application for perverts

Bye, bye wp whatsapp support

the approval of the European union is based in the security concerns that in Europe are concerned about, to what apps or Facebook if they even attempts of stop support for Windows phone they would be craving their own space in cemetery because they don't make operative systems for phones they makes money by our information in our profiles and if they even attempt of stop support to Windows phone just, we erase our Facebook account and they loose attacking where is more painful to them, the information and etc that sell to third parties are you confusing Facebook with Google which from the first day doesn't shown interest in Windows phone

19 billions wtf is ridiculous that is lots of wasted money

So much much much money :D

i hate facebook...... no privacy at all.

WTH!! Just restored my phone and signed up for WhatsApp, got only 7 months free!!
-1 WhatsApp
-1 Facebook